As we journey towards a New Year, here's another Indian-American success story - one for the road.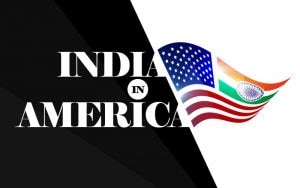 For long we've known about the Punjabi skills of farming and agriculture, and we've seen that translated into the bountiful fruit and vegetable farms of Yuba City, California; and the gas stations and auto shops dotted all over America have been enriched by the technical skills of Punjabi and Sikh mechanics and engineers.
What you may not have known is that Punjabis, Sikhs and other Indians have also made their mark on America's hugely important industry of trucking. And now that there are over 150,000 Indian truck operators on American interstate highways, Punjabi is increasingly heard on the airwaves along with bhangra beats.
According to
Jim Axelrod of CBS News
which recently covered this phenomenon, more than 30,000 Indian-American Sikhs have entered the trucking industry in just the last two years to meet the huge demand for drivers. He writes, "This year, the turnover rate for truck drivers is 96 percent. More than 50,000 drivers are needed to meet the demand, and the shortage is forcing companies like Amazon, General Mills, Tyson Foods and others to hike up their prices to consumers."
Meet Manjot Singh Pandher, popularly known as Mintu Pandher, one of the faces of America's rapidly changing truck industry. He has brought the chutzpah and can-do spirit of the Land of the Five Rivers – Punjab – to Wyoming. Pandher, unlike some success stories, has not relied on a medical degree or Wall Street savvy for his American Dream - but on solid Punjabi mechanical skills, sheer sweat equity and camaraderie to build a thriving trucking and truck stop mini-empire.
Mintu Pandher with one of his tractor trailers.
"It's just a good industry to be in and I like to travel, that's how I got into it," says Mintu Pander. "It's a first generation and second generation job so the demand is there. Interstate commerce is spreading so much. The demand has gone up a lot because of online shopping, and the consumers' consumption has gone up. Be it fuel, water, food, clothes, furniture - trucks are carrying all this hundred percent."
Almost 20 years ago, Pandher came to America from Ludhiana where he was pursuing his college studies and his father was a college professor. America changed their life around and they went through hardships as immigrants. Pandher had wanted to drive a truck from day one but was barely 20, so not of age to drive and had to make a living from working in grocery stores and as a cook. He first worked as a hired driver for others and then bought his first truck, a used vehicle. From there, his life on the road has been a big success.
Hauling fuel was a lucrative business and Pandher first did it for a relative who owned a gas station. As
Tod Dills wrote in Overdrive magazine
, "In 2008, Pandher followed the growth in oil drilling into independence as Akal Energy, growing fairly quickly over several years with contracts with some fuel providers, running out of his current home base of Laramie, Wyo."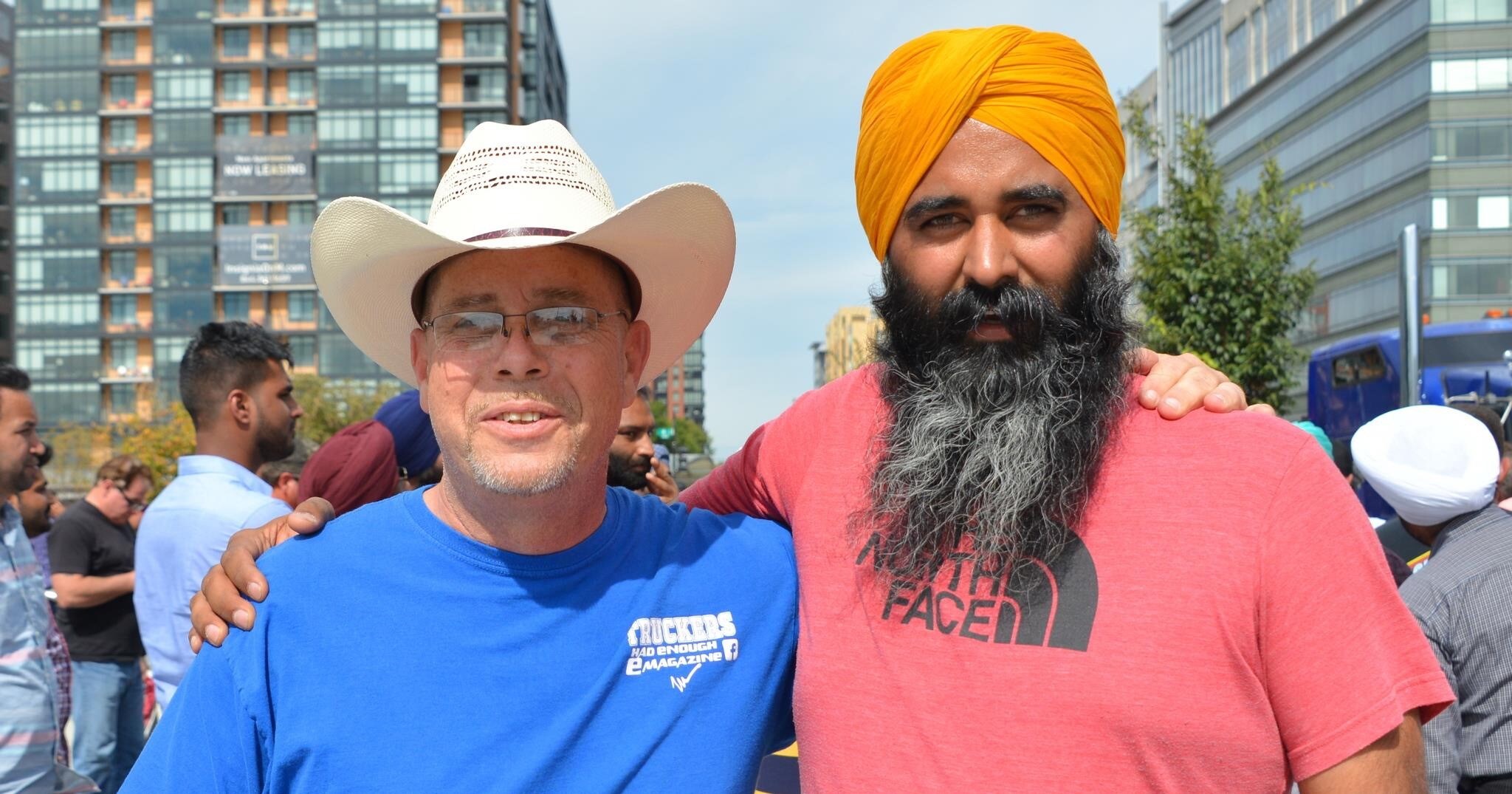 Mintu Pandher in Washington with another trucker, Mike Faram Gunney from Texas.
Pandhar who was recently interviewed on CBS, now owns nine rigs and three truck stops under the name of Akal Travel Center, in Wyoming, New Mexico and Nebraska. The Akal Travel Center in Laramie, Wyoming stands on 28 acres and has more than 200 truck parking spots. Almost 50 percent of the drivers are Indian while another 50 percent are Pakistani, Middle Eastern and East European.
Pandher has many desi perks to keep his truckers happy and engaged. There's even an onsite gurudwara in a small stand-alone building so they can pray and build a community atmosphere. Indian food is always available and Pandher has created Indian restaurants in all three of his truck stops with a great number of authentic dishes prepared daily by a cook and a menu that changes according to the season.
Surprisingly the Indian menu has been a real hit with truckers of every nationality. Says Pandher, "We have lots of Indians, Americans – as well as East Europeans – Armenians, Ukrainian truck drivers. We didn't know that they all eat Indian food till we opened the restaurant. We didn't know Russians eat Indian food even at home!" In fact, one Spanish driver told him that his mother makes even better curry at home! So all the dishes from Moghlai to Punjabi has been very much a plus point with truckers.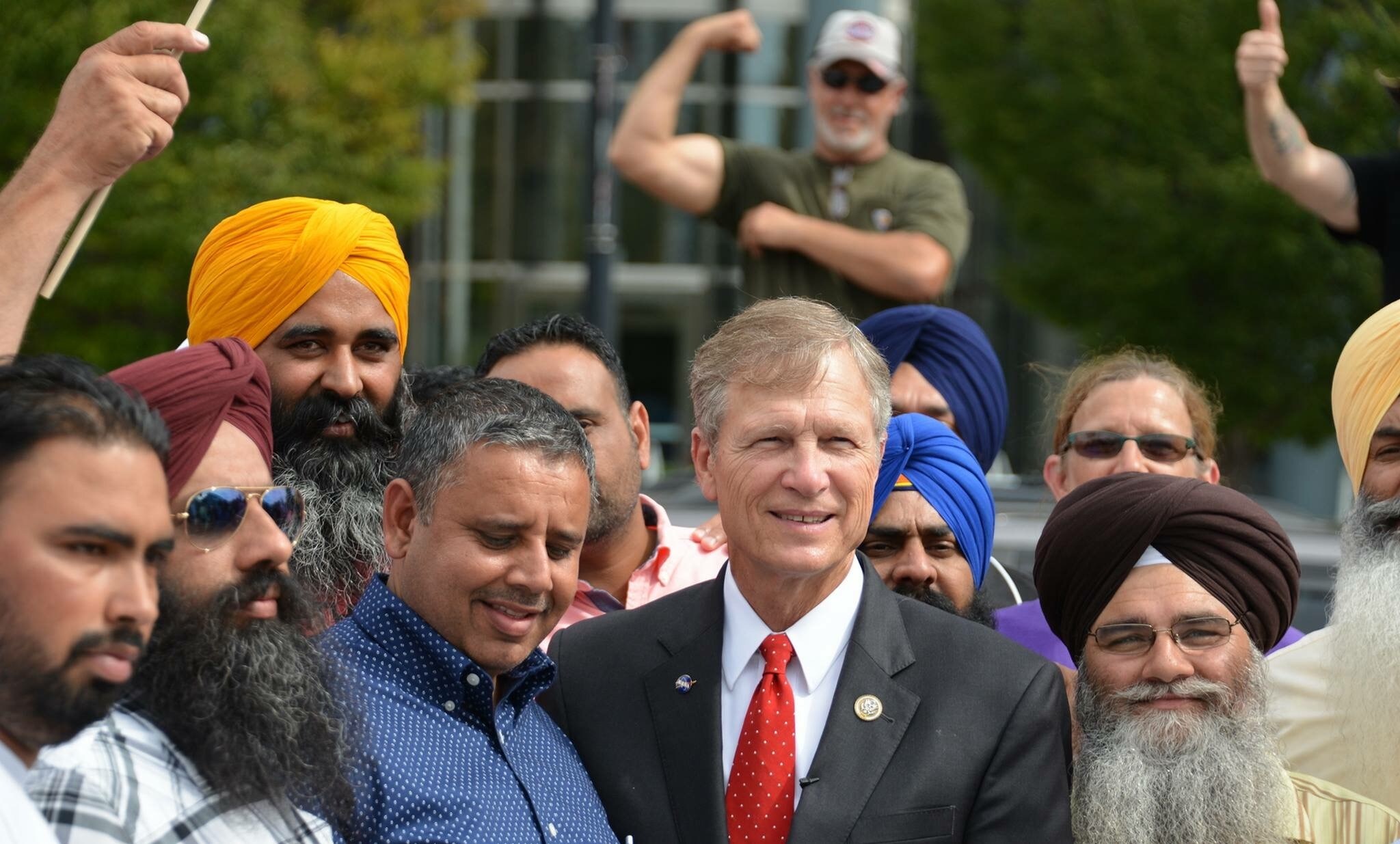 Mintu Pandher with Congressman Brian Babin from Texas and truckers in Washington.
There are several Punjabi/Sikh trucking companies in America so the battle to get good employees is intense. Some of the companies use a recruiting video which unfolds like a Bollywood film with fabulous houses, good-looking women, fancy cars and robust Indian food to encourage Indian men to join the vibrant well-paying trucking industry.
Earlier the American road story was about American country music but is now certainly getting a desi flavour with bhangra beats, and many more turbans can be seen on the interstate highways.
Pandher, who is an advocate for the trucking industry, has many friends in the business cutting across nationalities. When there was an unfair ruling affecting truckers, a contingent of them went in their trucks to Washington DC in 2017 to protest against the ELD Mandate. "It was an electronic logging device pushed to install in trucks by big companies which we small operators were and are still actively protesting," says Pandher. "It's an extra financial burden on owner-operators and it violates our constitutional rights as being tracked by some private companies. Congressman Brian Babin from Texas introduced a bill HR5848 to delay it after the protest in our support."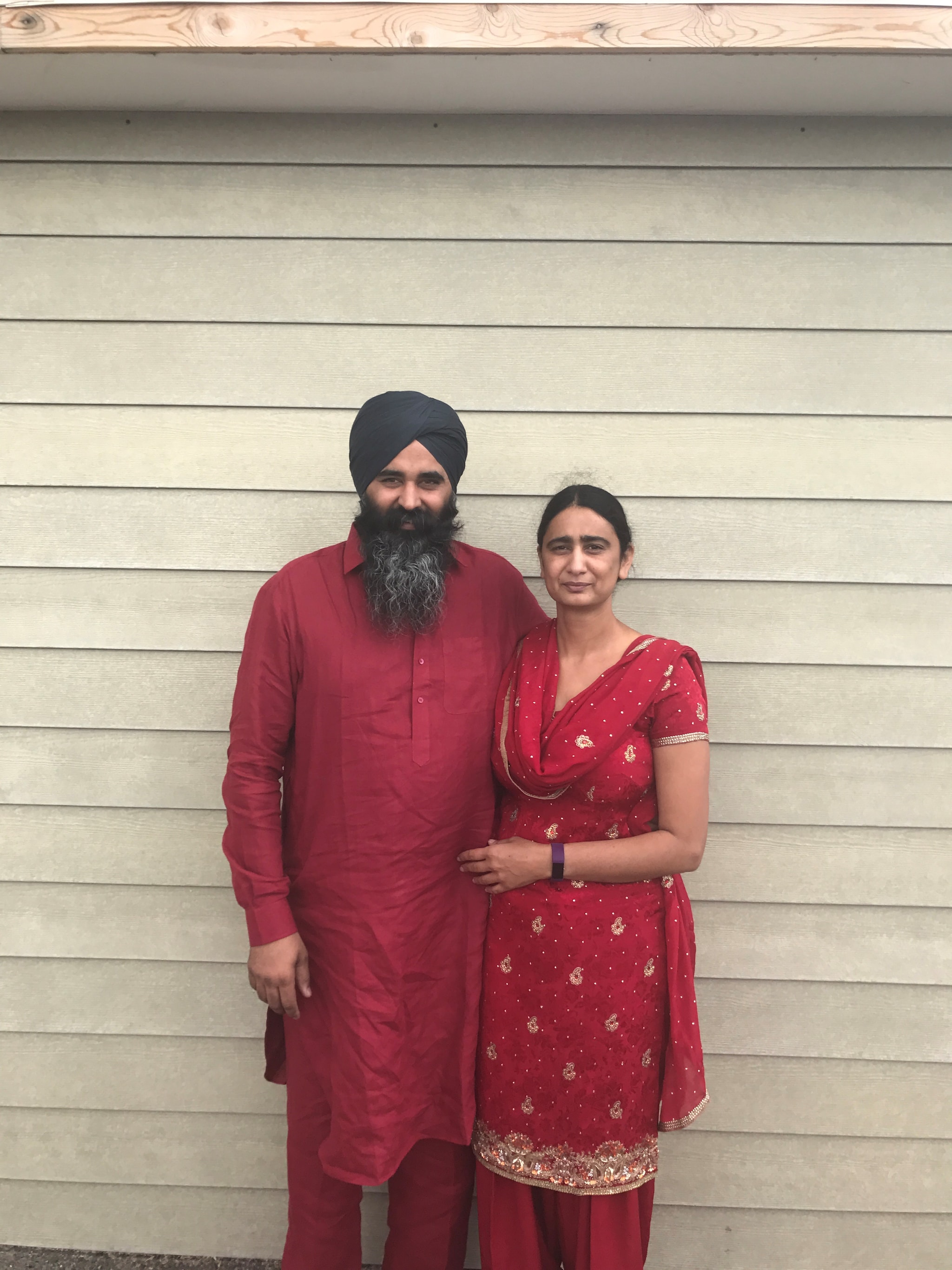 Mintu Pandher with his wife Amandeep.
Life on the road means being away from home for a week at a time but it's not a sleepless existence as there are strict rules for at least 10 hours of sleep time in a 12 hour driving day. As America's commerce continues to increase, so does the need for the trucking industry. Pandher and his wife Amandeep have two children Tirth Kaur, 5, and Sant Singh, 3, and they have a comfortable life.
Have they achieved the American Dream? He laughs, "We are happy with what we have. It's a good thing and a bad thing because we should be more motivated but it's good to be happy with what we have!"