The democratic wheel of the world's largest electorate has been set into motion with the first phase of the 2019 Lok Sabha elections on April 11. While the election fever grips the nation and party loyalties steer the discussion, it is relevant to see how the govt proposals have impacted the investments in the country.
One of the lead indicators to judge the confidence of businessmen is new investment proposal. Centre for Monitoring Indian Economy (CMIE) has compiled data exclusively for Network 18 to break down the performance of successive governments.
Key Takeaways:
New investment proposals have seen a decline in the past two regimes
Data compiled by CMIE shows that new investment proposals have seen a decline in the past two regimes.
From total investment of Rs 18,958 billion a year during UPA-I, the investment rate has inched down to Rs 15,582 billion a year.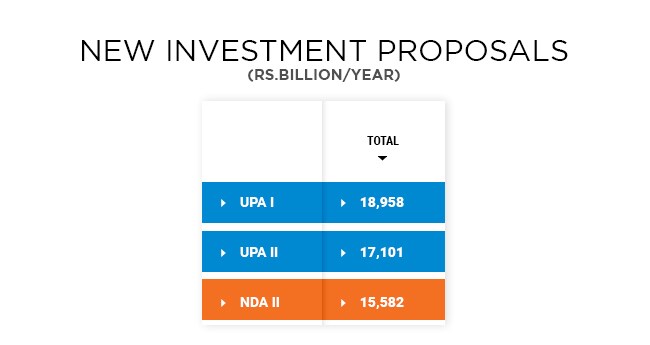 Marginal uptick in public sector investments
The public sector investments have inched up marginally close to Rs 7.6 lakh crore a year but it hasn't been able to make up for the shortfall in private investments.
NDA-II has made a notable investment in the roads and infrastructure sector with the budgetary outlay for roads increasing at an annual rate of 21 percent during FY15-19.
The Budgetary outlay trebled from 6.6 billion dollars in FY15 to over 17 billion dollars in FY17. However, the enthusiasm has not been equally met by the private sector
The private sector investment slipped almost 35 percent from 11.83 lakh crore a year to 7.9 lakh crore a year over the last two five-year plans.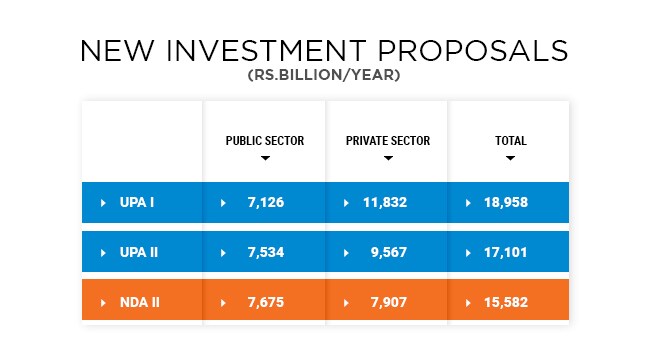 Private sector contribution shrinks
Low capacity utilisation and subdued demand led the share of private sector in investment proposals. The share of private sector declined from over 62 percent in UPA-I to just over 50 percent in NDA-II as the business sentiment continued to languish.
Ajit Ranade, chief economist at Aditya Birla Group, opines that all conditions for investments were ripe during the UPA-I regime and hence we saw the sharp rise in investments then. It is important to bear in context that the size of the economy in GDP terms is twice as big in the last 15 years.
However, he sees exports as one of the key sectors which has not taken off and needs to be addressed.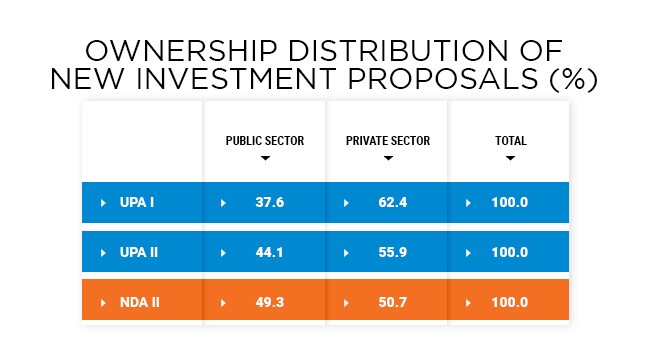 Sharp declines in Real Estate and Electricity
Sector-wise breakup of new investment suggests sharp downtick in real estate and electricity sectors. The sectors had seen big investments during UPA-I, but the overcapacity and funding issues kept the investments in check over the last 5 years
Investments in mining and electricity have almost halved from over Rs 6.2 lakh crore a year to 3.3 lakh crore a year. Manufacturing too has seen a decline, albeit at a steady pace. The services sector, however, has bucked the trend riding on strong investments in roads and aviation.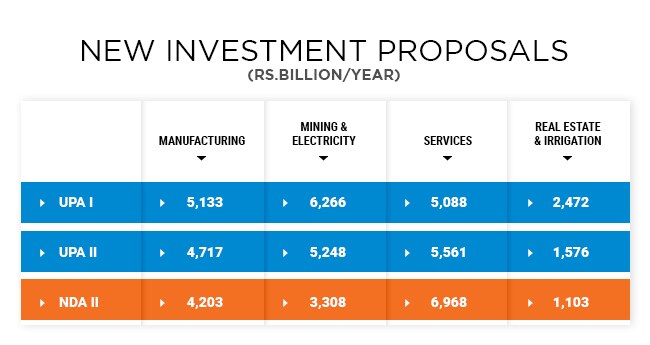 Maharashtra overtakes Gujarat
Data by states, suggest a significant shift in the pecking order with Maharashtra overtaking traditional leader Gujarat in NDA-II. Andhra Pradesh has also managed to race past Karnataka in the last 5 years. Huge infrastructure spends in roads, irrigation etc. in Maharashtra and Andhra Pradesh are the likely reason of their superior performance.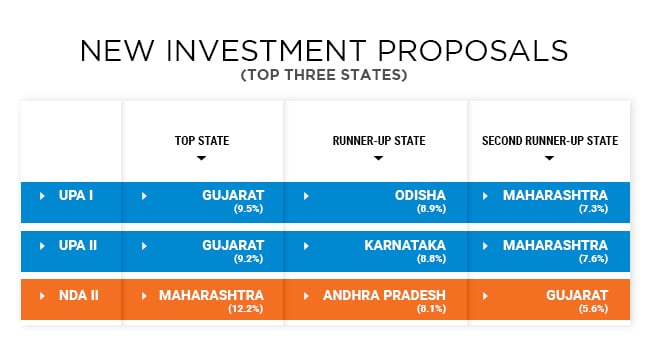 Sharp decline in net increment in outstanding investments
What's most worrying, though, is the sharp decline in net increment in outstanding investments. The ratio of new and revived investments in UPA-I was 5 times the completed, stalled and abandoned projects. This has dropped to less than 1x in NDA-II.
Simply put, this means that the pace of new investments have been slower than the rate at which old investments are getting completed or stalled or abandoned. V Srinivasan former deputy MD Axis Bank told CNBC-TV18 that over the last five years , the economy reported significant clean-up and consolidation though the clean-up process is still a work in progress.
Sector expert Mahesh Vyas, CMIE notes that in the last three regimes, there has been a sharp fall in private sector investments.
Private sector investment in UPA-I was 8 times more than the last five years. However , the private sector is no longer facing issues that cropped under UPA-II. He believes that while the NDA government has been more decisive in taking decisions, over-reliance on IBC, Twin B/s are delaying problems.