When Sunita Advaney was seven years old, she asked her Sindhi parents about Thanksgiving. Her father Lal Lakhati, an immigrant from India, didn't just explain the festival to her but actually bought a turkey and the family experimented with their first Thanksgiving dinner in America. Advaney, who is director of Sub-Advisory Business Development at Principal Global Investors (PGI), a $455 billion Asset Management Division of Principal Financial Group in Manhattan, still remembers the delight of that first turkey dinner.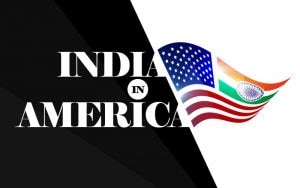 Her father had smeared the big bird with spices and tandoori coloring and showed her how to stuff it with boiled eggs and biryani and stitch the opening. Most of their extended family weren't familiar with this festival so they invited over 40 of them and everyone enjoyed the experience.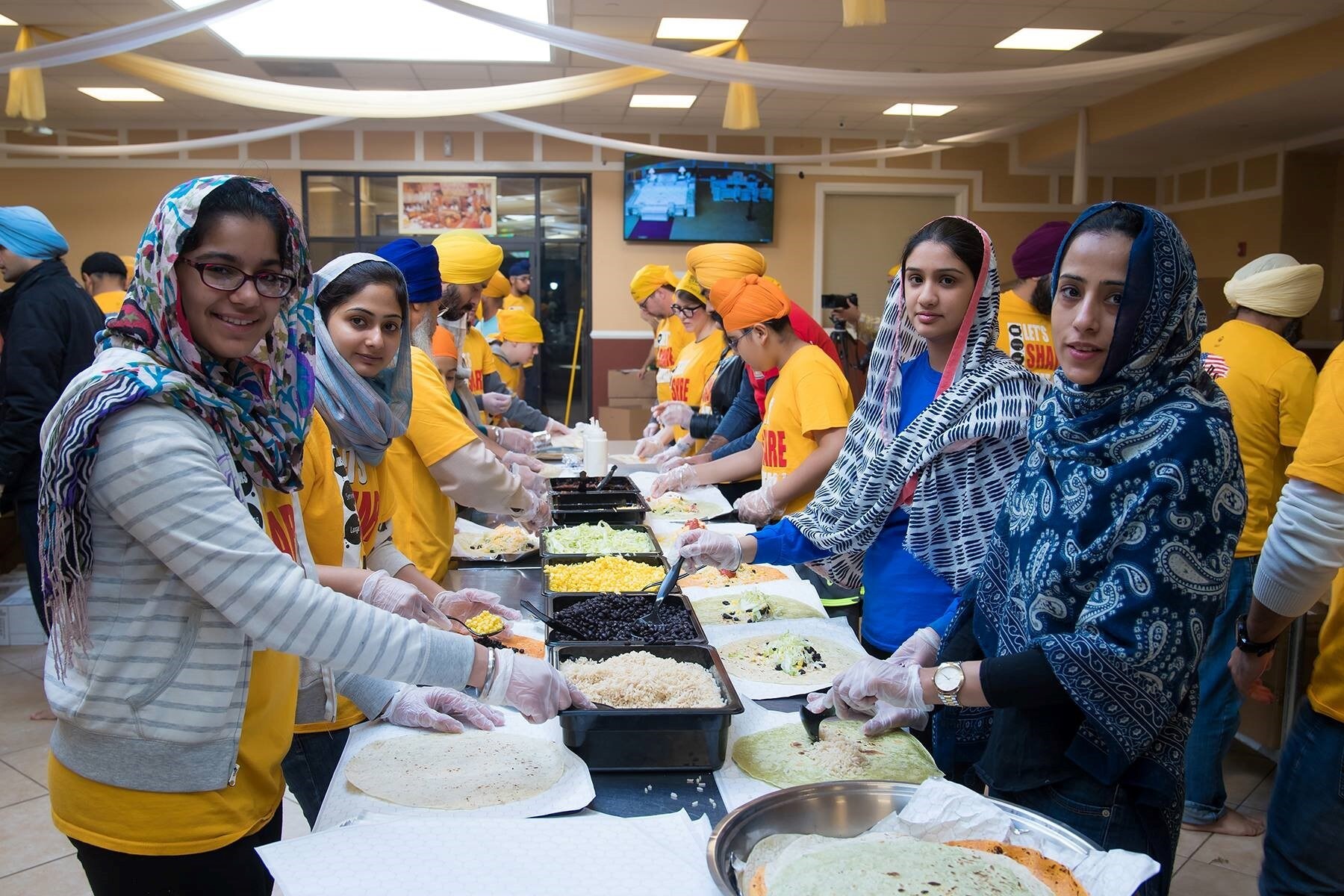 Volunteers from Let's Share a Meal' prepare food for the homeless for Thanksgiving.
"My father explained to me that coming to America was a golden opportunity and we should always appreciate the holidays that are celebrated here," she recalls. "Thanksgiving wasn't just about the turkey and trimmings but more about having an opportunity to be with dear friends and family to give them thanks for being in our lives. My dad loved bringing everyone together and today I have continued that tradition."
Umesh, her husband, is the founder of AKSUM Investors LLC and he too is big on bringing spice into the Thanksgiving celebration. This year they are stuffing their turkey with spicy chorizo and jalapenos, and also making a tandoori stuffed chicken for, as Sunita says, "We always like to marry the two cultures on T-Giving with flavors of both American traditional and spicy masalas from India.  It signifies us appreciating the American culture but not letting go of our wonderful Indian roots."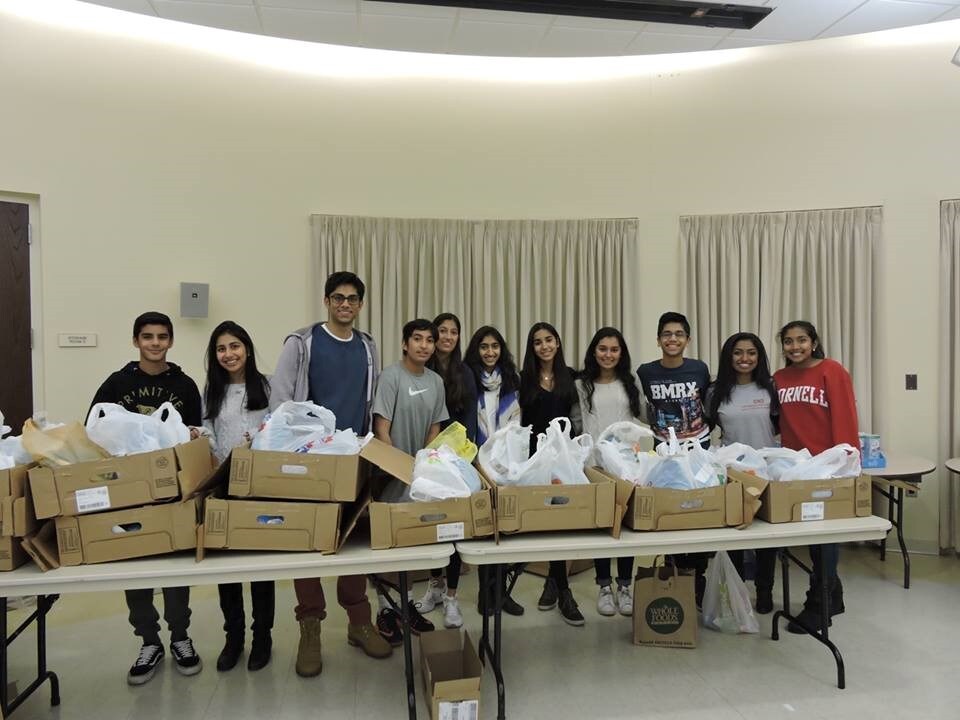 Turkey Drive by CH3 volunteers at Thanksgiving.
Her son Akshay, who is now 16,  attended a culinary camp this summer and will be helping his grandfather and parents prepare the Thanksgiving feast this year. Says Sunita, "The three generations coming together to cook for this holiday tradition that he cherishes and appreciates so much has made my dad very proud."
Spicy Tales
Immigrants are certainly bringing their spices to the rather bland and ponderous turkey which is little known in Indian cuisine except in Chettinad dishes. Indians love their chilies and spices and so almost every family personalises the recipe with its own spice rub.
When Sunita Manjrekar first came to the US 28 years ago from Mumbai, she had her first Thanksgiving with her in-laws who had been in America for 40 years. Manjrekar, Director of Employment in the Nassau County Social Services, was startled by the sheer size of the turkey: "I wondered what this is and found it too dry." Over the years she has replaced it with Cornish game hens which are more flavourful and brought her own mix of spices to the table.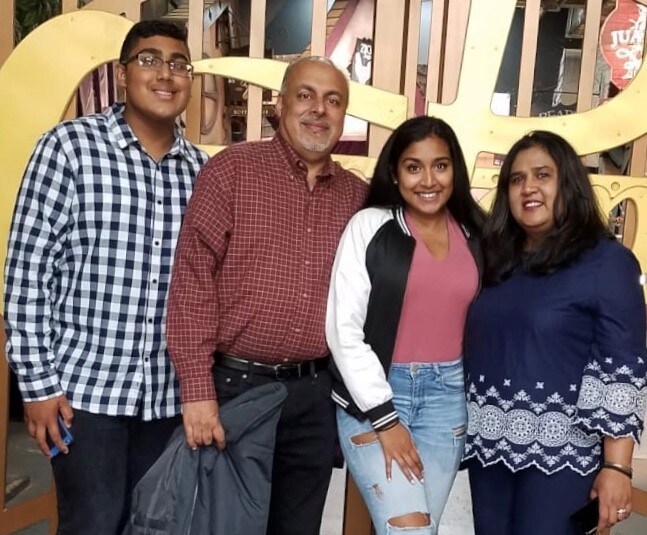 The Manjrekar Family.
Sunita and her husband Nitin, a vice president at Sterling Bank, have made Thanksgiving both Indian and American. She says: "We want to celebrate both cultures, acknowledge both cultures – and we want to thank both cultures for bringing us together." Since their mixed heritage is from the South, Maharashtra and UP, all these regional influences find their way into their Thanksgiving table, giving spice to the traditional fare: the mashed potatoes get a rai ka tarka, corn gets cilantro and onion and green beans get extra spices to make it all 'Indianish'.
Regional dishes like Vanki Bhat as well as Maharashtrian favourites like seafood also find their way to the table along with Italian comfort foods like lasagna. Along with their two children Rohan and Rhea, all the influences of their many worlds find their way into their eclectic plates. Says Manjrekar, "We are a real kitchri  - a total mix like America is – a melting pot of different cultures."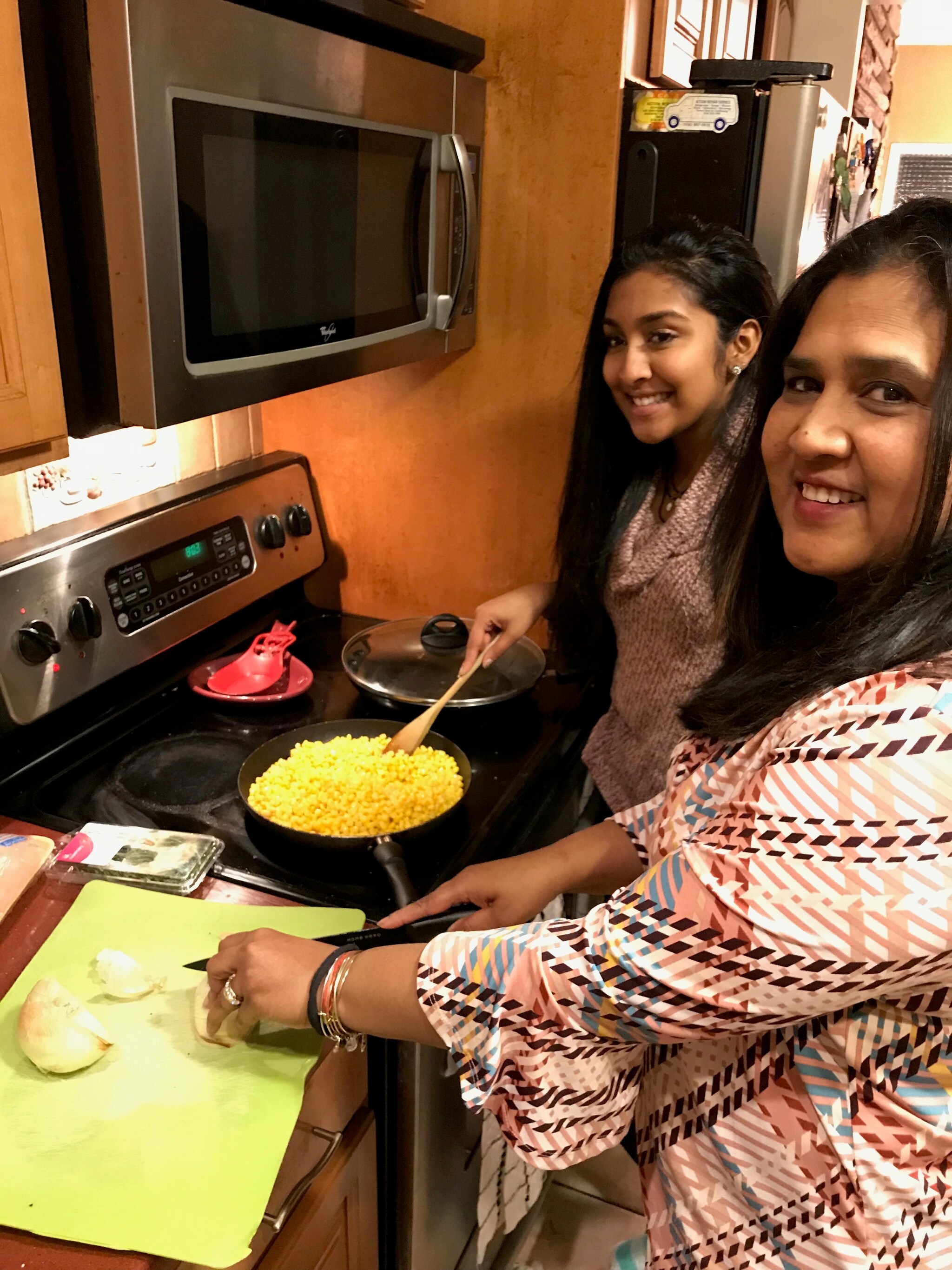 Sunita Manjrekar and her daughter Rhea prepare the Thanksgiving meal.
For vegetarians,  turkey's starring role in the Thanksgiving meal can prove a stumbling block. Indian immigrants, however, are particularly inventive in finding alternatives to the big bird, be it tofu or a whole baked pumpkin stuffed with vegetarian fillings. Indian spices are certainly entering into the lexicon of Thanksgiving – this month Epicurious the foodie website offered these delights up for Thanksgiving:  In place of the cheese, bread and dip, the suggestion was for "squeaky homemade paneer, chewy warm naan and creamy roasted eggplant dip scented with mint, cilantro and garam masala.
Traditional Thanksgiving vegetables, like roasted carrots and scalloped potatoes, take on new flavors alongside a yogurt- and curry-marinated bird. Bowls of creamy raita and tangy chutney take the place of gravy."
I had once interviewed Jagit Singh, a mechanical engineer in Queens, about his Thanksgiving meal. A vegetarian, his simple meal comprised of daal, sabzi and biryani and he would give away the turkey he received at work to his friends.   "It is not a turkey thing only – though a lot of people may think that," said Jagjit.  "We are Americans too and we are part of the tradition. We celebrate Thanksgiving with our fellow Americans though our way of cooking, our diet may be a little different."
Much Like Indian Festivals
Indians have whole-heartedly embraced this American festival because it is inherently about what Indians believe in – togetherness, family and gratitude to the almighty. Thanksgiving is also about expressing gratitude for making it in a new world. Many families have a tradition of inviting a newcomer, a lone person in a big city to the Thanksgiving table. Others have a tradition of serving in the soup kitchens and shelters.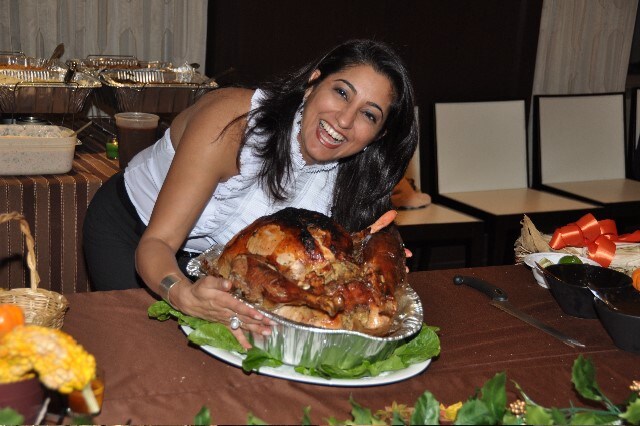 Sunita Advaney brings the turkey to the table for an all-American celebration.
For some young Indian-Americans the day is about giving back to the community. Simran Kohli joins other members of the CH3 youth group of CHI India to help collect and pack frozen turkeys, bags of stuffing and cans of vegetables for needy families and also collect clothing for them in the annual Turkey Drive. This enables these families to have a satisfying Thanksgiving meal and warm clothing for the approaching winter.
The Sikh community, through its belief in langar, has long had this tradition of feeding others and this takes on special significance during the Thanksgiving holiday. The Sikh temple Nanak Naam Jahaj Gurudwara in Jersey City organizes "Let's Share A Meal," a volunteer-run program that feeds the hungry. Over the Thanksgiving weekend, it served over 20,000 meals to the homeless (for Guru Nanak's birth anniversary.) They serve vegetarian meals which are sure to be loved by Americans – burritos, pizzas, pastas and sandwiches all lovingly prepared by volunteers. This thought and caring for the receiver, regardless of his social status or race, is a tenet of Sikhism and gels well with the Thanksgiving spirit.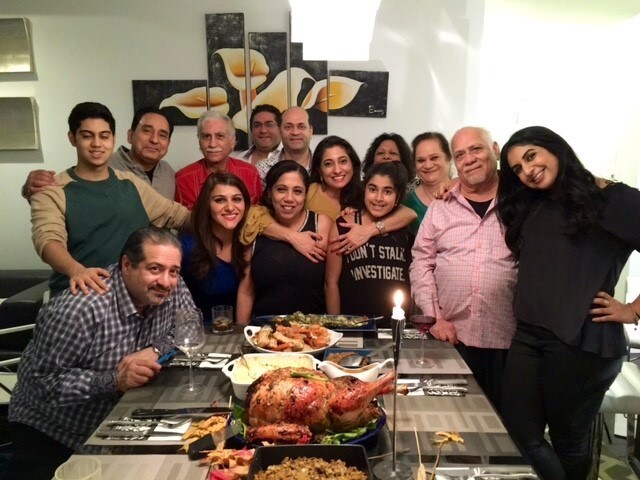 The Advaneys gather with family and friends for Thanksgiving.
As Mayor Steven Fulop of Jersey City said at the distribution of free meals to the homeless, "One of the best things about Jersey City is that we are recognised as the single most diverse city in the entire country and every year on the weekend before Thanksgiving the Sikh community in Jersey City prepares and organises distribution of 20,000 meals to shelters in New York and New Jersey."
Indeed, Indian-Americans seem to have been rehearsing for this festival of food, family and friendship all their lives.