Indian economy contracted 7.3 percent in FY21 against a 4 percent expansion in the preceding FY20, official data showed on Monday. The slump was not as bad as the Street had expected thanks to a 1.6 percent rise in March quarter GDP. A CNBC-TV18 poll had also estimated the GDP to shrink by 7.5 percent.
The National Statistical Office (NSO), which released the data, had first projected a GDP contraction of 7.7 percent in 2020-21 in its first advance estimates of national accounts released in January this year. It was revised to an 8 percent contraction later in the second revised estimate in February.
In contrast, the GDP in the March quarter of 2020-2021 grew by 1.6 percent, the data showed on Monday, before the second wave of the COVID-19 pandemic engulfed India forcing restrictions across multiple states impacting economic activity. A
CNBC-TV18 poll
had estimated the Q4 GDP at 0.9 percent and gross value added (GVA) reading is seen at 3 percent.
The fourth-quarter growth was better than the 0.5 percent expansion in the previous October-December quarter of 2020-21. The GDP had expanded by 3 percent in the corresponding January-March period of 2019-20, according to NSO data.
Among sectors, the agriculture growth for FY21 has been estimated at 3.6 percent, while mining contracted by 8.5 percent. The manufacturing shrunk by 7.2 percent, while electricity growth came in at 1.9 percent.
The growth in construction contracted by 8.6 percent, while trade, hotels grew at a negative rate of 18.2 percent. The financial and real estate sector shrunk by 1.5 percent, while public administration growth too was negative at 4.6 percent.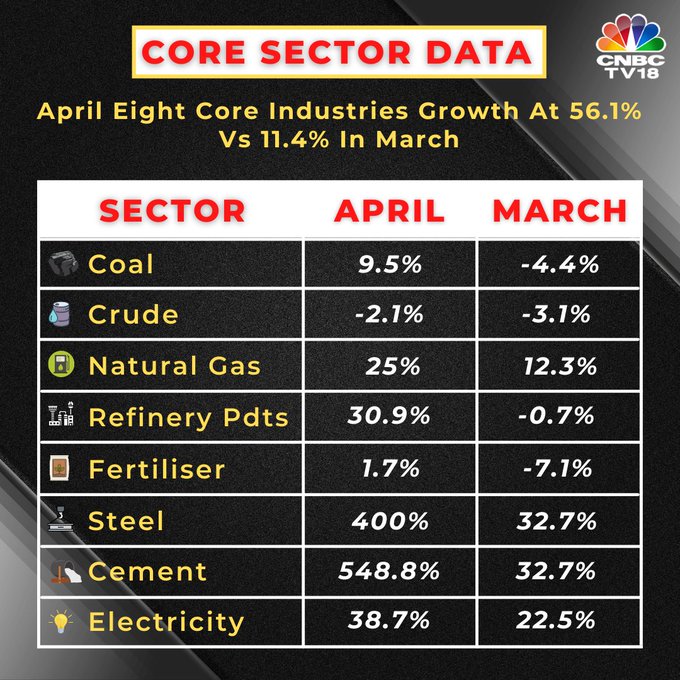 Meanwhile, India's fiscal deficit came in at 9.3 percent of GDP in 2020-21, down from the revised estimate of 9.5 percent.
A
Reuters
poll
had reported a median forecast of 1 percent on-year growth for the March quarter, which is up from 0.4 percent in the previous quarter. It also said that economists are less upbeat about the current quarter ending in June.
The news agency had forecast the three-month media growth between April and June at 21.6 percent, which was lower than an earlier estimate of 23 percent. For the full-year fiscal year 2022, the median forecast is down from a previous estimate of 10.4 percent growth to a 9.8 percent expansion.
Indian economy had recorded an 11-year low GDP growth rate of four percent in 2019-20, down from the previous 6.5 percent.
India has recorded over 2.8 crore COVID-19 infections, behind only the United States, and 329,100 deaths as of Monday, although the rise in coronavirus cases has begun to slow.
—The story has been updated with more details
(Edited by : Ajay Vaishnav)
First Published:  IST