3 Min(s) Read
India Energy Week: PM Narendra Modi launched the uniforms under the 'Unbottled' initiative of the Indian Oil Corporation. he also announced that the government has reduced the no-go area for oil and gas exploration to 10 lakh square kilometres, which will unlock investment opportunities.
Prime Minister Narendra launched the India Energy week in Karnataka on Monday, with a focus on adoption of renewable energy resources, promoting the use of green hydrogen and natural gas consumption. He laid emphasis on the country's achievement in the green energy sector and announced some projects that could help India achieve net zero emissions goal by 2070. The three-day event is themed around 'Growth, Collaboration, Transition'.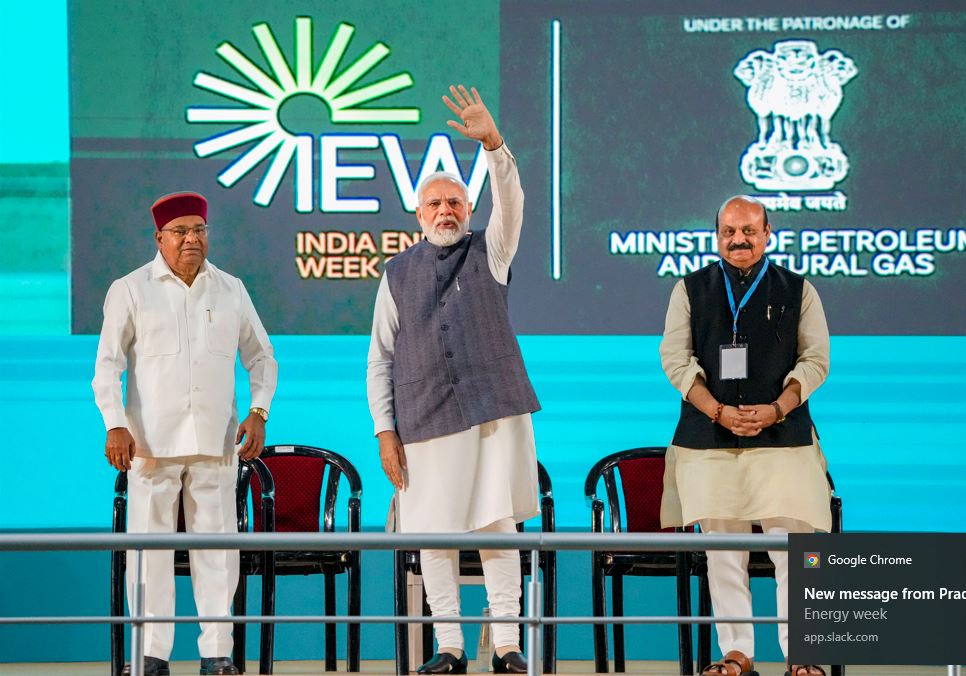 Prime Minister Narendra Modi with Karnataka Governor TC Gehlot and Chief Minister Basavaraj Bommai at the India Energy Week in Bengaluru. (PTI Photo)
Top announcement by PM Modi and highlights of Day 1 of the India Energy Week:
> The two-day deliberations of the first G20 Energy Transitions Working Group concluded successfully in Bengaluru today with shared views and consensus on priority areas. Participants came to an understanding that energy transition pathway would be different for each country and that fossil fuels would continue to be used more or less in in the coming 15 to 20 years as per their requirements and share of energy production.
> India has signed a Memorandum of Understanding (MoU) with Indonesia-Malaysia-Thailand Growth Triangle Joint Business Council (IMT-GT JBC), Malaysia to further promote the adoption of energy efficiency and sustainable practices in the region. Energy Efficiency Services Limited (EESL), a Public Sector Undertakings under the Ministry of Power, signed the (MoU) with the IMT-GT JBC Malaysia coinciding with the India Energy Week celebrations.
> Billionaire Mukesh Ambani's Reliance Industries showcased a truck that runs on hydrogen, the cleanest known fuel whose tail emissions are only water and oxygen. A display near the truck said this was "India's 1st H2ICE technology truck on road."