India has been getting a lot of bad press in last few years, when it comes to environment and pollution.
The country has 14 cities in the list of most polluted 15 cities, according to World Health Organization (WHO).
Two of India's largest rivers are among most polluted rivers in the world.
It also features towards the bottom of the list in the Environment Performance Index data released earlier in this year.
So, as the World Environment Day 2018 celebrations begins in Mumbai, let us take a look at the state of India's environment.

India's power generation since many decades was highly dependent of coal-fired power plants.
As of now, more than half of India's installed power generation capacity is coal based, which contributes a lot in impacting country's air quality.
But the good news is, government is targeting 175 gigawatt of installed renewable energy by 2022 and has made substantial progress in order to achieve this target in last few years.
Another major factor, behind India's bad air quality is the use of biomass such as cowdung, wood as fuel. It is estimated that around 780 million people in India are still using biomass for cooking.
However, the government has made significant progress to overcome this. The national average of liquefied petroleum gas (LPG) coverage in India has gone up to 82% in 2017-18 from 62% in 2014-15.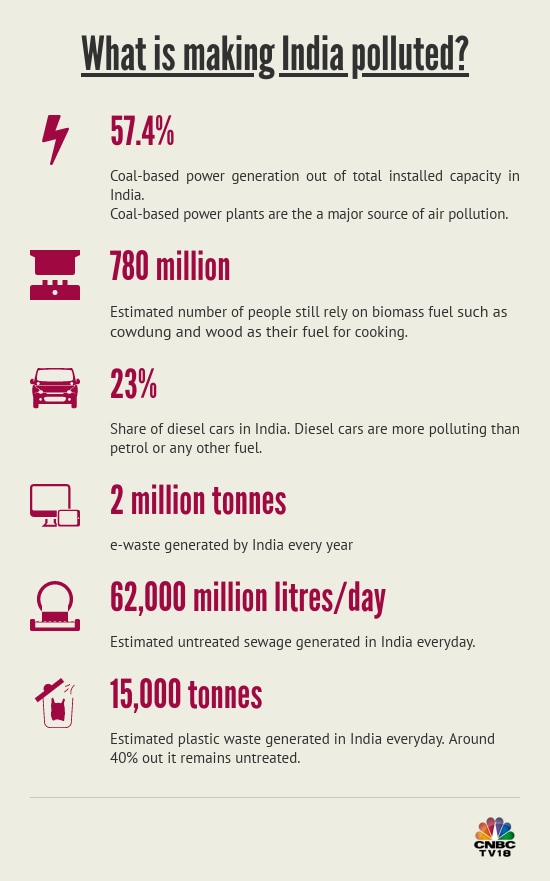 The government has also been successful in cutting down the usage of diesel vehicles in the country.
Diesel is considered more polluting than any other fuel. Government has taken various steps such as implementing stricter emission norms, banning diesel vehicles over ten years of age.
The government also has ambitious plans to go all electric by 2030, in terms of new car sales across India.
Having said that, there is still a lot of ground to cover in terms of curbing pollution.
The country generates tonnes of plastic and e-waste on a daily basis, but don't have enough capacity to dispose or recycle it.
India generates around 62,000 litres of sewage water every day and 70% out of it, is still left untreated and flow in to our rivers and making them polluted.