Young urban Indian consumers are looking for stylish and comfortable footwear that they can wear all day long in both 'work' and 'fun' environments and Flatheads sees a clear opportunity there.
We searched long and hard for a suitable opportunity worth spending the next decade of our lives on. During our conversations, it became clear that we wanted to be a part of the consumer brand revolution happening in the country right now.
The background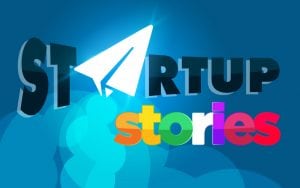 Utkarsh has been spotting trends in shoes for a while now, and we decided to take a closer look at the industry.
At first glance, footwear appeared to be an extremely cluttered market with multiple incumbent brands and lots of choices.
But on deeper analysis, we realised that there are some key trends that are changing in the post-millennial lifestyle that can potentially impact the way shoes are made and worn.
Friday is the new weekday
As workplace dressing gets more casual, denims and tees are now becoming the weekday dress-code for the young workforce. A little more formal wear usually means chinos and casual shirts.
However, shoe choices continue to be either leather slip-ons or rubber-soled keds which are not very comfortable, or sports shoes that don't go with the workplace vibe.
Also, the workday has extended to 12–14 hours with post-work meetups and hangouts that end with a visit to the neighbourhood watering hole.
Modern workplaces need stylish shoes to complete the casual dressing ensemble, and they need to be optimised for 12–14 hour comfort.
The brand divide is getting larger
Traditional Indian brands such as Bata, Liberty, Red Tape and others have focused on the mass segment. While their functional appeal of value-for-money and tikta hai ruggedness is well known, they are not aspirational brands for the urban millennials.
Aspirational brands that have a personality and an emotional connect with the customers such as Vans, Converse, Puma, Adidas, Nike et al are all expensive. The latest styles splashed on their social media pages are beyond the reach of young aspirers. They are forced to settle for past season styles available at discounted prices and entry level shoes that don't look great.
Affordable mass brands are not aspirational, while aspirational premium brands are not affordable.
There is massive clutter in online marketplaces
Online marketplaces offer no clear brand promise or differentiation. A sample of Myntra's casual shoe sub-category shows 17,000 similar looking shoes, where you can rip the label off one and put it on another without noticing a difference. It almost seems like they are sourced from the same suppliers with minimal design effort.
Due to massive clutter, the only defining aspects of a shoe online are an established brand name or price.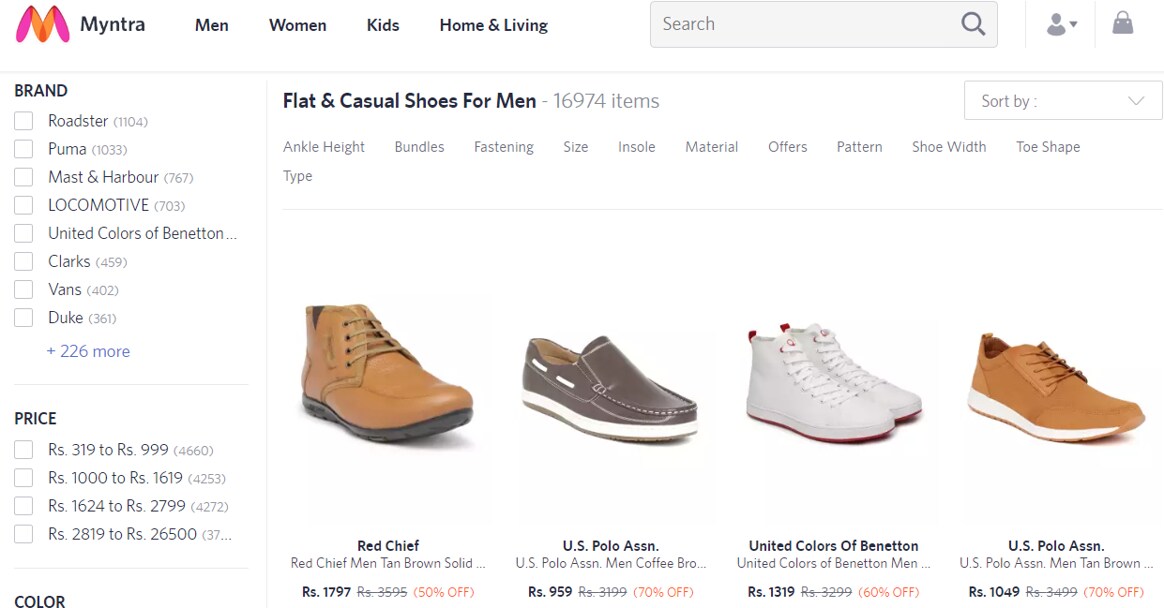 Online marketplaces have huge clutter with no clear differentiation.
The opportunity
Young urban Indian consumers are looking for stylish and comfortable footwear that they can wear all day long in both 'work' and 'fun' environments.
Our startup,
Flatheads
, is an aspirational brand of dress sneakers that complete the well-groomed look and provide optimum all-day comfort.
Market size
The Indian footwear market is Rs 73000 crore ($10 Billion) in size and growing at 15 percent annually. Of this, the premium casual footwear segment (priced between Rs 2,000 and Rs 6,000) is estimated to be Rs 8,000 crore ($1.2 billion).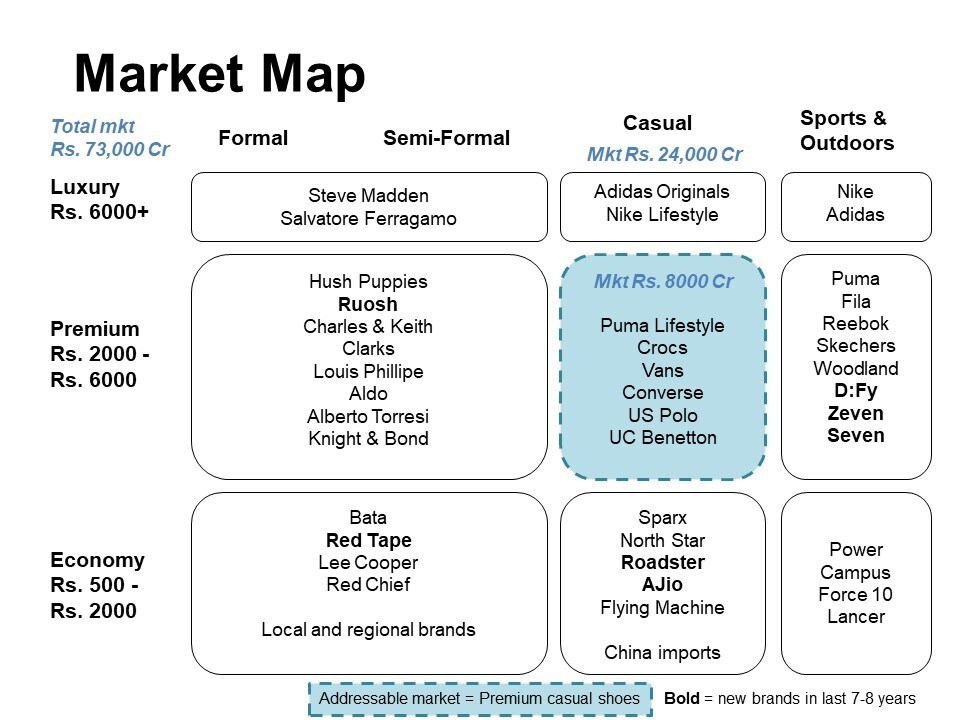 Indian footwear market map (2018) (Data Source: Euromonitor, news sources)
We see a clear opportunity to build a Rs 700 crore ($100 million) brand in the next 7–8 years in this category.
The product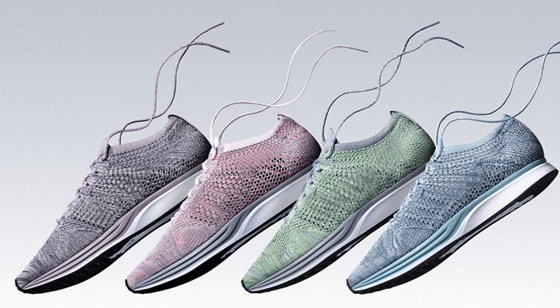 At Flatheads, our endeavour is to make contemporary all day sneakers that feel 'airy and pillowy'. We accomplish this using a three-pronged approach:
Modern materials
The knit fibre uppers are strong, breathable, wear and wrinkle resistant, moisture wicking and quick drying. The insoles and soles are light weight, flexible and offer best-in-class shock resistance.
Modern processes
The product range is created using different colours and patterns in the knit fabric. Offering varied thicknesses at different regions of the shoe offers additional comfort and protection.
Unique identity
The primary aim is to create sophistication through simple and sharp form. The shoe incorporates techno-aesthetic accents that blend in modern lifestyles and environments.
We are looking to launch the shoes in the fall-winter season, so it's all hands on deck right now!
Stay tuned
as we setup our catalog and prepare for kick-off!
Ganesh Balakrishnan is an entrepreneur currently building a consumer brand in the footwear space. He founded two startups earlier – Momoe (mobile payments) and Windsleeve (retail tech).
Read
Ganesh Balakrishnan's columns here
Startup Stories is a series of accounts by startup entrepreneurs on how they built their businesses and found success. Read them
here
.
First Published: Jun 12, 2019 6:00 AM IST