Mini
Charitable organisation Oxfam on Monday released a report named "Public Good or Private Wealth", ahead of the gathering of political and business leaders at the World Economic Forum in Davos.
According to the report, while billionaire fortunes globally increased by 12 percent last year at $2.5 billion a day, 3.8 billion people who make up the poorest half of humanity saw their wealth decline by 11 percent, the report said.
The fortunes of Indian billionaires grew by an astronomical 35 percent per day last year, or by Rs 2,200 crore daily, while the poorest 10 percent of the country has continued to remain in debt since 2004, said the report.
Here are the key highlights of the reports with regards to India:
Economic Inequality
India's top 10 percent of the population holds 77.4 percent of the total national wealth. The contrast is even sharper for the top 1 percent that holds 51.53 percent of the national wealth. Indian billionaires saw their fortunes swell by Rs 2,200 crore a day last year, with the top 1 percent of the country's richest getting richer by 39 percent as against just 3 percent increase in wealth for the bottom-half of the population.
The report reveals that India added 18 new billionaires last year raising the total number of billionaires to 119, and their wealth crossed the $400 billion mark for the first time. It rose from $325.5 billion in 2017 to $440.1 billion in 2018.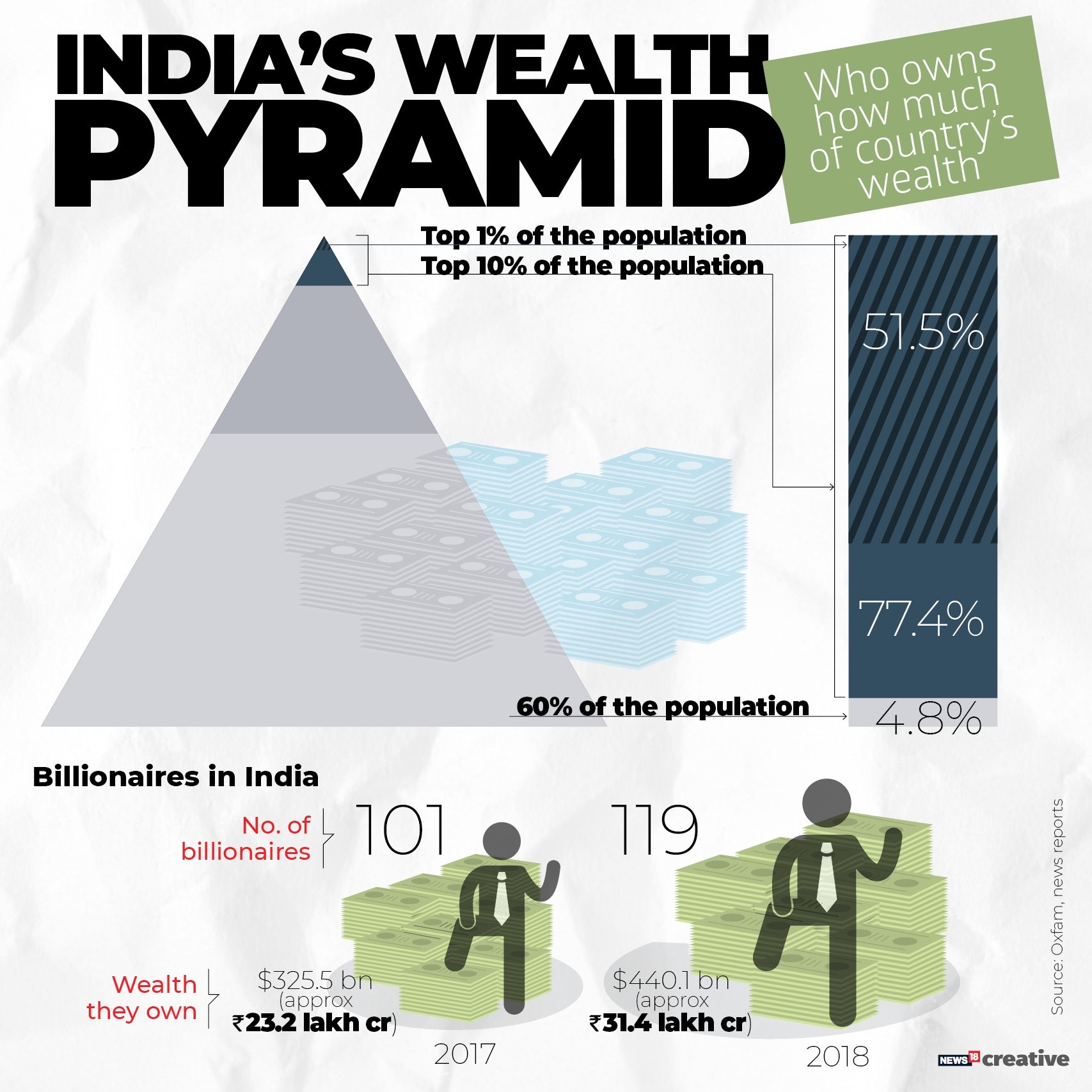 Gender Inequality
Oxfam said inequality has a "female face" in India, where women are less likely to have paid work when compared to men, while even among the richest there are only nine women in the country's 119-member billionaires club.
In India, the unpaid work done by women looking after their homes and children is worth 3.1 percent of the country's GDP. Women spend 312 minutes per day in urban areas and 291 minutes per day in rural areas on such unpaid care work, it added. In comparison, men spend only 29 minutes in urban and 32 minutes in rural areas on unpaid care work.
Healthcare
In India, government neglect of public healthcare means the private sector dominates. The highest-quality private medical care is only available to those who have the money to pay for it. The country is a top destination for medical tourism, with some of the best-quality care in the world available to those who can afford it.
At the same time, levels of public spending on health are some of the lowest in the world. In South Asia, including India, poor-quality care kills more people than lack of access to treatment and care. Eighty percent of payments to the government health insurance scheme go to private providers. India is home to the largest number of people pushed into poverty by health expenses; paying for medicines is the chief cause.
Denied a longer life: Across the world, it is the poorest children who are most likely to die. The average number of children dying before they are five has decreased in almost every country in recent years. Nevertheless, poorer people, and especially women and girls, feel the effects of inequality far more than others. In India, a woman from the so-called lowest caste can expect to live almost 15 years less than a high-caste woman.
Prisoners for not paying hospital bills: Democratic Republic of the Congo (DRC) and India, at times some poor people are held prisoner in hospitals until they can pay; sometimes they are even chained.
Privatisation in Education Sector
Like healthcare, privatisation in the education sector is also a major problem in India. One study in Uttar Pradesh found that even low-cost private schools are unaffordable for the poorest 40 percent of families, with girls and children from lower castes or religious minorities less likely to attend.
Taxing Wealth
In India, there were so many exemptions to the tax on net wealth that a typical individual was paying over eight times less than they should have been. In 2016, instead of addressing the exemptions, the government abolished the tax.
According to the report, governments should focus their efforts on raising more from the very wealthy to help fight inequality. For example, getting the richest to pay just 0.5 percent extra tax on their wealth could raise more money than it would cost to educate all 262 million children out of school and provide healthcare that would save the lives of 3.3 million people.
Cutting taxes on wealth predominantly benefits men who own 50 percent more wealth than women globally, and control over 86 percent of corporations. Conversely, when public services are neglected poor women and girls suffer most.
Boosting Social Cohesion
In India, traditionally those from so called high-caste backgrounds are not supposed to use the same eating utensils as those from so called low-caste backgrounds. While prejudice still continues to exist, there is some evidence that school feeding programmes in public schools have contributed to breaking down this practice, as positive instances have been observed where all children eat together.
Key Recommendations
Deliver universal free health care, education and other public services that also work for women and girls. Stop supporting privatisation of public services.
Free up women's time by easing the millions of unpaid hours they spend every day caring for their families and homes. Let those who do this essential work have a say in budget decisions and make freeing up women's time a key objective.
Governments needed to do more to fund high-quality, universal public services through tackling tax dodging and ensuring fairer taxation, including on corporations and the richest individuals' wealth, which it said were often undertaxed. Eliminate tax avoidance and evasion by corporates and the super-rich.