The Goods and Services Tax (GST) collections for the month of November, recorded in December, have not come in as a surprise for the government. As CNBCTV18 reported earlier, the collections have reached the level of Rs 1.03 lakh crore again for the second consecutive month.
On a month-on-month comparison, the numbers are almost the same but on a year-on-year comparison, the numbers have shown a growth of 9 percent. The collections for the month of November, recorded in December is Rs 103184 lakh crore. Last month, the collections were Rs 1,03,492 lakh crore. GST collections for the month of November 2018, recorded in December 2018 were Rs 94,726 crore.
The CGST collections stand at Rs 19,962 crore, SGST at Rs 26,792 crore, IGST at Rs 48,099 crore and Cess at Rs 8,331 crore, cess figure giving some comfort on the pending compensation to be paid to the states.
It may be noted that the total number of GSTR 3B returns filed for the month of November up to December 31, have shown good growth and the returns filed are over 81 lakh, which has helped the government record collections over Rs 1 lakh crore mark, officials said.
But, are these numbers as per the government's estimates?
The monthly average collection required to meet the budget targets is Rs 1.14 lakh crore and as per the recent directions given by Revenue Secretary Ajay Bhushan Pandey, the collations should have reached at least Rs 1.10 lakh crore.
Strict compliance and healthy domestic trends
Government officials indicated that the GST revenue collections are above the Rs 1 lakh crore mark on the back of strict compliance and healthy domestic trends. However, the decline in revenue from imports continues to be a worry for the government.
"The GST revenues during the month of December 2019 from domestic transactions has shown an impressive growth of 9 percent over the revenue during the month of December 2018. If we consider IGST collected from imports, the total revenue during December 2019 has increased by 9 percent in comparison to the revenue during December 2018. During this month, the IGST on import of goods has seen a negative growth of (-) 10 percent, but is an improvement over (-) 13 percent last month and (-) 20 percent in the month of October," the finance ministry said in a press release.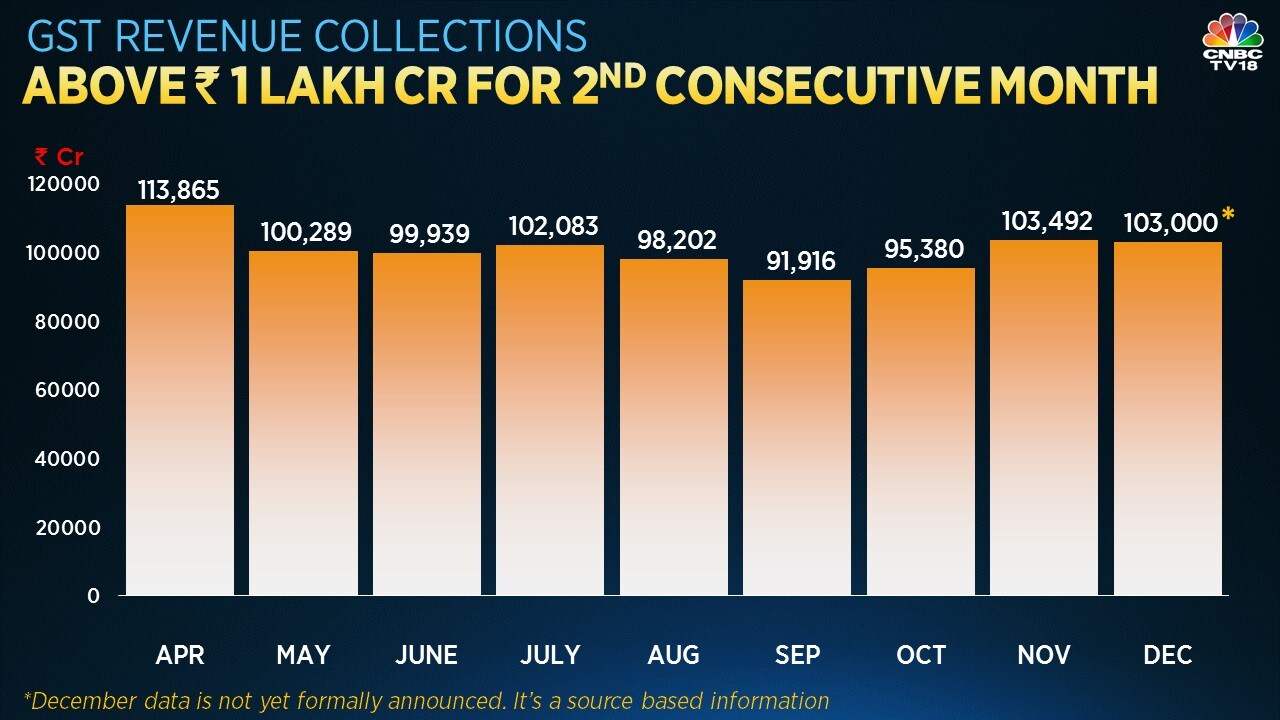 December 2019 GST collection comparison
With revenue secretary setting a target of Rs 1.10 lakh crore for the remaining months and atleast Rs 1.25 lakh crore in one of these months, it seems that the government will have to make extra efforts to plug tax leakages, make more and more registered taxpayers file return etc, officials added.
Meanwhile, experts see sustained collections as a healthy trend.
"Collections in excess of Rs 1 lakh crore per month for two months in succession accompanied by the proposed e-invoicing and stricter input tax credit norms may result in a reduced shortfall in GST collections for this fiscal. With virtually all states having better GST collections compared with the same period last year, there could be reduced pressure to compensate states in future," said MS Mani, partner at Deloitte India.
Similarly, PwC indirect taxes leader Pratik Jain says that given the monthly average GST collections since April is slightly over Rs1 lakh crore mark, "a dip in September and October was more of an exception. It also means that at this level collections seem to have stabilised and the government would need to find ways to increase it to next level. It's important to note that this has been achieved without increasing the rates, by simplifying the compliances and plugging the tax leakages gradually. The number of GST 3B returns have increased from 72 lacs to 81 lacs from April to December 19, which is encouraging. "
On the state wise break up,
the performance shows that "most industrial states seem have moved up considerably from December 2018 collections level, including Maharashtra, Tamil Nadu, Gujarat etc," Pratik Jain added.
Abhishek Jain, Tax Partner, EY says: "The GST collections crossing Rs 1 lakh crore for the second month in a row and a 9 percent growth on domestic transactions vis a vis December 2018 is quite a positive development. It seems that efforts of the government, like restriction on availing unmatched credits to plug GST evasion, are bearing results."
Also, experts feel that for the months to come, the government should focus on making long term strategy on GST rates and should avoid any move to tinker with rates. Also, there should be discussions on including real estate and petroleum within the ambit of GST and legislative changes which will simplify the laws further.