The government on Wednesday asked oil companies to absorb Re 1 per litre in order to pass on maximum benefits to consumers, as crude oil prices touched a four-year high.
Narendra Taneja, energy expert, said this move could help in rebuilding consumers' trust. "Consumers have been asking for more transparency," he said.
Oil marketing companies take into account the global performance of crude oil, excise duties and the state-wise value added tax (VAT).
State-owned oil marketing firms, however, are facing a tough time cutting prices, as they are unable to cope with the pressure of complying with government-introduced subsidies, among other developments.
On the recent sanctions on Iran, Taneja said that it would not affect oil price, and said that no major spiral or spike in crude prices is likely.
India is the third largest consumer of oil, behind the US and China, and has has to account for high importing costs and excise duties.
Oil marketing companies immediately slipped in the markets, post the news buzz.
The major state-owned firms - Bharat Petroleum Corporation Limited (BPCL), Hindustan Petroleum Corporation Limited (HPCL) and Indian Oil Corporation (IOC) - fell more than 4% each in today's market session.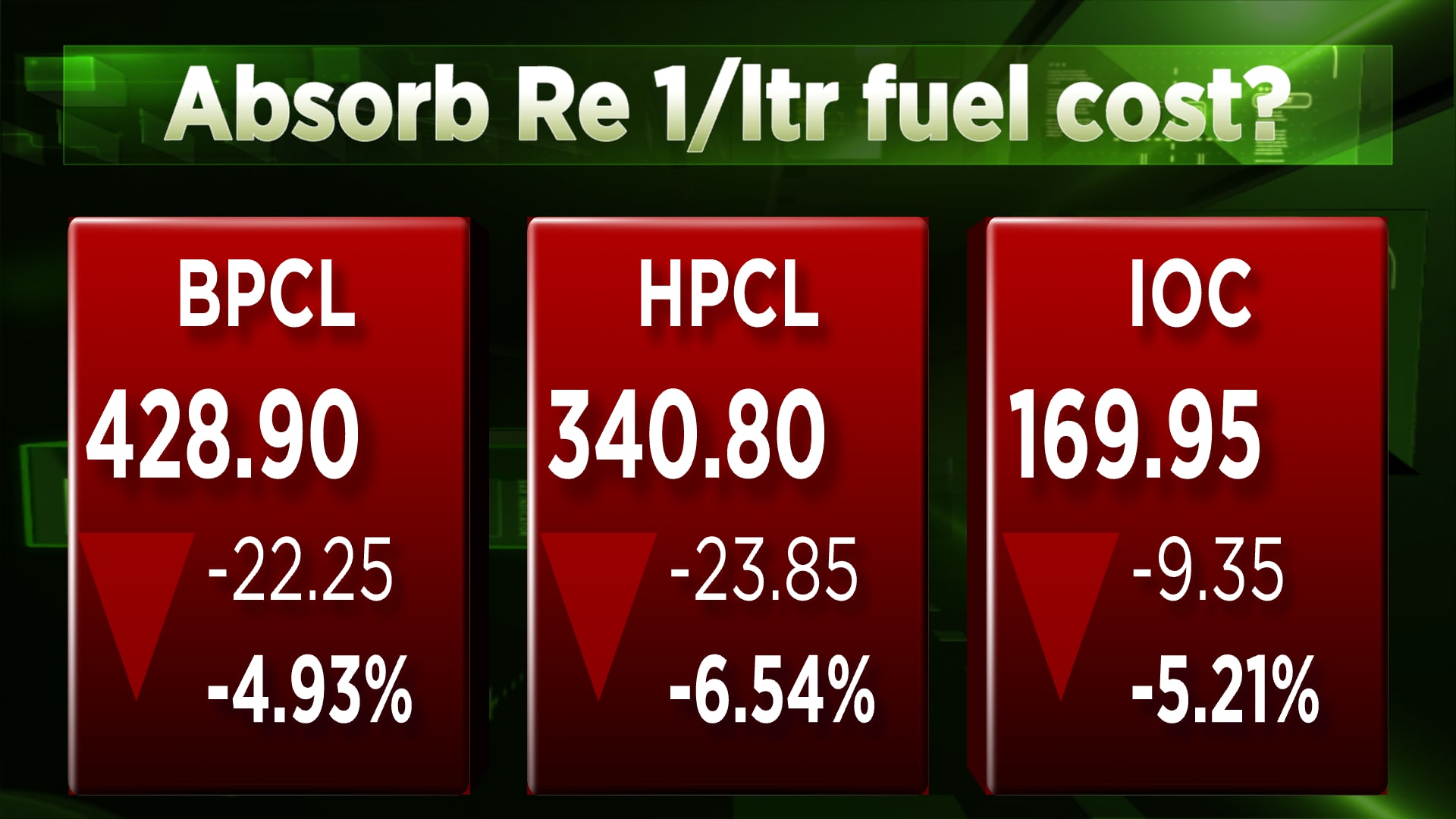 The government can always converse with the oil marketing companies on the pricing, as the government is their major shareholder. Currently, Taneja said, discussions have been going on between companies and oil marketing firms.
The government has asked the oil firms to pass the maximum benefit to the consumers. He reiterated that the government is doing its best to pass on the benefits from the crude pricing movement.
In case of shortage of oil resources, Taneja suggests shale production to be ramped up.
Read Also:
Edited Excerpts:
Anuj: A news agency reported that the government has asked oil companies to absorb Re 1 per litre of price hike if the crude price continues to rise. Can you confirm this?
There have been discussions happened between the government and these companies, without making any big changes in terms of policy, would do something to make sure that the people are better aligned in terms of accepting the prices are fixed as per the market ups and downs. And here people have been talking that the companies have been making more profit in the last 12 months and so the government should do something about it.
Petrol, diesel are decontrolled commodities as you know, so, the government cannot really issue any instructions as such. However, government being the biggest stakeholder in these companies, they can always have conversation on these lines so that the trust of the consumer, who is the most important person, is maintained.
Consumers have been asking for transparency, you said everything will be as per market forces, but where is the transparency and where are the market forces because we just see prices moving only in one direction and that is up and up. So I think, it will win the confidence of the consumer at this stage without really upsetting any kind of order.
Anuj: In your language it is quite clear that everyone will have to absorb a bit of a hit. Do you guess it was a bit of a mistake last year to take the entire benefit of crude fall as excise hike or large part of crude fall as excise hike because now we are at a situation where crude prices are nowhere near their highs, but the pump prices are already at their highs?
Since the architecture of petroleum sector and taxes is such that governments faith in centre are heavily dependent on petroleum products for their collection, for their revenues. So either you change the architecture completely, which is not easy, or you go along with it. So here when the prices were low, the government basically increased the excise and used that money, 40% was given to states and the rest was used for the same consumers who are the beneficiaries when you lower the prices.
However, in this case, it has gone more Ujjwala scheme where the poor have been given gas connection and built roads in the rural areas. So depends how you look at it. If you look at strictly from the business point of view, then you reach to a different conclusion, but government is not only there to make money. The government is there to make sure that at the end of the day people get the benefit of it. I think people got the benefit of lower prices but not in the form of what they pay at the pump, but in the form of what they get in terms of other things, which have been provided by the government.
Latha: So you confirm the Re 1 per litre news that government as shareholder has asked oil companies to bear the burden?
The government has asked the companies very clearly that they should do their best in order to pass on the maximum possible benefit to the consumers.
Latha: An oil expert said his charts tell him that crude prices could be between $74 and $84 per barrel in 2018. So do you think we should expect excise draw downs now, excise cuts?
First of all I do not expect the prices to go up to that level because demand and supply fundamentals are perfect and whatever we have seen, the $71 per barrel price, is basically related to President Trump's tweets with regards to Syria. The second thing is that even if President Trump goes ahead on them on May 12 and actually imposes sanctions, sanctions are back against Iran, that will only take $1 million out of the market.
In America, shale production is going up. So, I think that will be immediately taken care of by increased production by the United States. So there are no worries on that. I do not think prices will go up. Even Saudi Arabia know it very well, if you push the prices to that level, the only result will be that people will start investing more in renewables and they don't want that to happen. So I am not worried.
Here the point is that unless prices really go to the level that you are talking about, I think there is no need to really go for any kind of tweak in excise. However, the most important thing is to make sure that the consumer and the people are accepting the price, which is being given. At the end of it, let us not forget one thing, in India or overseas, oil is 90% a political commodity and anything which is political, you have to be very sensitive to what the people think about it.
Surabhi: I did not quite understand the point, you said that companies have been asked by the government as a largest shareholder to take consumers interest in mind to give maximum benefit to the consumer. Right now there is no benefit because pump prices are at all-time highs with crude prices being where they are. So are we looking at some kind of a no excise tweak but yes some kind of a cut in marketing margins, is that what we are looking at?
Probably you are thinking in the right direction. At the moment there is no proposal, it has been discussed with the ministry of finance, but the petroleum ministry has said the finance ministry is in no mood at the moment to have even any discussion on excise. Not today, I do not know what happens tomorrow.
Secondly, the companies have been asked to do their level best so that they can pass on the maximum benefit to the consumer. Let us not forget one thing, these companies also depend heavily on these consumers and consumers need to be basically kept in the confidence because when you have gone for dynamic prices, where you have decontrolled, it is important the consumer, the biggest stakeholder, is also kept on the right side.