The 46-year-old will succeed Maurice (Maury) Obstfeld, who will be stepping down by the end of this year.
Announcing the appointment, Lagarde called her "one of the world's outstanding economists with impeccable academic credentials, a proven track record of intellectual leadership and extensive international experience".
Gopinath will serve as the economic counsellor and the director of its research department.
She is the second Indian after former RBI governor Raghuram Rajan to take the position.
The 46-year-old will succeed Maurice (Maury) Obstfeld, who will be stepping down by the end of this year.
Gopinath currently serves as the John Zwaanstra Professor of International Studies and Economics at Harvard University.
Born in Mysuru, Gopinath is now a US citizen and an Overseas Citizen of India. Gopinath did her B.A. from the University of Delhi and M.A. degrees from both the Delhi School of Economics and University of Washington. She then completed her Ph.D. in economics from Princeton University in 2001.
After finishing studies, she joined the University of Chicago in 2001 as an assistant professor before moving to Harvard in 2005. She is the first female Indian-origin full professor at Harvard University's economics department.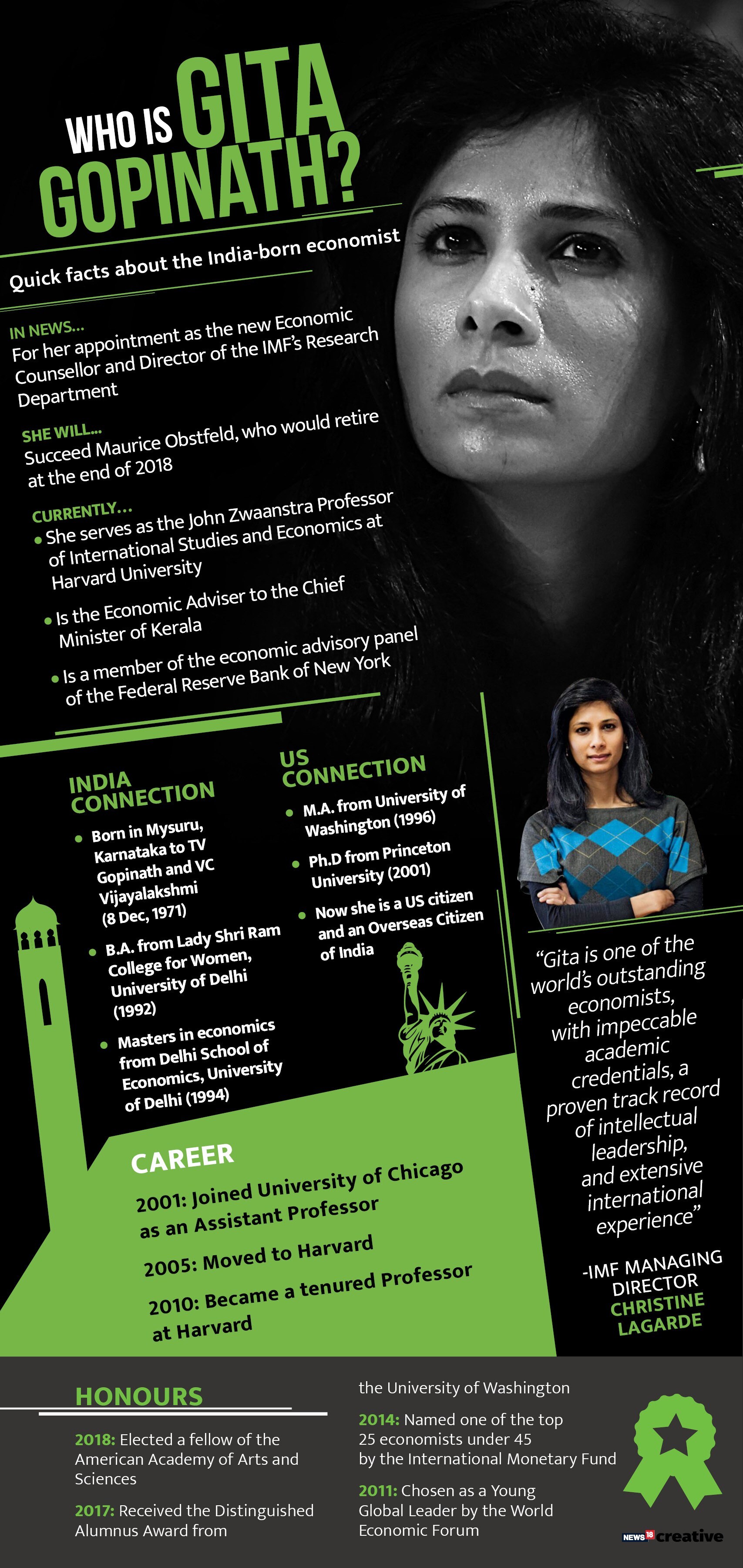 She is also serving as the economic adviser to the Chief Minister of Kerala, according to her bio at Harvard. She was appointed in 2016 to the honorary position with the rank of principal secretary.
Gopinath is also the co-editor of the American Economic Review and Handbook of International Economics, co-director of the International Finance and Macroeconomics Programme at the National Bureau of Economic Research and a member of the Economic Advisory Panel of the Federal Reserve Bank of New York.
Gita, who is widely considered as an authority on international price fluctuations and business cycles in emerging economies, believes there's a lot left to be done in improving the financial system in countries such as India and China, according to IMF.
The young professor says India needs to focus on education "at all levels" which alone can ensure a more skilled labour force, as IMF mentions.
In 2014, she was named one of the top 25 economists under 45 by the IMF and she was a World Economic Forum Young Global Leader in 2011.
She has authored around 40 research articles on exchange rates, trade and investment, international financial crises, monetary policy, debt and emerging market crises, according to the IMF.
Gopinath is an admirer of cricket icon Sachin Tendulkar and writer JK Rowling.
With Inputs from IANS