India's largest reinsurance company, General Insurance Corporation of India (GIC Re) may lose the edge it has over other Foreign Reinsurance Branches (FRB), said people familiar with the matter.
The Insurance Regulatory and Development Authority (IRDA) is likely to take up the recommendations submitted by the reinsurance expert committee in its board meeting in June, said the sources.
The recommendations submitted by the expert committee suggest a removal of the order of preference in certain business segments.
According to reports, the suggestions from the expert committee do not cover all business verticals, but it does affect some of the most lucrative businesses in its ambit.
GIC Re collected a premium amount of Rs 13,131 crore from the segments where a removal of the order of preference is suggested. This is around 43% of its net premium collection of Rs 30,354 crore.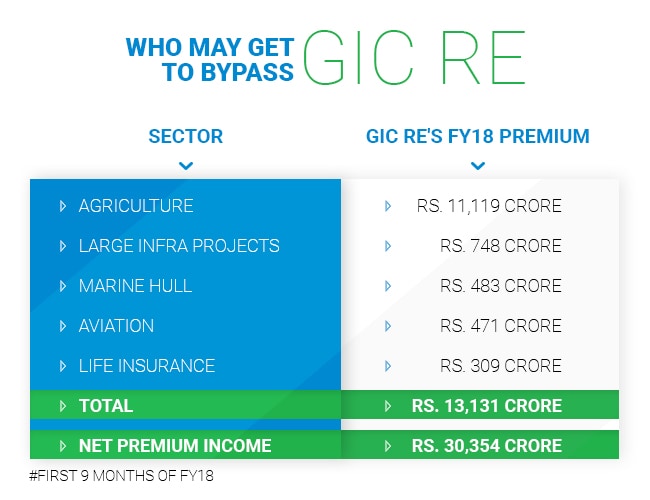 The entire premium amount of over Rs 13,000 crore is not under threat, but the impact will be felt if the board of insurance regulator accepts the recommendations.
What exactly is order of preference?
Under the current reinsurance regulations, any insurer wanting to reinsure a policy has to submit it with GIC Re along with three other FRBs. Once all quotes are received, the insurer is mandated to disclose it to GIC Re and give the company a chance to match the best quote.
Most of the time GIC Re matches the best bid and other foreign reinsurance branches lose the business.
How would the proposal change reinsurance regulations?
If the recommendations from the committee is approved by the IRDA, then any insurance company will be free to send a policy for the purpose of reinsurance to any company and select the best offer without even taking it through GIC Re.
However, this removal of order of preference is not a blanket one and will only be applicable on certain business segments such as aviation, Marine Hull, Life.
The smaller segments such as large infra projects, power plants, oil and energy, petchem and any specialised/emerging/volatile risks will be covered under the order.
Email sent to the company went unanswered.
The story will be updated if they respond.