India
's economy expanded at its slowest pace in more than six years in April-June as consumer demand and private investment — the two principal drivers of growth — slackened at a time when global trade frictions have dampened business sentiment.
Gross Domestic Product of India, Asia's third-largest economy, grew at a slower-than-expected 5.0 percent in the latest three-month period compared with 5.8 percent in the previous quarter, government data showed on Friday.
For the same three months, China reported annual economic growth of 6.2 percent.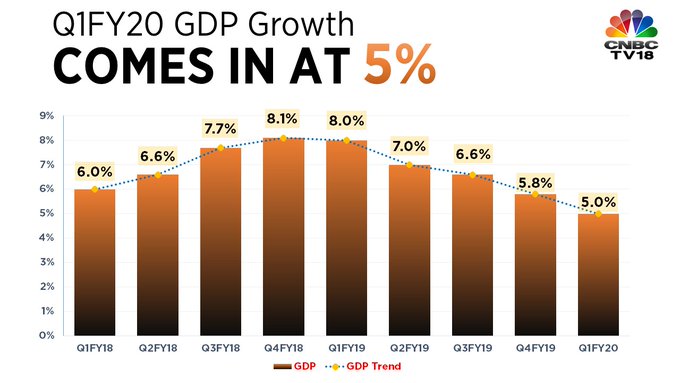 The previous low was recorded at 4.9 percent in April-June 2012-13. The economic growth was 8 percent in the same quarter of 2018-19.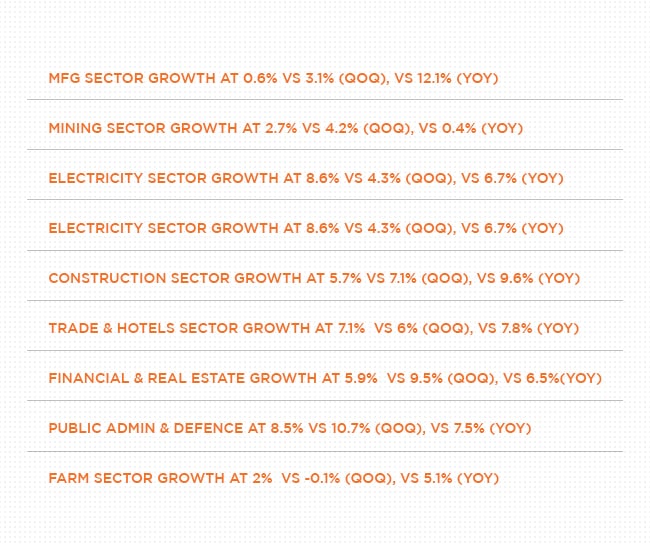 Q1FY20 GDP Growth At 5% Vs CNBC-TV18 Poll Of 5.70%.
Q1FY20 GDP Growth At 5% Vs 5.80% (QoQ) & Vs 8% (YoY).
Q1FY20 GVA At 4.9% Vs 5.7% (QoQ) & Vs 7.7% (YoY).
Reacting to economy slowdown, chief economic advisor K V Subramanian said, "India's GDP, while still high, has shown some slowdown. The government remains committed to stick to its glide path on fiscal deficit. Trade way, global headwinds are the reasons behind the slowdown in GDP growth."
Anubhuti Sahay, South Asia Economic Research, Standard Chartered Bank India, said, "We were looking at a 5.6 percent. The slowdown story is pretty well known, well captured in the high-frequency indicators, but getting a 5 percent GDP growth number which I think is the lowest in this particular series clearly comes as a very negative surprise. As you were mentioning, it clearly opens up more room for rate cuts going forward. Going forward we will see an uptick, but how big the uptick would be from a 5 percent number is a question which we will have to answer for which we will have to find answers in the quarters to come ahead."
Shocked at GDP numbers, Ananth Narayan, Professor, SPJIMR, said, "We are always worried that the growth actually has slowed down quite a bit, while analyst tends to be polite and optimistic, in private conversations most of us are discussing the fact that there is genuinely an issue in the economy. In a sense I am glad it has come out this way, it will just increase the focus on the need for reforms going forward."
"The good news in my mind at least is that none of these issues are beyond redemption. A certain amount of focus will help us get through it. Times are all there, while we can look at the actual breakup of the various sectors, the fact is our banking and NBFCs sector are our stressed, lending in not coming through, there are plenty of sectors which are going through economic stresses whether it is power, airline and shipping, real estate, construction, telecom, you name it," Narayan said.
Rashesh Shah, chairman and CEO, Edelweiss Financial Services, said, Everybody was expecting that GDP is going to slow down as the last three months these have been the headlines and we have been experiencing it. In a way, I am happy that it is out of the way. We knew that things were slowing down. But the good news is that this will spur us into action as this will feel like it needs a lot of action.
The economic survey, prepared by chief economic adviser Krishnamurthy Subramanian, which was tabled in the Parliament by union finance minister Nirmala Sitharaman, has predicted 7 percent GDP growth in the financial year 2020.
The Reserve Bank of India (RBI) in its August Monetary Policy Committee (MPC) slashed the country's GDP growth rate to 6.9 percent from its earlier revised projection of 7 percent. In its June monetary policy, the MPC revised GDP growth rate projection to 7 percent from 7.2 percent.