Cyclone Amphan is expected to make landfall on May 20 in the afternoon, and forecasters have warned of extensive damage from high winds, heavy rainfall, tidal waves and some flooding in crowded cities like Kolkata.
Update:
We will bring to you the latest updates on cyclone Amphan on May 20 as it makes landfall in West Bengal and Bangladesh.
Catch the latest updates on cyclone Amphan which will make landfall in West Bengal on May 20
A strong cyclone is moving toward India and Bangladesh on Tuesday as authorities tried to evacuate millions of people while maintaining social distancing. Cyclone Amphan is expected to make landfall on May 20 in the afternoon, and forecasters have warned of extensive damage from high winds, heavy rainfall, tidal waves and some flooding in crowded cities like Kolkata.
The cyclone had winds of 220-230 kilometers per hour (136-142 miles per hour) and is forecast to weaken before landfall around India's West Bengal state and Bangladesh.
It is the second super cyclone on record that has formed over the Bay of Bengal, said Mrutyunjay Mohapatra, India's meteorological chief. The first of that classification was the devastating 1999 cyclone in Odisha state that left nearly 10,000 people dead.
The Super Cyclonic Storm 'AMPHAN' is very likely to cross West Bengal – Bangladesh coasts between Digha (W.B.) and Hatiya Islands (Ban) close to Sundarbans on 20 May with max wind speed of 155-165 kmph. @Indiametdept @moesgoi

Press conference Link:https://t.co/pgxIOqc0Fr— RWFC New Delhi (@RWFC_ND) May 19, 2020
Follow the latest updates below:
Cyclone Amphan prompts Odisha govt to ask migrants to stay away from coastal districts
With cyclone 'Amphan' set to hit Odisha shores, the state government has asked officials to discourage migrants from returning to their hometown in coastal districts, and insisted that food and accommodation arrangements be made for them. Additional Chief Secretary and Special Relief Commissioner (SRC) P K Jena, in an advisory issued on Tuesday, said district collectors should allow vehicles carrying migrant workers and others to enter the state, but exercise discretion on sending them home. On Tuesday, 15,773 people returned to Odisha from other states. "It is not advisable to allow the people returning from other states and entering Odisha by bus to proceed to the districts which are already under the threat of cyclone.
BSF moves ships, patrol boats to safe anchor in Sunderbans
The Border Security Force (BSF) has moved its three floating border posts or ships and 45 other patrol boats deployed to guard the India-Bangladesh riverine front in the Sunderbans and Icchamati river in West Bengal to safe anchorage in view of the cyclonic storm 'Amphan', officials said. These vessels are used by the south Bengal frontier of the border force to guard about 350 km of the riverine border in this area. The BSF protects over 930 km of the International Border under this frontier that includes 110 km of the Sunderbans, Estuary Point, Icchamati river and Panitar, where the land and the riverine borders of the two countries meet. The three floating border posts or ships, 45 other patrol and mechanised boats have been moved for safe anchorage in the creeks of the Sunderbans in view of cyclone 'Amphan'.
Super cyclone 'Amphan' weakened into an extremely severe cyclonic storm on Tuesday as it moved closer to the coast, triggering rainfall in several parts of Odisha, where the state government stepped up efforts to evacuate people in vulnerable areas. It lay centred over west-central Bay of Bengal, about 420 km south of Paradip (Odisha), 570 km south-southwest of Digha (West Bengal) and 700 km south-southwest of Khepupara in Bangladesh, said H R Biswas, the director of Meteorological Centre, Bhubaneswar. The system is likely to move north-northeastwards over Bay of Bengal and cross West Bengal-Bangladesh coasts between Digha and Hatiya Islands during Wednesday afternoon or evening as a very severe cyclonic storm with maximum sustained wind speed of 155-165 kmph gusting to 185 kmph, he said. The cyclone is being continuously tracked by the Doppler Weather Radar (DWR) at Vishakhapatnam in Andhra Pradesh.
19.05.2020 1705 IST Light rain would occur over and adjoining areas of some places of South-West, South Delhi and Gurugram during next two hours.

— IMD Weather (@IMDWeather) May 19, 2020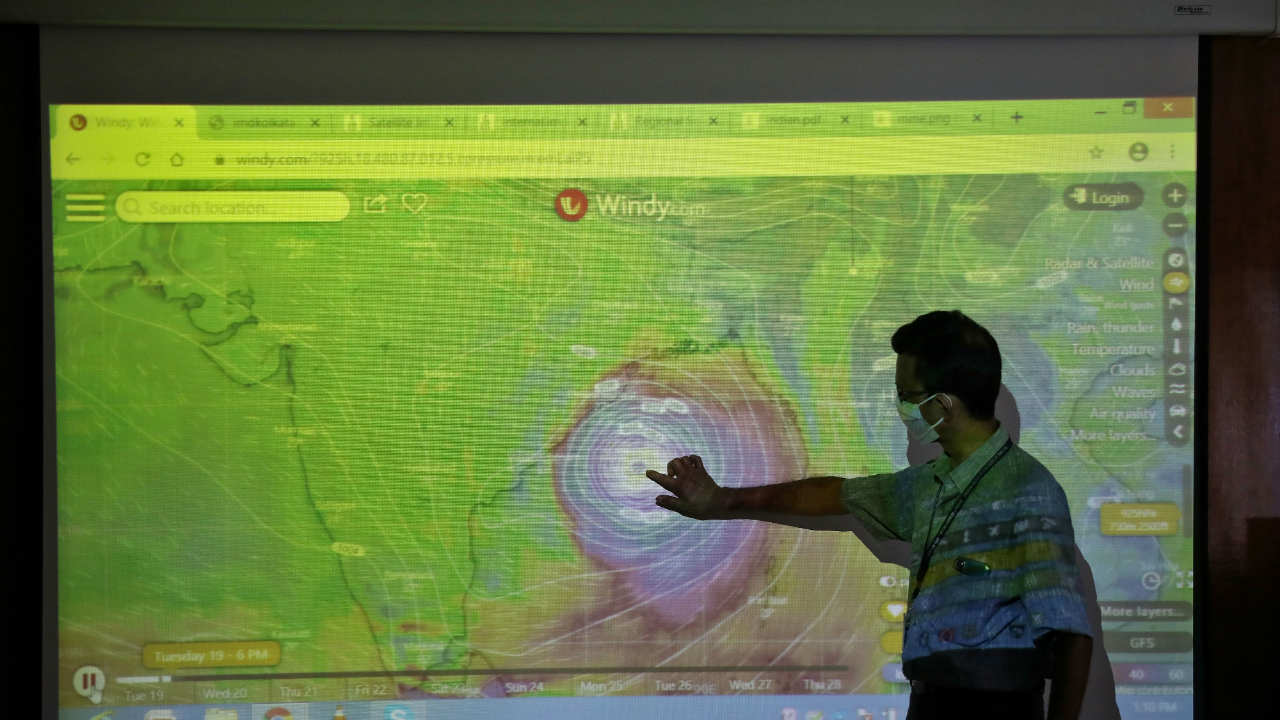 Cyclone Amphan: 3 lakh people evacuated, moved to relief shelters, says Mamata Banerjee
At least three lakh people have been evacuated from coastal areas of West Bengal in view of the impending super cyclonic storm 'Amphan' and all steps have been taken to deal with any eventuality arising out of it, Chief Minister Mamata Banerjee said on Tuesday. Banerjee said she and senior state government officials are directly monitoring the situation and announced several helpline numbers. "All precautionary measures are taken to deal with any eventuality arising out of the super cyclone. I had a word with Union Home Minister Amit Shah regarding it. At least three lakh people have been evacuated from three coastal districts of the state and moved to relief shelters," she told a press conference here. The evacuees have been shifted to cyclone shelters and all other precautions are being taken, Banerjee said.
41 NDRF teams deployed in West Bengal, Odisha
A total of 41 teams of the National Disaster Response Force (NDRF) have been deployed in West Bengal and Odisha to deal with any emergency situation arising out of cyclone 'Amphan', NDRF chief S N Pradhan said on Tuesday. Addressing a press conference here, Pradhan said cyclone 'Amphan' is a second disaster coming in the time of already prevailing COVID-19 and it requires continuous monitoring. "A total of 41 NDRF teams including reserves are deployed in two Amphan-affected states of Odisha and West Bengal," he said. The NDRF Director General said Amphan will be extremely severe cyclonic storm when it makes a landfall on May 20 and its hit potential remains strong.
Rapid response teams to keep eye on tiger movement in Sundarbans
With cyclone 'Amphan' set to lash coastal areas of Bengal on May 20, the forest department on Tuesday formed rapid response teams to ensure that tigers from Sundarbans in South 24 Parganas district do not stray into nearby human settlements after the landfall. Chief Wildlife Warden Ravi Kant Sinha said a control room has been set up at Gosaba area in the district by the forest department to monitor the situation in the mangrove jungles 24x7. The department's central control room in Salt Lake area will be in constant touch with the Gosaba unit and keep a close watch on wildlife movement in the forest. If there are attempts by tigers to stray from the core reserve area into the contiguous villages, we will be able to notice that from the two control rooms and our rapid response teams will take steps to send back the animal to its habitat," he explained.
Assam issues 'high alert' on cyclone 'Amphan'
The Assam government on Tuesday issued a "high alert" over cyclone 'Amphan' and directed the state disaster management authority to set up a control room to deal with the situation. Quoting the India Meteorological Department (IMD), Chief Secretary Kumar Sanjay Krishna said there is a strong likelihood of widespread effect of the cyclone in Assam, especially in west Assam districts. "In view of the above, you are requested to ensure that both preventive and response systems are put on high alert to avoid any loss of life and property," he said in an "Extremely Urgent" message to all division commissioners, district deputy commissioners and state disaster management authority. He also directed the officials concerned to keep the State Disaster Response Force (SDRF) informed for their services whenever necessary.
Nadda asks BJP workers to join relief operations for super cyclone Amphan
BJP president J P Nadda on Tuesday asked his party members to join in evacuation and relief operations in states being hit by super cyclone Amphan, and urged them to do so in cooperation with the local administration. Nadda, a statement said, discussed important aspects of the relief and evacuation plan with senior BJP leaders of Odisha, West Bengal, Tamil Nadu and Andhra Pradesh, through video conference. "Super cyclone Amphan is heading towards coastal region of Orissa, West Bengal, partially touching Tamil Nadu and Andhra Pradesh. PM chaired a high-level meeting yesterday. A clear directive was given to BJP workers to cooperate in relief operations and evacuation process of people," Nadda said.