The Q1FY20 GDP data will historic, and be released on Friday (August 30). The data will likely confirm expectations of sluggish growth after low 5.8 percent growth in Q4FY19. However, monthly indicators have already signaled weak domestic demand trends going into Q2FY20, says CLSA report.
The first-quarter gross domestic product data will likely confirm expectations of sluggish growth as monthly indicators have already signalled weak domestic demand trends going into the second quarter as well, according to a CLSA report. The government will release Q1 GDP data on Friday after 5.30 PM.
The brokerage said Q1 gross value added (GVA) growth, which has been 0.2-0.3 percentage points (ppt) lower than the GDP in the last three years, is expected to be not much above the 5.7 percent in the last quarter.
Economic gloom in recent months has been concentrated in the auto sector. This was reinforced by sharply falling sales in July (first chart) with autos contracting by 26 percent YoY and motorcycles contracting by 13 percent, the report added.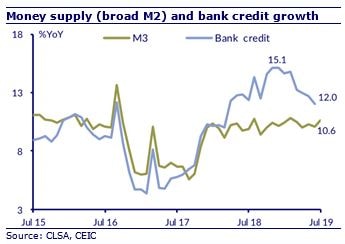 "Monetary data for July are incomplete. Money supply (M3) remained in the narrow range of the last 18 months with 10.6% YoY growth in July (third chart). Foreign reserves fell by USD0.8bn in July but this was the first monthly decline since October 2018", said CLSA.
The research house appreciated finance minister Nirmala Sitharaman's effort to announce the additional liquidity support, which saw commercial banks cutting their lending rates. The government will also establish a channel for enhanced credit provision to infrastructure and housing projects, the brokerage said.
First Published: Aug 28, 2019 9:53 AM IST