The internet has become an essential part of every kid's childhood these days, be it for learning or playing games, but the global network can prove to be a dangerous neighborhood for children and teens, if left unmonitored.
The Internet and Mobile Association of India survey, which was conducted in 35 Indian cities, indicated that about 28 million out of a total of 400 million Internet users were school-going children.
The internet is a large forum where one can find practically anything. It is such that anyone can make appealing websites and lure those unaware, especially children and teenagers, into being a part of something they did not sign up for.
And this results in cybercrimes against children in the form of sex-texting, child pornography and cyberbullying. From cyber-predators to social media posts that can come back to haunt them later in life, the hazards can be frightening.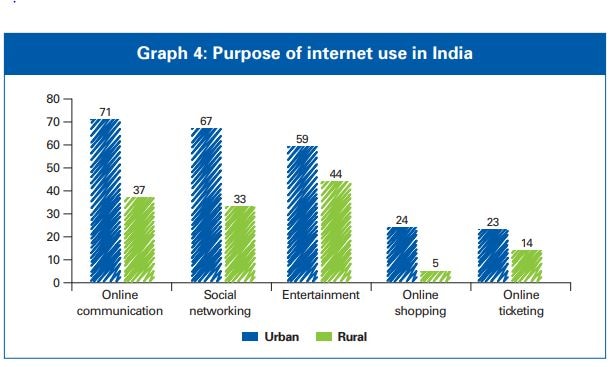 Source: UNICEF
Cyberbullying
Blue Whale Challenge, which erupted last year, was termed as one of the major cases of cyberbullying. The suicidal game cost the lives of 100 children. The game is a set of challenges with the last step being do something so bizarre which can lead to the killing of oneself.
It does not stop here. The risks of suicidal games have crept up again. In August, the suicidal game 'Momo challenge' started on Facebook and has now reportedly reached WhatsApp.
Children have been, according to reports, contacted through unknown numbers which are believed to be originated from Japan, Mexico and Columbia.
The Momo challenge has reportedly cost two deaths in West Bengal. In Jalpaiguri, as per news reports, the police had received a complaint that a woman was invited to play the Momo challenge after expressing her interest in committing suicide.
The Momo challenge is similar to the Blue Whale Challenge. The children are given a set of challenges and if not complied with, they are threatened with violent pictures.
Child pornography
Cyberbullying is not the only aspect which is scary about the internet. There is the threat of child pornography.
Accessing, producing, recording, uploading or circulating child abuse videos or pictures are serious offences under the Information Technology Act and attract a punishment of up to seven years and a fine of Rs 10 lakh.
Even though there is a strict government norm against the heinous crime, the safety of children hangs in balance.
In March, the Central Bureau of Investigation launched a worldwide probe for a child pornography case and approached 40 countries for details of mobile phone owners who were part of a WhatsApp group, called 'KidsXXX', in which certain images and videos were shared.
There were 234 members in the group comprising of 66 Indian numbers, 56 Pakistani, 29 from the US and the remaining from 37 other countries, a PTI report had said.
The CBI, according to the report by the newswire, arrested the alleged administrator—Nikhil Verma—from Kannauj in Uttar Pradesh in February. However, the fear of child pornography still remains.
Sex-texting
Cases of crimes on sex-texting were being reported, and still are, even before the Blue Whale Challenge. The form can also come under the category of cyberbullying.
Sex-texting is when intimate photos, videos or text messages are shared with partners. However, there is a risk of the intimate messages to be leaked to pornography websites and the fear of the messages getting shared with people.
The victims can also be threatened to send their intimate photos and can also be sexually harassed via text messages. The recent uprising of the #MeToo movement surfaced such cases where women were being provoked to make such an action.
State of the Internet in India
A 2016 UNICEF report said, "Cybercrimes against children in India are under-reported and have received very little attention and are not included in the National Crime Records Bureau statistics as a separate category."
The National Crime Records Bureau (NCRB) data in 2016 said a total of 12,187 cyber crime cases were registered all over India as compared to 11,331 cases registered in the previous year.
As of December 2017, India is the second largest online market, ranked behind China with
462.12 million users
. By 2021, there are likely to be 635.8 million internet users in the country.
Undoubtedly, the internet usage in India is vast, despite the fact that not all public spaces in the country are connected with Wi-Fi.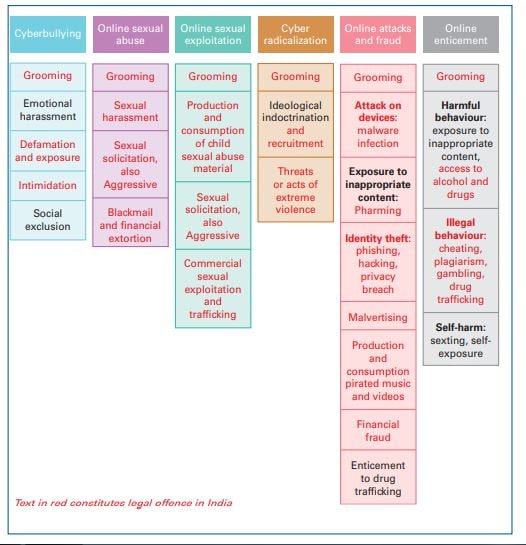 Manifestations of child online threats, abuse and exploitation in India. Source: UNICEF
Internet Safety
Since India is racing to be the country with the maximum number of internet users, special care needs to be taken so that they do not land up in such situations.
Here are a few safety tips:
Parents, teachers and other trusted adults should constantly educate children about cyber safety. Ideally, a school will be the best place to make children aware of the threat in the internet space.
Children should feel that they can approach their parents and teachers if they are facing any kind of threat on an internet forum.
Ideally, schools and colleges should hold regular cybersafety sessions for students and for the parents. Since the internet is always proliferating with something new each second, it is essential to have regular sessions on this and keep the children updated.
One should refrain from posting personal information such as address, phone number online.