The interim budget largely delivered on the reflationary stimulus that was being anticipated.
Interim Budget FY20: Fixed Income Takeaways
The interim budget largely delivered on the reflationary stimulus that was being anticipated.
Key highlights as follows:
FY19 revised estimate (RE) fiscal deficit at 3.4 percent of gross domestic product (GDP) (vs. FY19 budget estimate (BE) of 3.3 percent) and FY20 BE fiscal deficit also at 3.4 percent of GDP (vs. previously assumed 3.1 percent as per the glide path).
Incremental fiscal impulse of minimum of Rs 1.2 lakh crore.
Pradhan Mantri Kisan Samman Nidhi (Direct income support for cultivable land owners) = Rs 20,000 crore in FY19 (0.11 percent of GDP) and Rs 75,000 crore in FY20 (0.36 percent of GDP) = Rs 95,000 crore.
Higher income tax exemption threshold of Rs 5 lakh vs 2.5 lakh currently = Rs 18,500 crore.
Higher standard deduction of Rs 50,000 vs Rs. 40,000 currently = Rs 4,700 crore.
Other measures include higher interest subvention for agri-allied activities, higher TDS threshold on interest earned on bank/post office deposits, relief for investment in second residential house, etc.
Gross borrowing through dated securities to rise 24.3 percent y/y in FY20 (after falling 2.9 percent in FY19) and net borrowing to rise 11.9 percent in FY20 (vs. -6.2 percent in FY19).
Gross borrowing in FY19 higher by Rs 36,000 crore and net borrowing higher by Rs 31,000 crore (vs. the revised numbers announced by the government during FY19). As per government sources, there may be two extra auctions of dated securities and the rest may be borrowed via treasury bills.
Total expenditure to grow 13.3 percent y/y in FY20 (vs. 11.5 percent growth in nominal GDP) after 14.7 percent in FY19 due to strong growth in revenue expenditure while capital expenditure growth is set to slow.
Gross tax revenue to grow 13.5 percent in FY20 after 17.2 percent in FY19.
GST revenue estimates for FY19 were revised downward by Rs 1 lakh crore as expected, owing to an equivalent shortfall in CGST collections, but is estimated to pick up by 18.2 percent y/y in FY20.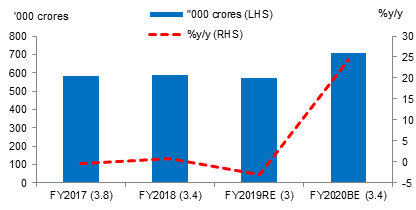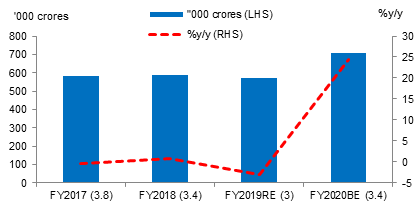 Takeaways
1. The budget postpones again the fiscal consolidation targets. While there is a component of GST shortfall that has weighed on this consolidation, the next year's revision is wholly owing to the new consumption stimuli embedded in the budget. When combined with state deficits as well as the heavy reliance on borrowing by public sector companies lately, this again proves that fiscal remains India's weakest macro point.
2. The gross scheduled borrowing number at Rs 7,10,000 crore is higher than market consensus expectations of around Rs 6,50,000 crore. Again, combined with state and PSU borrowings this implies that bond market will likely have to contend with risks of crowding out, once RBI's pace of open market operations (OMOs) tapers down the line.
3. There is a hefty almost 0.6 percent gross domestic product (GDP) worth of new announcements between the income support plan and the tax breaks for middle class which is almost entirely of the nature of a consumption stimulus. Indeed, while total spending via the budget is slated to grow at 13.3 percent next year (which is lower than the 14.7 percent done this year), the spending mix is now skewed heavily in favour of revenue spending.
It is likely that, on the margin, the RBI/Monetary Policy Committee (MPC) look at this budget with some amount of wariness; given that it not only doesn't adhere to consolidation but also actively seeks to administer a consumption stimulus. This may imply that the shallow easing expected from the MPC may get pushed back. Also any easing now may be more a function of global themes rather than as a reward to the government for maintaining fiscal discipline. On the subject of global themes, the environment globally remains decidedly bond positive especially after a remarkable u-turn by the US Fed in its latest meeting. Thus it is likely that dollar and commodities remain well behaved and this may yet serve as some sort of a counterpoint to the disappointment offered today by the interim budget to the fixed income market.
From a strategy standpoint, focus should be on short to medium duration AAA oriented strategies. As discussed the global environment remains supportive, whereas local monetary policy will at worst remain neutral (and at best administer moderate easing). Longer end bonds may now tend to be more volatile given higher supply ahead, especially once pace of OMOs subsides post March/April.
Suyash Choudhary is the head of fixed income at IDFC Asset Management Company.
First Published: Feb 1, 2019 6:15 PM IST