The Bharatiya Janata Party (BJP)-led central government is looking at several possibilities to get its fiscal math right ahead of the interim Budget 2019.
According to the data released by Controller General of Accounts (CGA), the fiscal deficit for 2018-19 as of November 2018 is well past the budgeted figure. Fiscal deficit is the difference between total revenue and total expenditure of the government.
The interim Budget 2019 will be the fifth Budget by the ruling NDA government. Since it came to power, the government has managed to reduce India's fiscal deficit from 4.1 percent during 2014-15 to 3.5 percent during 2017-18.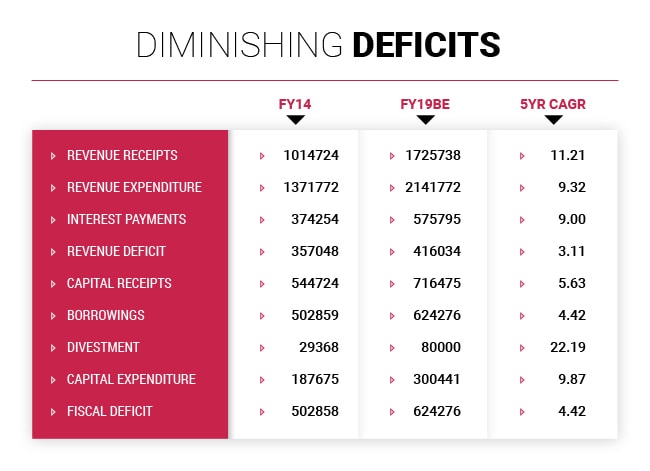 Currently, India's fiscal deficit has been estimated at 3.3 percent of its gross domestic product (GDP) or Rs 6.24 lakh crore.
However, the government is most likely to miss the 2018-19 fiscal deficit target. The government spending on food, fertilisers and fuel subsidies is on the rise. Further, shortfalls in GST collections and shortfall in the earnings from divestment proceeds is resulting in overshooting of the fiscal deficit.
As per the CGA data, the fiscal deficit stood at Rs 7.17 lakh crore at the end of November 2018, 14.8 percent above the targeted fiscal deficit of Rs 6.24 lakh crores.
In April-November 2018, Central Goods and Services Tax (CGST) collections stood at a relatively moderate around 49 percent of the 2018-19 budget estimates of Rs 6 lakh crore. The disinvestment proceeds in 2018-19 till November were also way below the budgeted target of Rs 80,000 crore.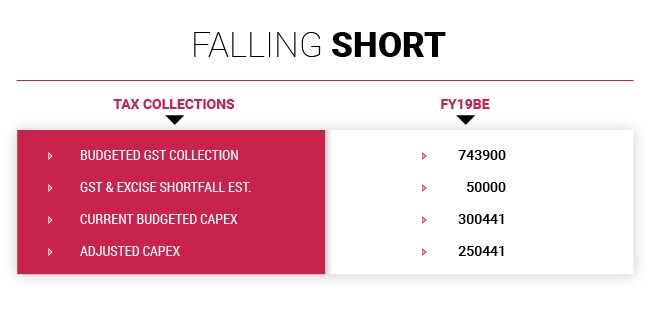 But, the government has demanded around Rs 10,000 billion crore as an extra dividend from the Reserve Bank of India (RBI) this financial year. It will be interesting to see if the government manages to get this increased dividend, surplus from the RBI, which can help them bolster their revenue.