Mini
As internet penetration deepens beyond air-conditioned offices and homes and into the streets of the country, more and more of 'Bharat' so to say will start coming online to try to find jobs, says head of QuikrJobs Amit Jain.
How many times have you indulged in a conversation with your Uber/Ola drivers? Maybe you have gone out of your way to help the Swiggy partner or the Dunzo delivery boy. Slowly, a lot of them have become an integral part of our lives. We interact with them, tweet some of the conversations we have and also at times rebuke them. But, we can't ignore them. A recent
BetterPlace report
(source BetterPlace, Yourstory) estimates that out of more than 21 lakh jobs across select job verticals in 2019-20, the gig economy accounted for over 14 lakh jobs. Blue is the new white or let's say they form an integral part of middle India that is migrating from rural to urban areas to improve their standard of living.
My interest in this sector started when I observed the large number of drivers, delivery partners, maintenance workers and home healthcare professionals being added to the workforce I interact with. I always wondered about where the supply came from and further, who trains this segment? Many a times, I would be provided with the service/task I wanted, but a lot was wanting in my discussion with many of these professionals. Hence, my curiosity got the better of me and I spoke to
Amit Jain
, Head of QuikrJobs. Amit, an early incumbent in this space, has also worked with TimesJobs and he understands the nuances of this market well. What struck me during our conversation is that blue collar workforce are true proponents of the gig economy and if formalised, could become a huge force to reckon with. But, like Amit says, the skill gap in this sector is a huge opportunity and I am quite keen to see who will bell the cat?
A deep dive into the interview:
What does the future of work mean to the blue collar industry?
Quikr has been active in the online recruitment space from day one. But of course, we specifically started going after mass market jobs in a more organised fashion in 2015. We knew fundamentally that the top hundred to hundred and fifty thousand job seekers are already present on some online platform, but as internet penetration deepens beyond air-conditioned offices and homes and into the streets of the country, more and more of 'Bharat' so to say will start coming online to try to find jobs and that is where we found our niche.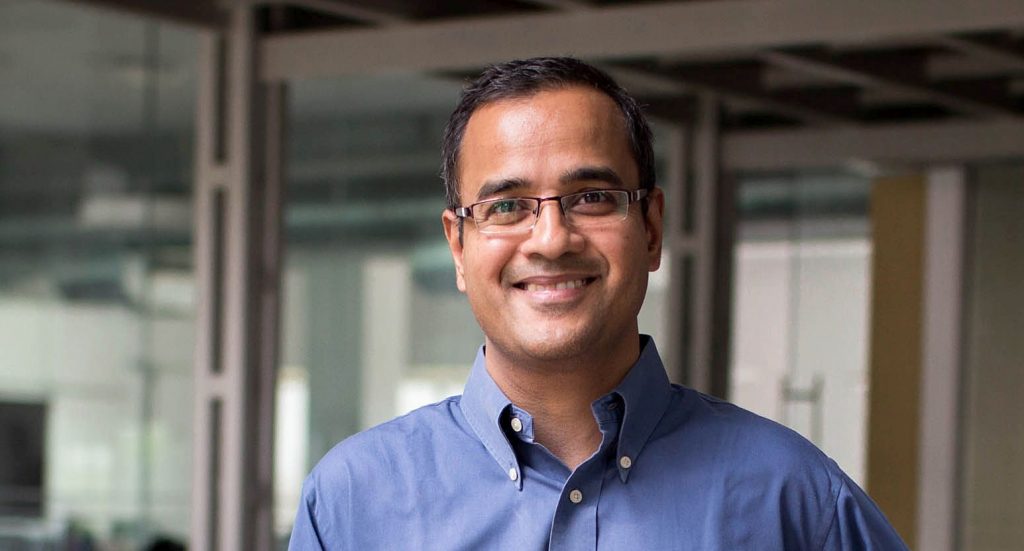 Amit Jain.
Over the last four years, we already have multiple learnings from this industry and if we were to pick one variable, for example, literacy levels, it has an impact on the experience built online. What I mean is that in a regular recruitment platform you have to fill in a form and create an account. We know that cannot work for this market, so we let users log-in and start applying. In fact, when QuikrJobs launched missed call service, candidates would simply call on a number and we would follow up on the lead to create their profiles. In this case, we would send job notifications over SMS and in the whole process candidates did not come online to apply back then. Another thing we noticed was, privacy is far more important in the white-collar market versus the blue-collar market and it has an impact on the product you build.
Noticing a skills gap in this sector, we have identified skills enhancement as a huge area for growth within this sector. While digitisation is already taking place, formalisation is to follow.
How would you define 'blue collar' – what are the trends you see in the recruitment industry for mass market jobs?
While defining 'blue collar' might be very subjective, I would venture to say that I define it as any job earning less than Rs15,000-18,000 per month. We see many variables affecting this industry. One, definitely, is the growth of the gig economy, because in the blue-collar industry, the skill requirement is not high, you can manage to pick up a couple of gigs. Two, as the usage of the internet increases, payment cycles will be instantaneous – you can get paid immediately – this is used as a marketing technique by organisations today. From an employee side, they know that once they go online, there are several opportunities. Three, people are shifting quickly from one job type to another. In this segment, people shift domains and can do something different for the sake of even Rs 1000 increment.
How many people currently make up the blue-collar economy? What are the trends and opportunities you notice?
As per
BetterPlace analysis
, the total requirement of workforce would be 21 lakh-plus jobs in 2019-20. Some of the roles that would dominate 2019-20 would be delivery with 38 percent, driver with 29 percent, and security with 17 percent. Forty percent of the demand would be created in five states of South India. Also, five states would contribute to 60 percent of the migrating population namely UP, Andhra Pradesh, Assam, Odisha, Bihar with UP and Andhra Pradesh being the top contributors at 34 percent of migration happening from these states. Top destination for these job seekers would be Bengaluru, Delhi, Mumbai, Pune and Chennai.
On our platform, we currently have one crore active profiles – the total number could be anywhere between 300-400 million.
I do notice a couple of trends in this sector:
One, the way opportunities are being discovered (more online).
Two, tracking work – instead of being on paper, a lot of tracking is moving online. Jobs and compensation metrics are moving online.
We see demand from start-ups, medium- and large-sized companies. Hence, our solutions are bite-sized too. As formalisation kicks in, we expect more demand. Currently, e-commerce and logistics are hyper-growth industries. In 2-3 years, agriculture as a segment should start taking off as technology will make a deeper impact there.
What makes blue-collared associates different – how do they operate?
One fact we have realised early in the day is that they do not slot themselves into a single domain for life. Of course, since literacy levels are different, the experience given to them online has to be different. The other important aspect is basic skilling opportunities – a challenge with this segment is that they do not view skilling as most white-collar employees would do, which is why, the government is closely linking skilling to employment. It is desperately required and we believe we should bring the two together.
What are the various skilling and training opportunities for the blue-collared workforce?
One of the biggest areas of training and skilling for blue-collared jobs is interpersonal and communication skills. That is clearly a big opportunity in the space. The reason it is a challenge is that neither does the employee nor does the employer want to pay for it in blue collar.
What we have also seen is that many employers ideally like to give training to the employees post-hiring as they have processes that are unique to them.
What are the kind of demographics you are seeing in this segment?
In the real world, it mirrors what you see offline. We see a preponderance of the 20-30 year range.
In QuikrJobs, 67 percent of the profiles are between the age group of 20-30. If we include below 20, then it's around 87 percent. Another demographic would be the education level wherein most people in white-collar jobs would be a graduate/PG while in the blue-collar segment the qualifications are distributed in a broader range of educational qualifications. Here, we have 37 percent of candidates who are at an education level of 12th Pass or below. Ten percent are diploma holders and 42 percent are graduates.
In conclusion, while there is a lot of talk about Artificial Intelligence eating away jobs, I would think otherwise. As a Made-in-India business that has always focused on what the Indian consumer needs, we know that it really depends on many factors and there are too many variables there.