Consumers were alarmed last week as petrol and diesel prices soared to record highs. Oil marketing Companies (OMCs) such as HPCL, BPCL and IOCL have steadily increased the price of auto fuels after the Gujarat elections, boosting their marketing margins to historic highs. They earned margins of Rs 3.2 a litre on petrol and Rs 3.4 a litre on diesel in the fourth quarter ended March compared with an average of Rs 2-2.5 a litre in FY17.
While rising crude oil prices – at $72 a barrel, they have climbed to four-year highs – are already queering the pitch for OMCs, new reports suggested that the government might ask these companies to absorb the increase in petrol and diesel prices by Rs 1 a litre (oil minister Dharmesh Pradhan clarified later that no such direction has been given).
Oil's Not Well
But the news reports trickled in right after the finance secretary told CNBC-TV18 that the government is not looking at cutting excise duties on fuel.
Given that this happens to be an election year, the government's intent was par for the course. As the government does not want to tinker with its fiscal deficit targets, OMCs might have to bear the brunt.
The share prices of these companies took a sharp knock. HPCL, BPCL, IOCL all declined by about 6-7% each on Wednesday.
But what if oil companies have to actually absorb a spike in fuel prices? Would it then be prudent to invest in these stocks around elections?
Several brokerages have taken note of the possible move. According to CLSA, the oil subsidy bill for 2018-19 is inadequate. It said this clearly raises fears of companies being forced to bear the subsidy burden.
In a note on April 2, analysts from Jefferies said unmet under-recoveries will be a reality in FY19E. In their view, as profit before tax (and before subsidies) for OMCs has exceeded that of upstream companies since 2015-16, the unmet under-recoveries might be shared equally between them.
Assuming under-recoveries will be divvied up equally between upstream and downstream companies, the brokerage said for every Rs 10,000 crore of unmet under-recovery, the consolidated earnings per share, or EPS, will be squeezed.
Jefferies estimated that every Rs 0.10 a litre change impacts HPCL's standalone EPS that is at Rs 31.7 by 3.7%. For BPCL and IOC, the impact is 2.9% and 2% respectively for the same change.
Antique, for its part, estimated a higher impact on profits. In its report, the brokerage said for every $1 a barrel increase in crude oil prices, retail selling price of crude and oil should be revised by Rs 0.5 a litre. It quantified the amount of profits that could get impacted if OMCs are asked to absorb the Rs 1 price uptick.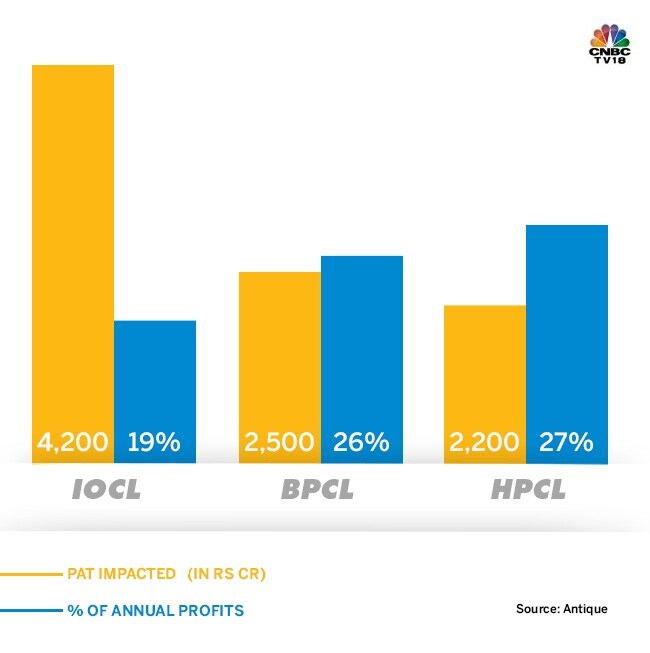 However, they say that they expected the normalisation of marketing margins on auto fuels and this would bring the margins to the historical levels of Rs 2-2.5 per litre.
Motilal says that OMCs were already making marketing margins higher than the historical levels and this move would normalise the margins to previous levels. The analysts do not expect it to impact the companies so much (based on their estimates). Additionally, they said that spiking of crude prices will cool down in coming days as it is only because of temporary geopolitical tensions.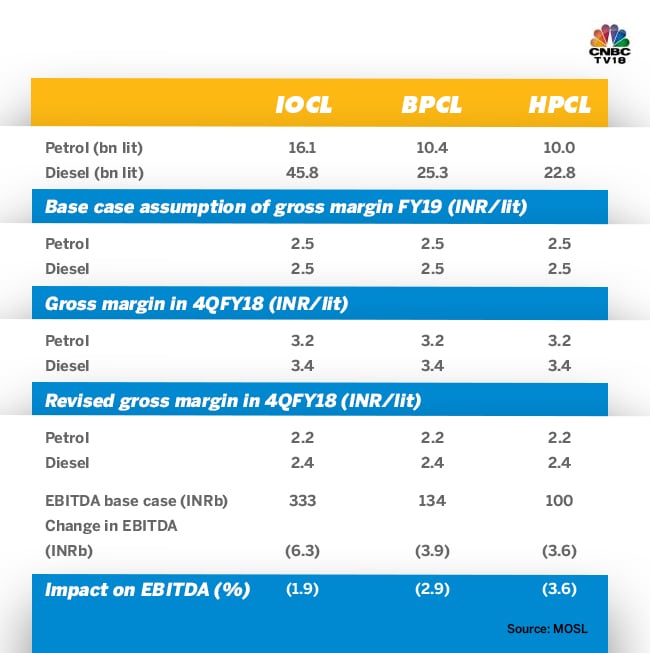 Sonal Bhutra is a research analyst with CNBC-TV18 who tracks sectors as diverse as oil and real estate