Zee Entertainment reported a stellar set of Q3FY19 earnings. Despite a roller-coaster quarter, the company's numbers have managed to beat the estimates.
The consolidated revenue grew by 17.9 percent on year-on-year (YoY) basis at Rs 2,166.8 crore, driven by ad revenue and subscription revenue growth. CNBC-TV18's poll had suggested the revenue growth of 15 percent at Rs 2,115 crore.
EBITDA grew by 26.9 percent at Rs 754 crore against the Rs 712 crore suggested by the poll.
Strong traction in domestic ad revenues and subscription revenue growth supported margins despite higher digital investments. EBITDA margins were at 34.8 percent against 33.67 percent estimated by the poll.
Profit after tax was up 50.3 percent YoY at Rs 562 crore, above Rs 438 crore suggested by the poll. Other income went up by 79 percent YoY at Rs 86 crore.
Domestic ad growth was healthy at 20.6 percent YoY on a high base of 26 percent YoY growth in 3Q18, while domestic subscription growth was also strong at 28.6 percent on a low base. However, on quarter-on-quarter (QoQ) basis, subscription revenue remained flat since the company did not have many renewals. While the impact of new TRAI tariff order is likely to reflect in next quarter.
Consolidated ad revenue grew by 21.7 percent at Rs 1,462.6 crore and subscription revenue grew by 23.3 percent at Rs 618.5 crore.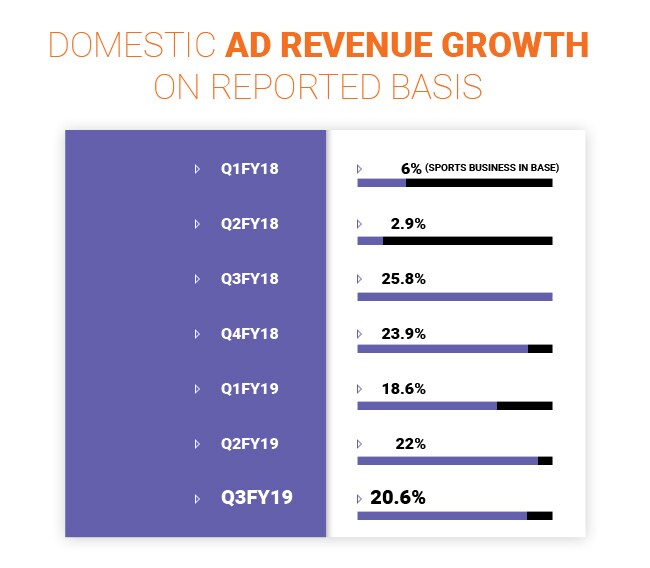 During the quarter, ZEEL's international business revenue was Rs 197.8 crore. The advertising revenue grew by 40.2 percent while the subscription revenue grew by 1.2 percent.
During 3QFY19, ZEEL continued to gain its viewership share while maintaining its position as the #1 network in the non-sports entertainment segment with an all-India viewership share of 20.2 percent. The increase in viewership is driven by gains in Hindi and several regional language markets.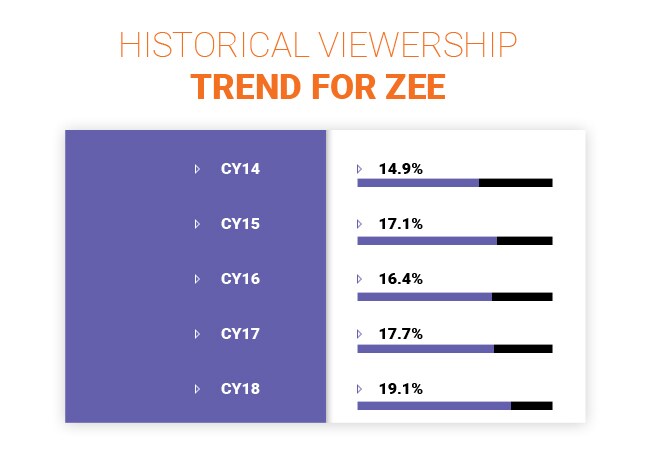 ZEE5 continues to be the fastest growing digital entertainment platform in the country driven by the rapidly expanding content offering for the consumers. In December 2018, ZEE5 had 56.3 million monthly active users (MAU), recording a growth of 36 percent compared to September 2018. ZEE5 users currently spend an average of 31 minutes per day on the platform.
The management has indicated that the company plans to increase investments in ZEE5, given the sustained traction in the digital business.
Punit Goenka, managing director and CEO of the company, in an interview with CNBC-TV18, said that ZEE5 could be 25-30 percent of the topline in three years.
He expects the margins to be more than 30 percent in FY20 as well.
"We would be looking at 30 percent plus guideline remaining for the next fiscal as well despite our heightened investments in the digital space and television space that we are making by expanding into other regional markets that we are not present in currently," he said.
Further, he said that the talks on the proposed promoters' stake sale were progressing well.
The stock has fallen 24 percent in the last one year, hitting a 52-week low of Rs 410 per share on October 5, 2018. It recovered 4 percent in the last one week.
Brokerages
CLSA maintains a 'buy' call with a target price of Rs 670 per share, citing that the outlook for broadcasting business remains strong for Zee. Further, the investment group has upgraded its forecast by 1-4 percent and expects the company to deliver 19 percent compound annual growth rate (CAGR) in FY19-21.
HSBC said that the improved channel ranking led to 21 percent domestic advertising revenue growth and subscription revenue growth healthy at 29 percent. It has raised the target to Rs 485 from Rs 460 per share.
Citi is maintaining a 'buy' call with target being raised to Rs 575 from Rs 550 per share.
Deutsche Bank is maintaining a 'buy' rating with a target price of Rs 575 per share.
First Published: Jan 16, 2019 1:45 PM IST