IT services major, Tech Mahindra, on Tuesday posted 27 percent year-on-year (YoY) rise in net profit at Rs 1,064.33 crore for the quarter ended September 30, 2018  as it clocked more deals in the July-September period.
CNBC-TV18 poll had predicted profit at Rs 1,041 crore for the quarter under review.
The company had earned a net profit of Rs 836.15 crore in the same quarter a year ago.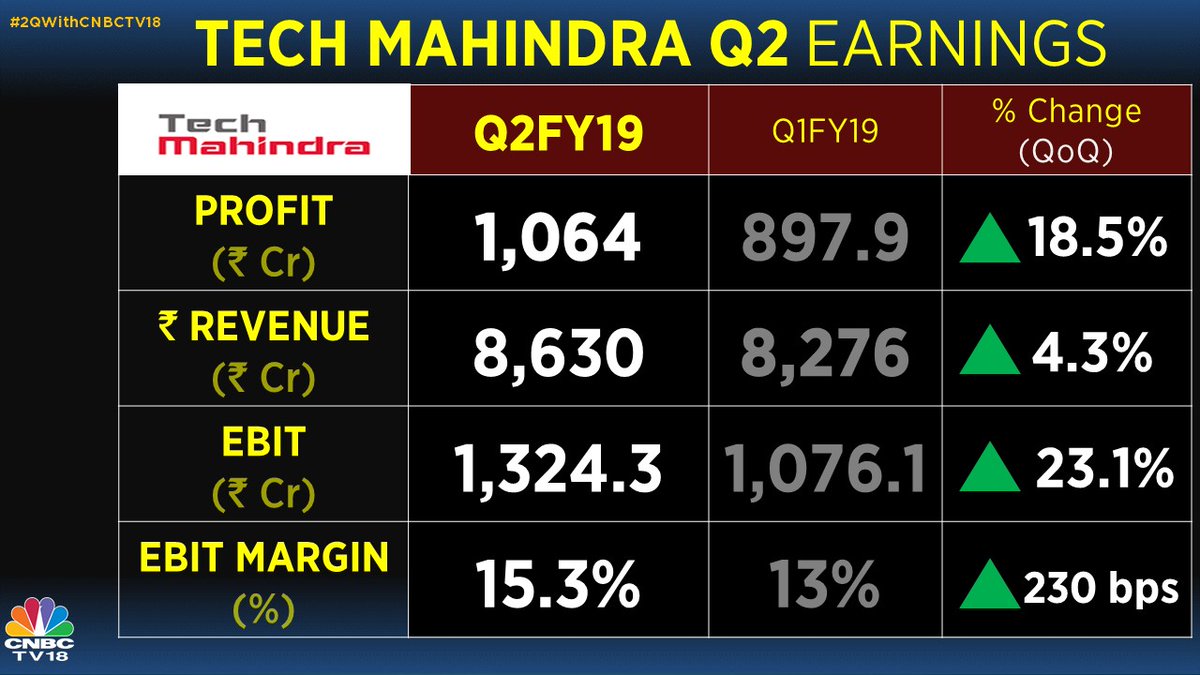 Total income of the company stood at Rs 8,630 crore for the second quarter, as compared to Rs 7606.38 crore for the same period of the previous fiscal.
The company reported EBITDA at Rs 1,619 crore, up 46.4 percent YoY and 19.3 percent QoQ (Quarter on Quarter).
EBITDA margins at 18.8 percent, up 430 bps YoY and 240 bps QoQ. Earnings per share (EPS) was Rs 12.0 for the quarter ended September 30, 2018.
The company reported an attrition rate of 20 percent, a rise from 19 percent during the previous quarter.
CP Gurnani, managing director and chief executive officer, Tech Mahindra, said, "It's been a satisfying quarter where our focus on digital transformation has helped us deliver a robust performance. Our strong deal wins especially in the Communication vertical coupled with our 10 percent plus sequential growth in digital revenues are a validation of our Run, Change and Grow strategy."
Manoj Bhat, chief financial officer, Tech Mahindra, said, "This has been a strong quarter with improving operating metrics across most of our business lines. Our focus on optimising our operations has led us to the highest EBITDA level and margin improvement in excess of 2 percent sequentially and 4 percent on a YoY basis."
Shares of Tech Mahindra closed 2.96% higher at Rs 683.45 a share on BSE.