The bank had reported an aggregate net loss of Rs 15,010 crore for the last three quarters i.e. from Q3FY18 to Q1FY19. This got arrested in Q2FY19 with the bank posting a profit of Rs 945 crore.
State Bank of India (SBI) on Tuesday
reported a profit
for the first time in four quarters due to improved income from investments (on a quarter-on-quarter basis) and buoyed by exceptional gains from profits on sale of its merchant acquiring business to subsidiary SBI Payment Services and partial stake sale in SBI General Insurance Company totaling Rs 1,560 crore.
The bank had reported an aggregate net loss of Rs 15,010 crore for the last three quarters i.e. from Q3FY18 to Q1FY19. This got arrested in Q2FY19 with the bank posting a profit of Rs 945 crore.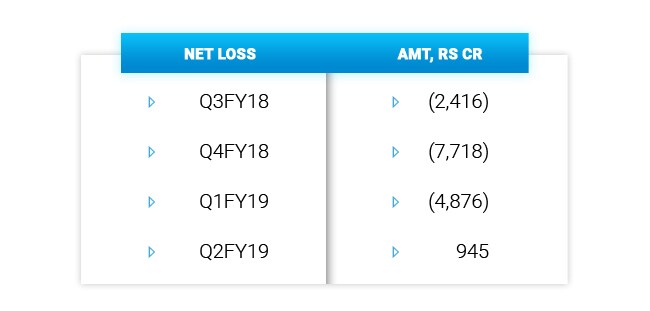 The results beat expectations of analyst, also as the bank held back from making provisions against the Essar Steel account admitted for resolution under NCLT.
The account classification of Essar Steel changed from D2 to D3, requiring 100 percent provisioning against 50 percent earlier, but the bank retained the provisioning at the earlier level as it expects to full recovery of the amount. As such, instead of a write-back of about Rs 10,528 crore in future, it has chosen to opt for only a Rs 5,264 crore write back on receiving the resolution proceeds.
Many of the other operational metrics were, however, positive. The bank notched up its highest loan growth in recent quarters even as it was able to stem the accretion of bad loans.
Sounding upbeat, Rajnish Kumar, chairman, SBI, told CNBC-TV18 that he sees 12 percent loan growth in fiscal 2019 and credit costs to remain at about 2 percent. He also expects recoveries from NCLT assets and power sector accounts to help correct the bad asset picture, even as he sees little reason for worry on slippages in the SME portfolio.
On the flip side, the income growth in Q2 doesn't look healthy as the core operating profit, if you remove the treasury/fluctuating income, was down 3.6 percent year-on-year and 16.8 percent quarter-on-quarter. There was weakness in fee income too, which declined 6.4 percent QoQ as against a loan growth of 4 percent QoQ. Provisions remained elevated on account of NPAs and mark to market treasury losses.
What is also worrying is that the bank's non-watchlist slippages remained high at Rs 8,496 crore, forming 78 percent of total slippages.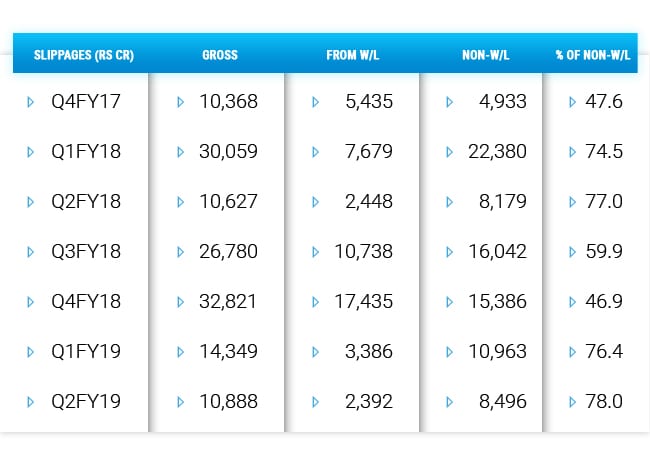 The elevated slippages meant that net interest margin (NIM) declined to 2.76 percent from 2.8 percent QoQ.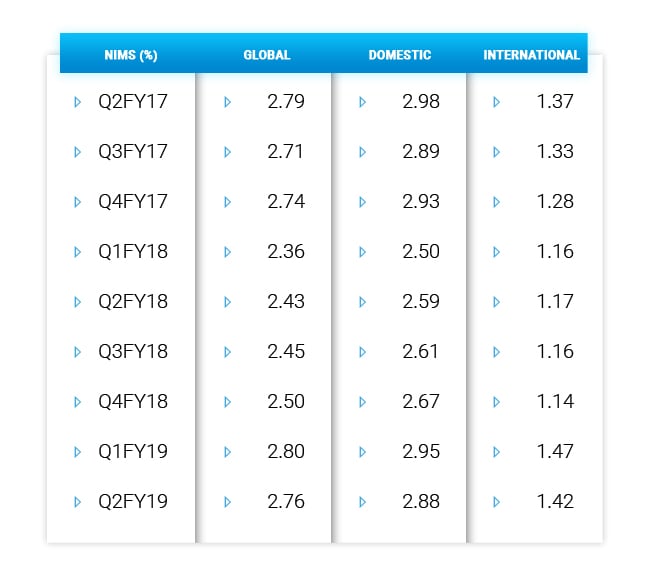 The gross NPA picture looked better on higher write-offs. Write-offs are nothing but removing the NPAs from the balance sheet by making 100 percent provisions as the bank doesn't expect any kind of recovery from the selected accounts. While one may argue that write-off is good as provisions are made 100 percent for those assets, what it also spells is higher capital consumption, as the bank would have to make 100 percent provisions before writing them off. It must be noted in this context that the bank has made its highest write off in the last five quarters in the second quarter of this fiscal. The write offs are what is aiding a decline in the picture of GNPA rather than recoveries and upgrades. Though, one should expect some recoveries through resolutions under the Insolvency & Bankruptcy Code to kick-in over the coming quarters.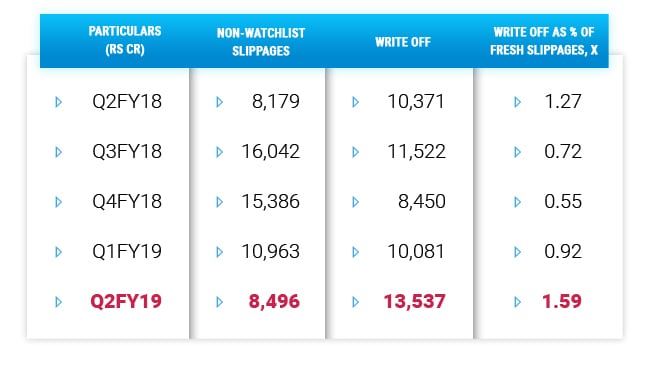 P&L is very weak
A key point to note is that despite healthy loan growth year-on-year, overall earnings remained weak. The interest income was flat QoQ despite 4 percent loan growth. The fee income, an earning which the bank makes while giving out loans and should be in-line with loan growth, was weaker even as earnings from fees at Rs 5,015 crore was down 6.4 percent YoY and up only 0.8 percent QoQ.
Ex-treasury, the operating profit was very weak at Rs 11,019 crore, down 3.6 percent YoY and 16.8 percent QoQ. The operating efficiency of the bank deteriorated as the cost to income ratio was at 57 percent vs 50.1 percent YoY and 58 percent QoQ. In fact, had it not been for lower provisioning than in the same quarter of the previous year, the results would have looked much worse.
The stressed assets of the bank continue to remain at an elevated level causing concern. The total watchlist was at Rs 20,359 crore, at near 1 percent of the book.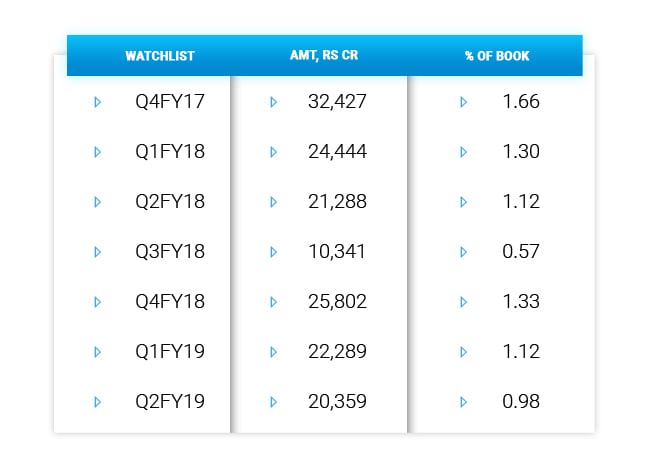 There was recovery in NCLT cases as the absolute value declined by Rs 9,663 crore QoQ. Total NCLT based exposure declined by 15.3 percent QoQ to Rs 5,3375 crore and formed 2.6 percent of the loan book.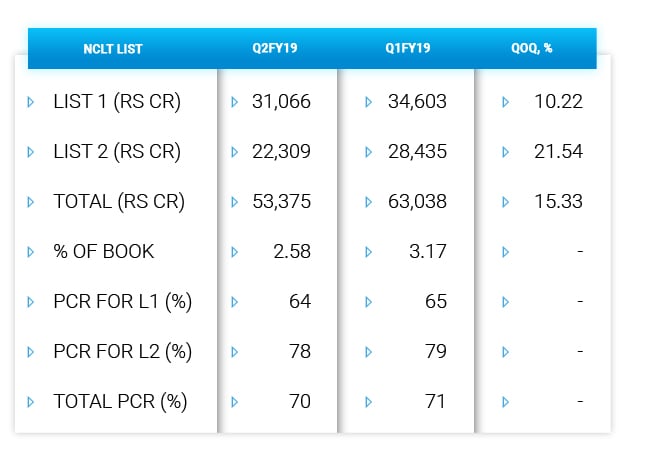 Reacting to the results, brokerage Macquarie said in a note that GNPA coming back under 10 percent and slippage ratio at 2 percent were positives. It, however, cautioned that growth has been weak and hoped that portfolio buyouts from NBFCs could help. The brokerage has a neutral rating on the SBI stock.
First Published: Nov 6, 2018 1:50 PM IST