3 Min(s) Read
In October, Reliance Jio added 1.4 million subscribers as per Telecom Regulatory Authority of India (TRAI) data.  Reliance Jio's profit during the last quarter stood at  Rs 4,518 crore.  The ARPU, for the September quarter, stood at Rs 177.2.
Reliance Jio announced financial results for the October-December quarter on Friday, January 20. The telco's profit during the period went up 2.7 percent sequentially to Rs 4,638 crore, almost near the CNBC-TV18 poll estimate of Rs 4,650 crore. On a year-on-year basis, the profit rose 28.29 percent. Reliance Jio's profit during the last quarter stood at Rs 4,518 crore.
Reliance Jio's
revenue for the three months stood at Rs 22,998 crore, rising 2.1 percent from the previous quarter and 18 percent from the corresponding period a year ago. This was Reliance Jio's fourth consecutive quarter of revenue growth. The company said that the increase in revenue from operations was driven by a steady increase in both the subscriber base and average revenue per user (ARPU).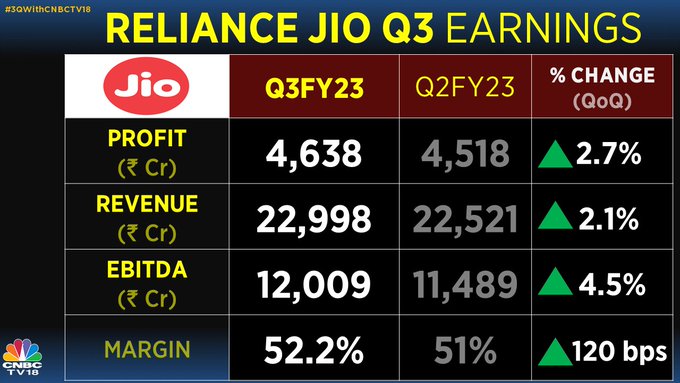 Jio delivered record revenues and EBITDA driven by strong momentum in customer growth and data consumption, said Mukesh Ambani, Chairman and Managing Director of Reliance Industries Limited.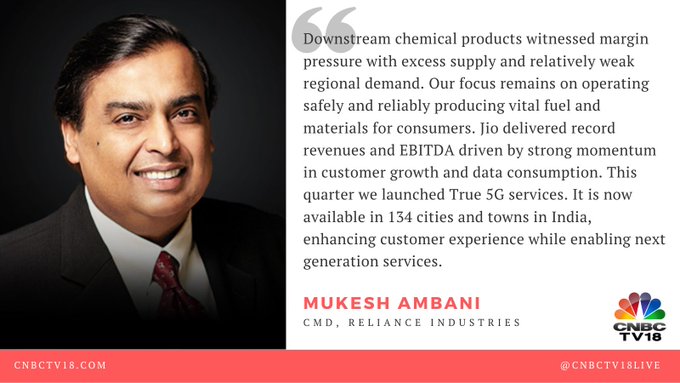 The company said ARPU for the December quarter stood at Rs 178.20, rising from Rs 177.2 in the previous quarter.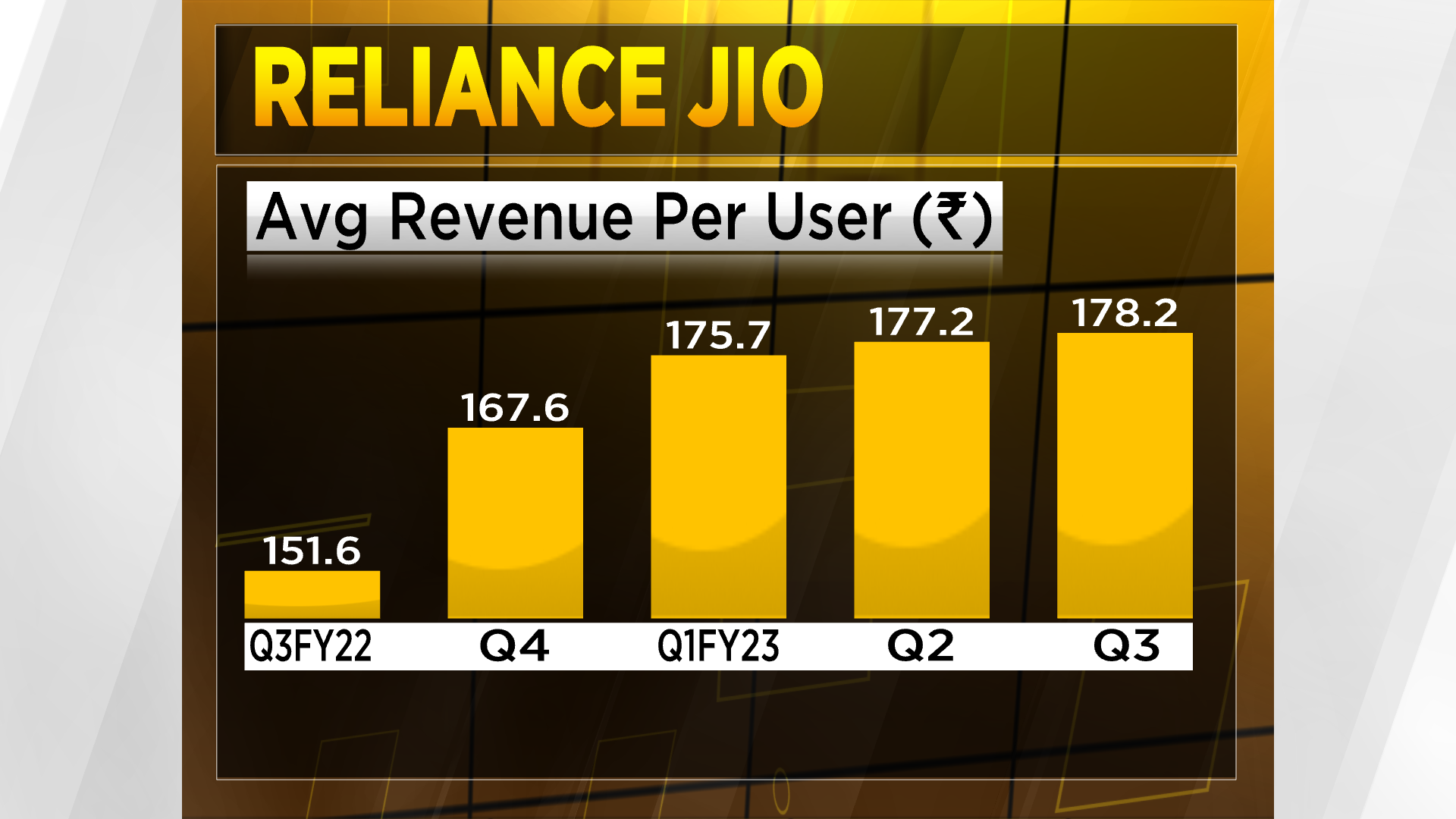 Reliance Jio added 5.3 million subscribers in the October-December quarter. Analysts had estimated subscriber addition to be lower than the 7.7 million in the previous quarter in the wake of muted smartphone shipments. Still,
the telco had 432.9 million customers at the end of the December quarter, more than the 427.6 million subscribers it reported in the September quarter.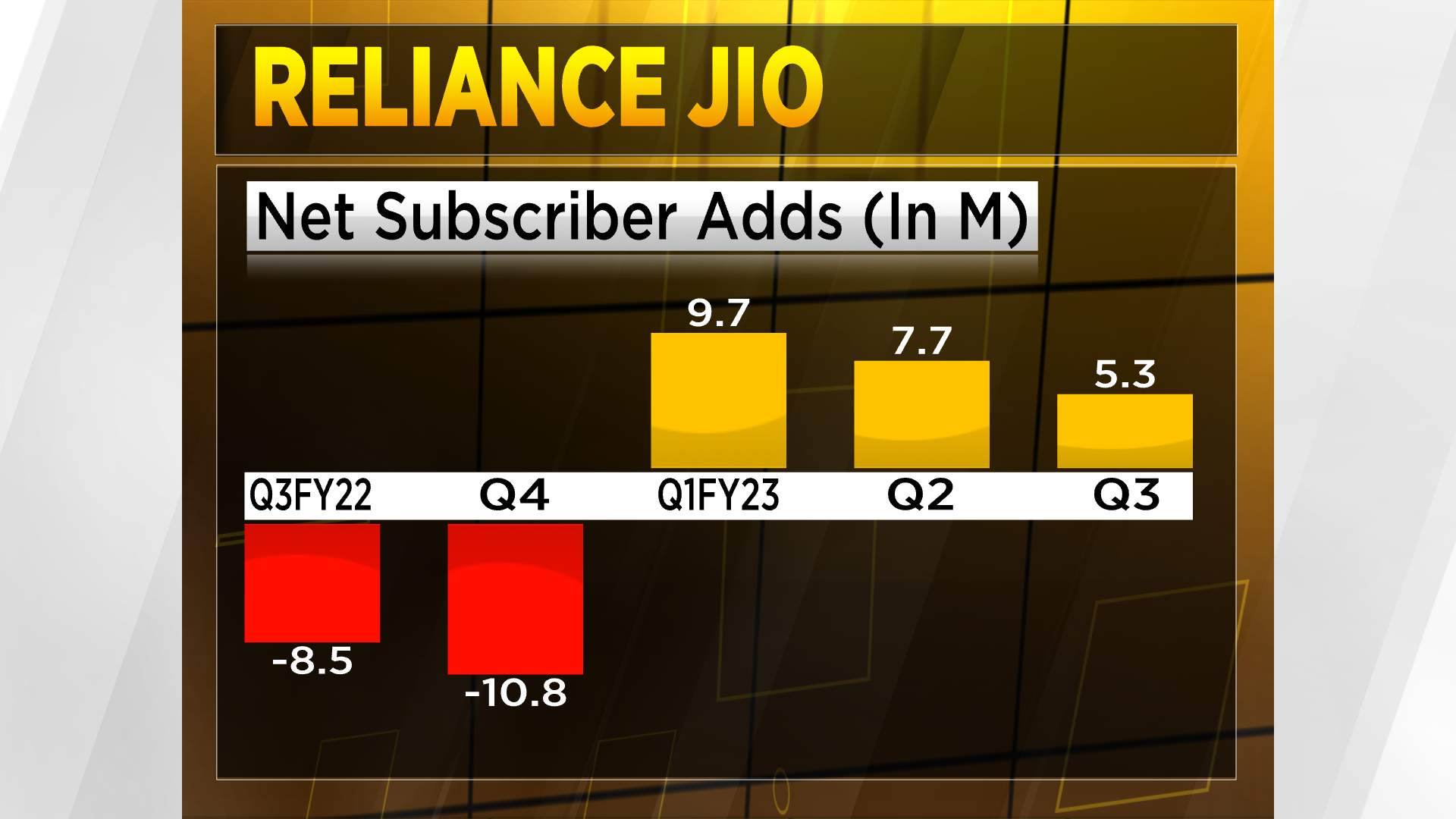 EBIDTA stood at Rs 12,009 crore, growing 4.5 percent from the previous quarter. While its margin came in at 52.2 percent — in line with CNBC-TV18 poll expectations. Analysts had expected the telco to clock an over 50 percent margin for the fourth consecutive quarter.
According to the firm, depreciation increase was led by higher network utilisation, and incremental addition to gross block and finance cost decreased due to repayment of high cost deferred payment liabilities.
Akash Ambani, Chairman, Reliance Jio Infocomm Limited, said Jio was undertaking the most ambitious and fastest-ever 5G rollout plan for any country of India's size. "Within three months of launch, Jio True5G is now available across 134 cities and will be available across India by December 2023. In addition, Jio will connect over 100 million premises with JioFiber and JioAirFiber, offering unparalleled digital experiences," he said.
He said through the Jio network, the company aims to empower small merchants and businesses with cutting-edge, plug-and-play solutions delivered from the cloud.
Nitin Soni, Senior Director- Corporates, Fitch Ratings, told CNBC-TV18 that Jio's Q3 performance was steady. "With some subscriber growth and stable average revenue per user, it looks like a solid performance. We expect a tariff hike to happen in 12-18 months, and the average revenue per user should improve by 10-15 percent. Improvement will also come from the subscribers who would move from lower priced plans to higher price plans as they move to 4G and 5G. We expect subscriber growth to continue for Reliance Jio and Bharti Airtel at the expense of Vodafone-Idea," he said.
Note To Readers
Disclosure: Network18, the parent company of CNBCTV18.com, is controlled by Independent Media Trust, of which Reliance Industries is the sole beneficiary.