The three oil marketing companies (OMCs)—Hindustan Petroleum Corp Ltd, Bharat Petroleum Corp Ltd and Indian Oil Co Ltd—reported good numbers on a quarter-over-quarter basis in the March 2019 quarter due to a surge in marketing segment earnings
The three oil marketing companies (OMCs)—
Hindustan Petroleum Corp Ltd
, Bharat Petroleum Corp Ltd and Indian Oil Co Ltd—reported good numbers on a quarter-over-quarter basis in the March 2019 quarter due to a surge in marketing segment earnings, ranging from 80 percent to 130 percent. But gross refinery margins (GRMs) across the companies were muted. The inventory gains also came in lower than the expectations.
BPCL trailed the pack due to lower earnings from the Kochi refinery. IOCL's marketing earnings expanded the most coming in at Rs 6,800 crore (129 percent YoY), this was followed by HPCL where marketing EBITDA was up 86% and for BPCL it was up 81 percent.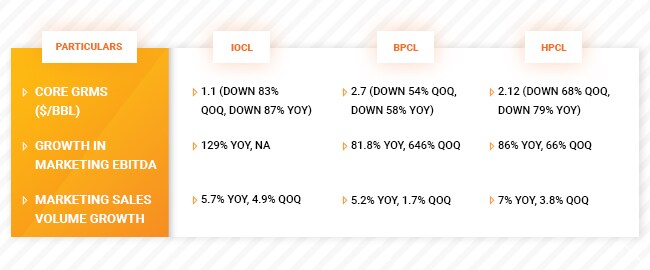 OMCs continued to underperform on GRMs, with BPCL reporting lowest margins at $2.7 per barrel for the fourth quarter of the fiscal year 2018-19 (Q4FY19), compared to Singapore complex GRMs of $3.2 per barrel. HPCL with $ 4.5 per barrel and IOCL with $ 4.1 per barrel outperformed on relatively high inventory gains.
Singapore GRMs continued to trend lower, implying Q1FY20 could be muted for OMCs' refining business. At the same time, OMC refineries being heavy on diesel output (45-50 percent of refining output) could benefit from IMO regulations (from CY20).
Over FY19, IOCL, BPCL and HPCL gained market share in petroleum product sales, delivering sales volume growth of 3.7 percent, 4.5 percent and 5.2 percent YoY respectively against the industry growth of 3.2 percent.
FY19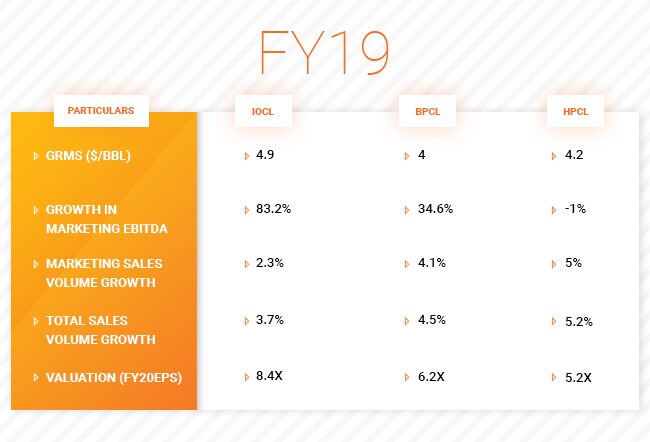 Debt for all the three OMCs bloated by Rs 5,000 crore to 10,000 crore each in Q4FY19 due to delays in subsidy payments on LPG/SKO from the government. HPCL's marketing segment has not performed well in FY19 with EBITDA declining over 1 percent. It has a high reliance on the marketing segment and hence the weakness leads to low valuation for the Company. IOCL enjoys premium due to diversified earnings profile (petchem, pipeline, LNG).
First Published: May 24, 2019 10:58 AM IST