NALCO's raw material costs increased 80 percent year-on-year while power and fuel costs saw a rise of 50 percent.
National Aluminium Company Ltd. reported a drop of nearly 80 percent in its net profit for the September quarter.
For the quarter under review, the company's standalone net profit declined to Rs 170 crore from Rs 748 crore last year.
Analysts in a CNBC-TV18 poll had expected a profit of Rs 211 crore.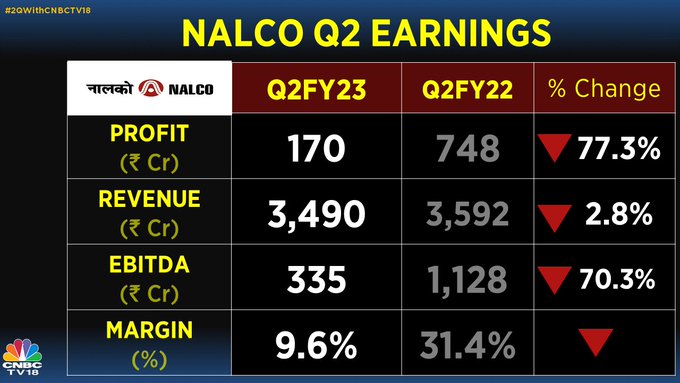 The company's revenue, though lower on a year-on-year basis, turned out to be higher than the analyst poll. The drop in revenue is led by the core Aluminium business, sales for which declined 12 percent during the quarter. The underperformance was offset by growth in the chemicals business.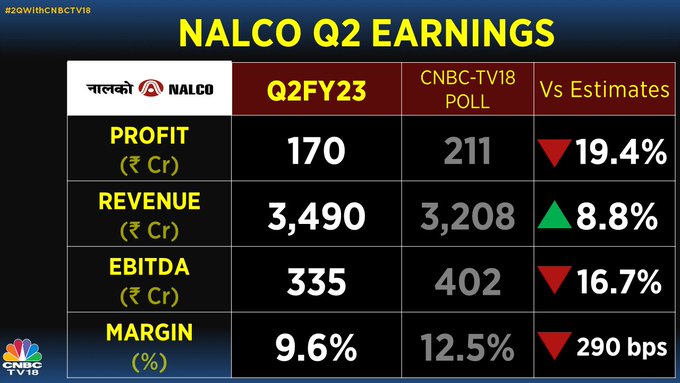 The EBITDA for the quarter under review came 16.7 percent lower than the CNBC-TV18 poll's estimate and margins came in 290 bps lower. Margin eroded from last year's level of over 30 percent due to higher raw material costs, which rose as much as 80 percent from last year. Power and Fuel costs also increased 55 percent from September last year.
In the
financial year 2021-22
, the Odisha-based public sector undertaking had reported the highest ever sales at Rs 14,181 crore and a record profit of Rs 2,952 crore. The company had also reported a record production of aluminium cast metal of 4,60,000 tonne, achieving 100 percent capacity utilisation of its plant for the first time since inception.
The share of NALCO were trading two percent lower at Rs 74.4 on BSE at 1:09 pm. The stock had touched a 52-week low level of Rs 67 on July 1, 2022.