Laurus Labs is at the cusp of the strong earnings growth over FY19-21E, led by increased traction in its formulation business and changed API product mix, said Motilal Oswal in a research report.
The brokerage resumed a "buy" call on the stock, with target price at Rs 470 per share, and an upside of 16 percent.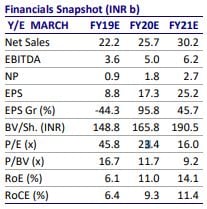 Source: Motilal Oswal
It further said, "The company is ramping up its formulation business with commercial production of its anti-retroviral (ARV) products. Additionally, it also plans to participate in country-specific tenders and business from private companies. Further, Laurus is continuing to develop its product pipeline for the US market."
The company has filed 18 ANDAs till date with an intention to add ~8-10 ANDAs every year. Expect more approvals to come over the next 12-15 months. Thus, its formulation business could increase 5x to Rs 2.5 billion (partly on low base) over FY19-21E, said the research report dated April 11.

The report also added, "Expect ARV API business to grow moderately to Rs 17 billion by FY21E, continuing to remain Laurus' backbone by contributing 65 percent to total sales. Synthesis business should grow strongly 33 percent CAGR with revenues of Rs 3.8 billion."