Buy / Sell Maruti Suzuki share
India's largest passenger car maker Maruti Suzuki India Ltd. reported revenue and net profit that surpassed expectations for the December quarter. The company's EBITDA margin also stood in excess of 9 percent for the second quarter in a row.
For the December quarter, Maruti reported a 24.9 percent growth in revenue compared to the year-ago period. The figure was higher than the CNBC-TV18 poll of Rs 27,319 crore.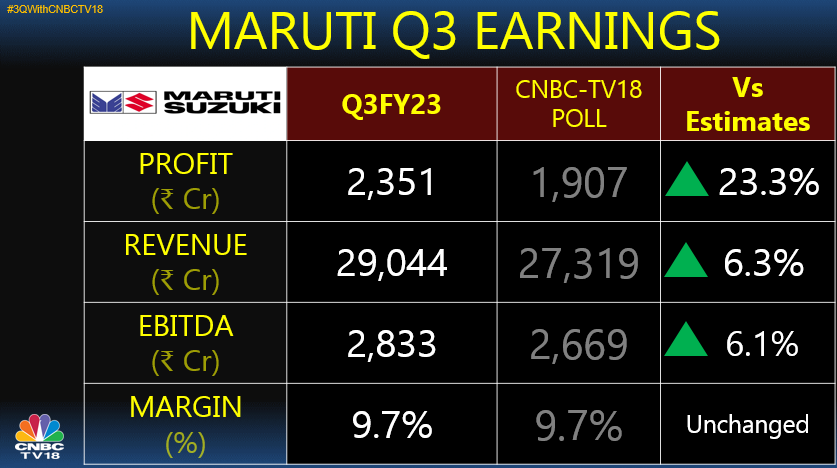 The company's net profit of Rs 2,351 crore was also higher than the CNBC-TV18 poll of Rs 1,907 crore. On a year-on-year basis, the company's bottomline doubled.
Maruti Suzuki's EBITDA margin expanded 300 basis points from the same period last year and was in-line with estimates of 9.7 percent. This is the second straight quarter and the third time in the last four quarters where Maruti's margin has been in excess of 9 percent.
Maruti's operational performance for the quarter was strong due to lower raw material cost, employee cost and other expenses.
Among the positive factors that aided the company's margin included cost reduction efforts, improved realisation, favourable foreign exchange variation, softening commodity prices, and higher non-operating income.
Raw Material costs as a percentage of sales falling to 75.7 percent from 78.8 percent also contributed to the improvement in Maruti's margin.
All of these factors were offset by higher sales promotion expenses.
Volumes for the quarter grew 8 percent from the year-ago period to 4.65 lakh units.
At the end of the quarter, pending customer orders stood at 3.63 lakh vehicles out of which 1.19 lakh orders were for newly launched models.
Ashwin Patil of LKP Securities called Maruti's earnings impressive and said that they are 3-4 percent higher than their estimate.
"The supply constraints issue is behind us now, so that is the biggest positive I would say as that gives them the chance to launch new vehicles and supply them to a good extent. So coming two years will be very interesting for them from that point of view as well," he told CNBC-TV18.
"Therefore on both the fronts – volumes as well as margins, the company is poised for a good financial year 2024 and 2025. So I am positive on Maruti stock with a target of close to Rs 9,400."
Shares of Maruti Suzuki India are trading at the day's high, gaining 2.9 percent to Rs 8,660.