Strong loan growth drove robust fee income for the bank.
Kotak Mahindra Bank reported a strong fourth quarter results on the back of highest loan growth in seven quarters, driving the earnings for the bank.
The improvement in net interest margin by 15 basis points on a quarter-on-quarter basis was also driven by the fact that low cost deposit share increased by 410 basis points to 50.8% compared to 46.7% QOQ.
Asset quality remained stable with gross non-performing assets (GNPA) declining to 2.22% vs 2.31% QOQ.
The strong loan growth drove robust fee income for the bank which coupled with control over operating expenses, saw a strong growth in operating profits.
However, Kotak Mahindra Bank chose to improve their provision coverage ratio to 56.5% vs 53.5%, which led to slight increase in provisions.
Analyst have increased their target price on the stock owing to strong numbers coming in from the bank.
Return ratios remain strong with ROA at 1.72% while the bank remains strongly capitalized with capital adequacy ratio at 18.4%.
Business growth for the bank remained strong while low cost deposit share improved
Deposits for the bank was at Rs 19,2643.3 crore, up 22.4% YOY & up 6.5% QOQ. The low cost deposit momentum remained strong for the bank.
Low cost deposits (CASA) was at Rs 97,775 crore, up 41.2% YOY & up 15.9% QOQ; while low cost deposit share was at 50.8% vs 44% YOY & 46.7% QOQ.
Advances were at Rs 16,9718 crore, up 24.7% YOY & up 6.7% QOQ. The loan growth for Kotak Mahindra Bank is the highest in last seven quarters. The driver of the loan growth has been the corporate book.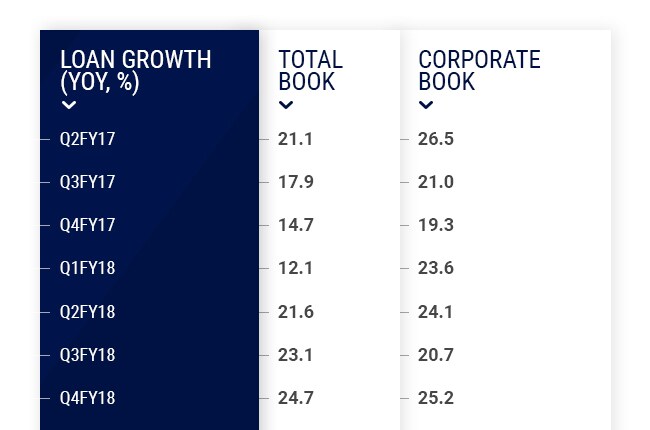 Earnings were ahead of estimates owing to strong loan growth
Net interest income was at Rs 2,580 crore compared to CNBC-TV18 poll estimates of Rs 2,528 crore.
This was due to loan growth being the best in 7 qtrs. This led to net interest margin improving to 4.35% compared to 4.2% QOQ.
Surprising on the positive side, core fee income growth was robust. Core fee income was at Rs 1010 crore, up 33.4% YOY and 21.8% QOQ.
Profit for the bank was at Rs 1124.1 crore vs CNBC-TV18 poll of Rs 1163 crore.
The momentum in loan growth is clearly seen in NII growth rate which is the highest in seven quarters.
Strong topline growth aids in operating efficiency being the best for the bank in last 11 quarters.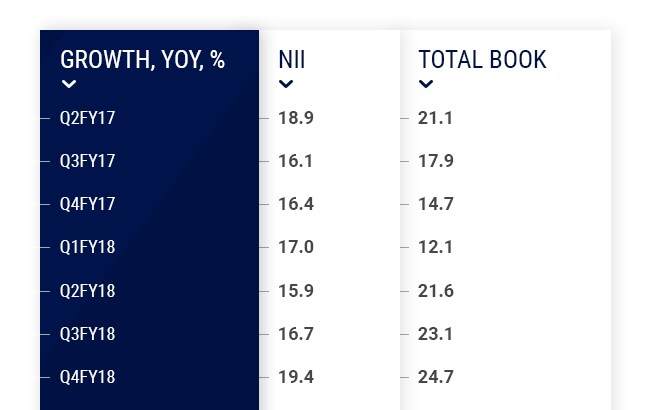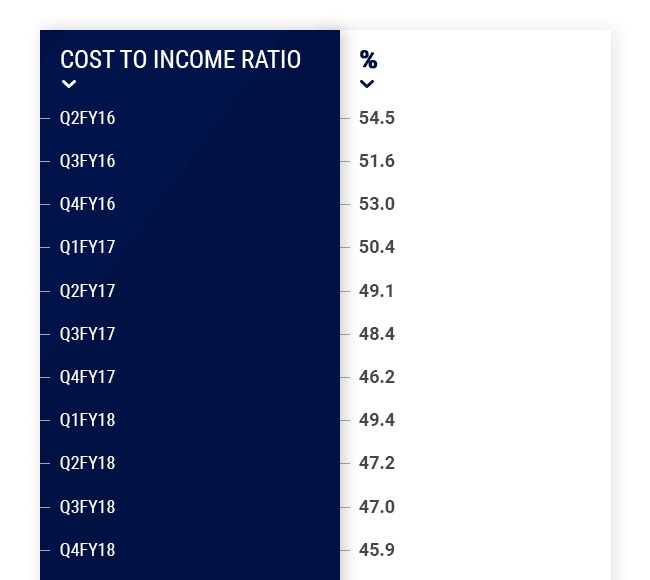 Asset quality remains stable
Gross NPA of the bank remained stable at Rs 3825.4 crore vs Rs 3715 crore, up 3% QOQ.
Gross NPA ratio was at 2.22% vs 2.31% QOQ. Net NPA was at Rs 1,665 crore vs Rs 1,728 crore, down 3.6% QOQ . Provision coverage ratio improved to 56.5% vs 53.5% QOQ.
Subsidiaries performance remains strong led by Kotak Mahindra Prime
Kotak Securities had a net profit of Rs 134 crore vs Rs 121 crore YoY (up 10.7%) and vs Rs 154 crore QoQ (down 13%).
Kotak Mahindra Life Insurance had a net profit of Rs114 crore vs Rs101 crore YoY (up 12.9%) and Rs 97 crore QoQ (up 17.5%).
Kotak Mahindra Prime had a net profit of Rs 160 crore vs Rs 133 crore YoY (up 20.3%) and Rs 148 crore QoQ (up 8.1%).
Kotak Mahindra Investment had a net profit of Rs 95 crore vs Rs 56 crore YoY (up 69.6%) and Rs 50 crore QoQ (up 90%).
First Published: May 2, 2018 4:25 PM IST