Buy / Sell KEI Industries share
Shares of KEI Industries rose two percent on Tuesday after the company reported after the company reported a 27 percent rise in its net profit at Rs 128.60 crore in the quarter ended December 2022 as against Rs 101.23 crore during the same quarter in December 2021.
Anil Gupta, CMD of KEI Industries, discussed the state of the company and its plans for the future with CNBC-TV18. Gupta talked about the challenges faced by the EPC (engineering, procurement, and construction) business, which has been experiencing cashflow issues. To address this, KEI Industries is targeting a revenue of Rs 500 crore from the EPC business in the coming fiscal year.
"We had guided that we are going to maintain our EPC business to the level of Rs 500 crore per year because there are cashflow issues in this business, so we have cut it down," he said in an interview with CNBC-TV18.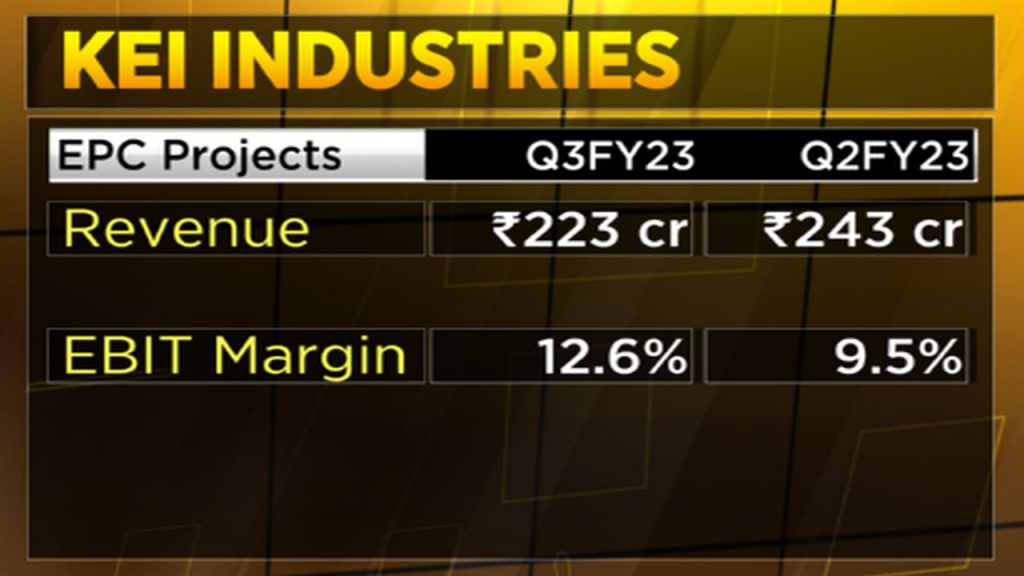 Despite these challenges, KEI Industries has a strong presence in the solar contractor market, supplying cables to most major players in the industry. In addition, the company has seen strong repeat sales from the real estate sector.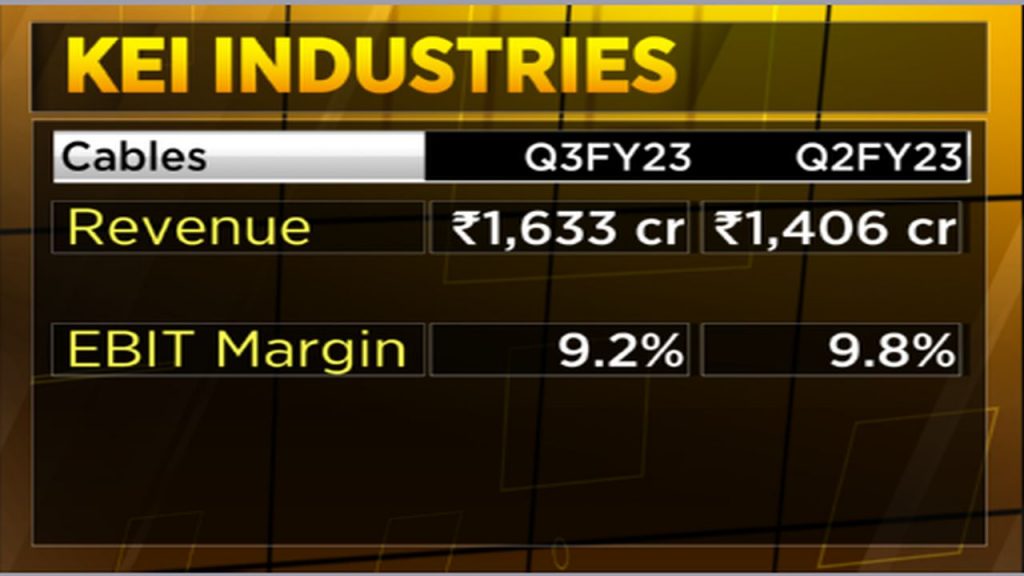 Looking ahead, KEI Industries is aiming for an EBITDA (earnings before interest, taxes, depreciation, and amortisation) margin of 11 percent for quarter four of FY23 and FY23. The company also plans to achieve Rs 700 crore worth of exports in FY23.
"We have grown by around 14 percent in the topline but in EBITDA we have achieved around 11 percent and we will definitely try to sustain it around 11 percent in the times to come. We are very positive about the growth prospects," he said.
"We will be able to achieve the exports growth of around Rs 700 crore," he added.
In terms of revenue growth, KEI Industries is targeting 20 percent growth in FY23 and 17-18 percent growth in FY24.
Gupta also noted that the company sees a good transition happening from the unorganised to the organised sector, and expects to have gained 1 percent market share as a result.
"There is a good movement from unorganised sector to organised sector. We are gaining some market share, I cannot quantify it but we have definitely gained around 1 percent market share," he said.
For the entire discussion, watch the accompanying video