IT firm Infosys Ltd posted net profit of Rs 3,690 crore for the fourth quarter ended March 31, 2018, up 2.4% from the same period of last year.
The company's revenue rose 5.6%, at Rs 18,083 crore meeting analyst expectations.
EBIT stood at Rs 4,472 crore versus the expectation of Rs 4,416 crore. The consolidated revenue came in at $2,805 million versus the expectation of $2,809 million. The company posted an the EBIT margin of 24.7% versus CNBC-TV poll of 24.3%.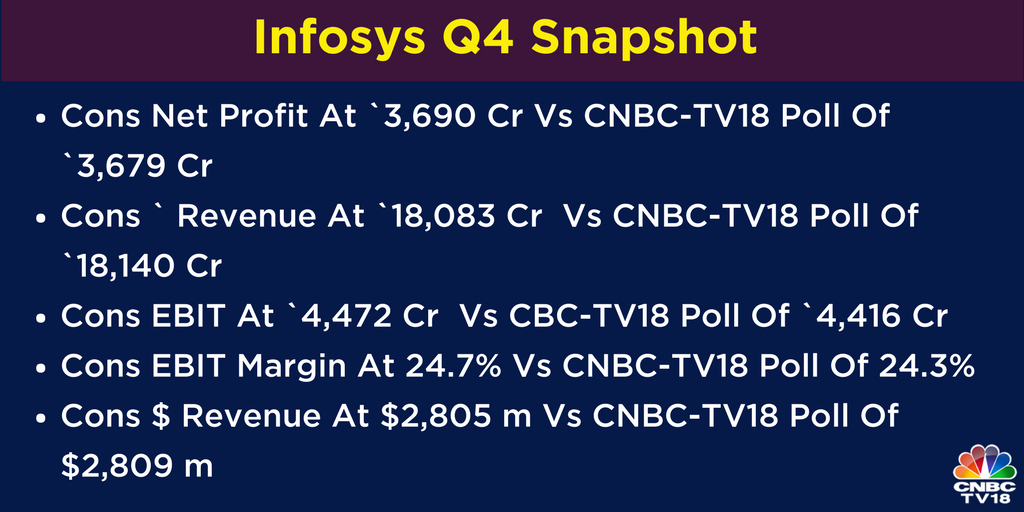 For constant currency guidance, the IT company gave a growth range between 6% and 8%.
The firm's financial year 2018-19 revenue guidance is between 7% and 9% in dollar terms.
For the EBIT margin in the financial year 2018-19, the guidance is between 22% and 24%.
Salil Parekh, chief executive, said a strategic review was held with their clients in the presser post the results release. "Clients have immense respect for Infosys," he said.
The company said it is looking to sell its subsidiaries -- Skava and Kallidus. Both of these were bought when Vishal Sikka was at the helm of the IT major.
It said that the sale is expected to be completed by March 2019.
The firm announced a dividend of Rs 20.50 per share. The company said that it continues to pay up to 70% of its free cash flows to shareholders. It said, "Board has identified up to $2 billion to be returned to shareholding as deemed fit." The total dividend payout this year is 30% higher than last year, Infosys said.
The correction mode continued with the firm losing over a percent. However, the stock jumped back up to be one to gain over a percent while approaching the second half of the trading hours.
The IT stocks pulled up the markets on Thursday with Infosys reaching its day's high, by gaining more than 3%. All the IT stocks outperformed its previous quarter's stock gains in the NSE 50-share Nifty in the January-March period.
It was expected that the firm will post a growth in constant currency at 6 -8%, marginally lower than the Nasscom forecast of 7-9% for the financial year.
In the past six years, Infosys has managed to match its guidance only once.