Infosys on Wednesday reported a net profit of Rs 5,421 crore for the quarter ended September 30, beating Street estimates. The Bengaluru-based IT company's net profit rose 4.4 percent sequentially. Infosys raised its revenue guidance for the year ending March 2022.
Infosys, India's second largest IT company, reported revenue of Rs 29,602 crore for the July-September period, up 6.1 percent compared with the previous quarter.
Analysts in a
CNBC-TV18 poll
had estimated the company's net profit at Rs 5,254 crore over revenue of Rs 29,570 crore for the July-September period.
Infosys reported revenue of $3,998 million for the quarter ended September 30, as against the analysts' estimate of $3,991 million.
Revenue in constant currency terms grew 6.3 percent on a quarter-on-quarter basis.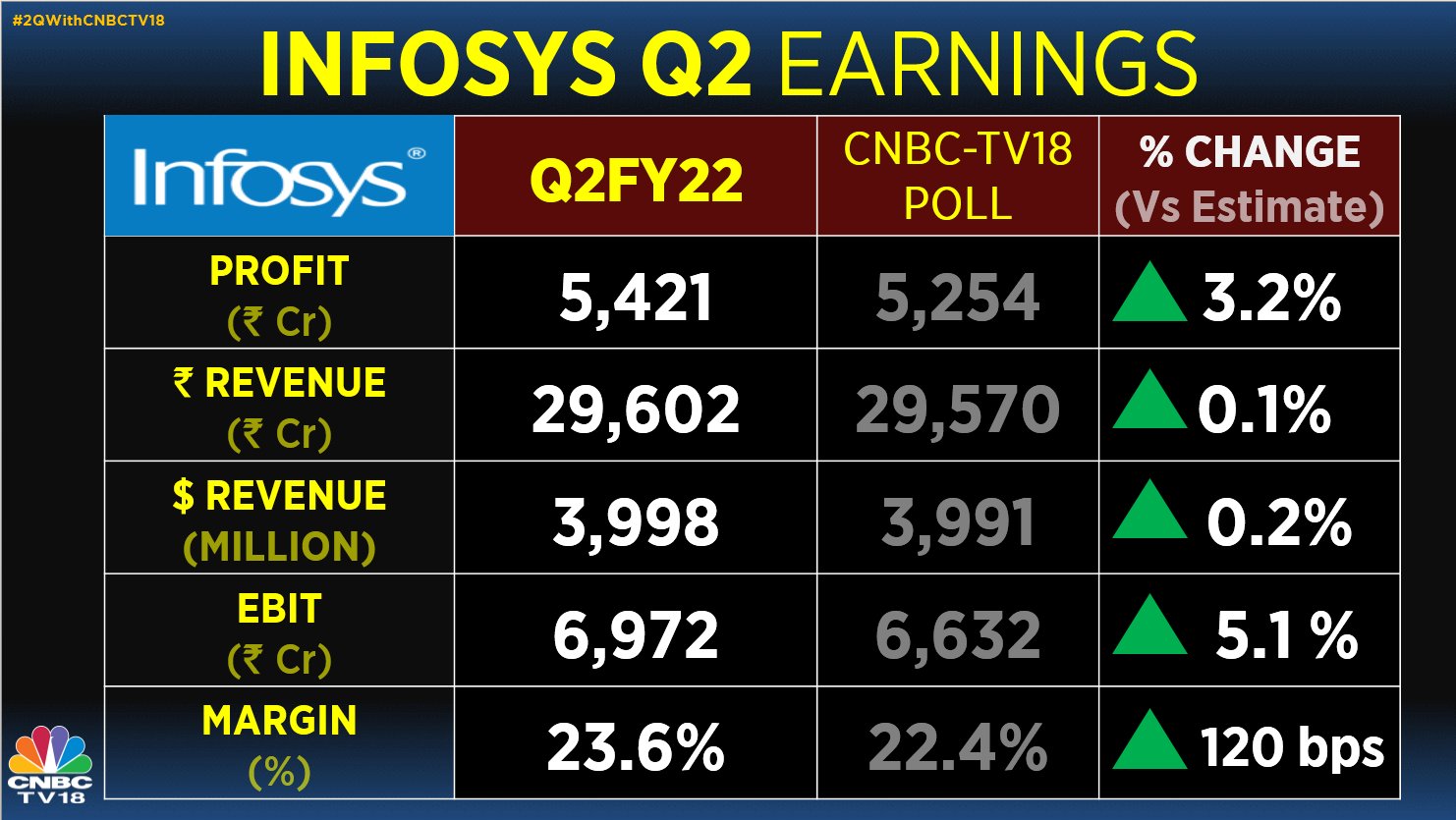 "Our stellar performance and robust growth outlook continue to demonstrate our strategic focus and the strength of our digital offerings. As we witness a strong market opportunity with global enterprises rapidly accelerating their digital journeys, our sustained investments in expanding capabilities, including the differentiated cloud play," said Salil Parekh, CEO and MD, Infosys.
The company said its digital revenue accounted for 56.1 percent of total revenue. Revenue from the financial services segment grew 3.8 percent on a quarter-on-quarter basis to Rs 9,566 crore. Retail revenue rose 3.7 percent to Rs 4,330 crore, according to regulatory filing.
Infosys raised its constant currency guidance to 16.5-17.5 percent for FY22, from 14-16 percent.
The company's earnings before interest and taxes (EBIT) came in at Rs 6,972 crore, as against Rs 6,603 crore in the previous quarter. Its EBIT margin was at 23.6 percent, down 10 basis points sequentially. It maintained the EBIT margin guidance at 22-24 percent.
"The impact of enhanced employee value proposition initiatives was offset by strong operating parameters, cost optimisation and operating leverage. We will continue to invest in our employees to remain a preferred employer-of-choice and seamlessly fulfill client demand," said Chief Financial Officer Nilanjan Roy.
The IT major's board announced an interim dividend of Rs 15 per share for the current financial year.
The company's attrition rose to 20.1 percent in the quarter ended September, from 13.9 percent in the previous three months. Total employees at the end of Q2 stood at 2,79,617, as against 2,67,953 as of June 30, according to a statement.
ALSO READ
Infosys shares ended 1.4 percent higher at Rs 1,708.8 apiece on BSE ahead of the earnings announcement. The stock has risen 47.6 percent in the past one year, as against the Sensex index's return of 49.5 percent.