ICICI Bank's profit for the October to December 2022 quarter of the fiscal rose 34 percent from the year ago level to Rs 8,311.9 crore.
ICICI Bank's profit for the October to December 2022 quarter of the fiscal rose 34 percent from the year ago level to Rs 8,311.9 crore, beating projections of a CNBC-TV18 analyst poll, the firm's quarterly earnings report released on Saturday shows. This, despite additional hit on account of a change in policies and also making prudential provisions.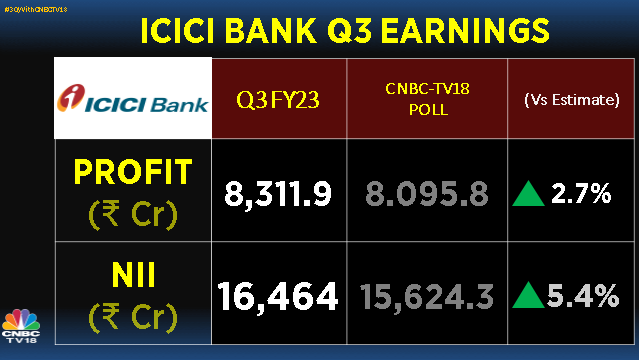 The lender's net interest income (NII) for the quarter under review also jumped to Rs 16,464 crore, 34 percent compared to the same quarter last fiscal.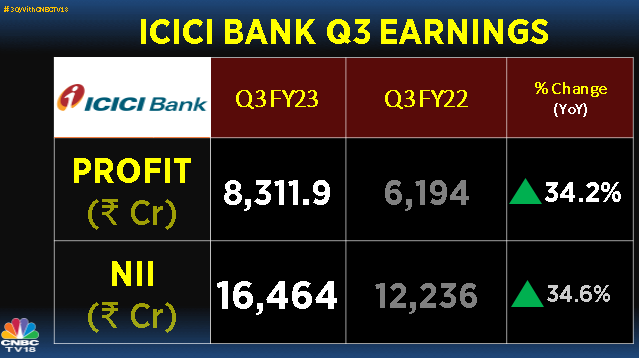 Its executive director Sandeep Batra said that in a rising interest rate environment like the current one, the margins expand as the loans get repriced faster when compared to deposits which get repriced with a lag. The Net Interest Margins (NIMs) will reach a peak in a quarter or two and then stabilise, he said.
ICICI Bank posted a deposit growth at a slower 10.3 percent amid the 'war for deposits' in the system, and the management pointed out to comfortable levels on liquidity coverage when asked about the divergence.
The non-interest income increased 1.8 percent to Rs 4,987 crore, excluding treasury income.
Asset Quality
The gross non-performing assets ratio improved to 3.07 percent from the quarter ago period's 3.19 percent and 4.13 percent in the year-ago period.
The gross slippages for the quarter came at Rs 5,723 crore, of which a bulk Rs 4,159 crore was from the retail and the rural banking segments and Rs 1,500 crore was from corporates and small business segments, of which Rs 800 crore was from advances already restructured earlier.
The bank set aside Rs 2,257 crore as provisions, which included Rs 1,500 crore in prudential provisions to take the overall buffer to Rs 11,500 crore and also impact of a policy change on provisioning.
Batra explained that the bank had chosen to make additional provisions from a prudential perspective for another quarter, given the global macro environment filled with volatilities and also the high inflation.
Loan growth
The lender's domestic advances grew 21.4 percent, retail grew 23.4 percent, business banking grew 37.9 percent and wholesale grew 18.2 percent.
The bank's network has grown by 300 branches to over 5,700 branches and it has hired over 11,000 people this fiscal to take its overall employee strength to over 1.17 lakh, Batra said.
Its overall capital adequacy as on December 31, 2022 stood at 16.26 percent.
Among the subsidiaries, its life insurance arm's post tax profit decreased to Rs 221 crore from Rs 311 crore, general insurance arm's net grew 11 percent to Rs 353 crore, asset management arm ringed in Rs 420 crore as against Rs 334 crore and the brokerage arm had a reduction in profit to Rs 281 crore.