Vibha Padalkar, Managing Director and Chief Executive Officer (CEO) at HDFC Life on Monday said that merger with Exide Life gave boost to topline of HDFC Life. Padalkar was exclusively speaking to CNBC-TV18 after their earning announcements. HDFC Life on Friday, January 20, reported an 15 percent year-on-year (YoY) jump in net profit at Rs 315 crore for the third quarter that ended December 31, 2022.
Padalkar said that the earnings grew faster than the industry on retail annual prevalent equivalent (APE) front. The
APE came in at Rs 3,625 crore
as against Rs 2,597 crore in the same period a year ago. The share of agency channel in Q3 increased to 18 percent from 14 percent. The annuity biz grew at 60 percent, while renewal premium grew at robust pace. The credit life business grew at 52 percent in the third quarter.
Citing the reason for the broad-based growth, Padalkar added that it can be seen on the back of a favourable distribution and product mix.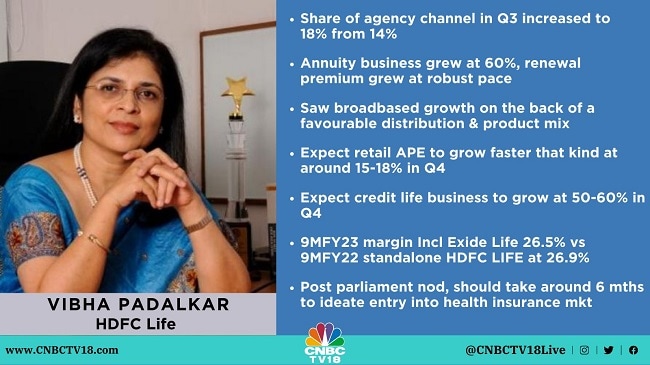 On the other hand, the consolidated margin looked lower as it posted it with Exide Life. However, HDFC Life has advanced margin neutrality date post merger of Exide Life.
"9MFY23 margin include Exide Life at 26.5 percent vs 9MFY22 standalone HDFC Life at 26.9 percent. The standalone HDFC Life margin is significantly higher. The Q3 margin came in at 26.8 percent vs 26.8 percent (YoY)," Padalkar told CNBC-TV18.
For the uninitiated, HDFC Life Insurance concluded the merger of Exide Life in October 2022, marking the completion of the first-ever merger and acquisition (M&A) transaction in the Indian life insurance sector.
On further expectations in fourth quarter, Padalkar said that she is expecting retail APE to grow faster that industry at around 15-18 percent.
She is expecting to end FY24 near margin neutral levels.
On the same, Padalkar said that it should take around 6 months to ideate entry into health insurance market post Parliament nod.
Once this is approved, she added that the company will do things what a general insurer including HDFC Ergo is not being able to do in health insurance space.
"There is a lot that 2 companies from same group can do in the health insurance space," she added.
Post IRDAI's approval, the life insurance firm is likely to focus on critical illness products. Notably, the government has recently floated
consultation paper on the issuance of composite insurance license
. This would allow life insurers to enter general insurance market and vice versa. This proposal is likely to be taken up in Parliament this Budget session.