Noida-based IT major HCL Technologies on Thursday reported a 14.3 percent year-on-year (YoY) jump in consolidated net profit at Rs 2,568 crore for the fourth quarter ended March 2019.
In the corresponding quarter last year, the company posted a net profit of Rs Rs 2,230 crore in the year-ago period as per the Indian Accounting Standards (Ind-AS), it said in a statement.
CNBC-TV18 Polls had predicted a profit of Rs 2,514 crore for the quarter under review.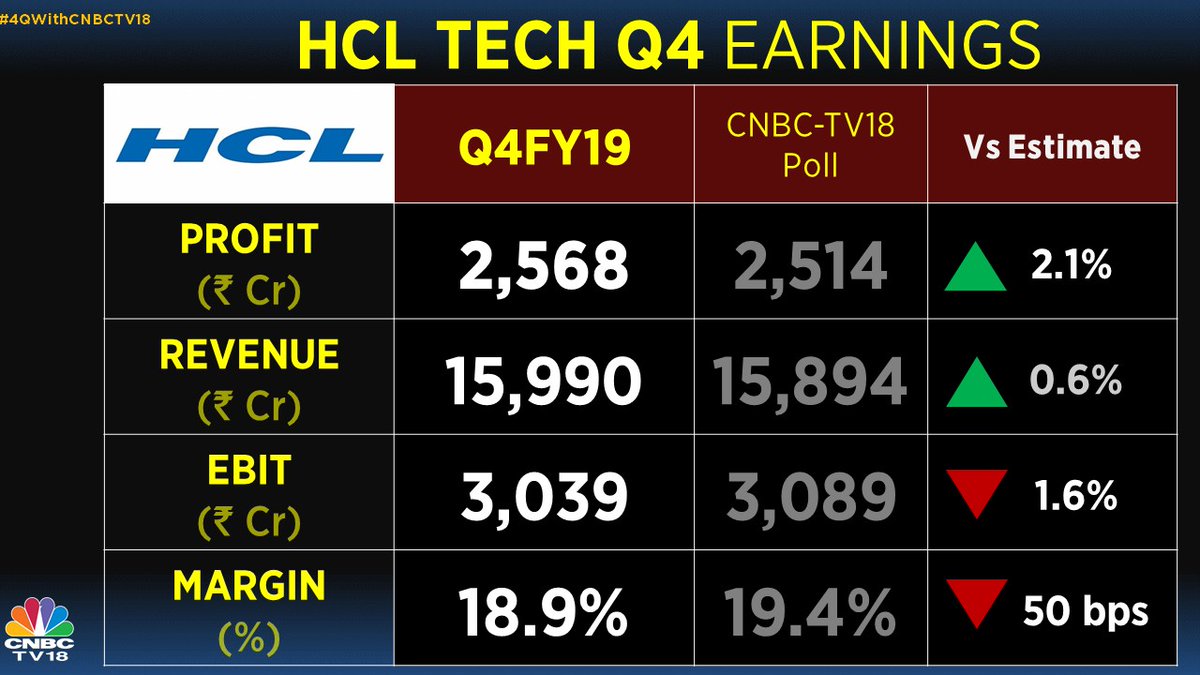 The board of the company has declared an interim dividend of Rs 2 per equity share of Rs 2 each of the company for the financial year 2019-20.
The company saw its revenue growing 21.3 per cent to Rs 15,990 crore in the quarter under review from Rs 13,178 crore in the January-March 2018 quarter. HCL Technologies expects its revenues to grow between 14-16 percent on a constant currency basis in fiscal 2019-20.
In dollar terms, the net profit rose 5.9 percent to $364.3 million for the March 2019 quarter, while revenue was higher by 11.8 percent to $2.2 billion as compared to the year-ago period as per the US Generally Accepted Accounting Principles (GAAP).
The company added 14,249 people (gross) during the quarter to take its total headcount to 1,37,965 at the end of the March 2019 quarter. Attrition in the IT services business on the past 12-month basis was 17.7 percent.
"Disruptions in the global business environment and technology landscape are shaping the world at large. We have always aimed to innovate to embrace changes happening today. Our three core beliefs – sustainability, diversity and inclusion – inspire us to create peerless socio-economic value for our stakeholders," said Shiv Nadar, chairman and chief strategy officer, HCL Technologies.
Shares of HCL Technologies settled at Rs 1,138 apiece, up 0.51 percent on the BSE.