Buy / Sell Bajaj Auto share
Two-wheeler maker Bajaj Auto Ltd. reported December quarter earnings that were ahead of street expectations, led mainly by a double-digit growth in its domestic business.
The company's revenue of Rs 9,315 crore during the quarter was well ahead of a CNBC-TV18 poll of Rs 8,779 crore. Growth in the domestic business offset the challenges in the export market. On a year-on-year basis, Bajaj Auto's topline grew 3.2 percent.
he company's topline is back below the mark of Rs 10,000 crore after crossing it for the first time during the September quarter.
Bajaj Auto's net profit increased nearly 23 percent from last year to Rs 1,491 crore. Analysts in the CNBC-TV18 poll had expected the bottomline figure to be at Rs 1,349 crore.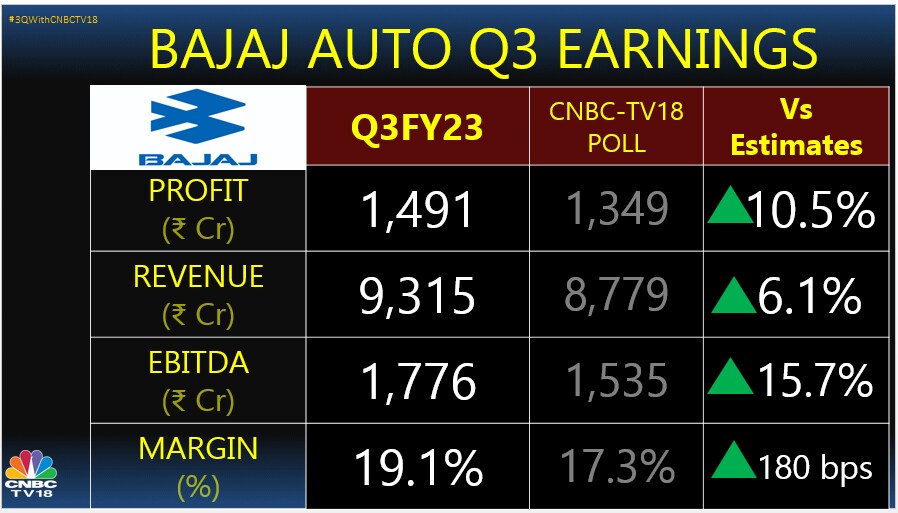 Operating profit or EBITDA was at a record high during the quarter, surpassing the record made during the September period. EBITDA increased nearly 30 percent from last year to Rs 1,776 crore.
EBITDA margin also expanded by 390 basis points during the quarter, led by judicious pricing, better dollar realisation and richer product mix. Compared to a CNBC-TV18 poll, Bajaj Auto's EBITDA margin expanded 180 basis points to 19.1 percent.
CNBC-TV18 had earlier highlighted that a better product mix, meaning a higher mix of three-wheeler and low mix of domestic economy motorcycle segment, will contribute to the improvement in margin.
Overall volumes for the quarter fell nearly 17 percent to 9.83 lakh units, compared to 11.81 lakh units from the year-ago period.
Shares of Bajaj Auto had ended 1.45 percent higher at Rs 3,740.