Under The Sal Tree festival run by an indigenous community inside a forest in Assam is seen as a global model for sustainability and environment conservation.
Sabitri Heisnam fluttered around the clay surface like a ballerina. The nearly 1,500-strong audience followed her every moment from their bamboo-built gallery. The celebrated stage virtuoso from Kalakshetra Manipur would soon shock the theatre world by announcing her retirement from acting. She couldn't have chosen a better stage.
Under the Sal Tree theatre festival in Goalpara district of Assam where Sabitri performed Pebet - the much-loved Meitei play she had first performed more than four decades ago - is unlike any other. Set up on a stage inside a forest in Rampur, about 150 km from Assam's capital Guwahati, the festival is a global model for sustainability and respect for nature. An icon of green theatre, it is run by the indigenous community of Rabhas living on the fringes of a forest.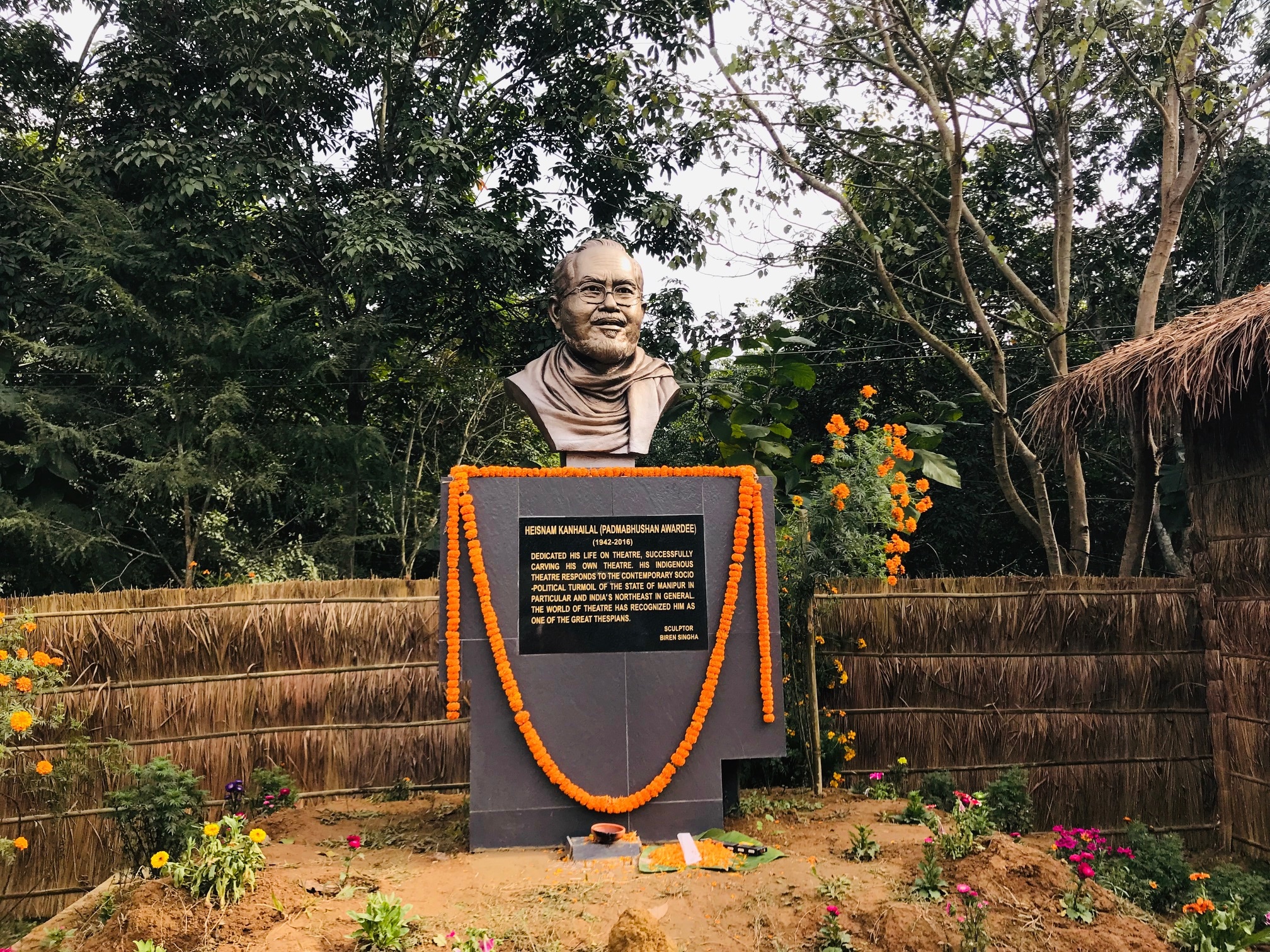 Bust of Heisnam Kanhailal.
"The forest is better than the proscenium. You feel more connected to nature," says Sabitri about performing at Under the Sal Tree festival. The 72-year-old actor, who along with husband Heisnam Kanhailal championed experimental theatre from the famous Kalakshetra Manipur, felt at home in Rampur. "I performed here at the first edition of the festival, which built a mud platform especially for our play (Uchek Langmeidong). It is a very intimate atmosphere here. You can feel the pulse of the audience," says Sabitri, who finds it difficult to continue performing because of recurring pain in her knees.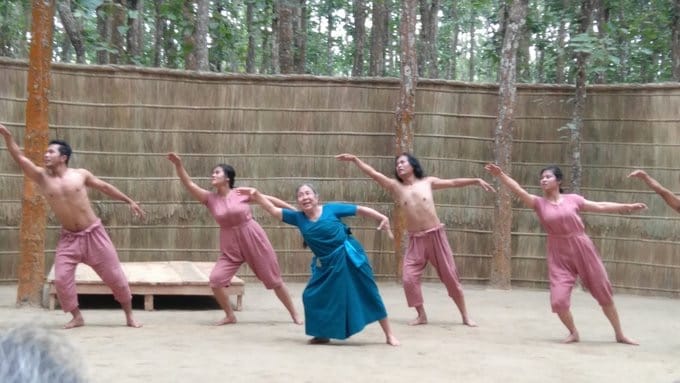 Magic Of Minimalism
Founded in 2008 by the young theatre director Sukracharjya Rabha, Under the Sal Tree festival is a platform for minimalist theatre. Performed during the day, the festival relies on natural light. A carbon-neutral festival, there is no power-generated sound and virtually no set either barring a few sal trees on the stage.
Theatre groups come here from around the world without the usual tonnes of equipment. Payanihal (Passengers), a Tamil play by the Sri Lankan group Janakaraliya in the 2016 edition, had two actors and a long bamboo pole. In the same year, Brazilian Marilyn Nunes used only a wooden box for her solo act, Estrelas (Stars). This year, Sabitri's play, Pebet, had six actors and a low wooden podium for set.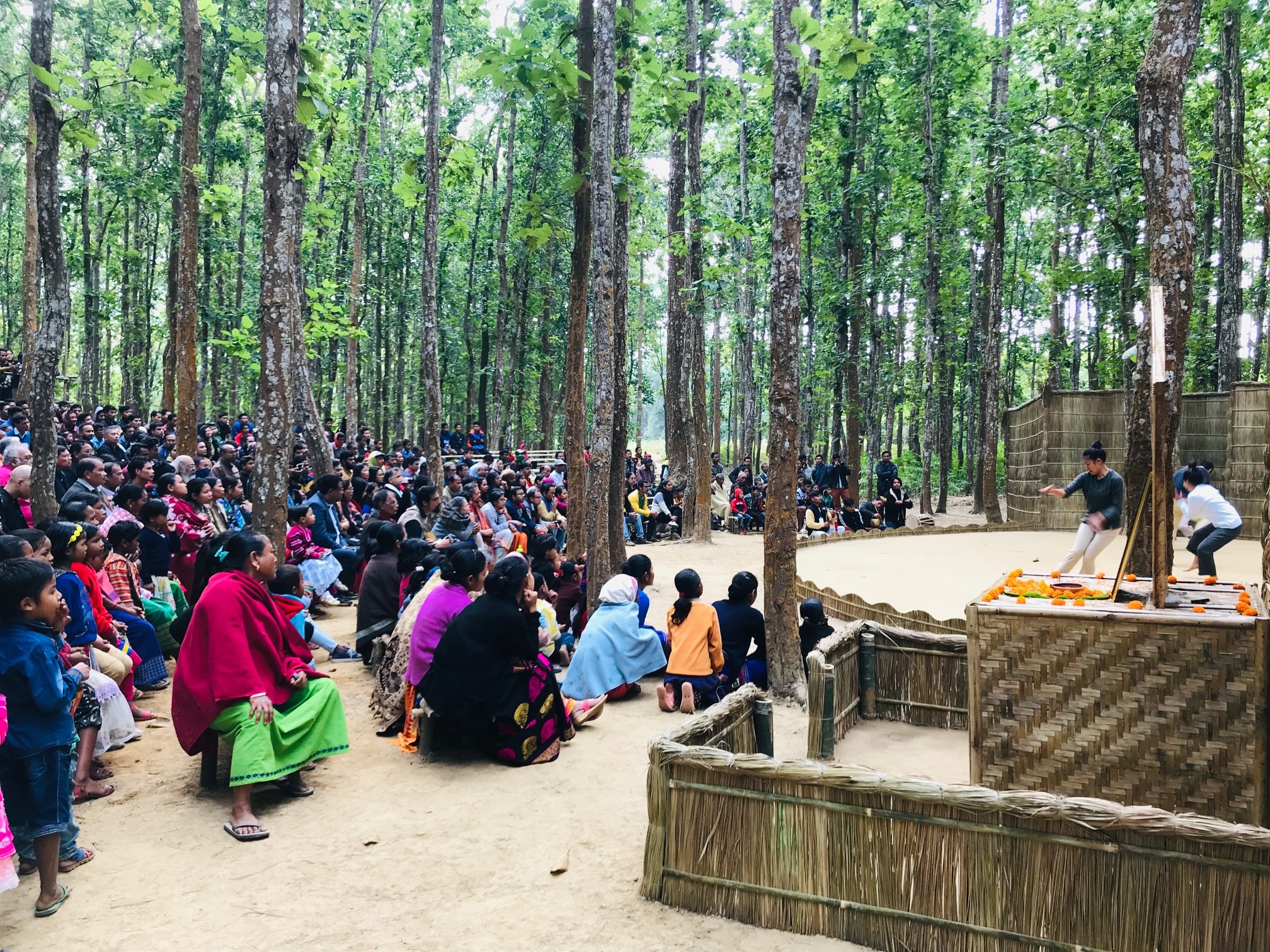 "The stage here produces experiences very different from the proscenium," says Assamese movement artist Shilpika Bordoloi, echoing the words of Sabitri. "The darkness of the forest, the sunlight through the trees touching me unpredictably, the chirping and melody of the forest organisms joining in with my musicians performing live, the earth under my feet -- it is new birth and regeneration and yet a sense of new endings." Bordoloi performed her play, Majuli, about the river island-district in Assam facing disappearance due to floods and soil erosion, here in 2015.
History and tradition run deep in Rampur's theatre. A protege of Kanhailal, Sukracharjya first established a theatre group called Badungduppa Kala Kendra in Rampur in the '90s. It was the time Assam was emerging out of the decades of insurgency that had sucked in several impressionable Rabha youths. Alcoholic addition was rampant in the community reeling from the effects of ethnic violence. Sukracharjya's theatre was the perfect antidote to the community's troubles, drawing young Rabha men quickly into theatre.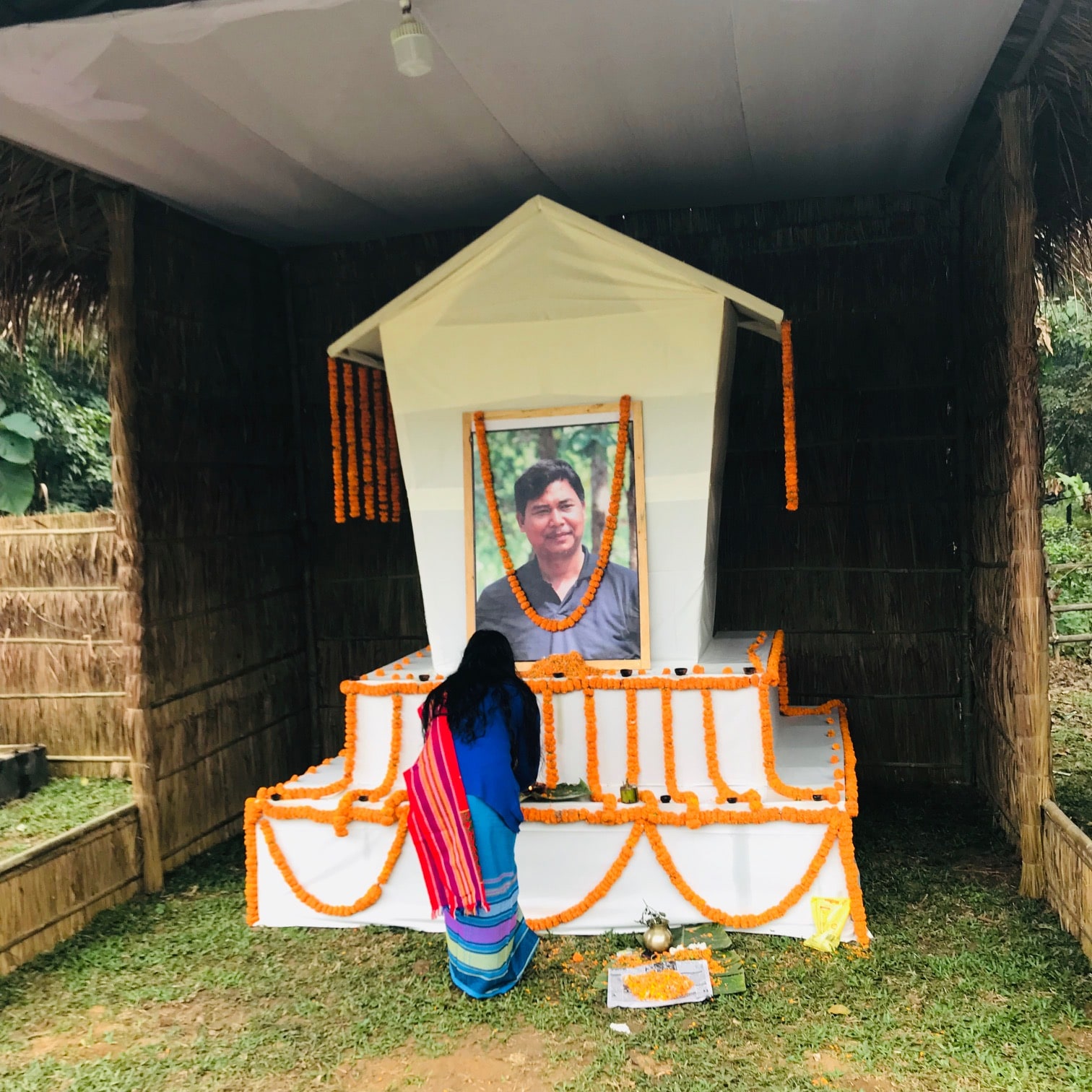 A woman paying homage to Sukracharjya Rabha.
Spirit And Simplicity
So impressed he was by the alternative theatre of his mentor Kanhailal, Sukracharjya then turned his eyes into forming an alternative festival. Founded in 2008 with the help of Kanhailal, Under the Sal Tree attracted theatre groups from India and abroad enamoured by its spirit and simplicity. "Today's ultra-modern world has taken away our connections with the land and ourselves," says Tamil actor-writer Deepa Rajkumar. "This space offered by Under the Sal Tree festival is crucial towards regaining those connections."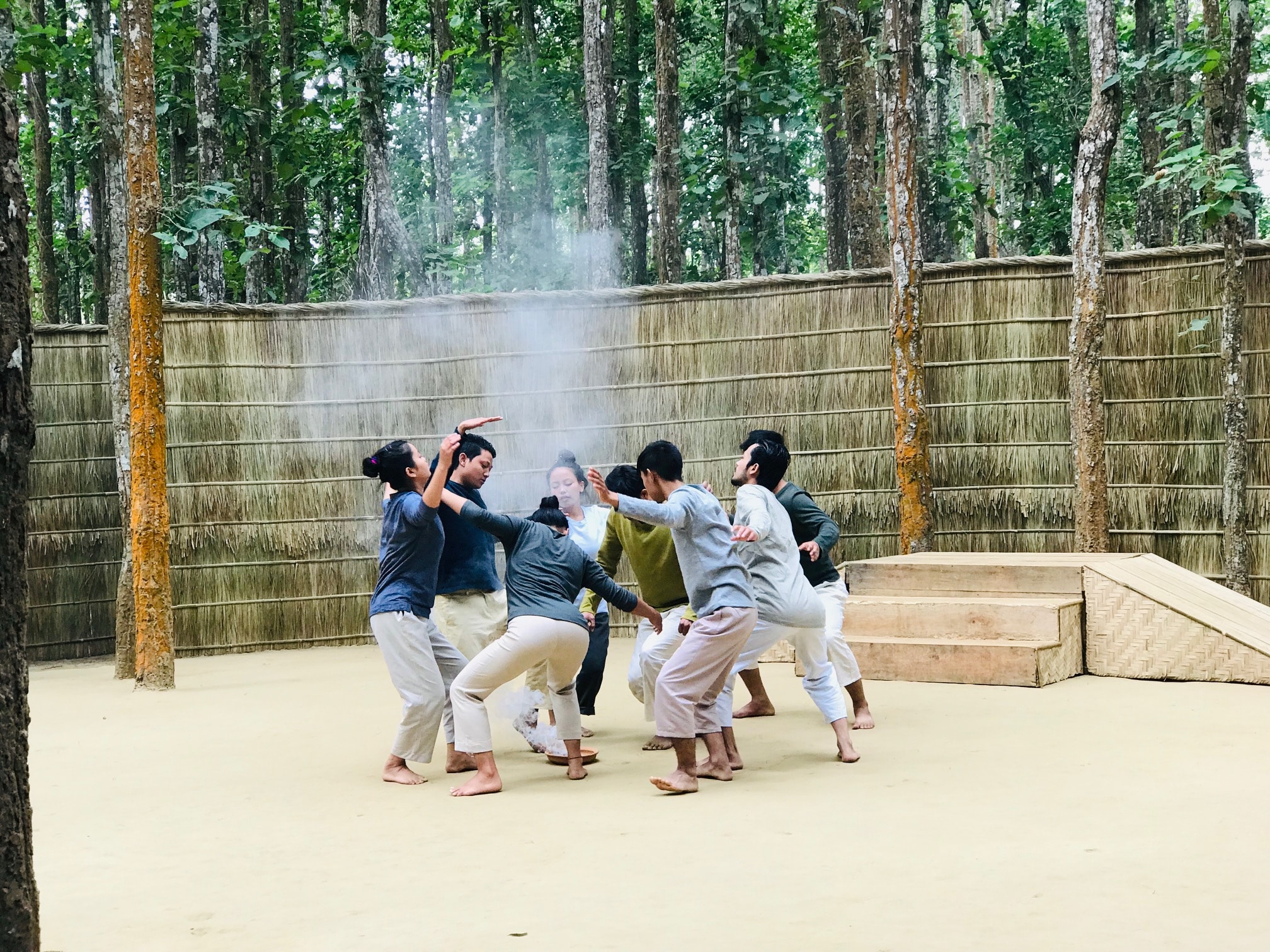 Held in December, the community-driven festival is receiving support from villages surrounding the sal forests in Rampur. The audience is mostly made up of whole families who walk and pedal their way to the forest venue for every play, but in recent years the festival is also attracting the attention of alternative theatre practitioners and fans from far and wide. There are also a few doctoral theses being written on the festival.
"The Rabha community's respect for nature and reverence for trees has created an international model for sustainable theatre," says Assamese filmmaker Utpal Borpujari, whose first feature film, Ishu, based on witch-hunting among some North-East tribes was shot in Rampur and its surroundings. "The community supported the film and Sukracharjya rewrote dialogues in the local tongue to suit some words specific to the area," adds Borpujari, a friend of Sukracharjya and now closely associated with the festival. Ishu went on to win the national award for the Best Assamese Film this year.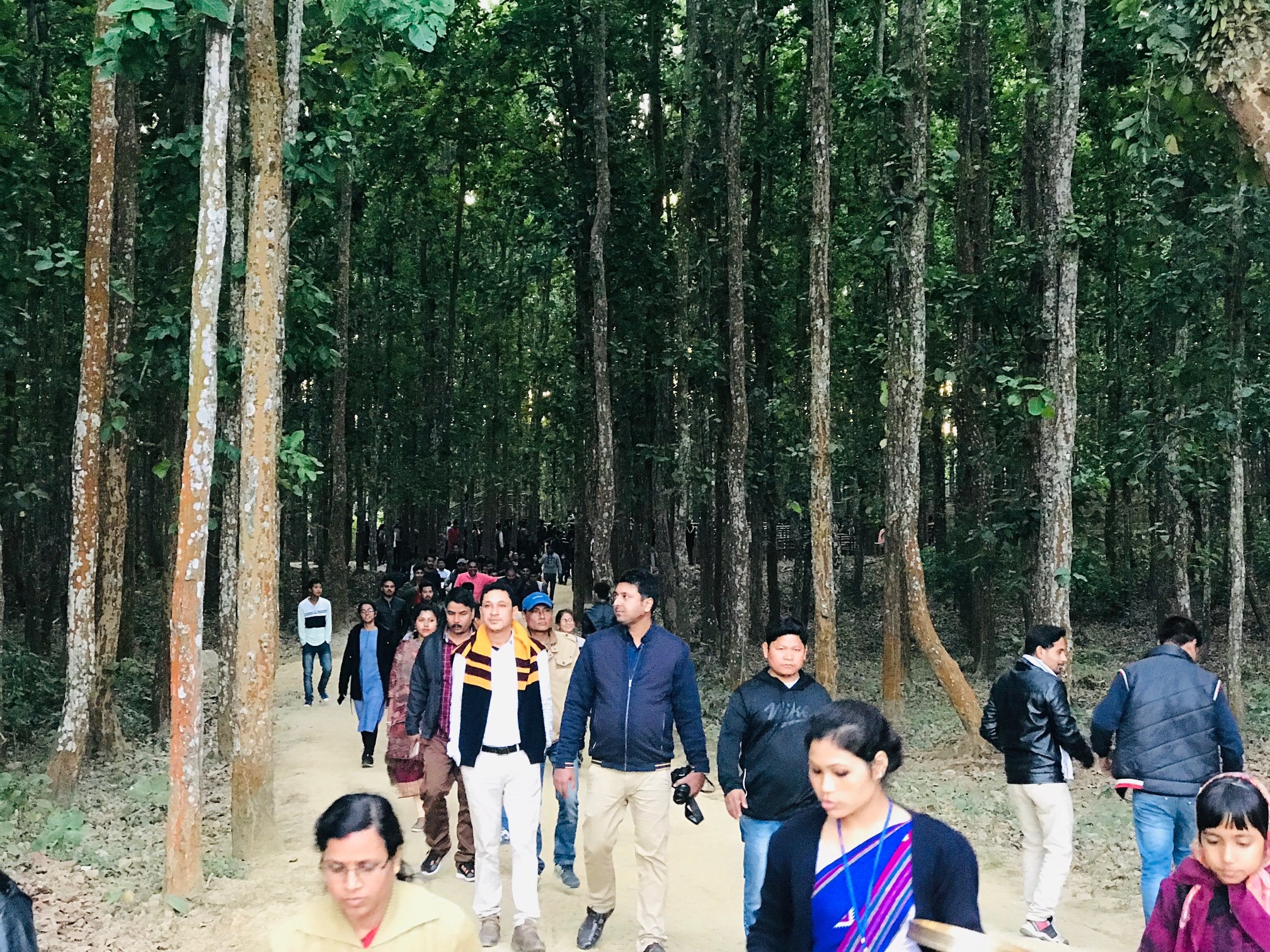 After the passing of Sukracharjya, who suffered a massive heart attack, the Rabha community had doubts about the future of their festival. But his wife Cheena Rabha quickly stepped in to take control of Badungduppa Kala Kendra and the festival. In August, the Kendra organised its annual theatre workshop and festival for children and began seeking support for Under the Sal Tree. "It was a challenge, but the Rabha community supported our every move," says Cheena, a shotput champion in Assam before she married Sukracharjya and shifted to theatre.
"We have lots of goodwill," beams Cheena, who directed her first play, Kendab (Cage) in Rabha language at the children's theatre festival organised by Badungduppa Kala Kendra this year. "Sukracharjya was a leader who shared everything," says Madan Rabha, who along with another community member Dhananjay Rabha completed Sukracharjya's last play, Sons of Earth Mother in Rabha language, which opened Under the Sal Tree this year. "He always discussed every aspect of work and explained why it is important for the society," says Madan, who is now planning to revive Sukracharjya's dream for a culture village in Rampur.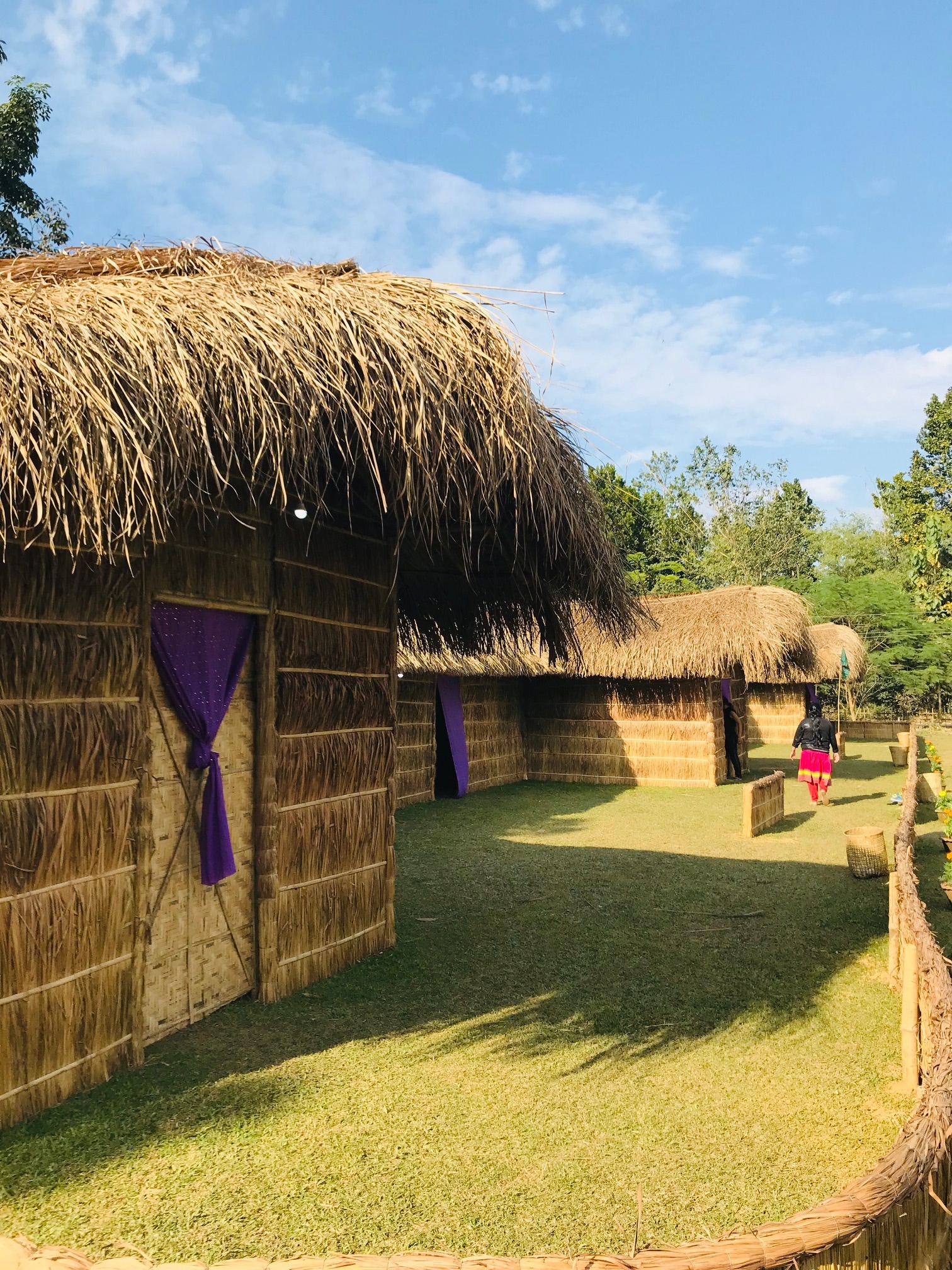 Sustaining the festival, which is sought after by national and international alternative theatre groups, is not going to be easy for Cheena and her community. Nor will be fulfilling Sukracharjya's dream for a cultural village to promote alternative theatre practices. The community is pinning its hope on support from the public and private sector and individuals to continue a festival whose philosophy rests on sustainability and conservation.
Details on extending funds and support for Under the Sal Tree festival could be obtained by writing to badungduppa@gmail.com.
Faizal Khan curated India's first football films festival with artist Riyas Komu at the 2011 International Film Festival of India, Goa. He was the curator of a football films programme in the Artists Cinema section of the second Kochi-Muziris Biennale in 2014.