Artist, social commentator and feminist librarian Aqui Thami is using her art and her voice to reclaim public spaces and support other women.
The terms 'artist' and 'activist' are not enough to describe the multifaceted Aqui Thami. Born in Darjeeling and based in Mumbai, Aqui not only creates art – in the form of posters, zines, prints and photographs – but also actively works towards starting a dialogue around issues of identity, gender, caste, and belonging, amongst others.
Her list of projects is unending and always aimed towards creating change for those on the margins. These include The Dharavi Art Room, an initiative that uses art as a medium to empower children and women in Dharavi, Asia's largest slum, and The Bombay Underground, a platform for change working to keep the 'underground alive'.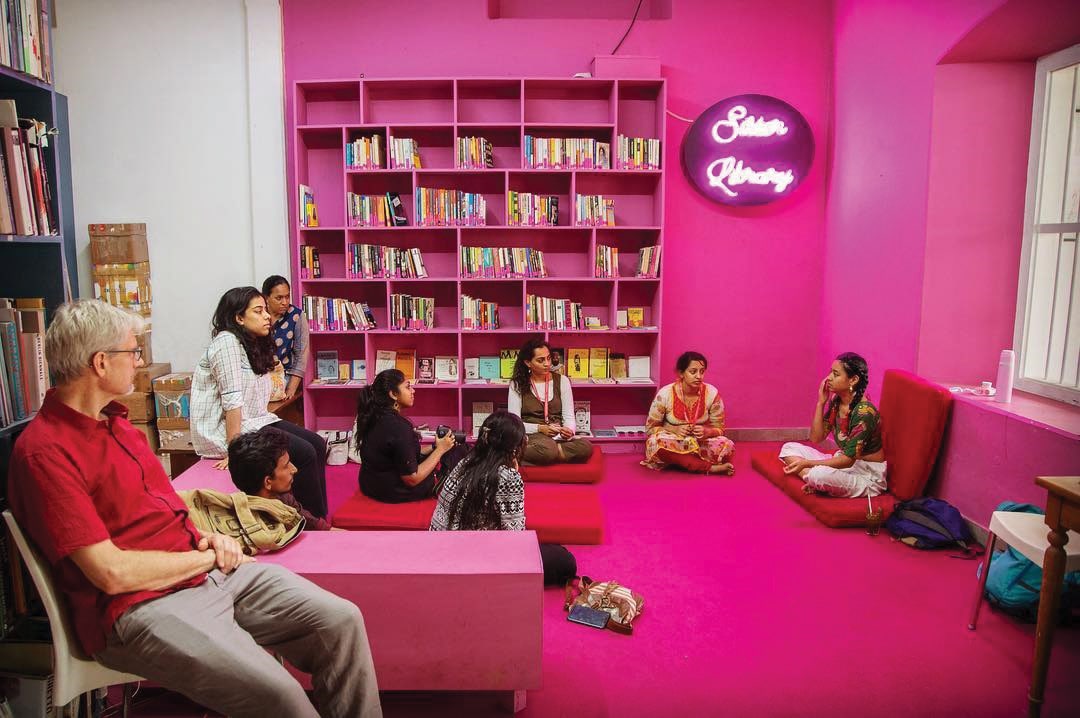 The Sister Library by Aqui Thami.
Her most recent initiative is The Sister Library, a travelling library comprising works written exclusively by female authors. Each book has been curated and picked out by Aqui herself, and has been collected over many years.
"After making reading interventions in different communities, I realised that people were really not into works of women writers and that made me reflect on my personal readings," explains Aqui of the beginnings of the feminist library.
"I saw that women did not even make a fourth of my collection, and this really made me feel like shit, so I made a conscious effort to start reading books by women exclusively around five years back. Slowly, my collection increased and I had to share it with the world to allow for a space to not only celebrate the works of women but also allow for an experience to be physically surrounded by works of women in such a huge number."
An old telephone booth in London reclaimed as a zine library by Aqui.
After a successful tour in 2018, where it travelled to six cities across India, the Sister Library is now looking to settle, attempting to raise funds through a crowdfunding platform to set up a community space in Mumbai.
"Every city was different, which is why I curated the books keeping my own personal experience of the cities in mind," Aqui recalls of the experience. "The biggest similarity was the immense support I received from women in every city. They helped with everything, from installation to workshops, carrying boxes and things around, everything."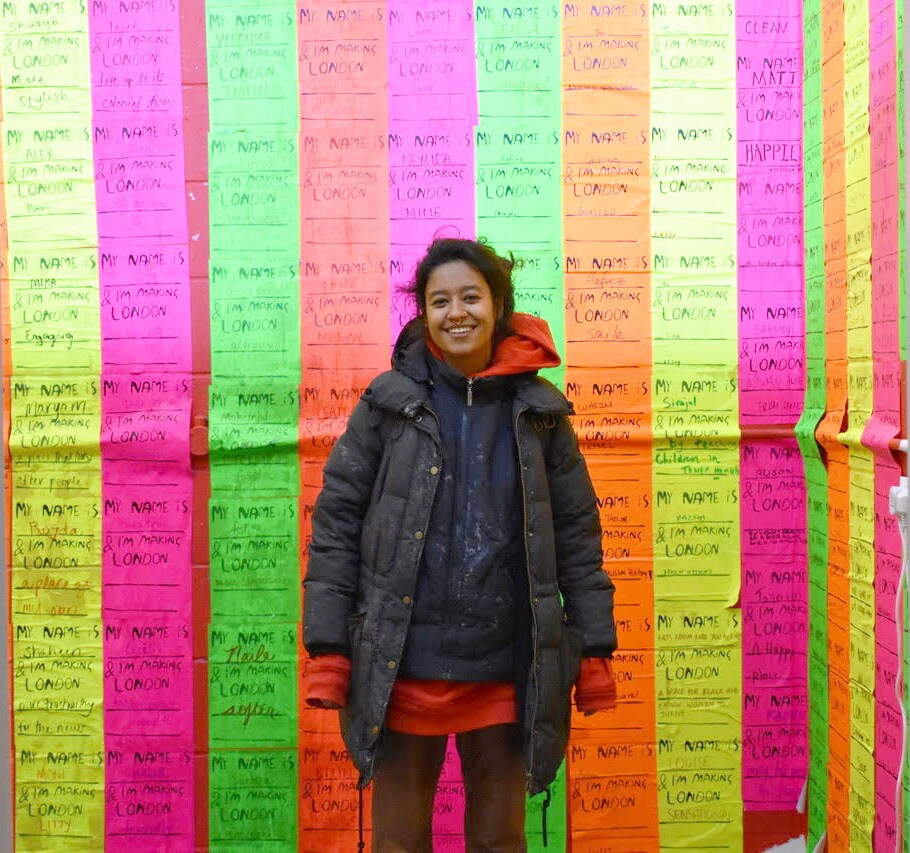 Aqui Thami
Aqui was also in Delhi last year for a discussion on safe spaces for women in India. "After years of female infanticide and fatal violence against women, even now we live in a time that is extremely unsafe for women. We don't even have space; safe space is a far-reaching concept," she opines.
Aqui recently completed a residency with Victoria & Albert Research Institute (VARI), in London, where she looked at political posters in their archives to understand their visual language and activism. She also collaborated with young aspiring artists from east London to make street interventions and reclaim spaces.
"I looked at food as an archive and shared biryani with around 100 people, allowing for a space where London not only experienced the richness and artistry of the food of east London but also shifted their perception on what an archive could be and what knowledge is," she shares.
Aqui's poster of Devi Maya Thangmi at Manor Park, London.
London also opened Aqui's to another perspective on being a female artist: "In my experience, people in London really wanted to listen. They valued my perception, something that doesn't really happen in my own country. Being an indigenous woman, I am often silenced in India. It was also nice not having to experience harassment every single day!"
Aqui's art has been converted into a clothing line by NORBLACKNORWHITE, an upcoming design label by two Indian-Canadian women. But biases by curators in India have made Aqui's art journey somewhat of an obstacle course. "The arts in India are appreciated but only amongst the affluent. Like caste Hindu artists being appreciated by caste Hindu curators!" she says.
"Working in India is quite difficult, specifically if you work in public spaces. Every intervention, every performance is a risk. I definitely believe that men are given preference in the art world."
Inspired by artists such as Judy Chicago, Jenny Holzer, Emory Douglas, Rokudenashiko and Nadia Myer, Aqui believes art necessarily carries socio-political implications. "If artists are responsible for creating culture can we be apolitical?" she asks, adding, "If people are only making things that can make a buyer's house look interesting, is that even art, are they even artists? Art is essential for driving change."