With the scrapping of Section 377, LGBTQ people are coming out with a confident new voice.
Even after the positive Supreme Court verdict decriminalizing gay sex, Indian lesbians continue to live in the closet, rues Monisha Ajgaonkar, the 29-year-old Mumbai-based founder of The Photo Diary, a firm that specialises in commercial and wedding photography.
"It's a lot to do with social mores that dictate women's sexuality," she muses, while adding that even in a metro like Mumbai, girls are confused and afraid of revealing their sexual identity to their family and society at large.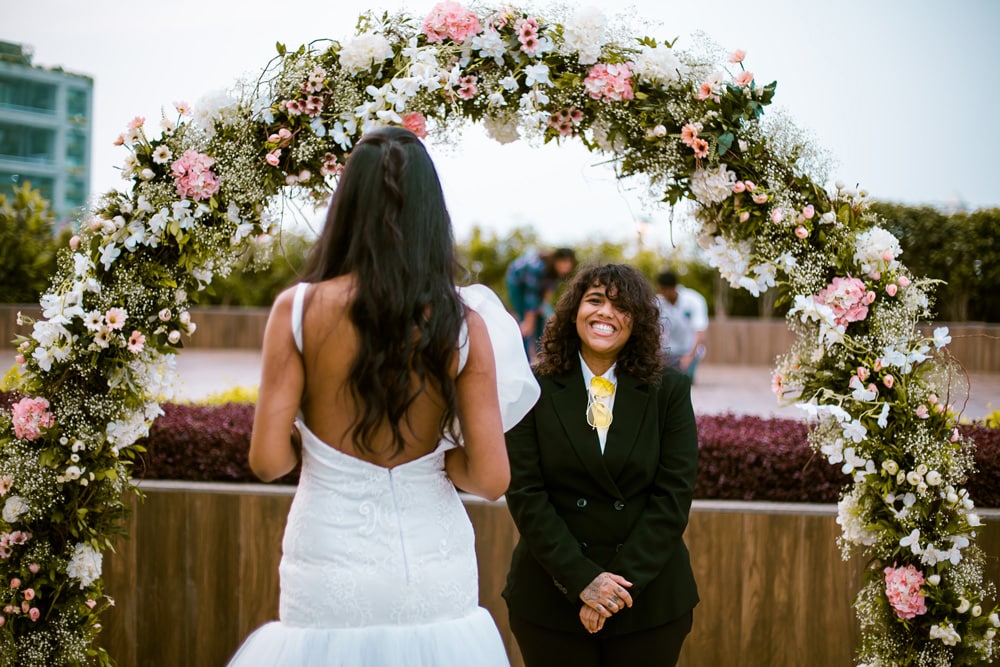 MONISHA AJGAONKAR, MUMBAI
The LGBTQ activist has put her professional skills to good use, and has taken on various photography and videography projects to bring light to the challenges of the lesbian community in India. One of her projects commissioned by Ogilvy, which informed people how to answer questions related to being lesbian, was featured worldwide and won an award at this year's DMA Asia ECHO Awards.
In another project, she presented a lesbian wedding, playing the role of the 'groom' herself. "Gay men and transgenders do find portrayal in pop culture from time to time. They have some voice. But lesbians are largely invisible. Many of them are married, and hide this side of themselves from the world," she says. Which is why another of her photo essays featured a real-life lesbian couple shot at different locations in Mumbai like just any another couple in love.
Ajgaonkar has been "out and about" by herself since her late teens. She set up her photography firm five years ago shooting weddings all over India besides taking on personal and corporate projects. It's not easy to come out openly as gay, she admits. "Family can sometimes be the greatest obstacle in your coming out. That's why friends and financial independence are so important," she emphasizes, adding that the road can be rough. "Have courage."
Two years ago, at 38, Reena Rai reached the lowest point in her life. She and her husband were both out of work, their once-flourishing businesses had failed, they had a growing daughter to fend for, and then Rai's best friend passed away. "Everyone says there is a purpose to life. But if I was to die today, what would have been the purpose of my life? Why did I live at all?" she mused, seeped in the dark despair that wracks a seeking spirit before light dawns.
That's when Rai met Vippy. "I'd actually met her a few years earlier, when she was a boy. She got back in touch with me when she found out I had lost my best friend. She knew I was suffering from depression."
REENA RAI, DELHI
Vippy could relate. She had undergone sex-change surgery and had been isolated from her family. She had contemplated suicide. "No one understood her. So she sought me out. I'd never judged or pitied her," recalls Rai. It was the beginning of a life-changing friendship.
Almost instantly, Rai noticed the way people looked at her or passed remarks when she and Vippy were just hanging around at a café. "People think a transwoman can only be a prostitute, though Vippy had a job working in a salon in Karol Bagh," says Rai. The two of them attended an event for the hijra community organized by an NGO. Sitting in the audience, Rai was struck by the problems the community faced. Their parents would throw them out; they were forced to leave school due to bullying. They would be raped or forced into prostitution.
"Their lot cannot change unless straight people change their biased mindsets," thought Rai. Suddenly she got the answer to her question: "What is the purpose of my life?"
A few months later, she launched India's first beauty pageant for transwomen, Miss Transqueen.
Her idea was met with skepticism. Venues refused to host the event. Sponsors feared tarnishing their image by associating with transgender persons. Politicians advised her to "do something normal".
Rai replied: "They are normal to me."
The greatest pushback came from the transgender community itself; they suspected her motives. Even so, a decent number of participants turned up at the audition held at an NGO's auditorium. Finally, after much struggle, they got a venue for the final event in Gurgaon. And so, on August 27, 2018, Rai created history.
"We got a huge response; global media picked up the story and it was all over the news," she narrates. "That's when inclusion started. The same people who had turned us away earlier now began calling me and my girls to judge other pageants and speak at events."
Her big break came when The Lalit Hospitality Group began taking interest in skilling and hiring her contestants. They even offered their Mumbai property as a venue for Miss Transqueen 2018, an offer Rai lapped up as she wanted to introduce her contestants to film industry: "They can be anything they want to be."
Job offers have been pouring in for "Reena's girls". International beauty pageants have been reaching out to invite them to participate in events abroad. They've been hired by reputed companies across India who are keen to expand their diversity portfolio. "The most significant part is that their parents are calling them back home," says Rai. "Their main problem is acceptance. Now that they have that, they can focus on achievements."
Last month, Rai celebrated her 40th birthday. Her contestants came over home with a cake to celebrate it with her. "Two years ago, I wondered what my purpose was," she says. "Now I know."
Last month, an unusual sort of conference took place at the Lalit Hotel in Delhi, 'Queering the Pitch'. Spearheaded by Keshav Suri – the executive director of the Lalit Suri Hospitality Group and one of the petitioners who had filed an appeal in the Supreme Court to scrap Section 377 – the event marked the launch of his foundation with a mission to "embrace, empower and mainstream the LGBTQ community".
The foundation has tied up with the It Gets Better Project, a global platform to uplift and connect the LGBTQ+ community. "With a feeling of acceptance and belonging, the foundation aims to skill people from the community and help them live a life of dignity," says Suri, who has won numerous awards in the fields of entrepreneurship, hospitality and for being an agent of social change.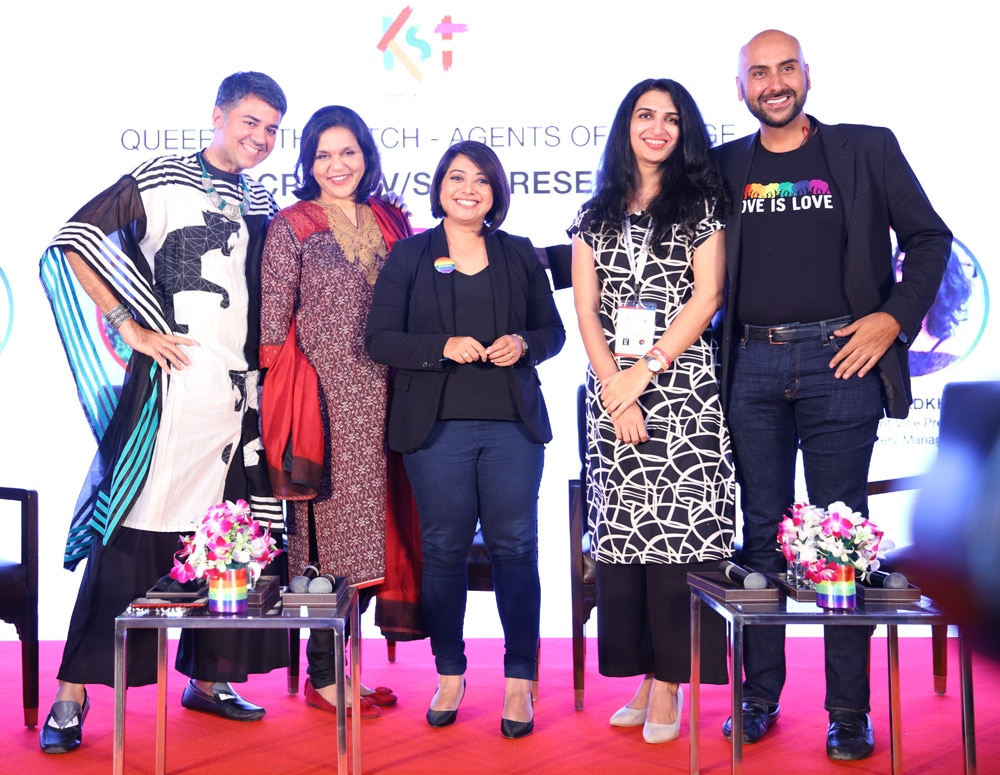 KESHAV SURI FOUNDATION, DELHI
The conference saw influencers from various fields take the dais, such as acclaimed author Devdutt Pattanaik and noted media personalities Barkha Dutt, Faye D'Souza and Shekhar Gupta. Topics of discussion included 'queering politics' and moving beyond 377 and mainstreaming those from the LGBTQ communities. Other personalities who graced the event included openly gay and transgender people from the corporate world, such as Ishaan Sethi, CEO of Delta, India's first homegrown app that connects LGBTQ persons; Parmesh Shahani, head of the award-winning Godrej India Culture Lab and TED senior fellow; and Anubhuti Banerjee, manager IT customer relationship management at Tata Steel Limited.
Important points about representation of the gay community were raised in the session 'Queer the Content', and it was interesting to see two very talented (and openly gay) film directors respectfully disagree on the subject. Faraz Arif Ansari, the filmmaker behind Sisak, India's first silent LGBTQ love story which went on to win over 50 international film awards, spoke about his as-yet unsuccessful search for a transgender woman to play the lead in his upcoming film Sabr but why it was important that he not give up.
On the other side of the debate was National Award-winning director film editor and screenwriter Apurva Asrani, whose films Satya (1998), Shahid (2013) and Aligarh (2016) created talking points on vital subjects. He was of the opinion that merit (talent, skill or training) was more important to him while casting an actor – even if the on-screen character was gay or transgender – rather than selecting a gay or transgender person as a token to represent the community.
The evening came to an end with drag performances and a show by standup comedian Vasu Primlani.
An event that brings together rational debate with a passionate expression of selfhood is bound to leave its attendees moved, whether gay or straight. Human rights cannot be ensured by laws alone. It takes a mighty commitment from all sections of society, the community and the economic stakeholders to make sure that the marginalized are skilled, given a voice, and assured of their personal dignity and freedom of expression at workplaces, in public and at home.
The Keshav Suri Foundation has taken a noble step towards a more just society. Now the rest of us have to do our bit.