Mini
The hydromechanical watches have been designed using fluid mechanics, which is used in automotive and medical fields.
Any watch expert or collector will tell you that a watch — particularly a high-end, all-frills luxury watch — and liquid are not the best of friends. However, one man decided to defy the laws that govern nature and watchmaking to create an uber-luxe watch that would combine the two in new ways. Patrick Berdoz was the man who used liquid to indicate the time. He launched HYT in Switzerland seven years ago, with an investment of $30 million and three partners, including nuclear engineer Lucien Vouillamoz, who developed its far-reaching fluid system.
The hydromechanical timepieces are known for their innovative technology and expert craftsmanship and match up to the best of Swiss watches with their perfect mastery of decoration and finish.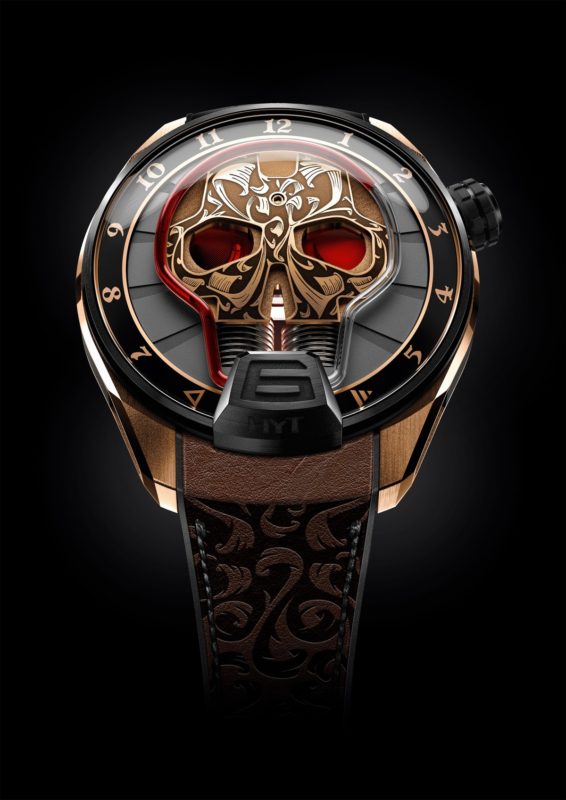 HYT watches recently launched in India and the brand retails through multi-brand watch stores. CEO Grégory Dourde was in India to launch the watches that marry specialised techniques in hand decoration with fluid mechanics. The brand is targeting the watches towards not just luxury consumers, but also watch collectors who know and understand rare watches. Dourde says, "The Indian market is a particularly sophisticated one, with many very knowledgeable consumers. We have seen a surge in business across all retail networks and have every reason to believe that India is breaking through in this respect. After our initial successful introduction to the Indian market, we are looking at establishing the radical watch brand here."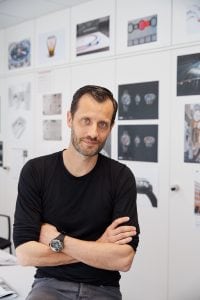 Dourde, an engineering graduate from the Ecole National des Ponts & Chaussées, Paris and an ex-Cartier man leads a team that is exploring new frontiers of science and micro-engineering, revolutionising the watch industry with micro-fluidic mechanics.
Water clocks are an ancient concept. They were among the earliest timekeepers that did not depend on the observation of celestial bodies. The Greeks began using them around 325BC. Their humungous clocks had stone vessels with sloping sides that allowed water to drip at a nearly constant rate from a small hole near the bottom.
But it took a special ingenuity to create a beautiful timepiece that is fuelled by liquid. The 'hydromechanical horologists', as Berdoz and his team call themselves, say that similar technology has been used in the medical and automotive fields before.
How are these watches made?
It is a complex process that involves two immiscible liquids and mechanical movement. The liquids flow from bellows, through a capillary powered by a mechanical movement to indicate the time on the watch dial. The concept is rooted in the continuous movement of a coloured and transparent fluid in a capillary. The revolutionary system is powered by sister brand Preciflex, which makes liquid indication devices for the medical, design and automotive fields.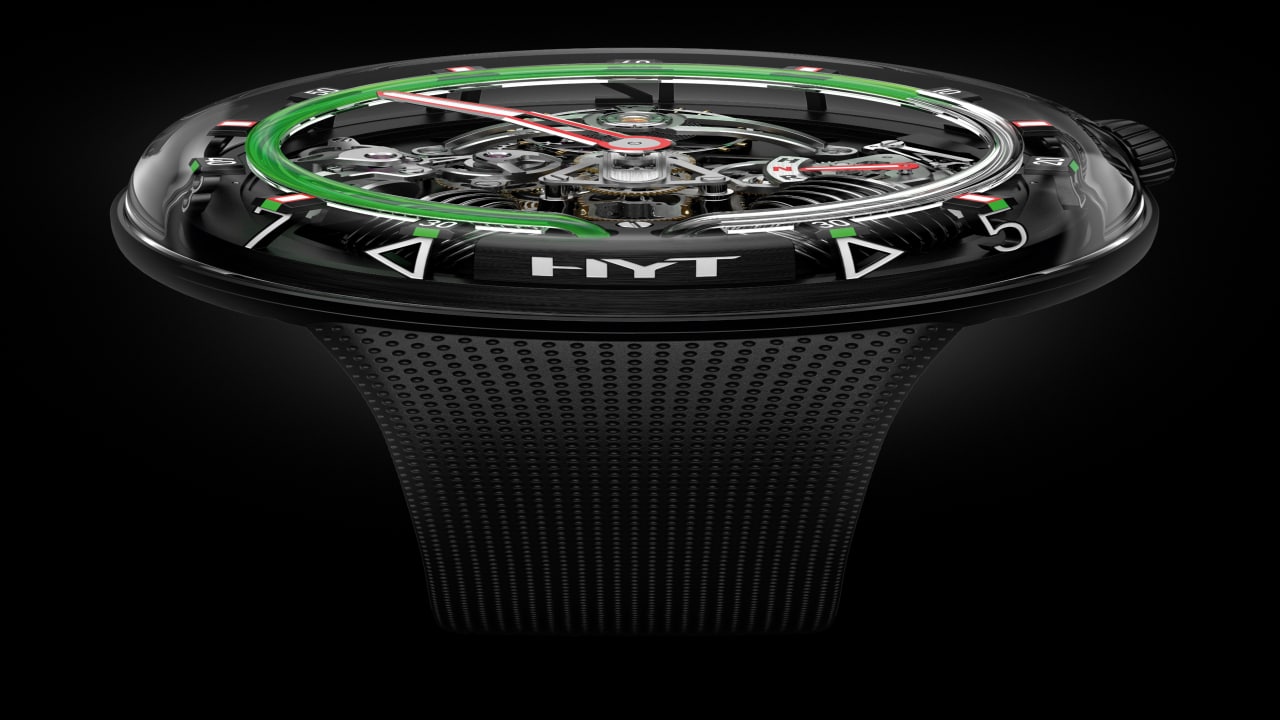 As of today, the fluidic module can be used to indicate minutes and date with absolutely minimal changes. "Today, the movement pushes the pistons two times a day and has two retrogrades per day," says Dourde. HYT's fluidic module is designed to work for 20 years without having a leak at the molecular level, using techniques developed and used more commonly in the aerospace industries. This makes HYT modules 10000x more water-proof, measured by atoms of helium that can pass through, and are designed in accordance with spaceship norms.
The Design
The appearance of the watches is as unique as the technology. The futuristic fluid system is encased in a body that is sculpted and almost architectural in appearance. The limited edition H20 uses 3D transparency and a shape resembling a smooth stone that has weathered time to perfection, to, well, tell time. "It showcases the essential HYT union of art and science, mirrored by the capacity to defy gravity and measure the passage of time beautifully using fluids. This technology joins forces with a mechanical movement in a coherent whole, symbolic of a fascinating fusion of time and space," says Dourde. A cloche-like sapphire crystal offers an intriguing lateral view of the watch face. Viewed from an angle, the digits, markers and directive arrows appear to be floating.
HYT Skull 48.8 has the coloured liquid flowing through a skull-shaped capillary. The broad eyes on the dial of the Skull 48.8 are rather intimidating. Behind the right eye is a rotating disc expressing the passing of each precious second as it fades from dark to pale. "Placing time's essential momentum center-stage, the counting of the minutes moves backstage, eliminating the need for a minute hand," adds Dourde.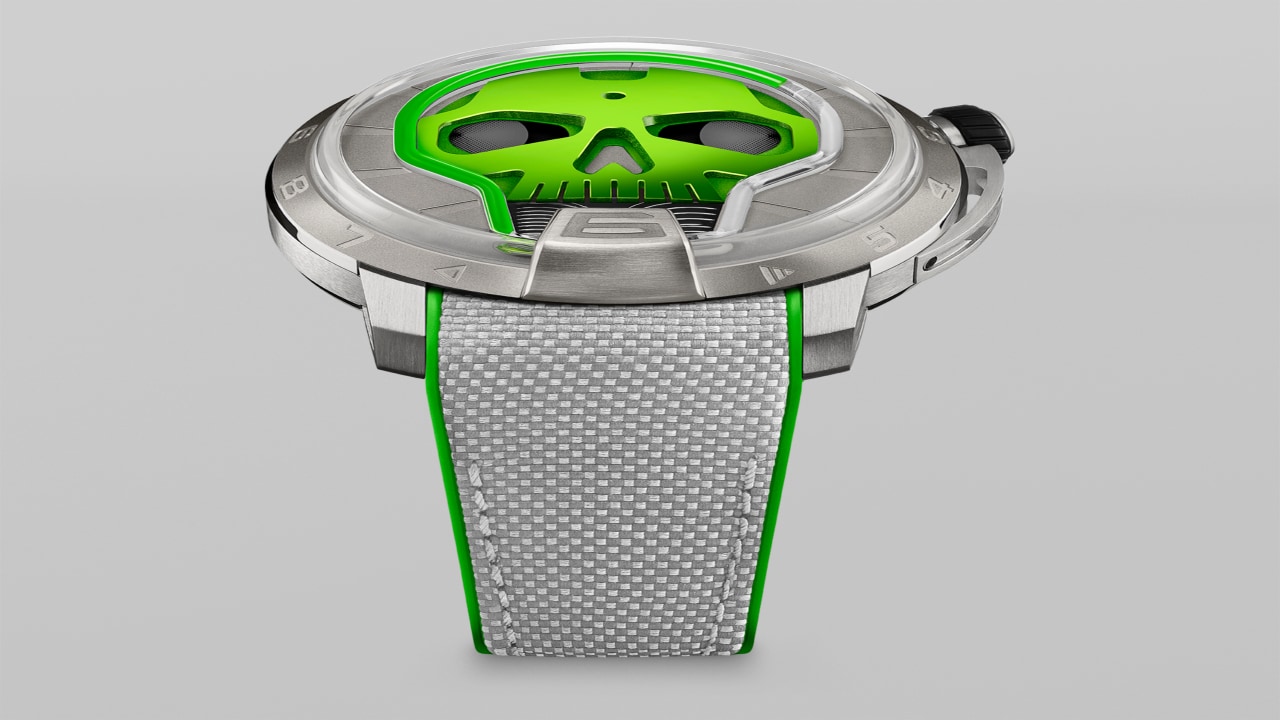 H3, the most expensive of the watches, has bellows pumps arranged along a horizontal plane that face each other. A straight glass capillary spans the width of the case and contains a yellowy-green liquid. Six cuboids are mounted on a common axis. HYT refers to this arrangement as a 'Rotating Dial'. Once the coloured liquid has travelled fully right, it returns back to the left-hand side. This retrograde motion takes place at a six-hour period. There are 24 cuboids on the rotating dial, each denoting an hour. The case is composed of charcoal grey PVD-coated titanium and platinum, an unusual mix as one metal is notably light while the latter noble metal is exceptionally dense. The timepiece is a harmonious mix of the two.
The Cost
Currently, HYT's base model, the H1 watch, retails at $50,000 to $70,000 (depending on the materials used), and the average price is $65,000. Its ultra-high-end model, the H3, goes for $285,000. According to market estimates, HYT has seen a year-on-year growth of about 30 to 40 per cent on an average, commendable for a brand that isn't just conceptually out of the box, but also rather expensive.
"This liquid technology is so promising that there is so much room for growth," Berdoz has said. "We are looking to address the needs of the market, to be able to animate the brand in new ways, moving forward."