This year, women of Indian heritage had a fine showing at the Sundance Film Festival and it was the first time that two of the biggest sales were of films created by desi women.
For young women trying to make a career in cinema, there are some inspiring stories to emulate. This year, women of Indian heritage had a fine showing at the Sundance Film Festival and it was the first time that two of the biggest sales were of films created by desi women. Gurinder Chadha's Blinded by the Light went for a whopping $15 million to Warner Brothers' New Line Films. The next biggest sale at Sundance was Mindy Kaling and Nisha Ganatra's Late Night which sold also for a chunky figure—$ 13 million to Amazon.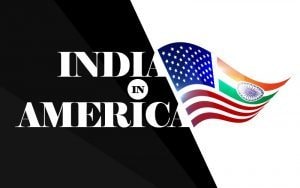 These stunning successes have been hard-won, after years of making films. Chadha began her career as a news reporter with BBC Radio and directed several award-winning documentaries for BBC. Her most loved feature film is the blockbuster
Bend it Like Beckham—
she has done several critically acclaimed films after that but none with quite the special
Bend It
magic. Now her latest,
Blinded by the Light
captures hearts not through football but through the music of Bruce Springsteen—both universal passions.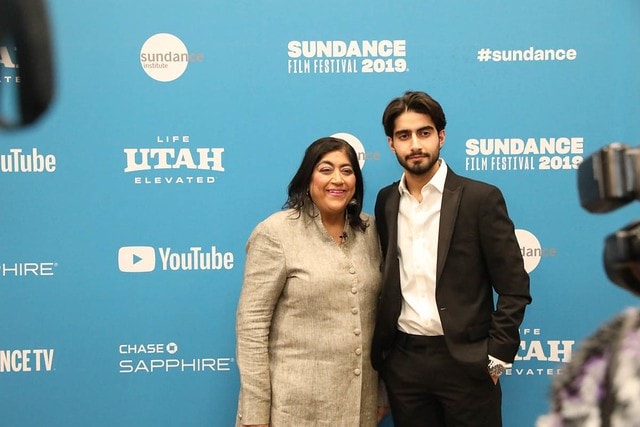 Gurinder Chadha and Viveik Kalra at the Sundance Film Festival. © 2019 Sundance Institute | photo by Duston Todd.
Springsteen, Maragaret Thatcher and the South Asian immigrants in England may seem unlikely ingredients in an unlikely offbeat tale but Gurinder Chadha weaves them all together to make a lovely, hopeful coming-of-age tale with both heart and soul. Blinded by the Light received a standing ovation at the Sundance Film Festival, and will have you cheering too.
Blinded by the Light is based on Greetings from Bury Park, a memoir by journalist Sarfraz Manzoor on his growing up years, and the screenplay is by Paul Myeda Berges, Chadha and Manzoor. It captures beautifully the pain and promise of growing up a Pakistani immigrant in Britain, using the Boss's anthems as a mantra for getting through life with a dominating father, desi family expectations and rampant racism - to discover the strengths within.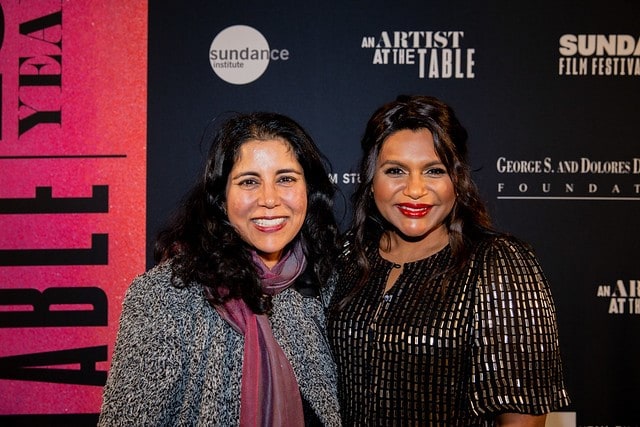 Nisha Ganatra and Mindy Kaling at An Artist At The Table at the 2019 Sundance Film Festival. © 2019 Sundance Institute | photo by Duston Todd.
The Boss is of course the vibrant current which runs through the tale and it is his words and music which give the film its wings and its joy. Just as football was a metaphor in Bend it Like Beckham, here Springsteen's music becomes an anthem and a way of living for young Javed (Viveik Kalra), a way out of his claustrophobic family life in the working-class town of Luton and a way to navigate his complicated Pakistani family with its rules and old school values.
Springsteen's music is transformational and Javed manages to scramble out of the drabness and defeating home life to forge a new persona and discover a new passion. Blinded by the Light has drama, comedy, pathos, quirkiness and ties it all up with Chadha's special wit and humanism.
Recently Chadha was in New York for an advance screening of Blinded by the Light and an after-party which was attended by her stars at the B Bar in the Bowery with food, wine and music inspired by Springsteen. The movie will release in August in the US but New Yorkers will get to see it much earlier as the film will have its premiere at the New York Indian Film Festival (NYIFF) which runs from May 7 to 12.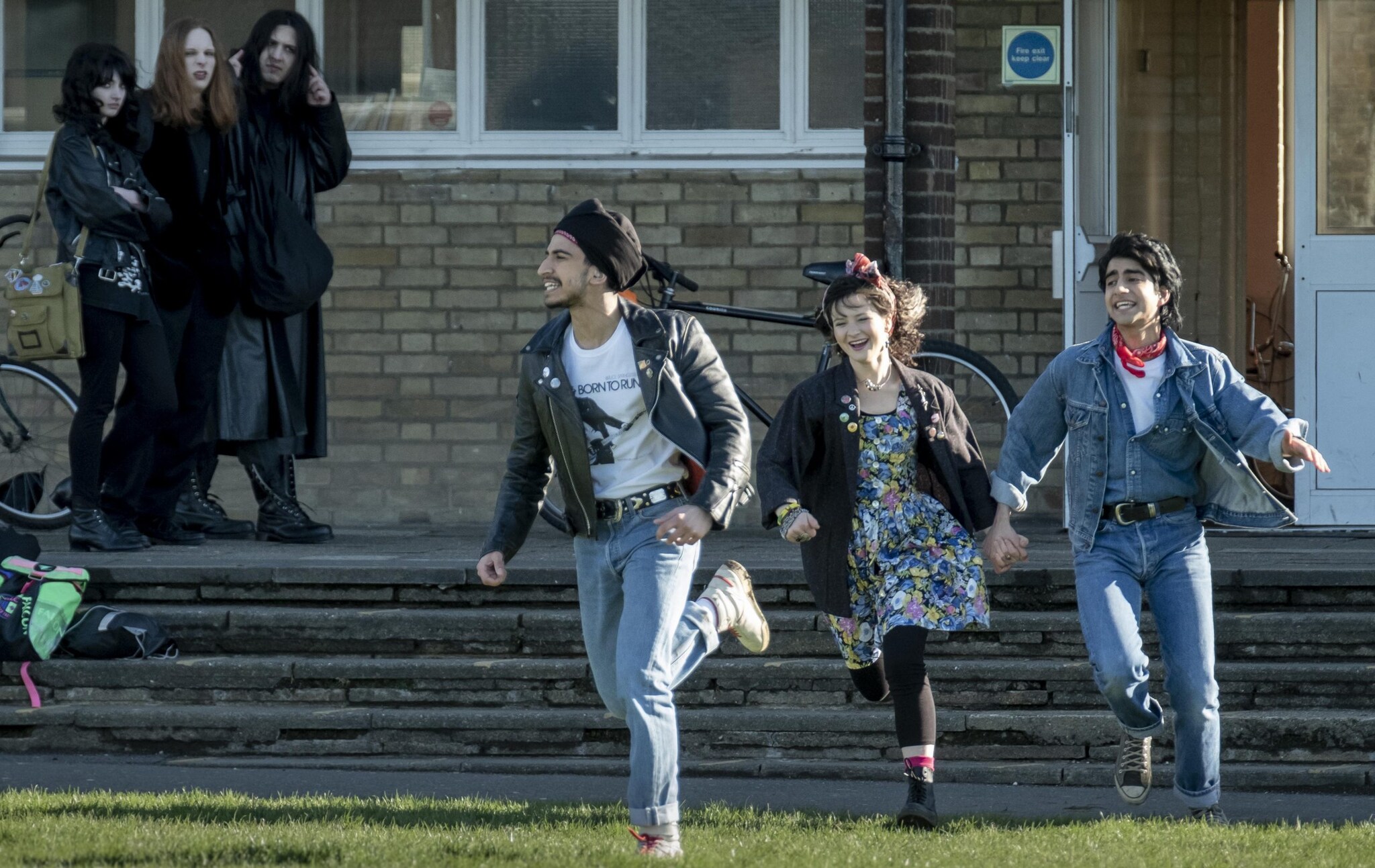 Blinded by the Light.
Mindy Kaling's film Late Night, which is directed by Nisha Ganatra and sold for $13 million at Sundance, is also causing a lot of excitement, especially among Asian-Americans. This is the first feature film from the much-loved Kaling, who is an Emmy-nominated writer and producer, besides being an actress.
This comedy revolves around a legendary powerful female late night talk show host played by Emma Thompson whose show is about to be canceled due to falling ratings unless she changes things around quickly. She hires Molly Patel, played by Kaling, a diversity hire for her failing all-male, all-white writers room.
The film is based on Kaling's own experiences of being the only female writer of color on NBC's The Office and gender equality, diversity and empowerment come into it. According to Kaling, the movie is "about women helping other women; it's about mentorship and how to become a mentor". All while having lots of laughs, of course.
Late Night is directed by the wonderful Ganatra who has finally got a vast canvas to showcase her talent. Ganatra, who was born in Vancouver, Canada, and studied filmmaking at the Tisch School of the Arts at New York University, has been fully baptized in cinematic waters, having been camera assistant, cinematographer, production supervisor, actor, director and writer. Her first feature film Chutney Popcorn took tired clichés of desi immigrant life and turned them on their heads. The film won several awards at international film festivals. I recall interviewing her many moons ago for her debut film which won audience awards at several film festivals.
As Deadline wrote: "Ganatra's debut, Chutney Popcorn, launched at the Berlin Film Festival in 1999, won an audience award there, and became a cult hit among gay audiences (it centered on a young, gay Indian woman played by Ganatra). And then . . . crickets. There was no courtship by Hollywood, no lucrative deals, just meetings where people kept asking Ganatra what other gay Indian tales she wanted to tell."
In the years since then Ganatra has established her name with television and film productions. She is a Golden Globe winner and an Emmy nominee for her work as the director/producer for Transparent, and has directed numerous episodes of television including Girls, Dear White People, Mr. Robot, Shameless, Brooklyn Nine-Nine, Last Man on Earth, Love and Black Monday. On Better Things she served as the producing director for the first season. As New York Times wrote, "Hollywood could learn a thing or two about how to be truthful and light-hearted at the same time from Nisha Ganatra."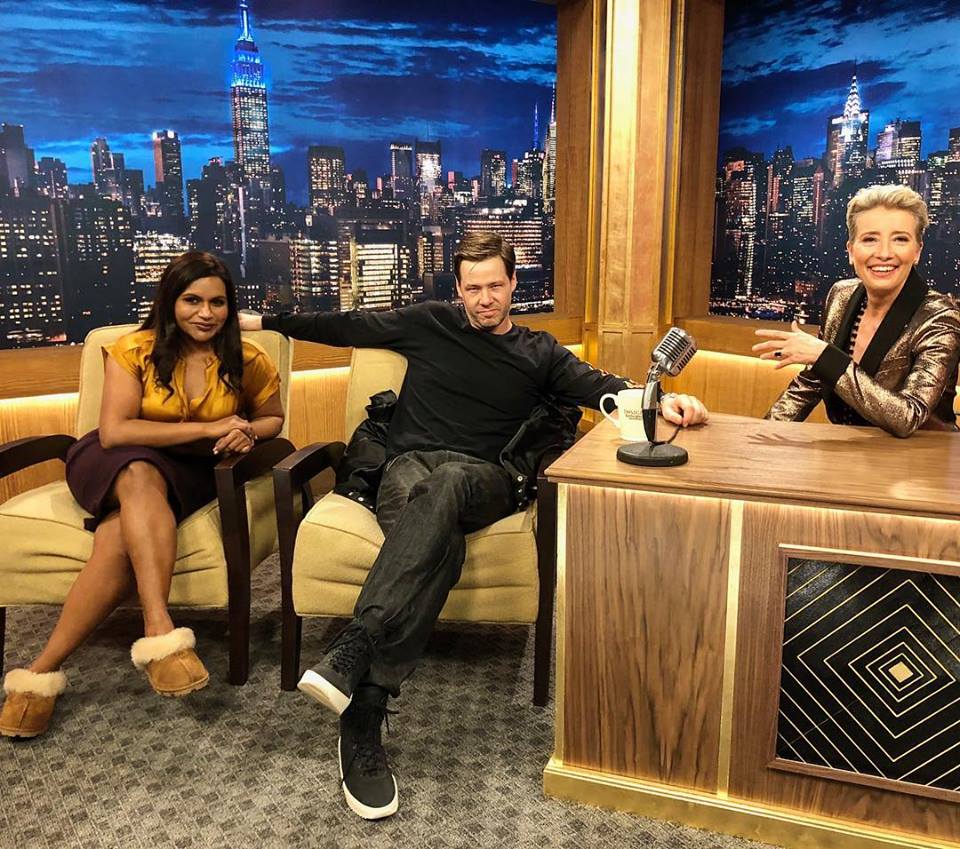 Mindy Kaling, Emma Thompson and a fan on the sets of 'Late Night'. Photo Credit: Facebook
Ganatra had once said: "Representation is so necessary for cultural transformation. I was doing so much activist work, and things were taking so long to change. I was so impatient. I thought, 'Wow I could just make one film and this message would reach so many more people so much faster.' It's so important to see images of yourself in film and television. It seems so basic, but you grow up feeling invisible in this country because there is a lack of images. I wanted to change that."
Now many years later, film by film, three feisty women—Gurinder Chadha, Mindy Kaling and Nisha Ganatra—have done exactly that and taken the clout and muscle of women of color to a whole different level. Both Blinded by the Light and Late Night will surely be remembered at Oscar time.
For aspiring Indian women filmmakers it's a time to bask in the comforting sun of Chadha, Kaling and Ganatra's big successes at the Sundance Film Festival and absorb the fact that where there's talent and heart topped by passion, all things are possible.
First Published: Apr 27, 2019 11:29 AM IST