Mini
Soho House Mumbai is clearly looking to follow the global script.
Asia's first Soho House just opened in Mumbai.
What began as a space for those working in the creative community, authors, filmmakers, et al, in a quiet part of London's Soho neighbourhood (from where it draws its name), is now a global chain of cosy and beautifully designed members' clubs and hotel, with a wide suite of facilities — restaurants, spa, gym, cinema, café, workspaces and the hotel rooms (or bedrooms, as they like to call them), of course.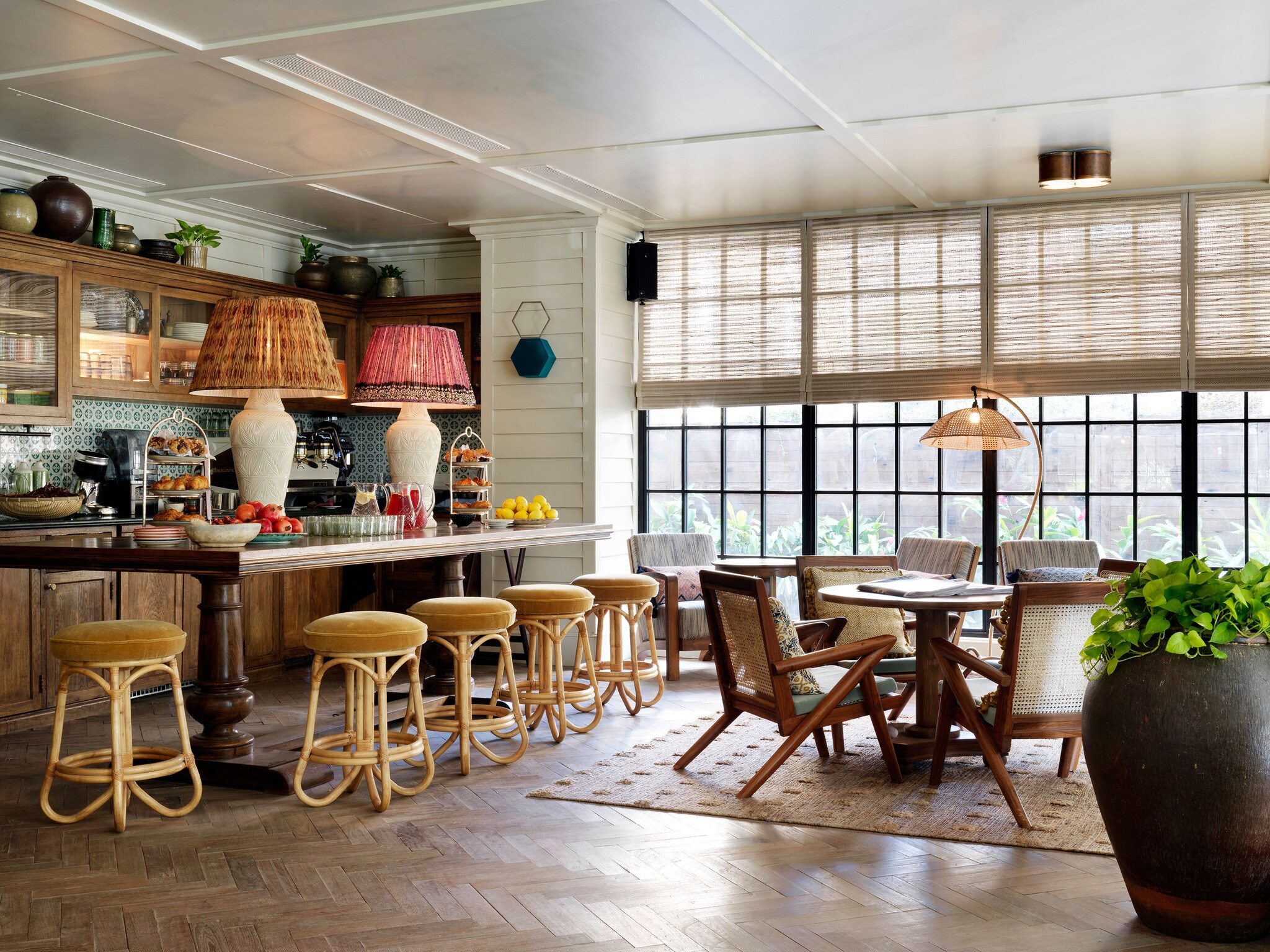 Soho House, Mumbai, ground floor - The Allis.
There are over 23 Soho Houses across the world in some of the most creative destinations — Istanbul, Berlin, New York, Chicago, Barcelona, and many more. Founder and CEO Nick Jones, a young restaurateur, acquired the possession of a townhouse above his French restaurant Cafe Boheme and converted it into a private club in 1995, which, over the years has evolved to include restaurants and hotels. What made Soho House stand out was its relaxed aesthetics and its membership policy, which kept the suits out and welcomed the city's bohemian creative community—artists, film-makers, writers and designers, in a complete variance of the other private members' clubs that largely focus on businessmen and industrialists.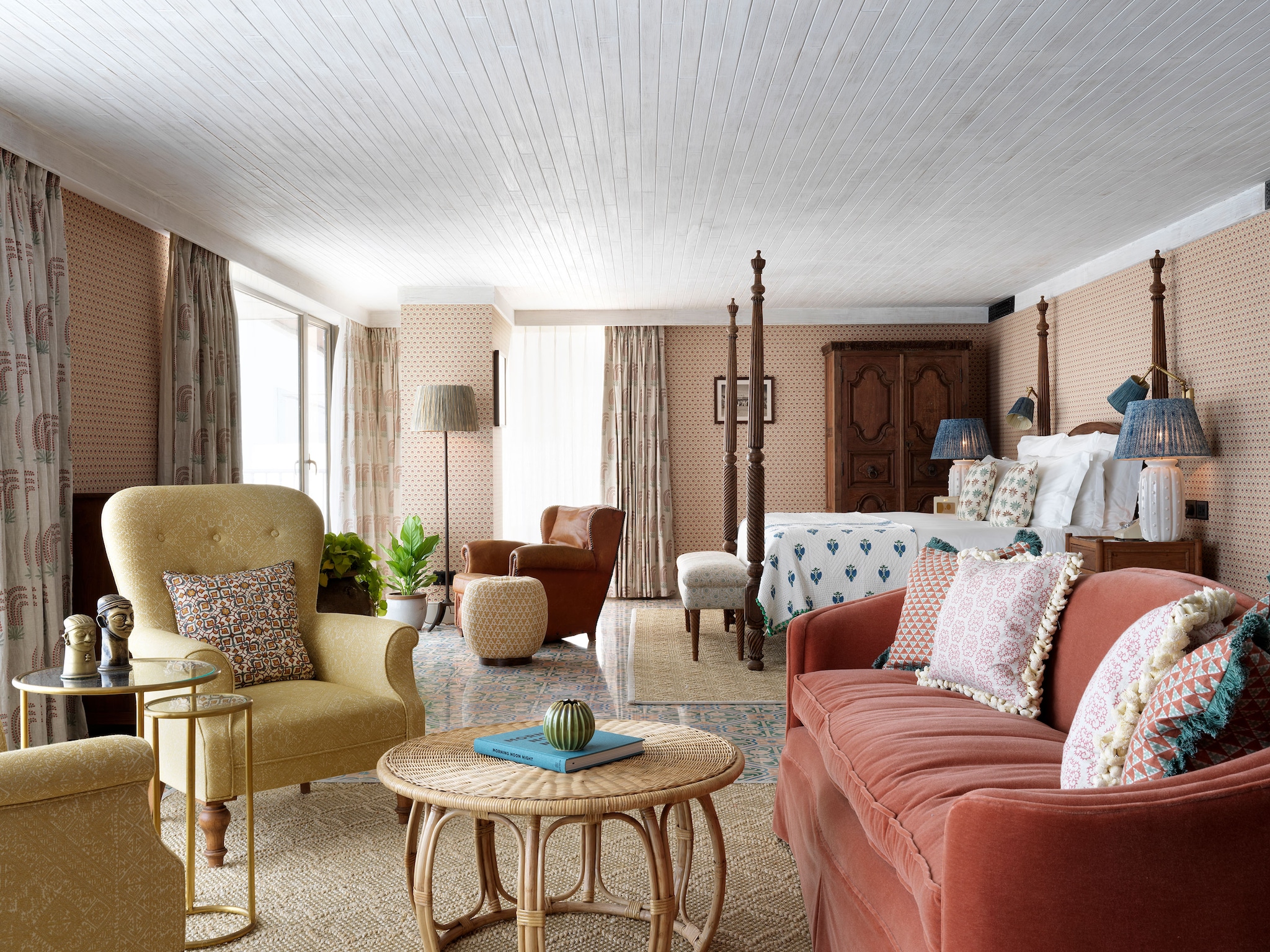 Soho House, Mumbai, Playroom.
The India iteration
Soho House Mumbai has been in the works for at least five years but the talks about its opening have been part of the luxury circle for many more years. While no one is saying why it took so long to open, now that it has, Mumbai is at least part of the few rare cities that has a House.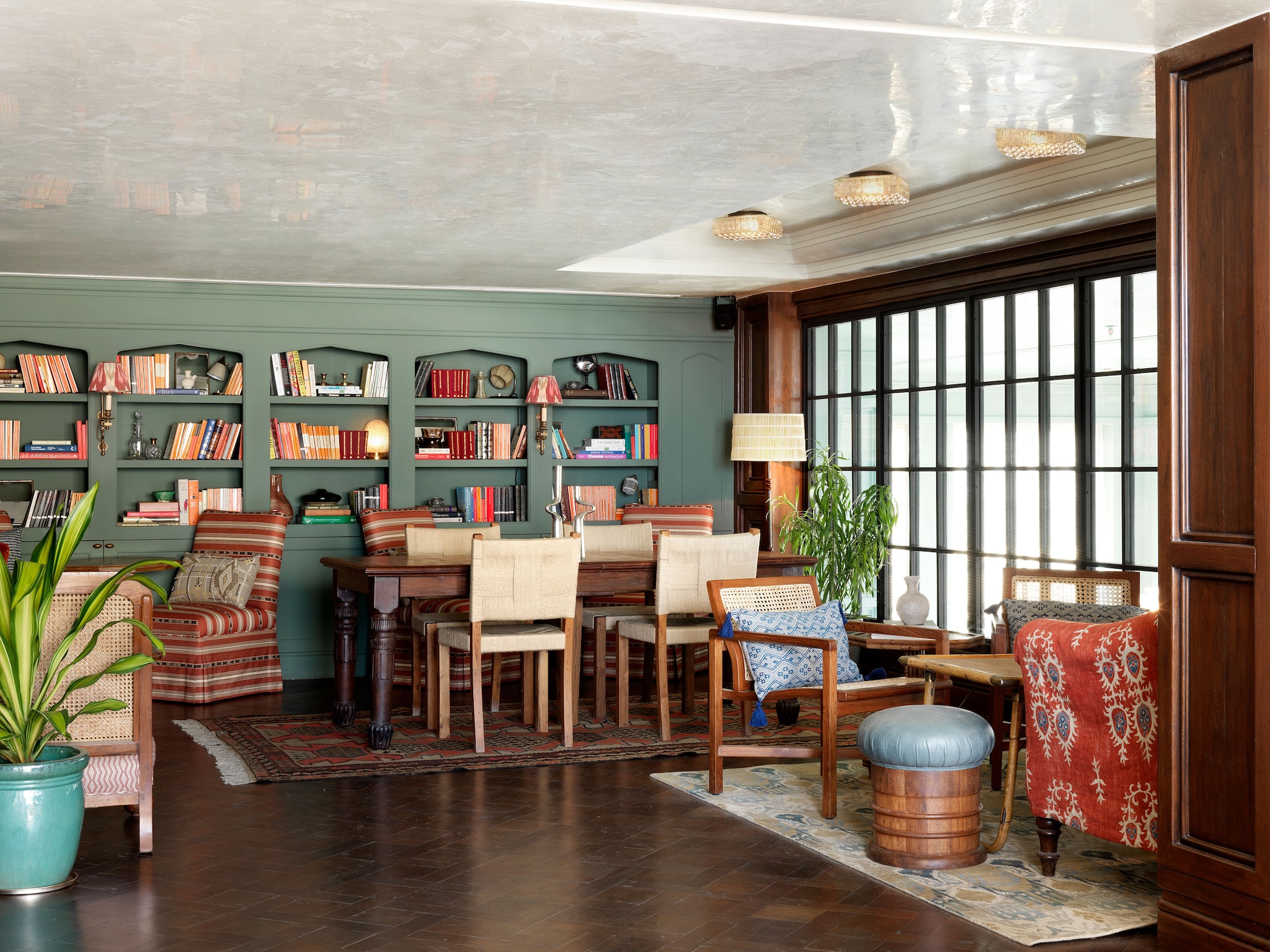 Soho House Mumbai- The Library, 9th Floor.
The 11-storey building stands right at the edge of Juhu beach, with sweeping sea views and the Mumbai coastline. Designed to be a luxurious 'home away from home', the Houses eschews the bling aesthetics that has come to define luxury in India and keeps it earthy, natural and intimate.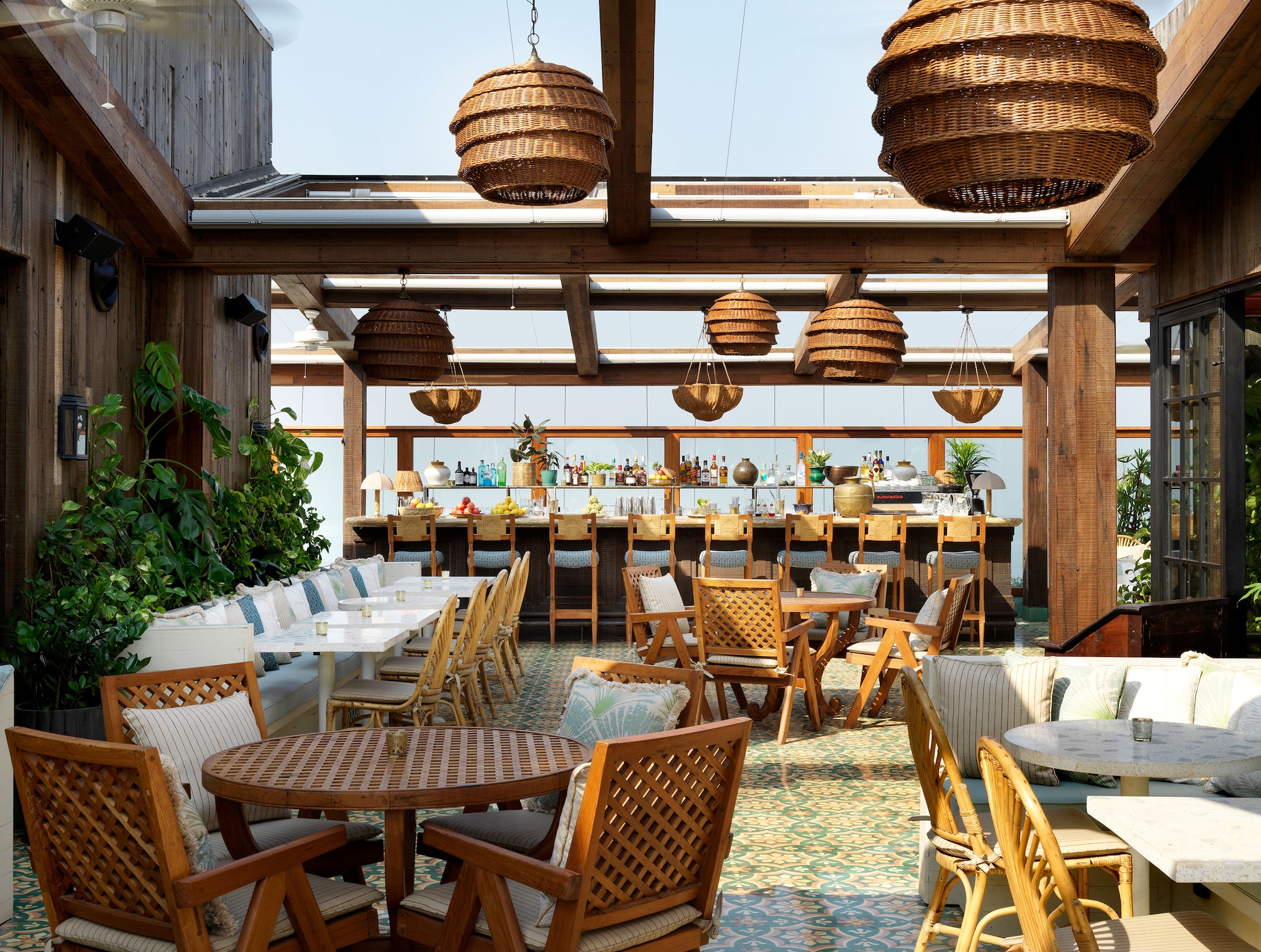 Soho House, Mumbai, Rooftop - Bar View.
Soho House Mumbai has all the facilities that one has come to associate with this exclusive private members' club, including a café The Allis and an Italian Restaurant Cecconi's (Open to everyone), a space you can hire for parties and events, the 38-room hotel anyone can check into, and the private members' areas that are off-bound for the rest of the world.
The design of the House, evolved by a team led by founder Nick Jones (every aspect of Soho House is said to be chosen by, or at the very least approved by, Jones) and director of Soho House Design, Linda Boronkay, draws inspiration from everything beautiful in the Indian design repository. Breezy block printed Jaipuri cotton fabrics swathe its antique and locally sourced furniture. The flooring is either traditional patterned cement tiles or teak, and the walls are clad in reclaimed sleeper wood. Some areas have retractable awnings overhead to light mild sunlight in, especially in the more pleasant months.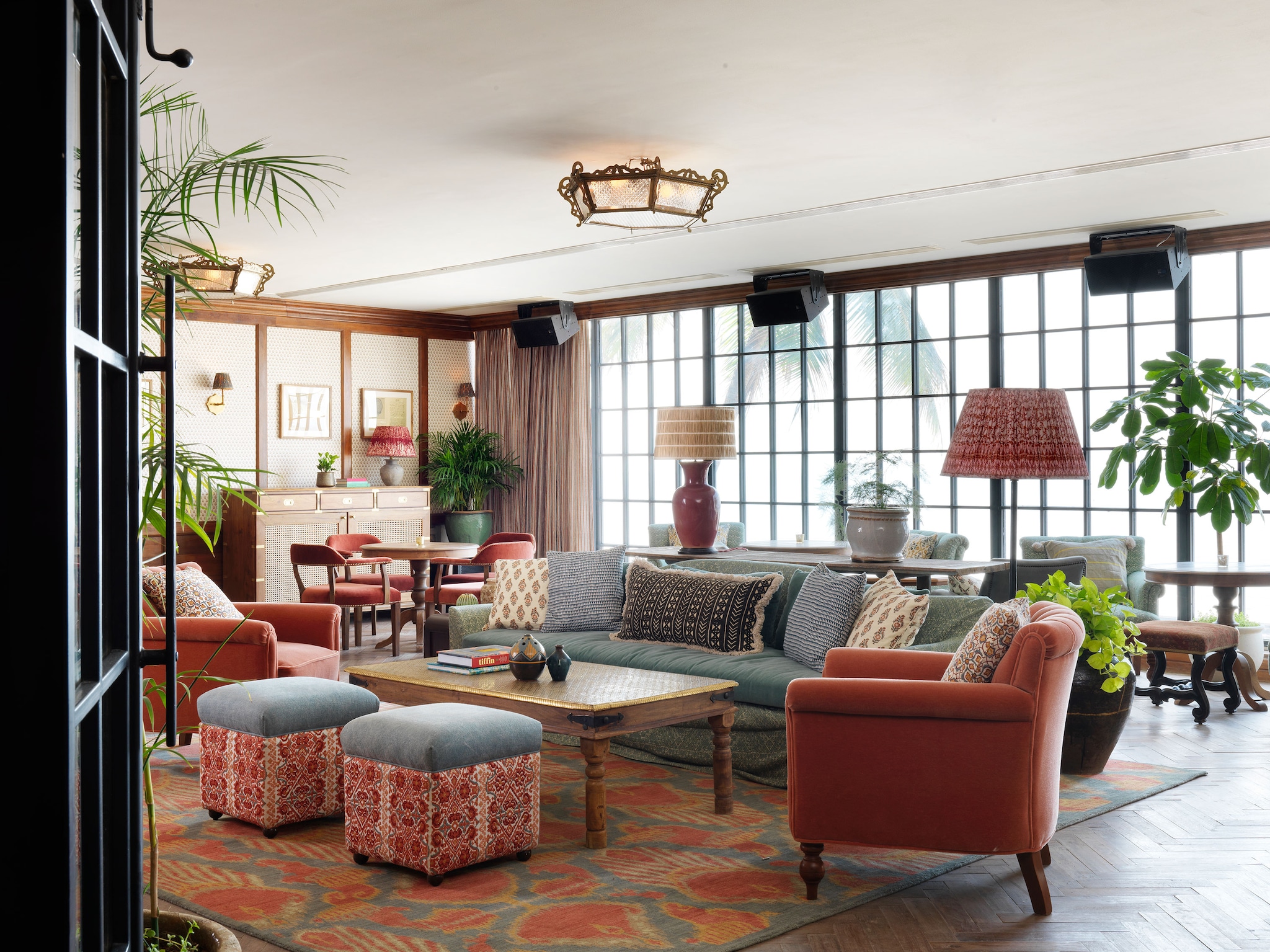 Soho House Mumbai, - Eva Room- Events Room 1st Floor.
Cut-glass chandeliers, antique mirrors, glass wall lights and leather bar stalls set the design tone. The stellar art collection, curated by the head of collections for Soho House Kate Bryan, includes a large installation by Subodh Gupta and art by leading Indian artists such as Bharti Kher, Thukral and Tagra and Princess Pea. The 38 bedrooms have eco-friendly sisal carpet flooring, antique timber, bone inlay furniture and lampshades created using antique saris.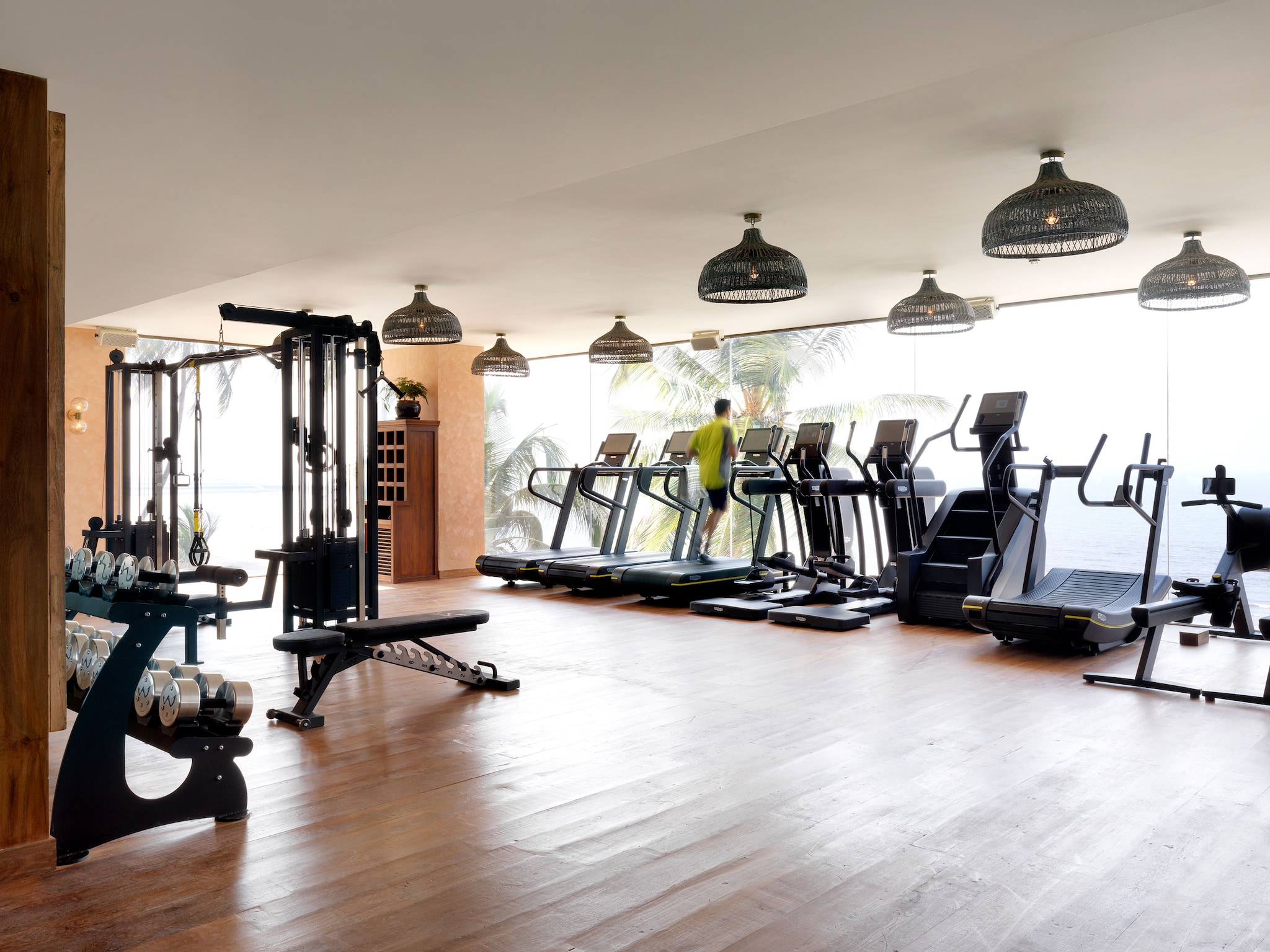 Soho House Mumbai- Gym.
Anyone in the creative industry can apply for a membership — but if you have an introduction from an existing member and references, you stand a better chance. And if you are below 27 years of age, you pay half, in keeping with the policy of offering a space for the young and the creative.
How the brand has evolved
Jones probably never anticipated that his offbeat London creative corner would one day acquire the shape of a global chain. Across the 23 iterations, each of them designed to reflect the city and the neighbourhood they are in — Soho House has remained true to its intended purpose of being relaxed, laid-back and fun. And much like when it started out, it continues to display a disdain for the 'suits' or the business community, a fact bought home by a decision made in March 2010, when Soho House purged close to a thousand of New York members who worked in the finance industry.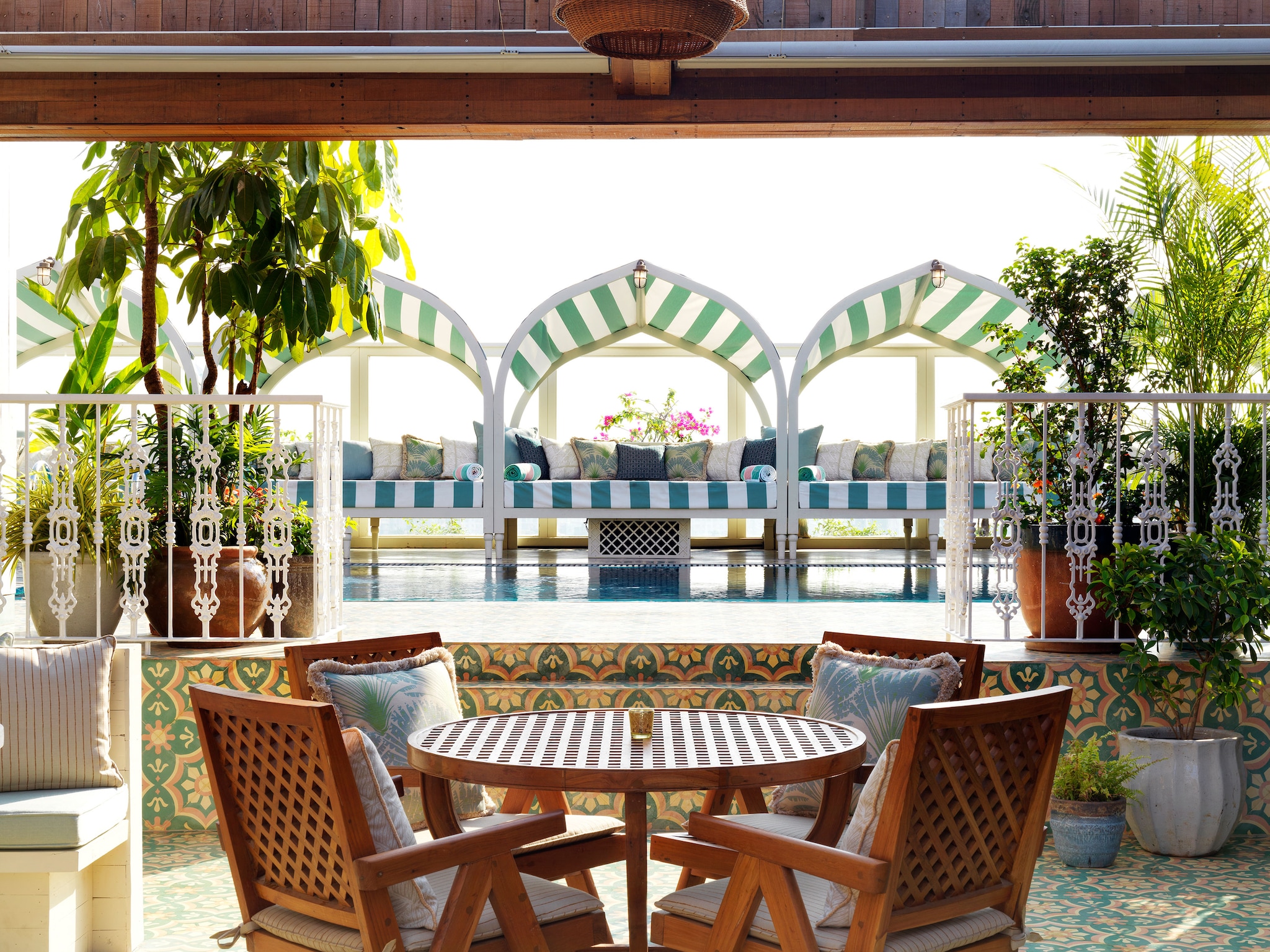 Soho House Mumbai Rooftop - Pool View.
The idea, Jones is quoted as having said, is to try and bring the club back to its creative roots. In the times of economic downturn, in fact, Soho House in New York became the base for several precariously employed creative professionals who were looking for work and to network with their own kind.
In most cities, Jones and his team ensures that they are in neighbourhood frequented by the creative community, so that they are in the midst of the buzz. All Soho Houses share a few ideas— from the colour palette to the fittings, the Cowshed spa, the Cecconi's restaurant, the no-photos policy and the rooftop pool. However, there are always a few nods to the local culture and architecture.
In Barcelona, a city considered to be among Europe's architectural treasuries, it sits on the graceful Plaça del Duc de Medinaceli, in the Gothic quarters, with the boats of Port Vell in clear view. It is more English country house in character. The hotel features 57 rooms, ranging in category from the "tiny" to the largest, each charmingly appointed with vintage furniture rugs, shams and throws.
Soho House, LBH Barcelona, upper terrace.
In Istanbul, Soho House opened in a 19th century mansion, close to the mighty Bosphorus Strait, in the Genoese (later European) quarters of the city, with views of the atmospheric Old Town. The Palazzo Corpi building it occupies was once home to powerful Genoese shipbuilder Ignazio Corpi and then occupied by the US Embassy. Its interiors are furnished with loads of kilims and frescoes, Carara marble floors and gilded moulding over art frames, all drawn from the country's design heritage. On a Soho House Istanbul weekend you could be rowing down the Golden Horn or indulging in long conversations with fellow creative souls you meet, or going on a boozy boat cruise down the Bosphorus.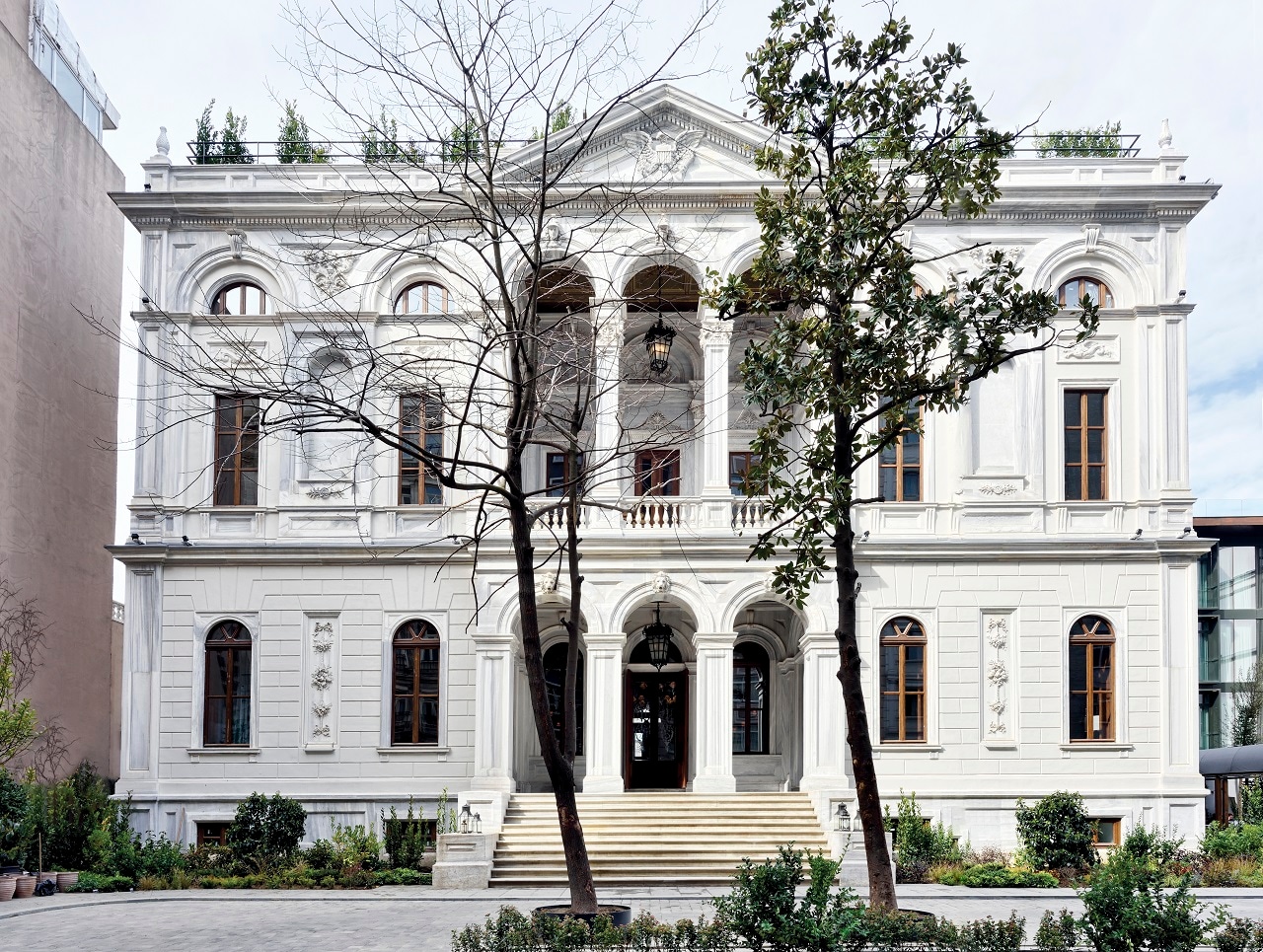 Soho House, Istanbul.
Soho Ludlow House, New York is a nod to the city's eclectic dining scene, with Lou's Kitchen and Bar, a club bar with open kitchen that serves an all-day American Italian menu; the Velvet Room and the Dark Room or clubs within a club that also double up as space for private screenings; and a rooftop garden vegetarian Asian restaurant. Soho House Redchurch in London is surrounded by Shoreditch's graffiti gullies, has a mix of contemporary and traditional furniture, retro chandeliers, and mid-century armchairs that England is known for.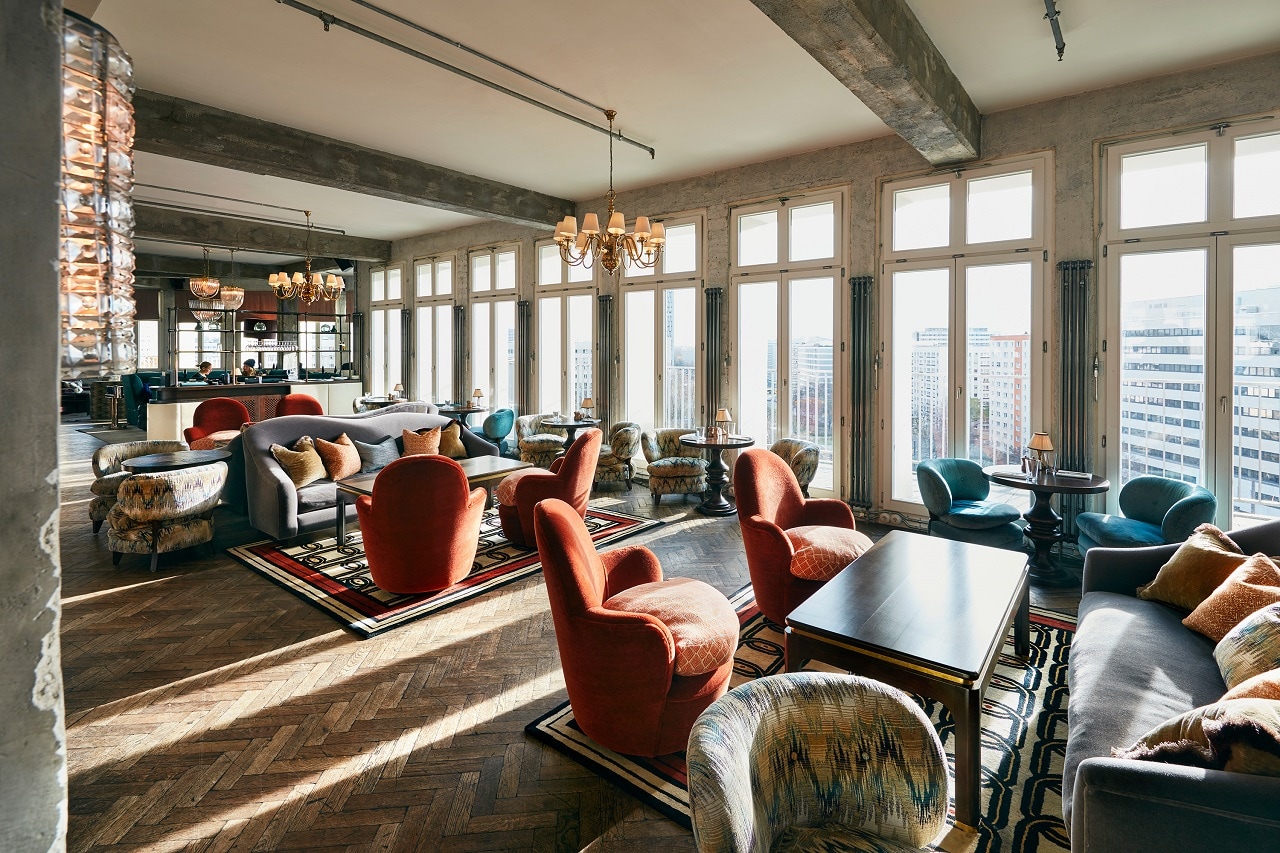 Soho House, Berlin.
Much like all private members' clubs, Soho House is a place to schmooze, but it is also a place where some serious business is conducted by people wearing distressed denims and casual summer dresses. In a single day, you can conduct a meeting, write a few emails, head off to the pool to cool off, drink wine it its chic bar or eat a lavish Italian lunch, get some more work done, write a script or a song or parts of a book, head off to the gym, and end the day with a party or at an in-house event.
Soho House Mumbai is clearly looking to follow the global script.
Deepali Nandwani is a journalist who keeps a close watch on the world of luxury.