"Dig your heel in the mill. Yes, the mill. That tiny pit in the ground. Hold the marble with both hands. Aim. Throw. If the marble lands in the heart of the pit, you hit other marbles. Then, conquer another mill. Measure distance with your foot and fingers. Focus. Strategise…"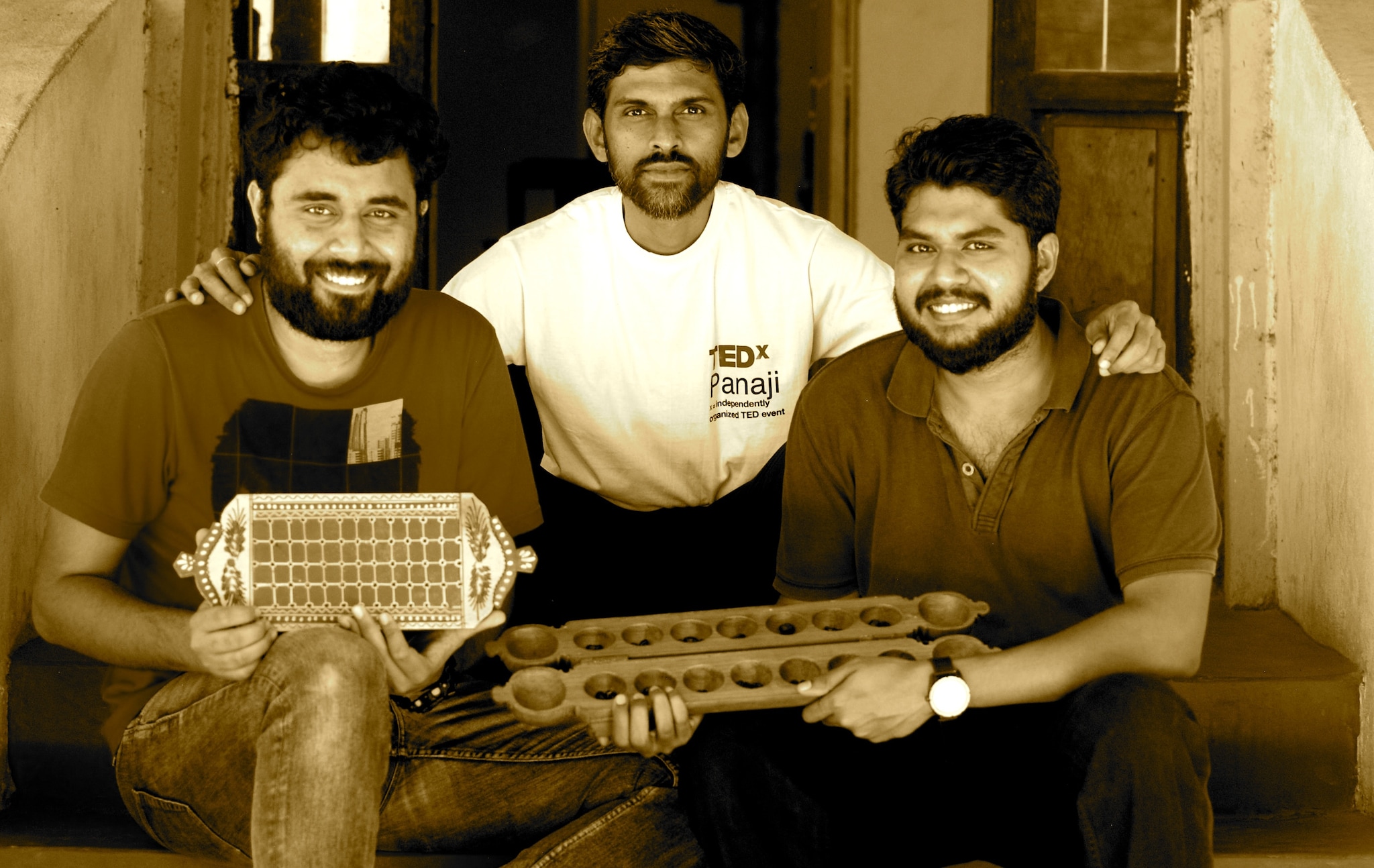 Men behind the games (left to right): Varun Hegde, founder, Soul Travelling, Dattaprasad Shetkar, brand consultant, Kedar Borkar, co-founder, Soul Travelling.
Under the boughs of an ancient mango tree in the tony Sadhana Dell Arte (Merces, Goa), brand consultant and revivalist Dattaprasad Shetkar was spewing rules of Goddeyaani, a game Goans played with lemon-sized marbles (godde).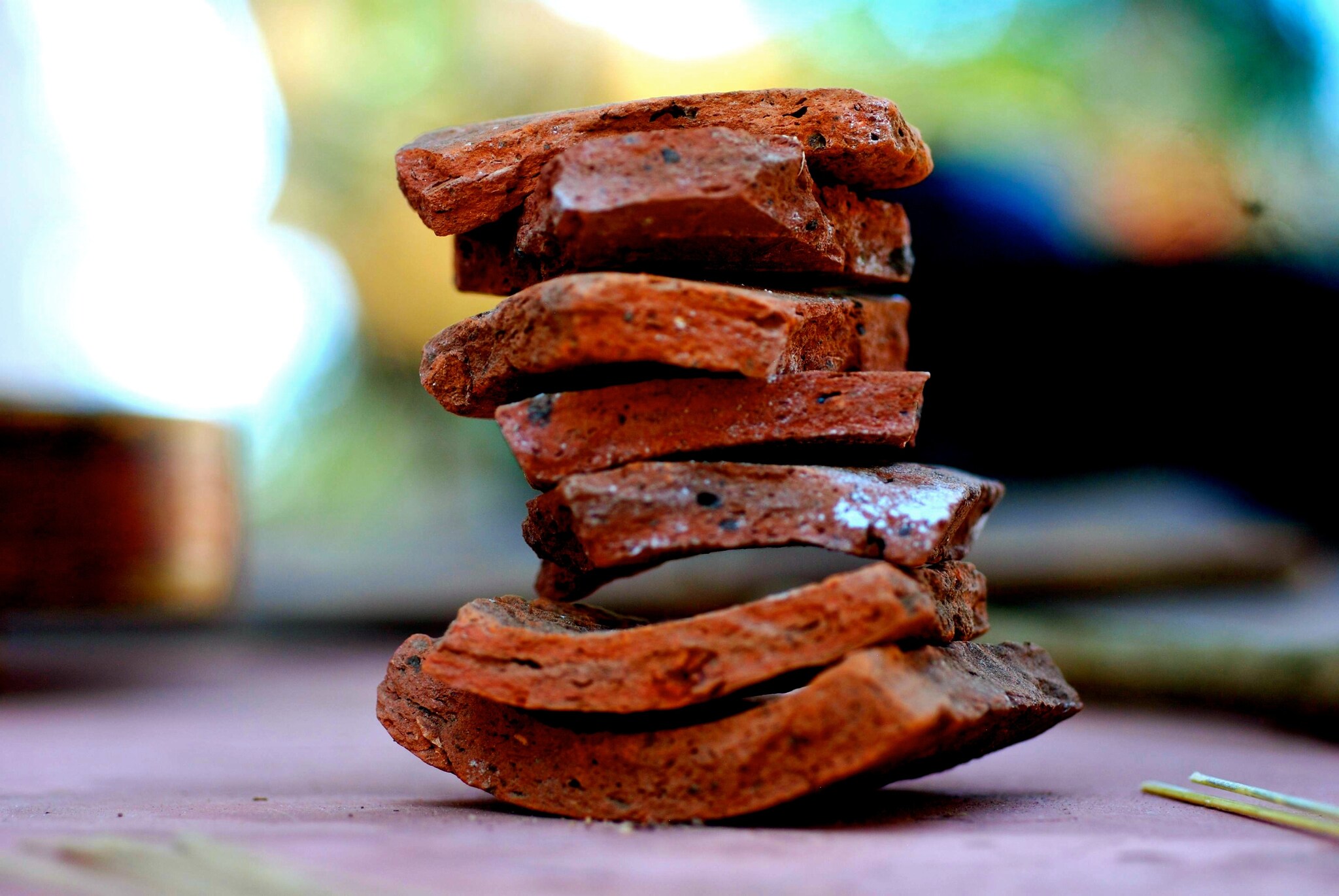 Logorio is played with seven clay tiles or coconut shells.
On the red sandstone, verandah lay coconut leaf sticks, broken bangle pieces, cashew nuts, sharpened sticks, tamarind seeds, white seashells, tiny stones, and a few rectangular boxes in turmeric yellows and vermillion reds. A parrot, a poppy, a peacock plume painted tidily on wood. Volunteers were fumbling with the marbles - and the game rules - and Shetkar was puffing rules, nostalgia and history of forgotten Goan games by the pit heart.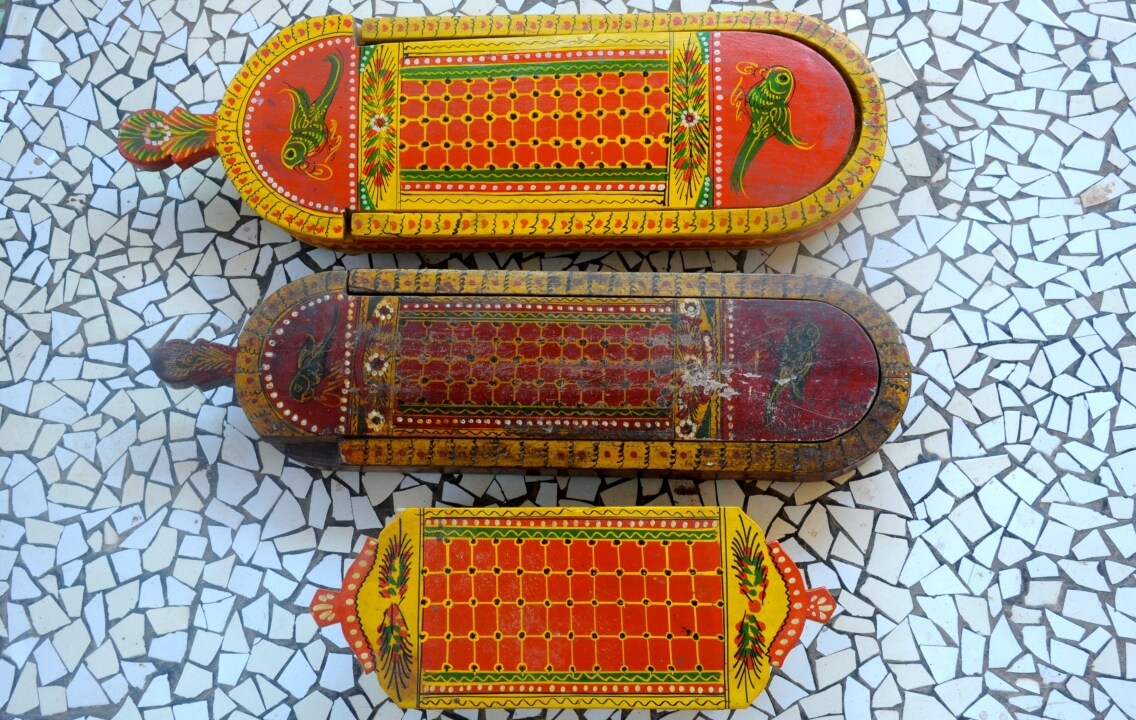 Indoor games included several kits, the most popular being Tabul Fale that a bride often brought along in dowry.
"Vhiraani is played with coconut leaf sticks, Faatraani with stones, Kovchyaani with bangle pieces, Biyaani with cashew nuts, and…." Varun Hegde, founder, Soul Travelling, was dropping game-names and my mind was addled with the idea of playing with broken bangles, coconut leaf sticks and, wait, tamarind seeds! How? Really, how? But for Hegde, known for his company's themed walks, it was a packed afternoon and the answers had to wait. He, along with co-founder Kedar Borkar, were prepping for the two-day Games of Goa event on February 23-24 in Panjim, Goa.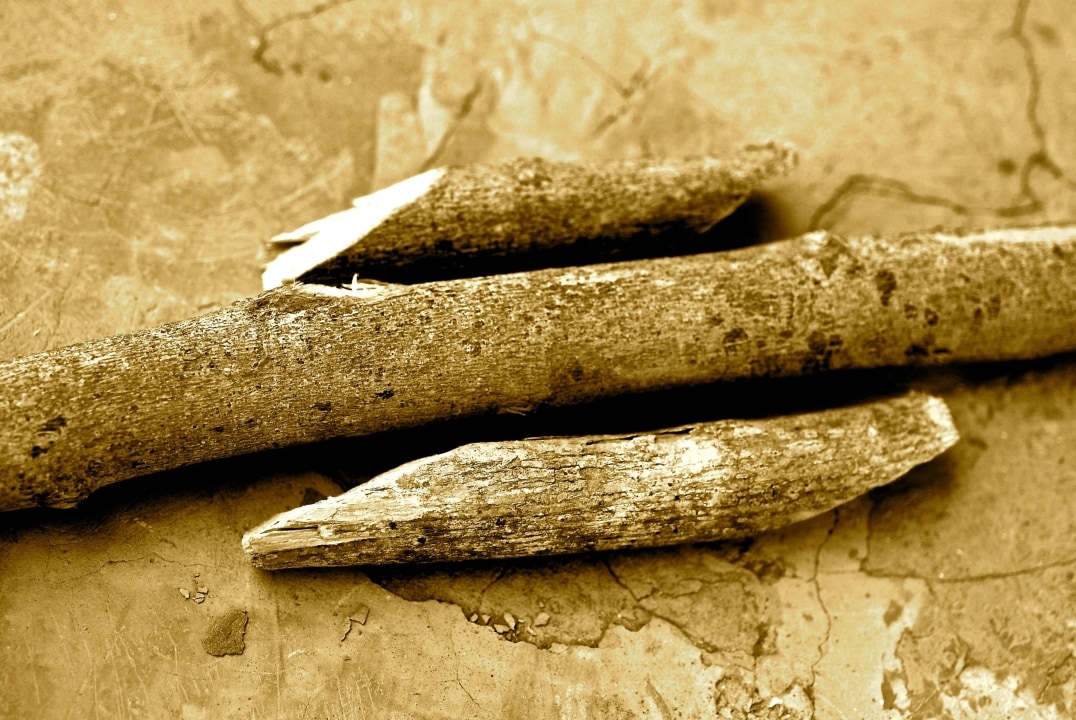 Koindo Baal, known as gilli danda in the Hindi-speaking areas.
That harsh afternoon, I stepped in to play Koindo Baal (gilli danda). I knew this one. As a little girl in pinafores, I remember hitting the sharpened small stick with a larger stick. Playing many years later, I fumbled. Missed the hit. Perhaps looked silly struggling with a bouncy stick. However, it was not awkwardness but the brutal sun that pushed me indoors. To play with tamarind seeds in the wooden Gajre in which one moves the seeds from one hole to another… Sounds easy? Naah! It is a knotty mind game.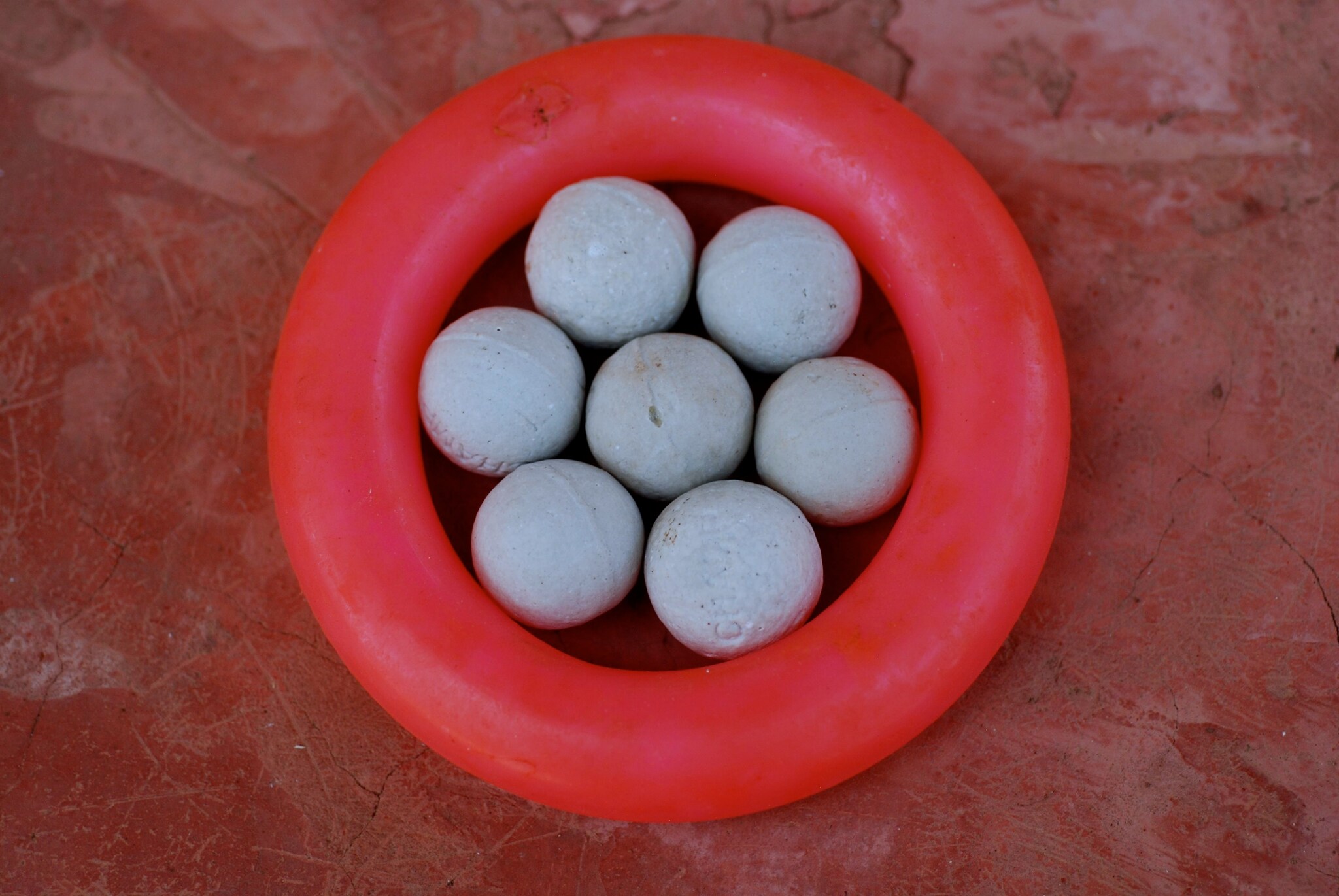 Ringaani is played with a ring while marbles were used to play the popular game of GodDyaani.
"No one plays these games any more and we want to revive the tradition. The games were very local and can be categorised as indoor and outdoor games. There are countless heritage games but for the Games of Goa event we have picked 21 heritage games," said Hegde who quit his cushy job in Frankfurt to start Soul Travelling.
When the volunteers stopped to catch a breath and the unseen koel recited a honeyed koo-Ooo, koo-Ooo on loop, Shetkar enumerated the importance of forgotten games. "For long, I have been obsessed with the idea of forgotten games which were integral to the Goan culture. Games were not merely for entertainment, they were alibis for the community and peer bonding and great exercise for the mind and body. Also, because Goa has a very long rainy season, indoor games became the handy pastime. Goan brides actually brought Tabul Fale (an indoor kit with 4 games in 1) as part of their dowry," said Shetkar.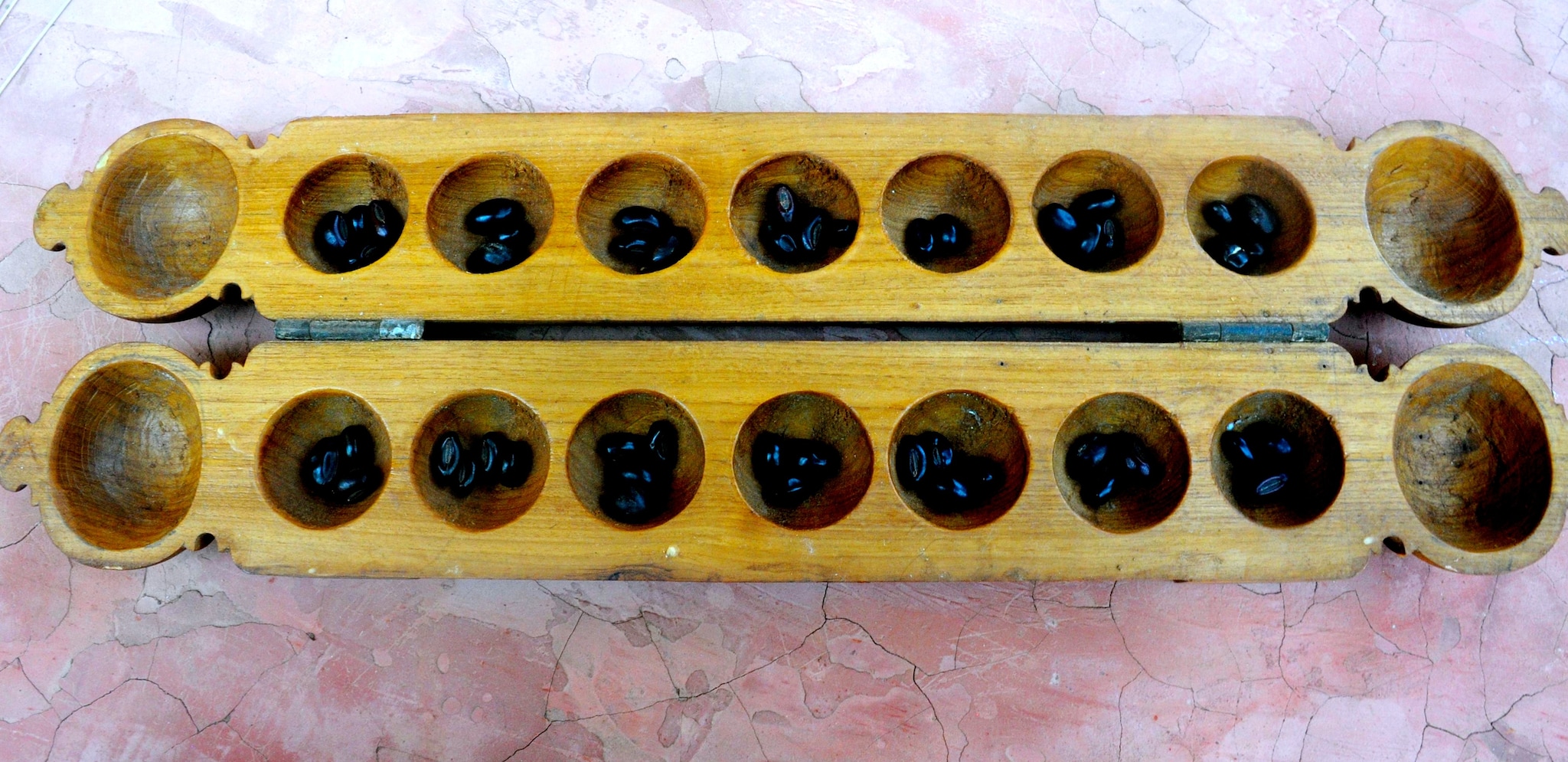 Tamarind seeds are used to play Gajre (also known as Gud Fale).
That harsh afternoon, I learnt the rules of playing with bangle pieces, coconut sticks and cashew sticks. What I could not fathom was Combyaa zuz, a cock-fight like game played by humans. No poultry. It is men who fight like game fowl. Imagine two beefy, belligerent men in a cockpit. Their rage mounting, their nostrils flared, their wrath whooped by the crowd, the droplets of blood. And then, a clenched fist hoisted in the victory. No, Combyaa zuz is not my game. I'll play every other Goan game. Not to win, but to keep the tradition alive.
Good to know:
Organised by Soul Travelling in association with Dattaprasad Shetkar, Games of Goa, a two-day extravaganza of traditional Goan games, will be held on February 23 and 24, 2019, at SAG grounds in Campal-Panjim (Goa).
Preeti Verma Lal is a Goa-based freelance writer/photographer.