India, according to the data collated by Statista, comes fourth after the US, China ($243 million) and the UK ($74 million).
Online dating applications such as Tinder, Bumble, Hinge, OkCupid, among others are becoming a part of the millennial culture in India.
For dating app companies, India has proved to be the right choice. They have already garnered a $62.6 million revenue from paid dating app users, according to a report by data-collecting forum
Statista,
indicating that India is one of the fastest growing markets.
On the global front, the US is the biggest market for dating app companies. The country contributes $796.9 million to the business. India, according to the Statista, comes fourth after the US, China ($243 million) and the UK ($74 million).
There are 20.87 million paid users and 18.72 million free users in India, as of February 2019, according to the report. India is set to become $77 million market for the apps by 2023 with an estimate of 24.17 million paid users and 21.73 million free users, the report said.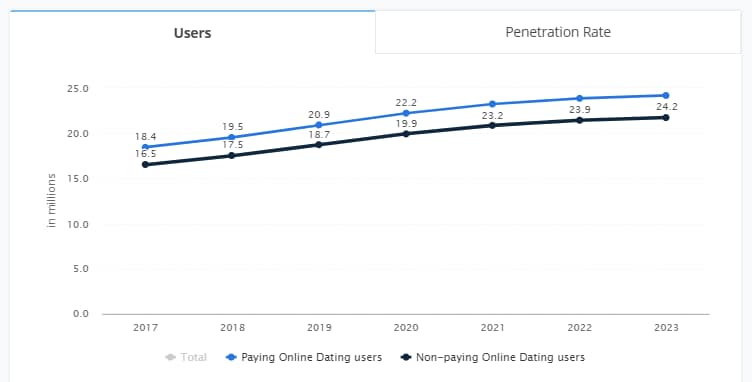 (Number of paid and free dating app users in India, in millions. Source: Statista)
One of the reasons for the rise in users could be that there are over 85 million single Indians, according to the 2011 census, which could mean that they are possibly looking for a partner but are not able to.
In 2017, around 52 percent of Indians aged between 25 and 34 and 30.7 percent between 18 and 24 were using dating apps. Out of this, 57.4 percent were male and 42.6 percent users were female.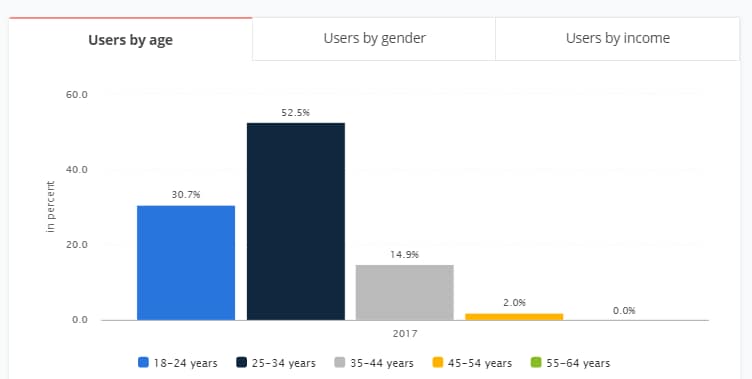 Tinder,
launched in 2012, entered India in 2016. It had gained popularity in the West because of its 'swiping feature' in which the user can either swipe left, if they do not like the prospective match, or swipe right if they do. And by 2017, India had 18.45 million paid users and 16.5 million free users.
After seeing the success of Tinder, other dating apps such as Bumble, OkCupid and Aisle forayed into the market. The competition has become steep for the dating business in India.
Last week, Tinder has launched its 'Lite' version — Tinder Lite — with an aim to retain its popularity. A Tinder Lite app would give it access to people who have basic smartphones, limited access to data or both.
In India, Tinder is the most popular dating app with 17 percent users, followed by Happn (8 percent), Truly Madly (7 percent) and Woo (7 percent),
according to a survey by YouGov India
.
Users can either pay for the premium features of the app or use it for free. The premium upgrade usually includes features such as knowing who 'likes' who, more filters based on the users' preferences of a partner, among others.
Dating apps are apps that connect those who are seeking for a casual or a serious relationship. Sometimes, people even join dating apps to seek friendship. Bumble is one such app that also has 'Bumble BFF' and 'Bumble Bizz', along with 'Bumble Date' for those who are seeking friendship or seeking to network for career purposes.