At this very moment, all eyes are on London, where Graff, the British manufacturers of fine jewellery and watches has announced the auction of the 302.37-carats emerald-cut diamond. The Graff Lesedi La Rona, the largest piece of principal diamond carved out from the 1,109-carat Lesedi La Rona, a rough diamond ferreted out from within the womb of a Botswana diamond mine, is said to be of exceptional quality and will go on auction within another month.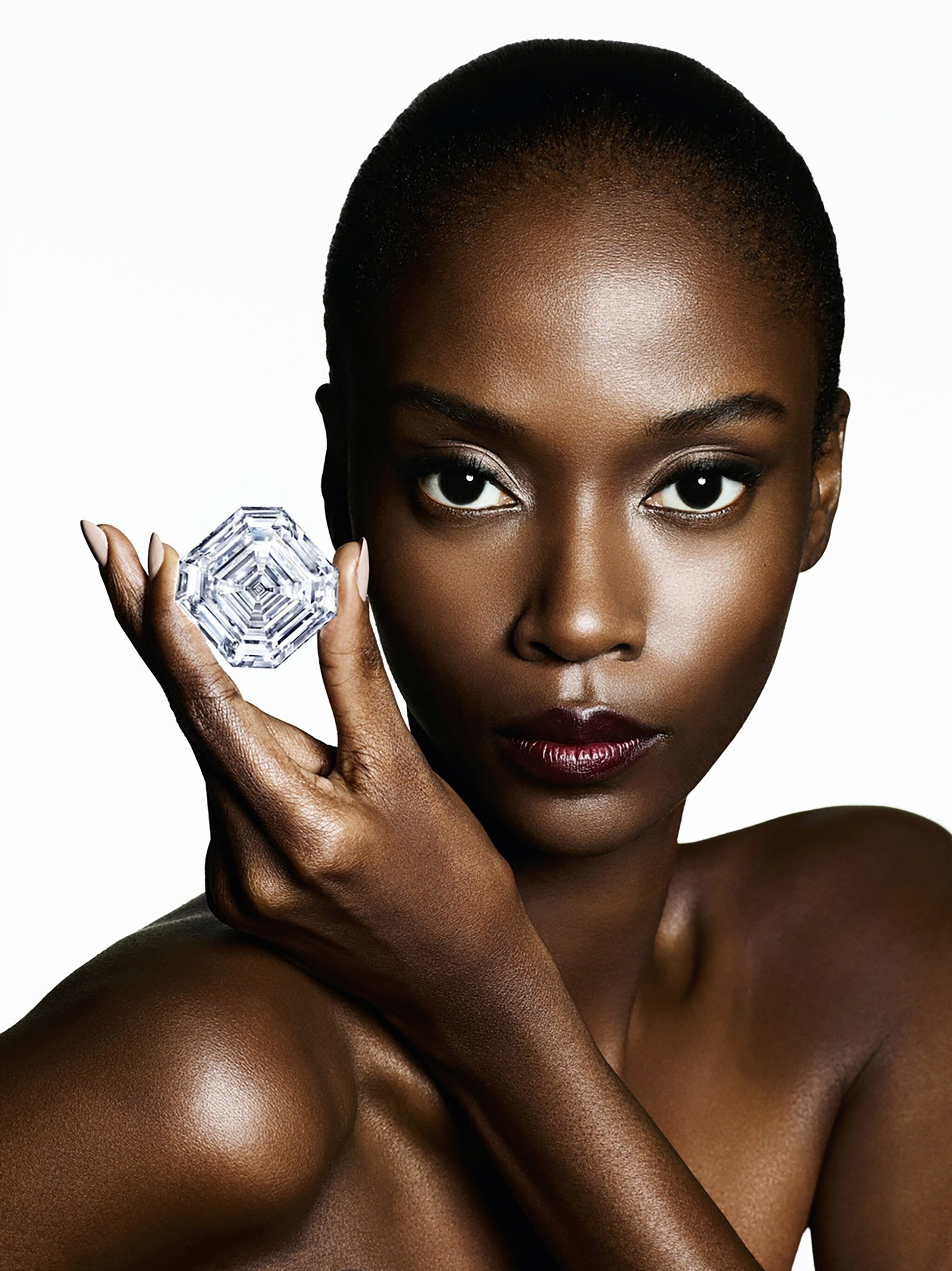 Graff Lesedi La Rona, the largest square emerald cut diamond.
The question uppermost in the minds of most investors in fine jewellery and precious stones is: will an Indian jeweller or collector buy this stunning diamond? The last time a significant piece of precious stone came up for auction, it was an Indian jeweller that sent out the winning bid.
Rajkumar and Rishabh Tongya, the father-son duo behind the luxury jewellery brand, DiaColor, have purchased some of the brightest precious stones in the past few years. Their last, and most talked about buy was a stunning green-coloured gemstone. Christened Inkalamu or Lion Emerald, it was the most expensive single emerald in the world and was auctioned by Gemfields.
Rishabh Tongya
The father-son team has made it some sort of a habit to forage for precious stones and buy them at world auctions with an intention of creating an unusual collection of rare gemstones and diamonds. In 2017, the Tongyas acquired two flawless oval-shaped Sunburst Sapphires, weighing 151.15 carat and 127.68 carat. While one of the gemstones were acquired from an old estate family in New York, the other was from a dealer in Hong Kong.
The 5,655-carat Inkalamu was discovered at
Kagem, the world's largest emerald mine
, which is 75 percent owned by Gemfields and 25 percent by the Industrial Development Corporation of Zambia (belonging to the Government of the Republic of Zambia). Inkalamu, discovered in the eastern part of Kagem's largest open-pit mine in October 2018 by geologist Debapriya Rakshit and veteran emerald miner Richard Kapeta, was sought out for the immense amount of clarity, bright colour and size.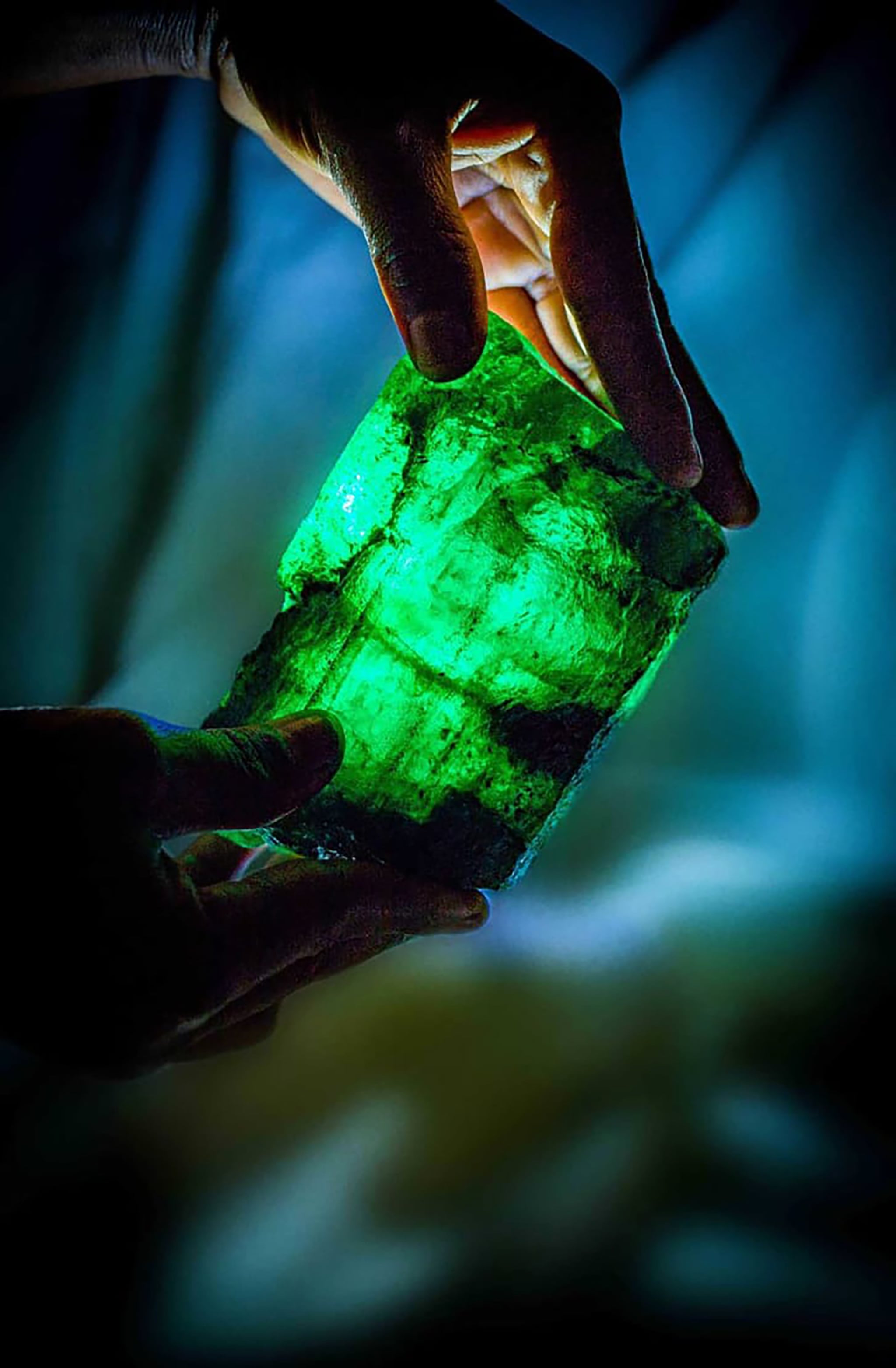 Inkamalu
While Gemfields was expecting one of the European brands to snag the emerald in the high-power auction, the Tongyas bid was far higher.
In its rough form, the 5665-carat emerald was the third such acquisition by the father-son duo who run DiaColor. The first one was acquired in 2017—a 6100 carat emerald, again from Zambia. Insofu (translated to mean a baby elephant in the local Bemba language), will also remain in the Tongyas family vaults.
The beautifully translucent Inkalamu emerald, their third big purchase, is celebrated not just for its size, but also its colour—a gorgeous green. "It made me go wow. I just knew I had to have it. It has glamour; it has a history and I am very proud of it. It is, of course, of very high value, but it is priceless for me," says Rishabh Tongya. While he doesn't reveal how much they paid for the rare emerald, experts put its value at about Rs 40 crore.
The Tongyas are such big lovers of rare gemstones that they even seek out the peerless Kashmiri blue sapphires, which has no match in the world, even though most Indians tend to be superstitious about buying them—it is said that if a blue sapphire proves to be 'unlucky' for its owner, he or she could face severe financial setbacks.
"There is great calm in the depths of the blue-coloured stones," says Rishabh about his fascination for the brilliant blue gemstones. Among his first buys was a 24.60 carat blue sapphire with deep cerulean colour.
Gemstones as Passion Investments
Wealth X, a global high net worth intelligence and data company, headquartered in New York, predicts that Ultra Networth Individuals (UHNIs) will increasingly seek out gemstones and diamonds as secure and lucrative investments. "Based on our data, we expect the demand from UHNIs, particularly in diamond-hungry China and India, to accelerate," says Wealth-X CEO Mykolas D. Rambus. "Rough diamond prices have increased by nearly a third since 2017 and is likely to rise a further 20 percent between 2013 and 2018, bolstered by the demand from these two countries."
He points to the number of Indian investors that flock to The Diamond Works, a Cape Town-based distributor of rough diamonds, as evidence. "The minimum an Indian investor spends here is $1200 to $1500, and that is just the base price," says Amy Kimmel, the company spokesperson "A few years later, they would be able to sell that for almost $4,000."
Gemstones and
diamond
s as
asset class
are relatively new for Indians. "Buying loose, certified diamonds is a wiser option than embedding them in jewellery. They offer immense liquidity. But you have to be careful about their provenance," Rambus emphasises. "In some cases, the jeweller you bought them from will buy them back, or auction houses will help you sell it."
How cash-strapped Gemfields turned its fortunes
It was an Indian Dev Shetty, the former CFO of Gemfields Plc, who came up with the brilliant idea of auctioning the emeralds emerging from their Zambian mines way back in 2009. He worked a miracle and by the time he left in 2015, the once-struggling Gemfields had a market cap of $525 million.
In 2007, when Pallinghurst acquired 63 percent stake in UK-listed emeralds miner Gemfields, which owned the world's largest emerald mine at Kagem in Zambia, the management attempted to enter the entire value chain, from mine pit to jewellery showroom, including a gemstone cut and polish outfit in Jaipur. The plan failed and by 2009, Gemfields had suffered a net loss of $13 million.
Under Ian Harebottle as CEO and Shetty as CFO, Gemfields began a slow trek to recovery. One of the first strategies it put in place was based on Shetty's conviction that emeralds and rubies are "passion buys" rather than just stones that go into making stunning jewellery. Gemfields closed all its cutting and polishing factories and concentrated only on auctioning the stunning emeralds it mined at its Zambian mines first, and then the rubies from the Mozambique mines they invested in. "Auction attracts not just mere jewellers but even collectors who are passionate about what they buy. And they pay upfront," says Shetty, who has now moved on from the company. All stones were graded at the mines itself so that the collectors and jewellers were ensured that what they got was of absolutely high quality.
Since then, it has a been a journey of spectacular success, and some failures for Gemfields, especially after the Nirav Modi scandal, which made it difficult for Indian collectors and jewellers to acquire finance to fund their passion of buying some of the world's most spectacular gemstones. However, in recent times, improved liquidity has brought the Indians back into the auction market, and the Inkalamu emerald was one of the biggest sales the world of gemstones witnessed. The sale of Inkalamu proved to be a big bonanza for Gemfields.
Now, the buzz is around Graff Lesedi La Rona, the largest diamond with high clarity and colour to be ever graded. The 1,109-carat diamond, the size of a tennis ball, was discovered by Lucara Diamond Corp. in November 2015 and sold to Graff Diamonds for $53 million. After almost four years, a carved-out diamond from this rough beauty mined at Botswana enters the auction market.
Will an Indian, then, buy this giant beauty? We will know when the diamond goes up for auction in the next two months.
(Picture credit: Deepali Nandwani)