Increasingly, Indian-Americans are becoming active in philanthropy. And galas -- an American creation -- are being used to support social causes back home.
Increasingly, Indian-Americans are becoming active in philanthropy. And galas -- an American creation -- are being used to support social causes back home.
Successful Indian-Americans Help Fuel the Future Success of Underprivileged Children in India.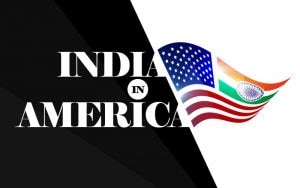 Children's Hope India (CHI) is a grassroots group formed by Indian women professionals in Long Island 26 years ago with just $1000 of their own private funds. This year, their Secret Garden gala raised over $1 million for health and education of needy children in India. They paid tribute to business leaders and change makers: Anand Khubani, chairman and CEO of Idea Village Products Corp., received the Lotus Award for Excellence, for his innovative entrepreneurship and commitment to education for all. Dr Manjit Singh Bains, a noted thoracic surgeon at Memorial Sloane Kettering Cancer Center, researcher and humanitarian, was recognised for the lives saved and enhanced, with the Special Impact Award.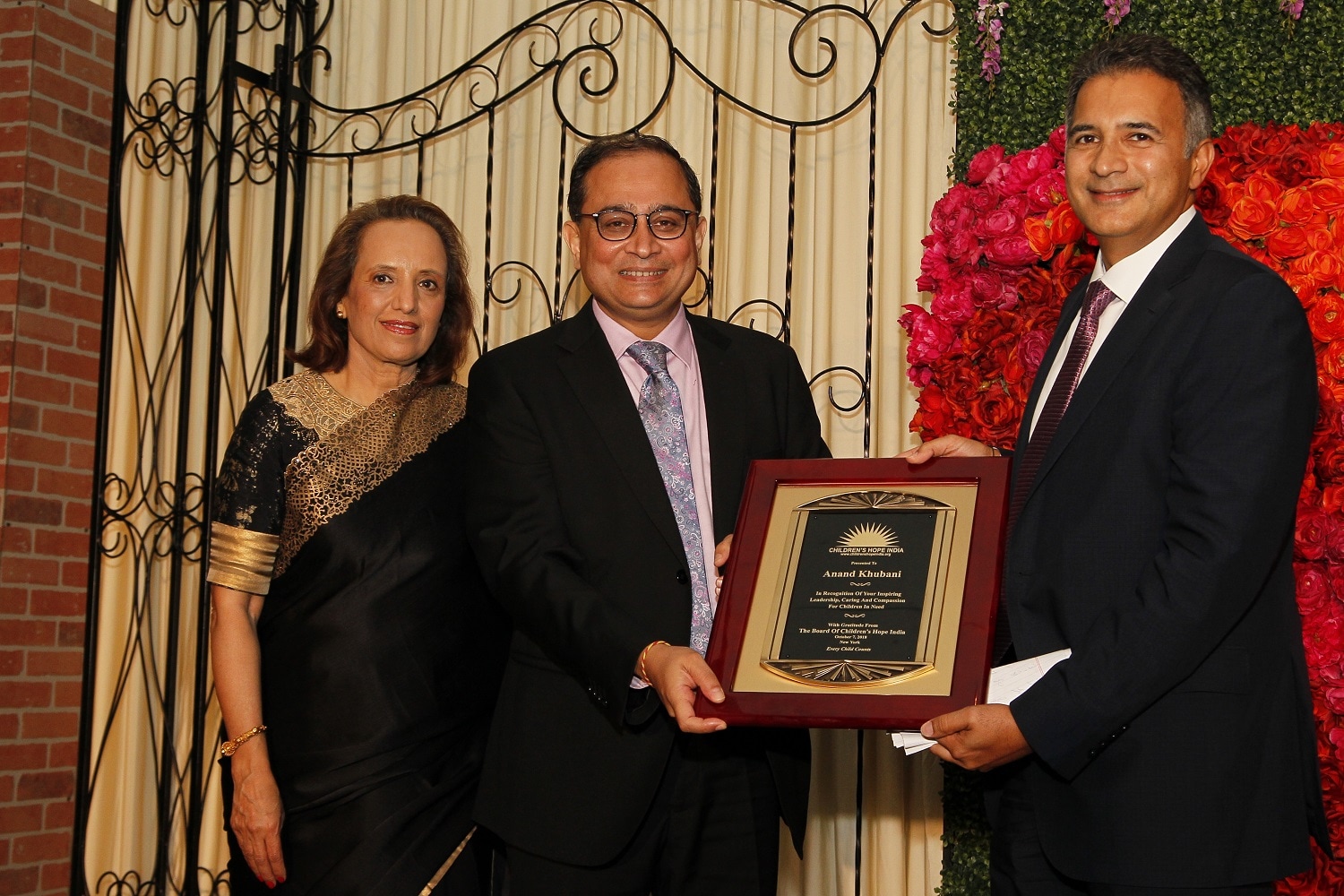 Lotus honoree Anand Khubani receives award from CG of India, Sandeep Chakravorty and CHI president Dr. Dina Pahlajani.
Over 500 guests – CEOs, bankers, physicians and entrepreneurs – came to support the cause of education. The hi-powered supporters included noted names like CG of India, Sandeep Chakravorty and his wife Taruna, and many from the business world including Ajit Jain of Berkshire Hathaway, Chandrika Tandon of Tandon Capital Associates, Prakash Melwani of Blackstone, and Barbara Corcoran of 'Shark Tank' fame.
The venue of Pier Sixty was transformed with flowers, candles and the ingenuous use of diffusers into a scented garden blooming with images of children from classrooms in India. The evening's third honoree, Ravi Kanth Ganti, had flown in from Hyderabad to accept the Making A Difference Award for doing the grassroots work which connects the two worlds – of success and the strugglers. He is an unsung hero, the COO at five low-cost Eklavya schools in the urban slums of Hyderabad. These are just some of the 20 educational projects in India which CHI funds in India, including an all-girls higher secondary school in Bhopal. Philanthropist and educator Chandrika Tandon who initiated the CHI-Tandon Scholarships was there to honor Ganti for implementing the first of these scholarships in the Eklavya Schools.
Diwali Comes to South Street Seaport with a Big Bang
October brings a decided nip in the air as fall heralds a season of festivals from Navratri to Durga Puja, Dusshera and Diwali. It is the delight of living in New York that the American festivals of Halloween and Thanksgiving are also around the corner. For Indian-Americans the start to this holiday season is always the most lively Deepavali Festival on October 7 at the South Street
Seaport, where the entire waterfront transforms into one gigantic mela with street foods, dancers and a huge fireworks display. This has been a constant for over 31 years, orchestrated by the Association of Indians in America, New York chapter (AIA-NY), one of the oldest community organisations in New York.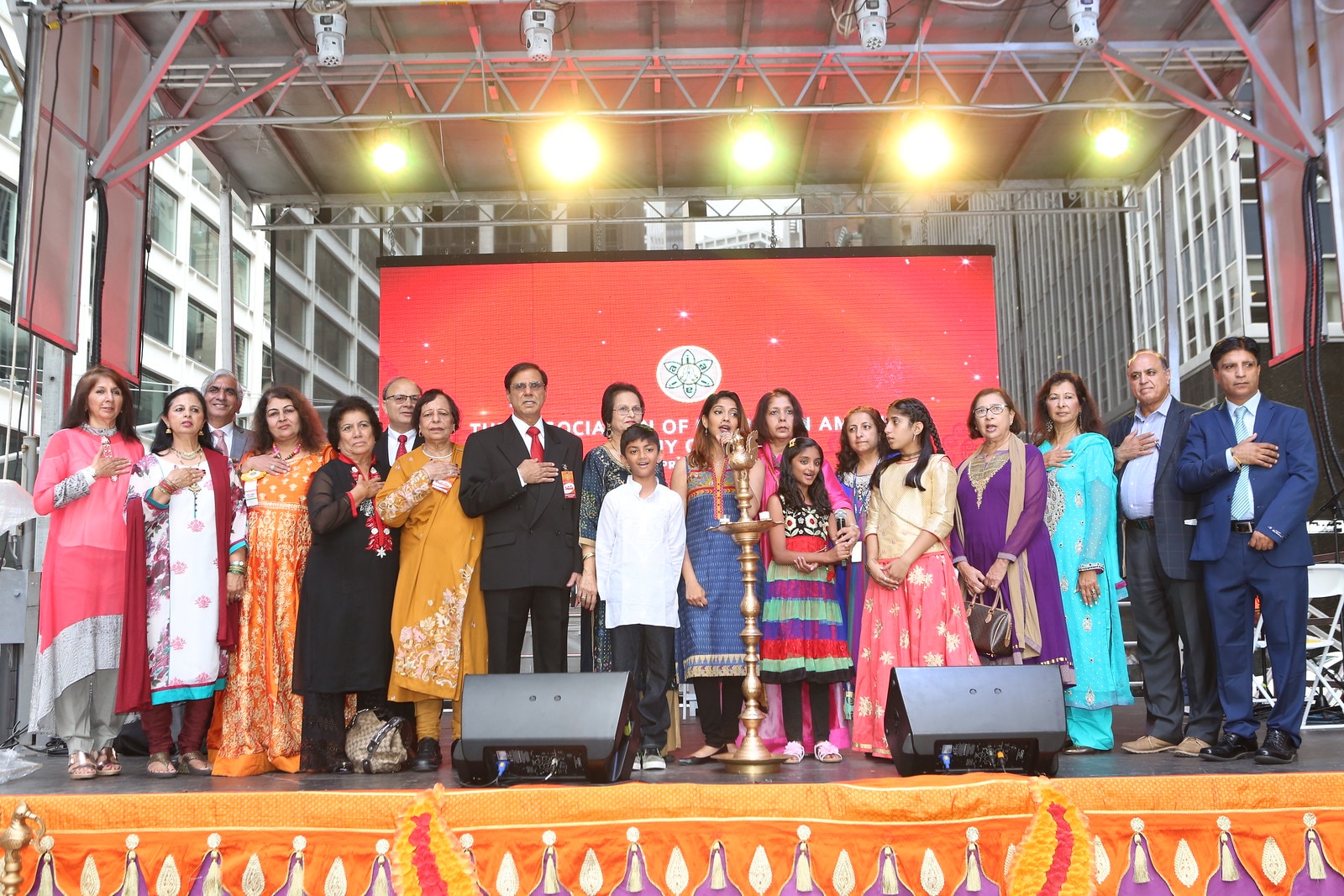 The AIA Committee at Deepavali Mela at South Street Seaport.
"We invite all local communities to become a part of this mega festival," said Gobind Munjal, president of AIA. " Deepavali has become an important part of American life committing to AIA's role in the community." An important goal, he noted, is to engage the next generation so that the continuation of the organisation is assured and several activities were introduced to keep
them involved. AIA's vibrant cultural committee headed by Divya Shah and Asmita Bhatia bring vibrant dance and music to the celebration – and draw in the crowds.
This year thousands thronged onto the waterfront, tasting the Indian treats offered by vendors and getting their Diwali fireworks so far from home. There were special celebrity guests to keep them dancing including the British Indian pop star Jaz Dhami and playback singer Shilpa Paul. While the Deepavali Mela is one of the largest, there are several other celebrations across the tri-
state area, including Diwali Melas, Durga pujas and Navratri garba and ras parties. Indian immigrants seem to have decided that if they had to leave India, they would carry India with them – raas, garba and dhols included! This is what being Indian-American is all about – preserving and celebrating their festivals and making them a part of the mainstream.
Indian Designer Anita Dongre Explores a New American Market
The mainstream bridal industry is a multi-billion dollar business in America. As the bridal season commences, one Indian designer who is wooing American brides with her siren call of gorgeous Indian fabrics and embroidery is noted designer Anita Dongre. She recently opened a expansive store in the trendy Soho district showcasing her popular collections. Now she's introduced a new
line – One World – for Western brides and young South Asians who are looking to go a different route than the traditional bright red, heavily embroidered styling of Indian brides. Recently the Anita Dongre store held a two day bridal salon to introduce Western brides to the intricacies of Indian craftsmanship angled to a Western aesthetic.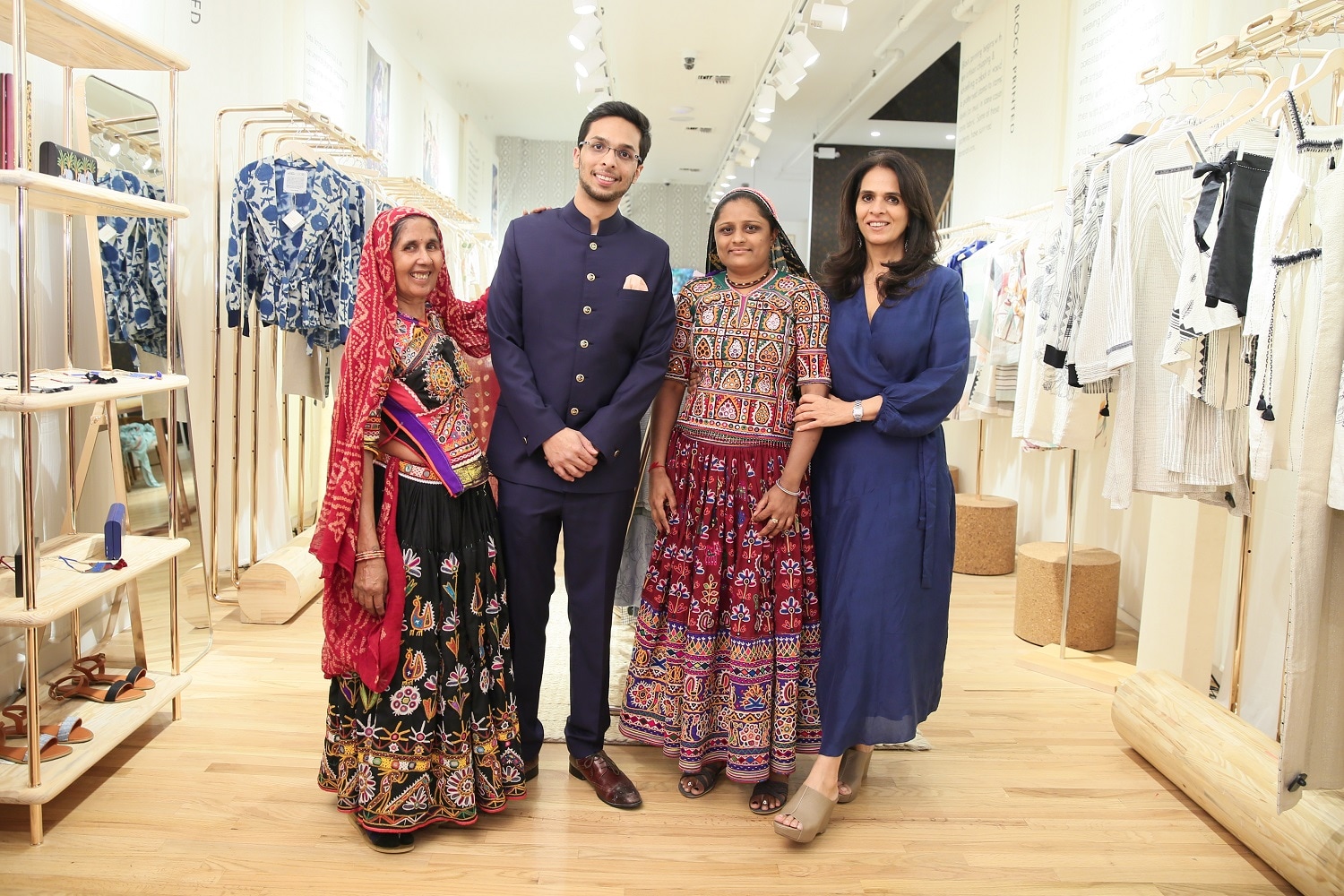 Anita Dongre and Yash Dongre with village craftswomen at the opening of the Soho store.
Says Dongre of One World, "The joy of seeing white beads and sequins create a pattern on tulle, the simplicity of cutting silhouettes that flatter the body; the show of skin through embellished tulle, and then the absolute delight of seeing the sketched design worn elegantly on a bride – the joys of working with white! It's a different world from the Indian reds and pinks, and enjoying the creativity and the space both provide is exhilarating."
It's certainly an idea whose time has come since subdued yet intricate embroideries can make a winning, one-of-a-kind wedding gown. So in time for New York Bridal Week Dongre has introduced a collection of 24 bespoke gowns, a boon to the many multicultural couples who want to have a touch of India on their wedding day, yet honor the traditions of both sides of the
family.
The white wedding gowns that she has introduced make pearls, crystals and sequins a part of this very Western garment and sleek, simple silhouettes keep the gowns elegant. Instead of the over-embellishment seen in Indian bridal outfits, Dongre has kept them subdued yet rich, a mix of the traditional and contemporary. In a simple white gown, the designer introduces ethnic details which makes it special and brings India right into the wedding – such as a traditional Indian bird in tulle. These should fly off the shelf!