Designer Payal Khandwala's latest collection inspired by her study of a matrilineal African tribe is a continued ode to her old muse: the intelligent, non-conformist woman.
Payal Khandwala was searching for a particular shade of blue for her new collection when she recalled an image of tribal African women she'd seen in an old issue of National Geographic. The contrast of the women's blue abayas against the beige sand held an irresistible attraction for her, and she set out to research who these women were.
What she found left her amazed. "The Tuaregs are a Muslim, semi-nomadic tribe that have survived more than a 1,000 years. And today, they're more relevant than ever," says the 44-year old artist- designer whose distinct style signature has made quite a mark in the industry just a few years after she launched her eponymous label.
"It is not just that the Tuaregs are a matrilineal people but women genuinely enjoy equal status in society," she explains of her autumn-winter 2018 collection, 'The New Order'. "They own homes and animals even after they marry. Their opinions are valued and they pull the strings in all major social and political decisions. They are allowed the same freedom as their men, and can take as many lovers as they want, before and even after marriage as long as the men only arrive at the woman's tent after dark and leave before sunrise. These women marry later and divorces call for celebration because the women are single again."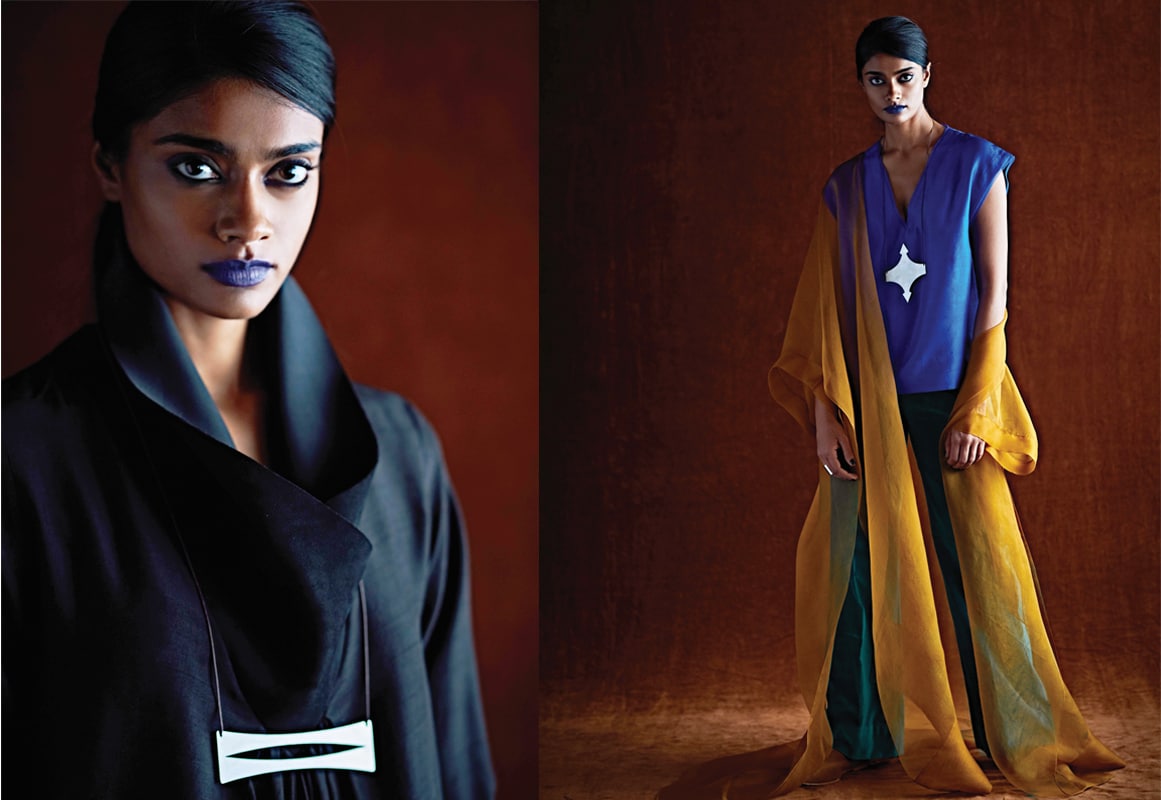 Payal Khandwala's latest collection 'New Order' is inspired by the strength of the Tuareg women, and the men who stand behind them.
What surprised the Ahmedabad-born designer most about the tribe was the fact that the women kept their faces uncovered and men had to veil theirs at the start of puberty and continue to cover their faces in front of most women and elders, except their wives and girlfriends.
"I found this to be so intriguing," says Payal, especially when a tribe considered 'primitive' is compared to the Western world that prides itself in being 'progressive'. "The men and women are equally invested in making sure women are empowered," says the artist.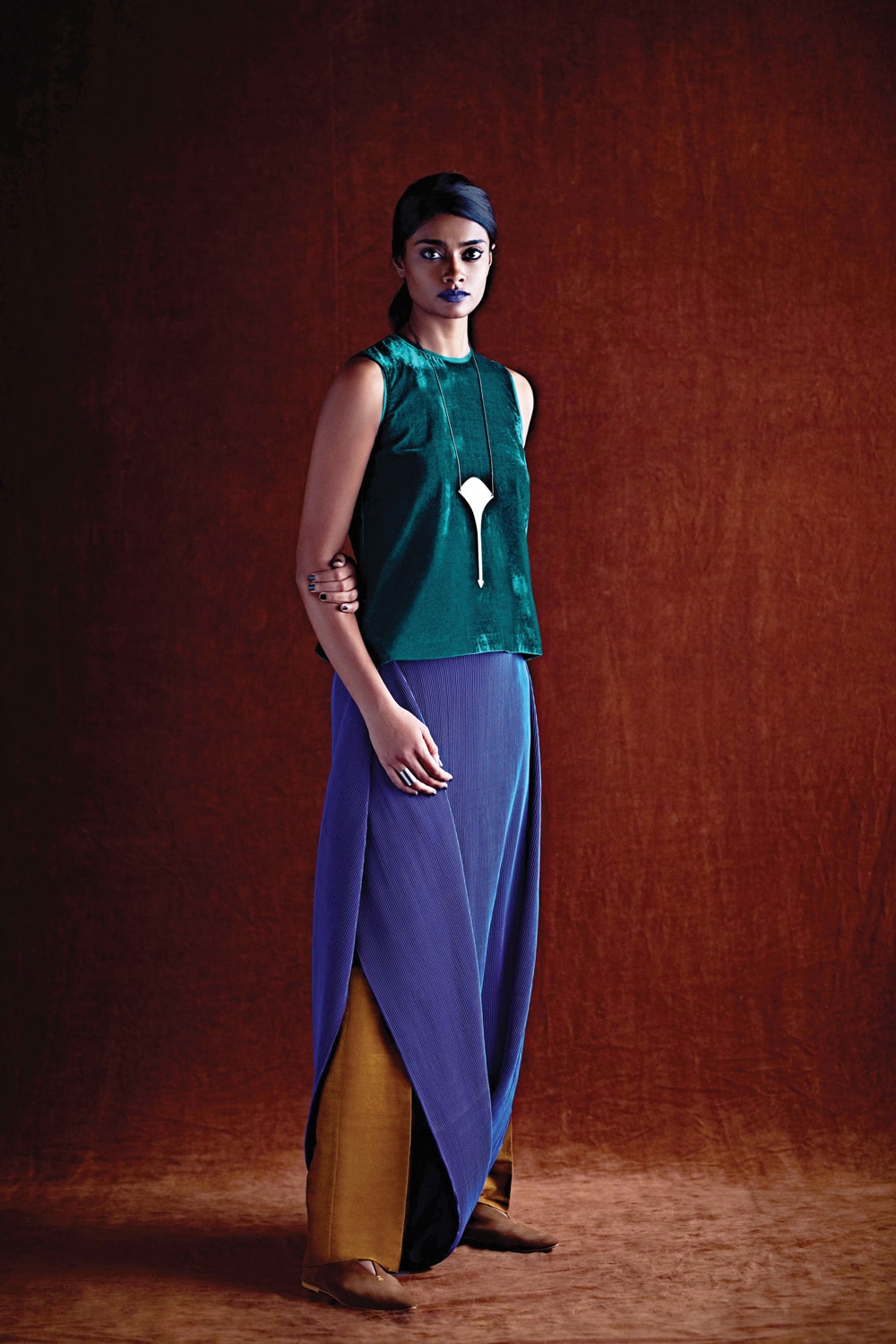 Suede, velvets, handwoven silks and organzas are put across in shapes that marry both structure and drape. Payal Khandwala's signature Tachi accessories in steel borrow from the shapes and symbols of traditional Tuareg silver jewellery.
Born the only child to a father who loved reading books on philosophy and a mother who hailed from a family of poets and playwrights, Payal was brought up 'like a boy' and encouraged to follow her creative pursuits. Having done her BFA from Parsons in New York, she credits the city for opening her mind and horizons. She went on to study another six months in Barcelona and moved back to India in 2002, taking up full-time painting.
After her wedding in 2007, her husband encouraged her to take up fashion as a second calling "because I couldn't find clothes I could wear." So successful were her collections that he left his own investment banking career and took on the mantle of her business instead.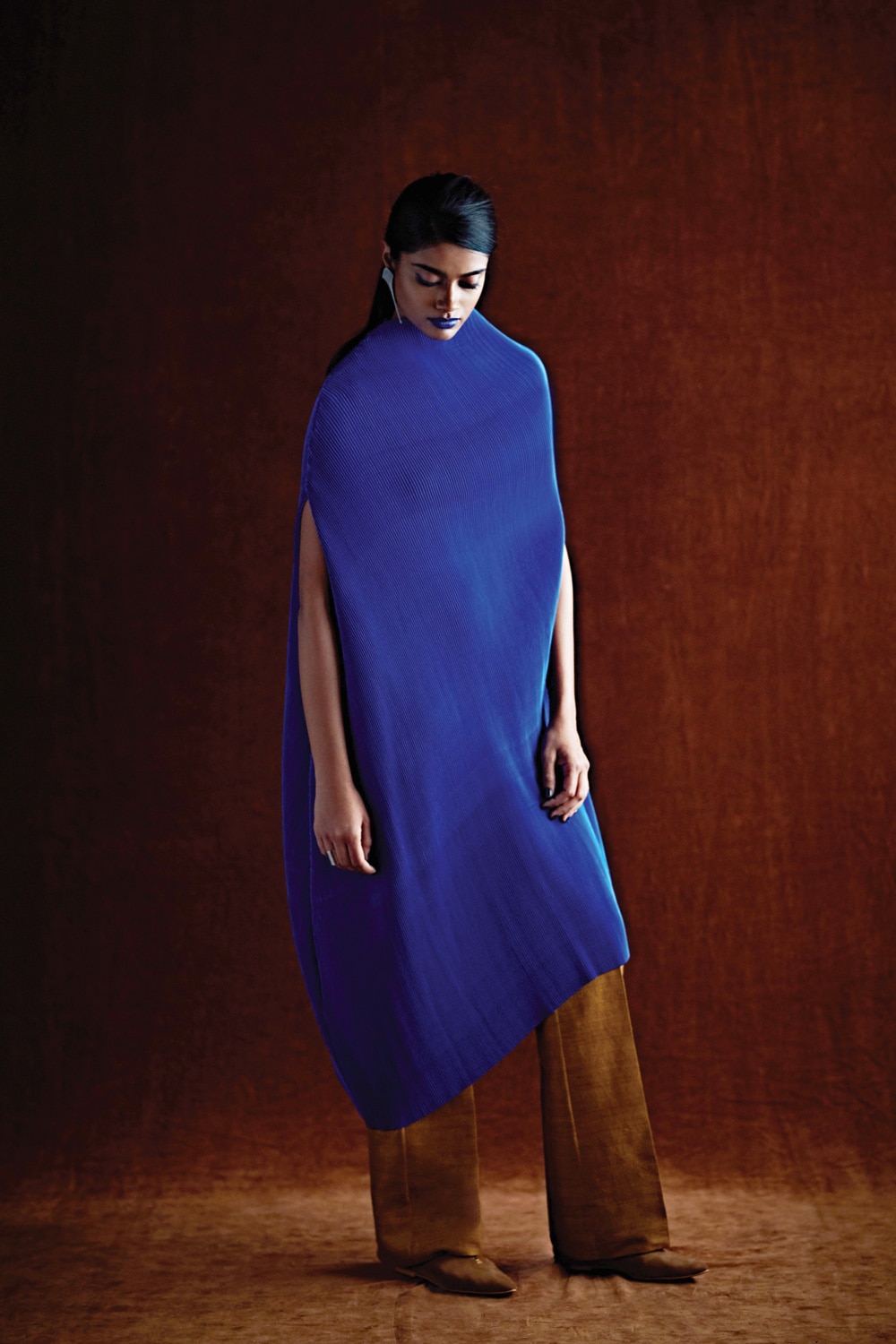 The Tuaregs are sometimes called the 'Blue People' because of the indigo pigment in the cloth of their traditional robes and turbans stains their skin dark blue.
Payal's label now retails from three of their own standalone stores and almost a dozen multi-brand stores around the country. Their e-store has just gone live. As per her original plan, Payal only makes clothes she herself would wear, clothes that are comfortable, make the wearer feel good, and have an artistic quality to them. "I am a mother; I gained and lost 25 kg during pregnancy. I understand women's bodies. That helps me isolate my brand story," she explains. "It's only authentic if it stands out."
Payal is concerned about the messages young children get regarding social and body norms, and teaches her nine-year-old daughter not to be enslaved by fashion. "No one should care what's in trend," she says. Someone recently asked her how her new collection would help the Tuaregs. She replied, "I don't think they need our help. We are the ones who need inspiration from them. It's time to rewrite what is 'conventional' and what is 'modern'."
First Published: Oct 20, 2018 12:01 AM IST