Hari Nayak, 45, grew up in Karnataka's Udupi, the town renowned for its restaurants and where the much-loved dosa originated. His grandfather had died long before he was born, but the Udupi vegetarian cafe that he had owned was part of family folklore.
"My father had worked with my grandfather in the restaurant but nobody from the family got back into it - they all went into professional fields, my father went into banking, my brother got into engineering and my sister into medicine," he recalls. "I was, however, fascinated by these stories and I always wanted to do something with food."
Hari Nayak would certainly have made his grandfather proud: he has stirred more pots in more cities than probably most other chefs. He's wandered from New York to California to Riyadh and Dubai, opening restaurants everywhere. He's written six cookbooks and even sailed on a luxury liner aboard Seaborne Luxury Cruises to Australia, guest cooking on the high seas. He's been a recurring judge on the cooking show Beat Bobby Flay. He's also been the celebrity chef behind Priyanka Chopra's celebratory dinner launch of the Bumble app at the Gramercy Park Hotel in New York.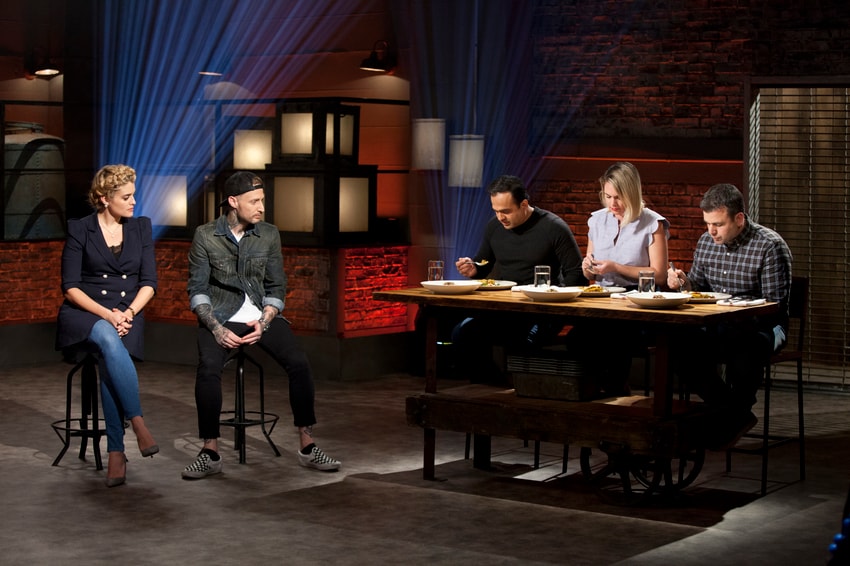 Guest Judges Hari Nayak, Alison Roman, and Albert Di Meglio taste and discuss the chicken biryani made by Bobby Flay and Aarthi Sampath, as seen on Beat Bobby Flay, Season 15.
He's involved with half a dozen restaurants in the US, India and the Middle East as chef-partner or consultant and these include Alchemy in Bangalore, Masti and Bombay Bungalow in Dubai, Charcoza in Riyadh and Café Spice in New York. He also owns Soul Curry in New Jersey.
Now he has the distinction of two of his restaurants being recognized on two different continents in the same month: in its listing of Dubai's best restaurants, Time Out Dubai chose Masti, where Nayak is chef-partner as the top winner, stating "The past 12 months have seen this exquisite experimental Indian-fusion restaurant soar to incredible heights. The food will catch you off guard with its inventiveness, the mixologists are some of the best in the business and sipping a sundowner on the terrace facing La Mer beach is a great pleasure."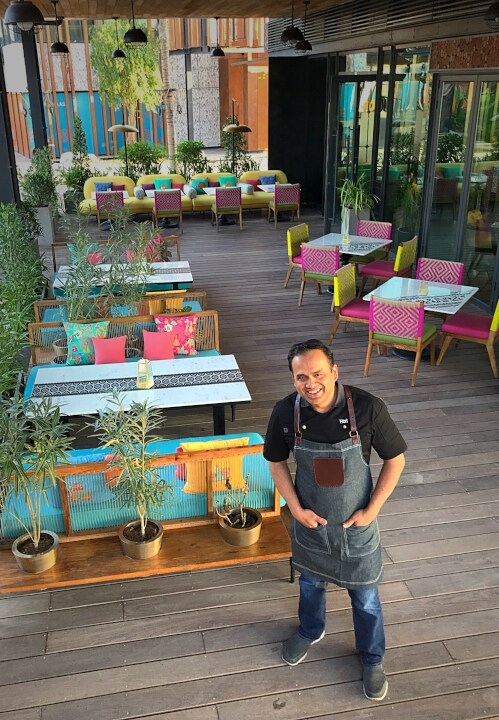 Hari in Masti Dubai.
At the same time, New Jersey magazine recognized his restaurant Soul Curry, where he is the owner, amongst the 28 hottest new restaurants of 2019. The line-up at this casual neighbourhood restaurant includes such innovative dishes as Summer Bhel with a local twist using puffed and fresh corn, jicama and Mexican spices that go well with Indian cooking. Even in the traditional Butter Chicken he adds Italian burrata to give it a special creamy effect. It has become the signature dish. In these global offerings, there's also Gulab Jamun Crème Brulee and mango kulfi transformed into all-American popsicles.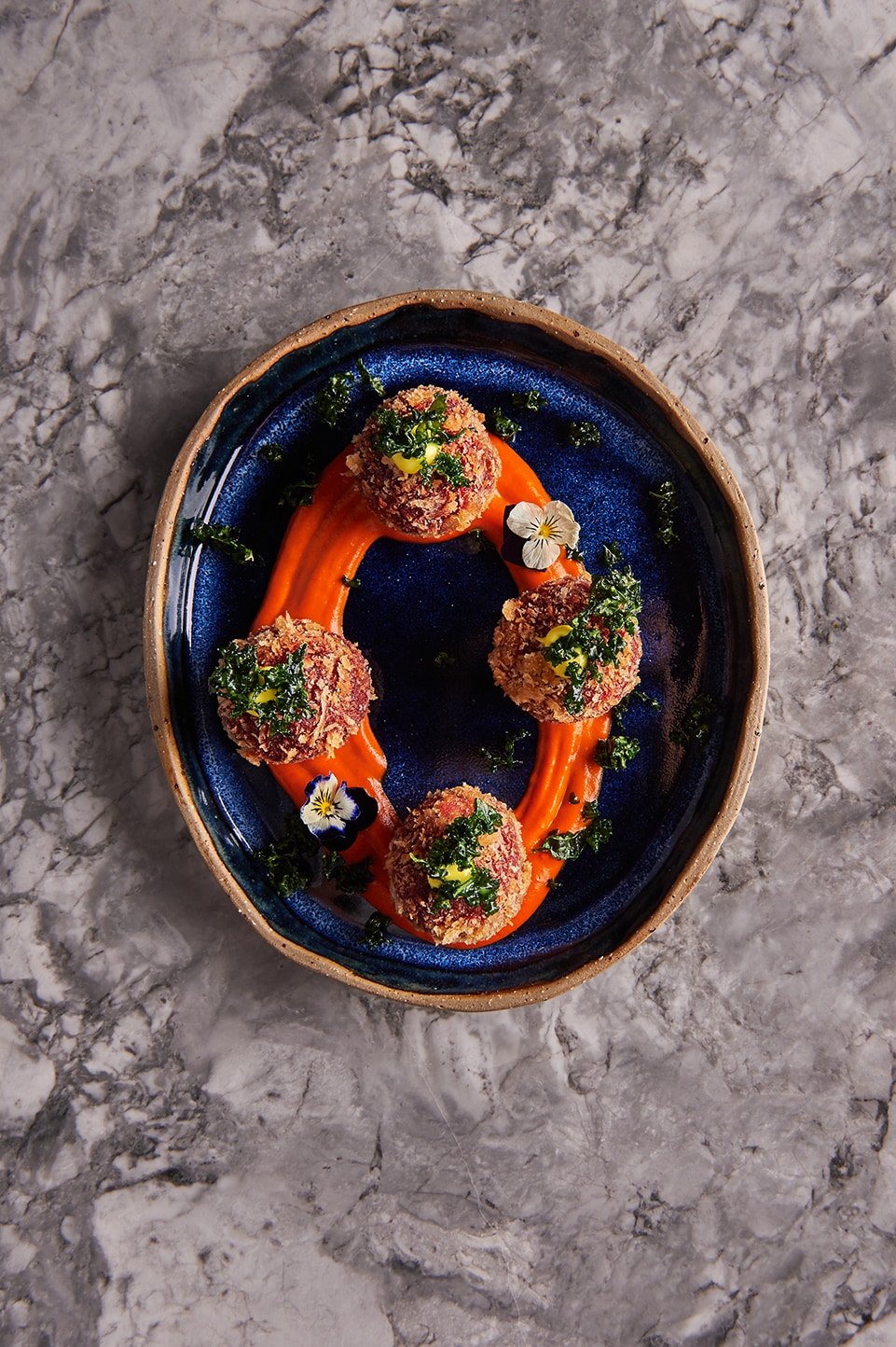 Beetroot Chop.
Nayak's journey from Udupi began in Manipal University where he graduated from Welcomgroup Graduate School of Hotel Administration in 1994. He started at ITC hotels as a kitchen executive trainee before flying to America to join the Culinary Institute of America in New York. "In the very first month on campus, I witnessed the legendary Julia Child giving us a very entertaining pastry demonstration," he says. "That was one of her last visits to the school and it was my first year in America. I actually got to help her with the demonstration. It was an amazing experience to work with her. She passed away the next year."
Life as a student was difficult, the typical immigrant's life. He says, "I had nobody in this country and this was my first trip to America, coming here in the cold of the upstate of New York from South India. I'd never seen snow before. Even after finishing at CIA at the top of my class, getting a job and working here was tough but very exciting. My first job was in Daniel Boulud's, a French restaurant. I was the only Indian in my school and in my class."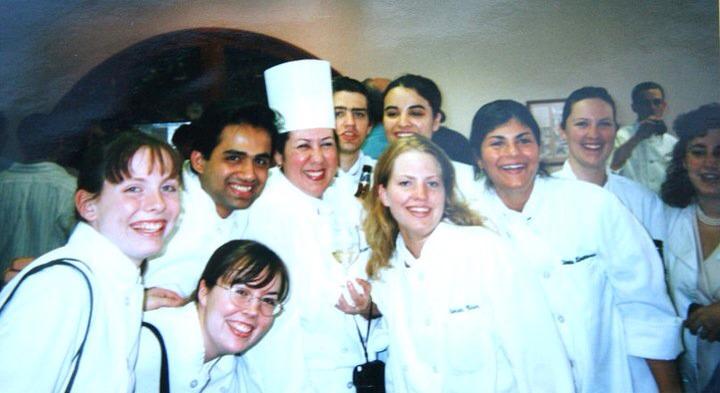 Hari Nayak as a student at CIA.
It was here that he learned to marry Indian and western cuisine. At Daniel's, he would be assigned to make the staff meal, and he would often cook Indian and found everyone enjoyed the flavours and that's how his career developed, merging the spices. Twenty years back that was a novelty.
"In the beginning, it was exciting to create that and find the market for it and by default, I became the modern Indian chef," says Nayak. "I fell into this niche and there never was a plan to do it. Modern Indian cooking is what I do - it's Indian cooking with a global touch. if I'm doing a restaurant in New York, I do Indian food with a New York state of mind."
Nayak's culinary wizardry allowed him to re-invent himself as writer, consultant, chef and restaurateur. He has turned his cooking creativity to taking the Indian story further by making Indian cuisine suitable to every palate by reinventing it in a global avatar. He recognizes that while traditional cooking always has people's hearts, a global spin just makes it more accessible to more people.
His seven books have shown people that Indian cooking isn't some complex puzzle but completely doable and fun. These include Modern Indian Cooking, My Indian Kitchen, Café Spice Cookbook and The Spice Trail. His recipes are also in The Immigrant Cookbook along with those of some of America's iconic chefs like Daniel Boulod and Alice Waters.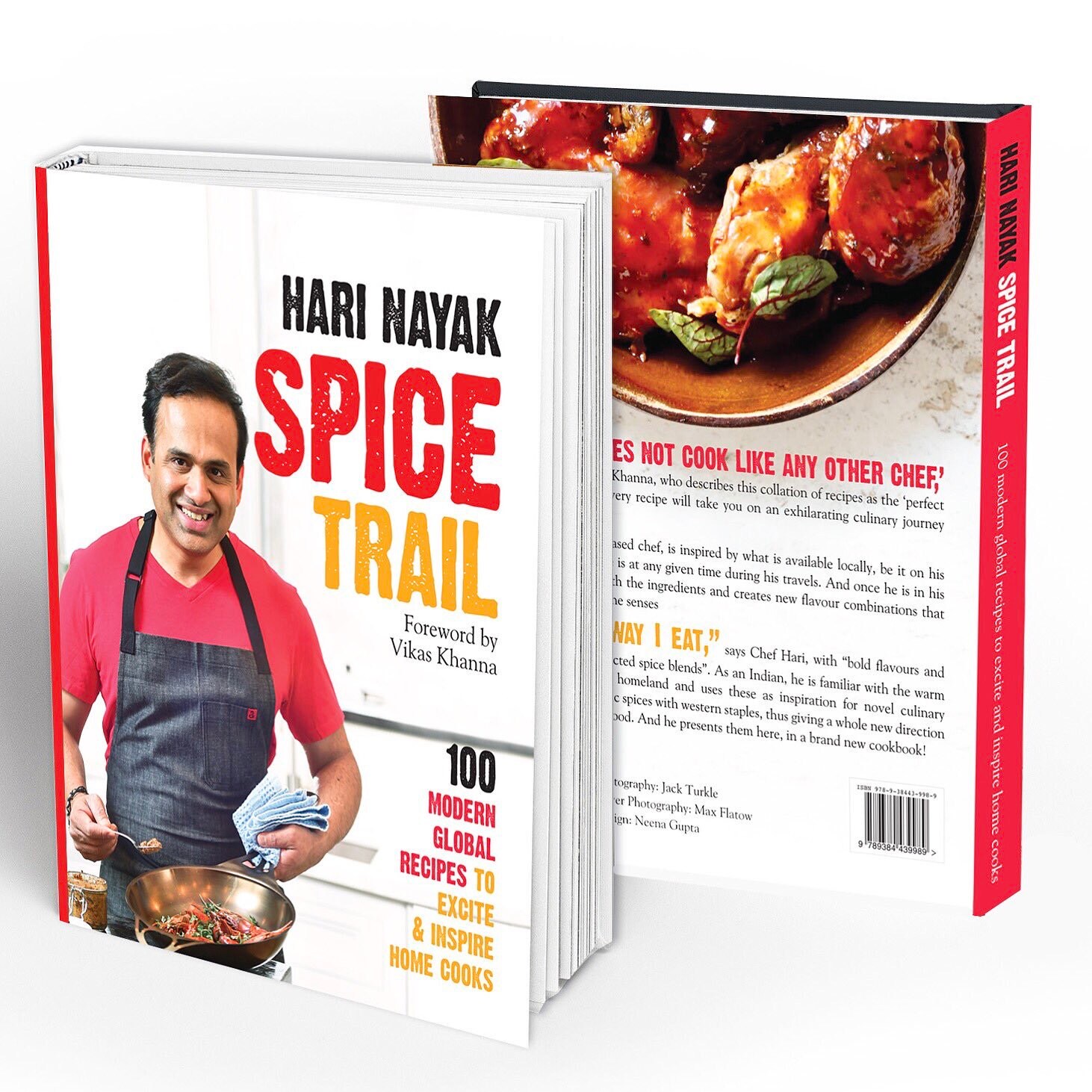 Nayak also creates menus for corporate kitchens and has worked with organizations like Bristol Myers and Sodexo, and with Ready to Eat brands, restaurant companies and spice companies. His partnerships have included Sula Wines, Taste of India with Chef Hari Nayak, Urban Accents Seasonings, and Diet and Nutrition. He's also the brand ambassador for Café Spice, a major food company in New York, creating ready-to-eat meals, spices and frozen meals for supermarkets like Whole Foods.
Besides his wife Sreemoyee Sarkar and young son, Nayak's major obsession is promoting Indian cuisine in every way possible. What drives him and what keeps the passion alive?
"I think I'm one of the few people who doesn't feel what they do is a job," he says. "People who eat my food –I make them happy – there is a direct reaction right away and that doesn't happen in most jobs except cooking. And that's what drives me."
His grandfather would surely have been very pleased that he has continued his legacy and taken Indian food from Udupi to the world.
(Photo Courtesy: Hari Nayak)