At Copitas, a crystal, leather, wood and glass-encased concept bar with an outdoor deck, mixologists and bartenders will create classic and experimental cocktails.
As far as mammoth business hotels go, this one is the biggest luxury opening that the segment in India will see in a long time. Not just in terms of the inventory of rooms it offers, but also in terms of experiences, bespoke luxury, immersive service and the integrated lavish township it is part of. Four Seasons Hotel Bengaluru at Embassy One is just the second property of this global luxury group in India, but it brings together the development expertise of real estate major, Embassy Group, and Four Seasons' set-in-gold service standards.
Across the world, some of the best business luxury hotels today are part of well-amalgamated enclaves and new neighbourhoods. Embassy One integrates offices, Four Seasons Hotel and Residences and a Central Plaza, which will house over 40 luxury brands in a seamless whole. This understated beige-buff-cream architectural landscape, interspersed by lush green spaces (as a tribute to the city's past as a garden city) is designed by US-headquartered HKS Architects and Studio u+a from India. The sweeping, understated, modern interiors have been crafted by Canadian design studio, Yabu Pushelberg (known for design-led properties such as Four Seasons Toronto and The London Edition).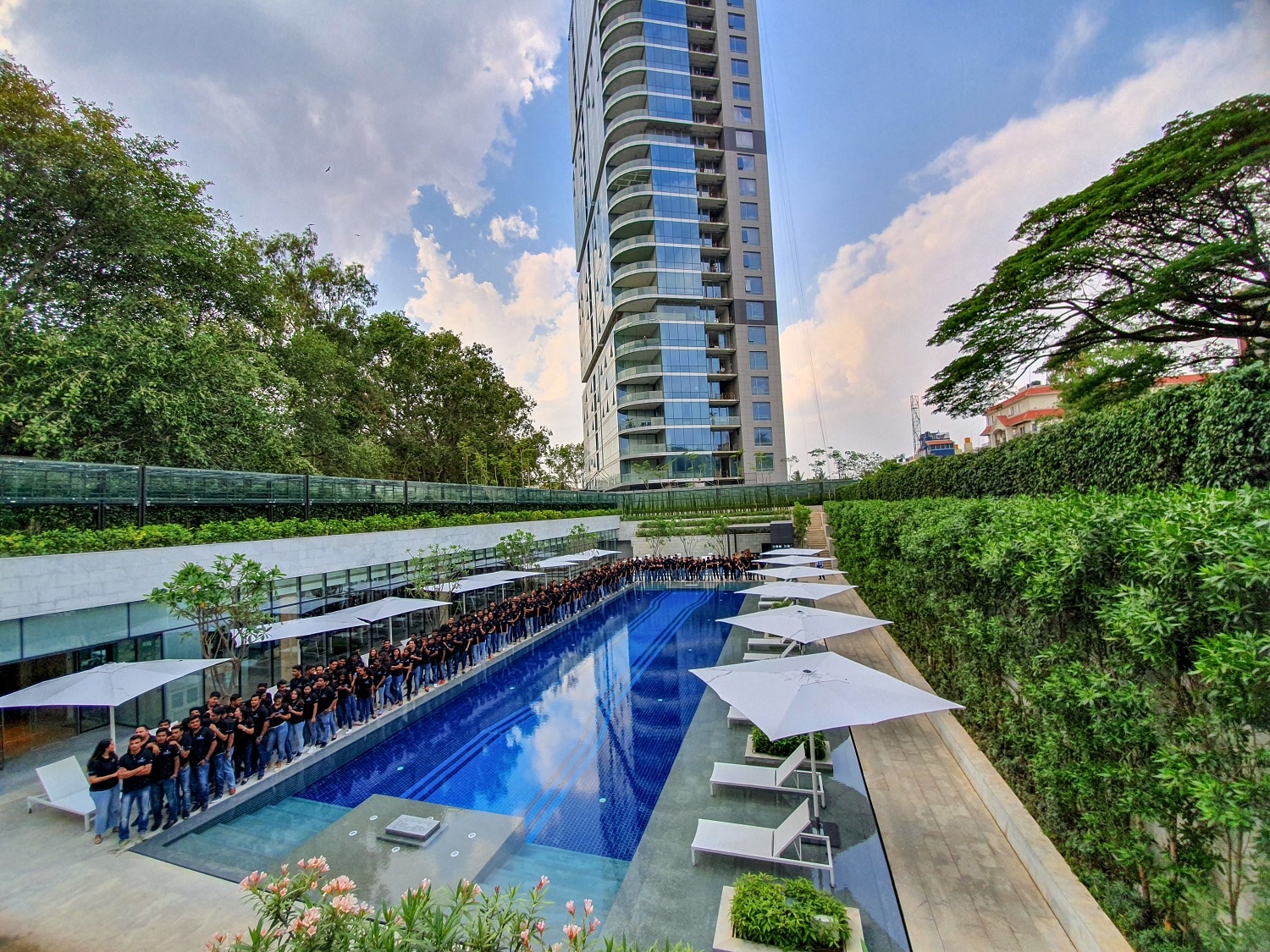 I walk into a hotel lobby with a soaring ceiling height, geometric and angular trellis patterns (found across the hotel), carefully curated art (by Gallerie G, drawing inspiration from city's dwindling tree cover and its cultural richness) and translucent pieces of floor vases. The glass doors and partitions allow a view of the outer world, punctuated by green spaces and the brilliant blue of the pool.
"One of our USPs is the proximity to the airport," says General Manger Fredrik Blomqvist, a Four Seasons veteran who has opened several Four Seasons properties, including Four Seasons Hotel Guangzhou. "The commute from the airport, which lies on the outskirts of the city, can be a very painful experience and unless you have to go to the extreme south of Bengaluru, most business travellers prefer to live close to the airport." The hotel is also eyeing the lucrative wedding market as well as a more evolved MICE market. "We are looking at organising weddings that are well-executed and unique, which can add good revenue to the bottom-line. As far as MICE goes, I believe that Indian customers get real value for money; they spend far less in India, than customers in Hong Kong or Singapore, but avail the same level of service and offerings. The low pricing originates from the global financial crisis, when things slowed down worldwide. The market needs to correct itself and we are looking at attracting MICE at better prices than what is prevalent right now."
Four Seasons Hotel Bengaluru, beyond the 'airport convenience', has the advantage of a captive audience in the form of residents of Four Seasons Residences, which perch 22nd floor upwards in the south tower that also houses the hotel; an entire north tower is under construction. Also among their future guests are people working in offices in Pinnacle, the commercial tower and Central Plaza, a luxury retail destination within the enclave. The hotel is designed to be functional — there are separate entrances for Cur8, their all-day diner, the Residences and the banquet space. A recurring theme of geometric and angular straight lines softened by green spots with native trees meant to attract birds, besides the art form the design spotlights in the hotel.
Plugging the fine dine loophole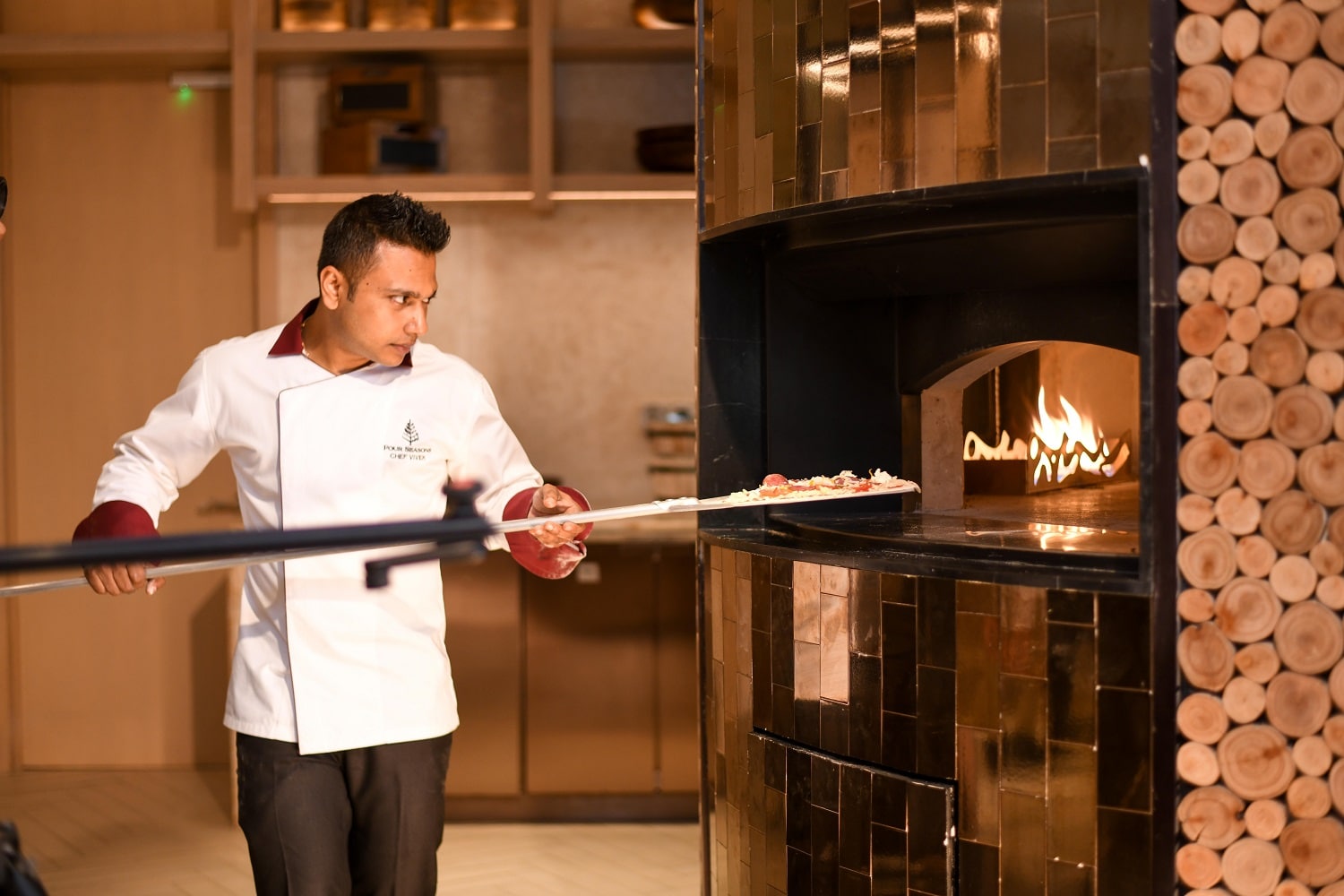 A scrumptious pizza being fired at Cur8
What will also play in favour of the 230-keys hotel, particularly with locals, is its interesting food and beverage offerings. While Bengaluru has a fabulous dining scene, most of it is pivoted around the central parts of the city or in Whitefield, the base for the IT industry. Four Seasons Hotel Bengaluru plugs the gap that exists in the fine dining space close to the airport, where several new luxury residences are popping up.
Executive Chef Stéphane Calvet, an old luxury hotel hand, has curated an eclectic line-up of cuisines and dining experiences. Cur8, the breezy all-day diner opens up to a lush courtyard with garden avenues designed by P Landscape, a boutique landscape studio from Bangkok. It houses open kitchens (the chefs often find themselves cooking under the keen gaze of the diners), a charcoal-fired grill and several stations serving a blend of cuisines. On any day, Chef Calvet can be seen working the grill, the stations, carrying stuff around and doing what chefs should do — actually cook the meals being served.
Cur8 also has two warmly-lit private dining spaces for those who seek time away from the rest of diners and houses an artisanal cake shop where desserts (chocolate paan truffle, anyone?), breads (a very unusual tiger stripe-patterned bread, which the chefs have appropriately named 'Tiger Bread'), confectionaries and savouries are sold.
The Collection on the lobby level is an elegant space that will serve whiskies from across the world. On the same level is The Lounge & Terrace, which will introduce the rarefied experience of loungy, relaxed afternoon teas to Bengaluru. In-house tea sommelier Mousumi Sharma is putting together blends such as Apple Cinnamon Dust, Wild Berry Tales, Chocolate Mint and Orange Blossom, along with the classics. On offer are scones flavoured with vanilla pods from Kerala and travel cakes inspired by local ingredients, such as a saffron cake infused with garam masala and chai.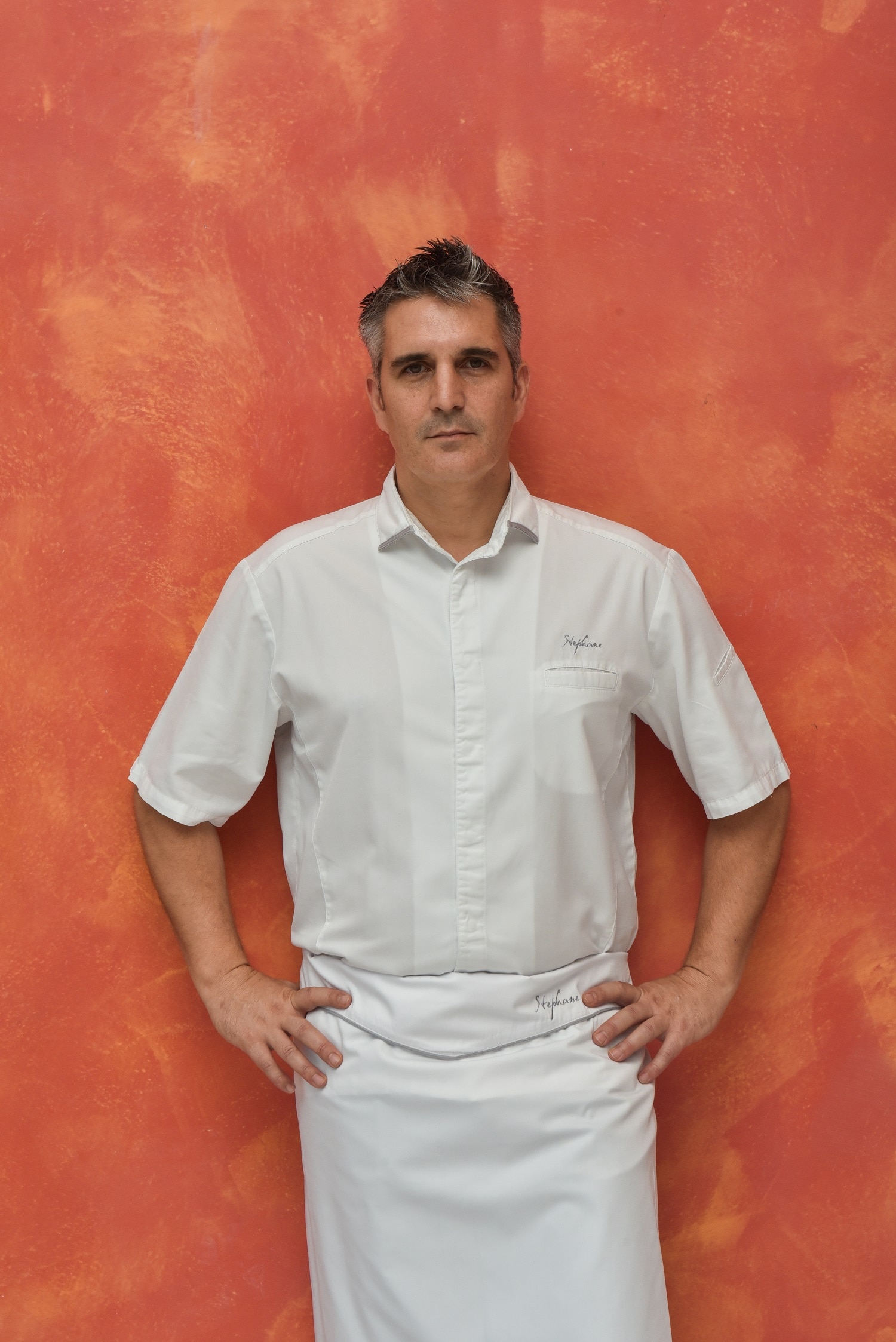 Chef Stephane Calvet
An avid motorcyclist and explorer, Chef Calvet was raised in the Catalan region of France and learnt "the finer details" of cooking from his grandmother. He moved to L'Auberge du Quercy, where he honed his talent for traditional regional cuisine under Lionel Fabres, moving on to work the kitchens at Nordgården Restaurant (where he learnt bistro-style cooking), before earning his spurs as a pastry chef at a traditional French bakery in Gothenburg. He has worked his way through most of Europe and Asia's cultural capitals such as Hanoi, Beijing, China and Bangkok.
An ultimate forager, he is constantly in search of farmlands, spice gardens, bazaars and plantations offering the best of produce. "Bengaluru is known for its rich, fertile soil, which can be seen in the abundance of produce found not far from the city," he says. "We source interesting things from local farms and apiaries, along with famous coffee from plantations of Coorg and vanilla pods from Kerala. We focus on authentic cuisine and an original cooking style, varying from Spanish-style grill, stone oven pizza, the bakery, an artful sushi counter, charcoal kushiyaki grill and duck roaster at vibrant Far & East."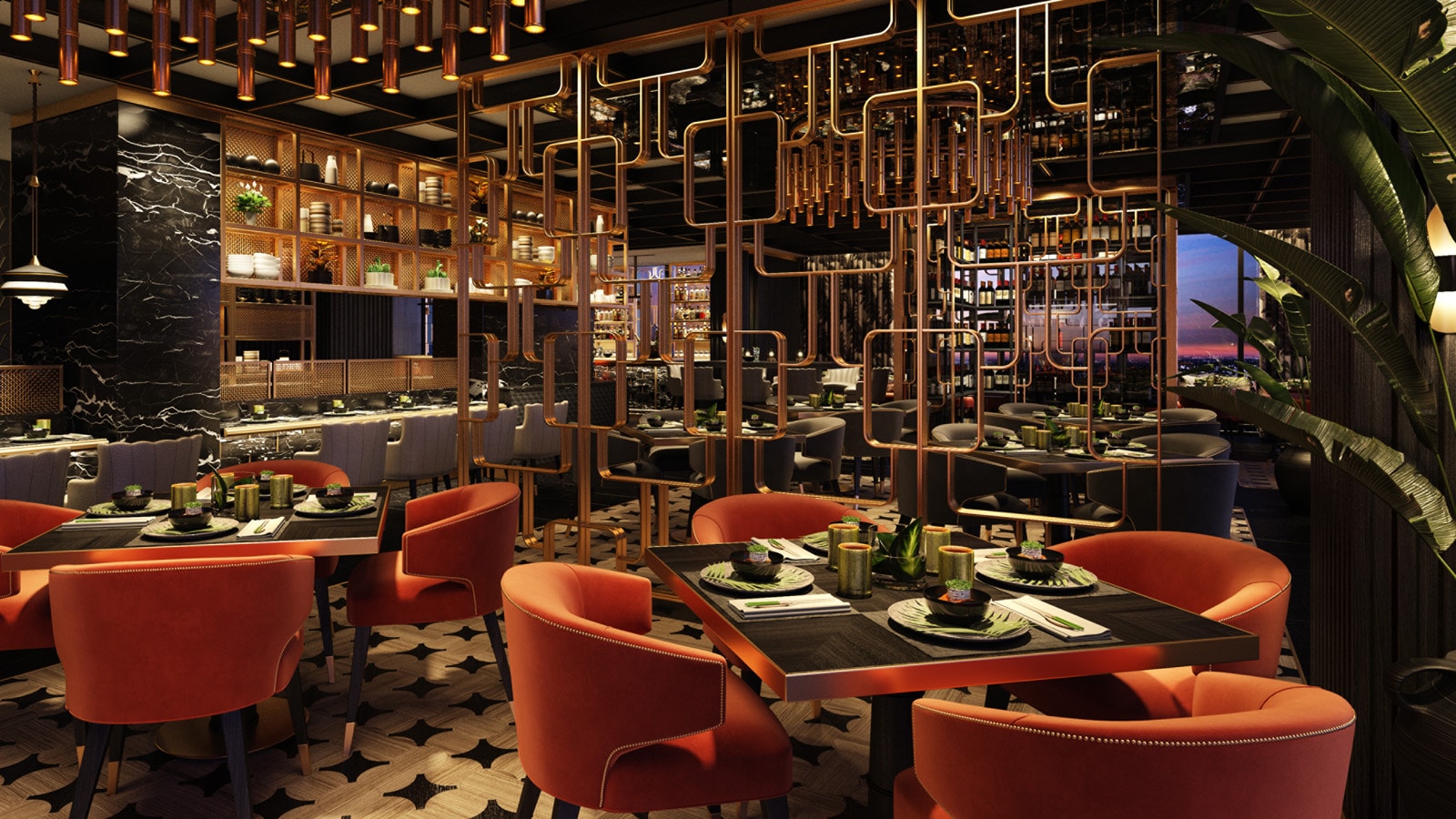 Far & East focuses on an original cooking style, varying from Spanish-style grill, stone oven pizza, the bakery, an artful sushi counter, charcoal kushiyaki grill and duck roaster.
The star space, however, will be the under-construction 'destination dining level' on the 21st floor, where a hardy team of workers are chiseling out two F&B outlets that will open by early July. At Copitas, a crystal, leather, wood and glass-encased concept bar with an outdoor deck, mixologists and bartenders will create classic and experimental cocktails. On the same level is Far East, a modern Asian brasserie in terms of design, but 'authentic' in terms of the food it serves.
Technology meets personalised service
Given that the hotel opens in a city as tech-obsessed as Bengaluru, the architects have enmeshed technology with the design. Computer-generated visuals were carefully art-directed to capture the subtleties of the interior design and create a sense of space, light and the verdant environment. Bengaluru's prominence as a centre for technology led to an emphasis on digital marketing applications – this is the first international property in Bengaluru to have its own iPad app, through which you can book a restaurant reservation, order in-room dining, chat with the concierge or the guest relation officer, or place a request.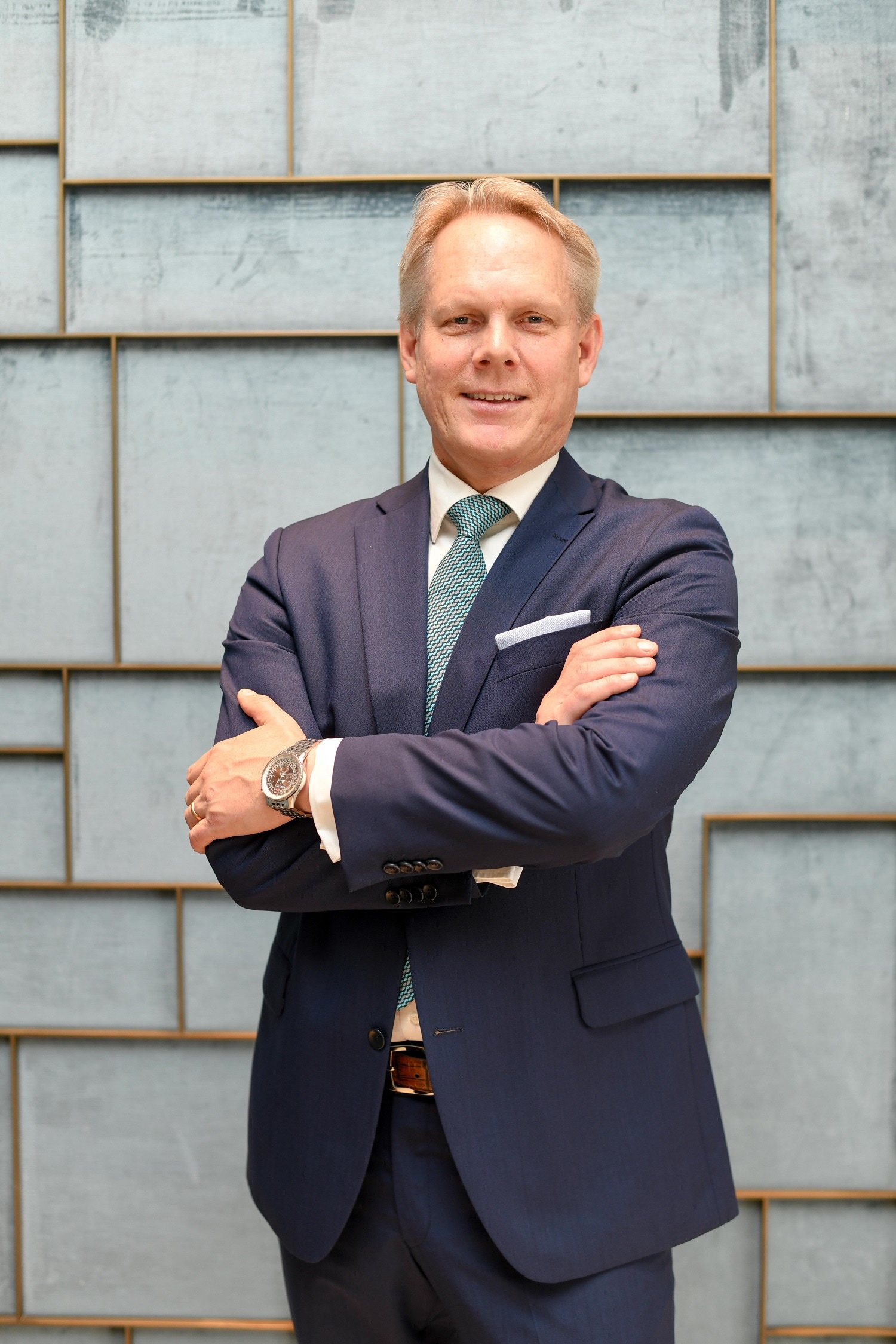 General manger Fredrik Blomqvist is a Four Seasons veteran who has opened several Four Seasons properties, including Four Seasons Hotel Guangzhou
Blomqvist says that while the emphasis on technology is a given since they are in a city "that hosts so much of technology talent and knowledge", the focus is on service and experiences that are immersive and personalised. "From experiences we curate outside (an afternoon spent touring the Tudor architectural-style Bangalore Palace with the former royals, which will end with a dinner) to dining within the hotel, everything is about offering the best of local experiences that are packaged to Four Seasons standards."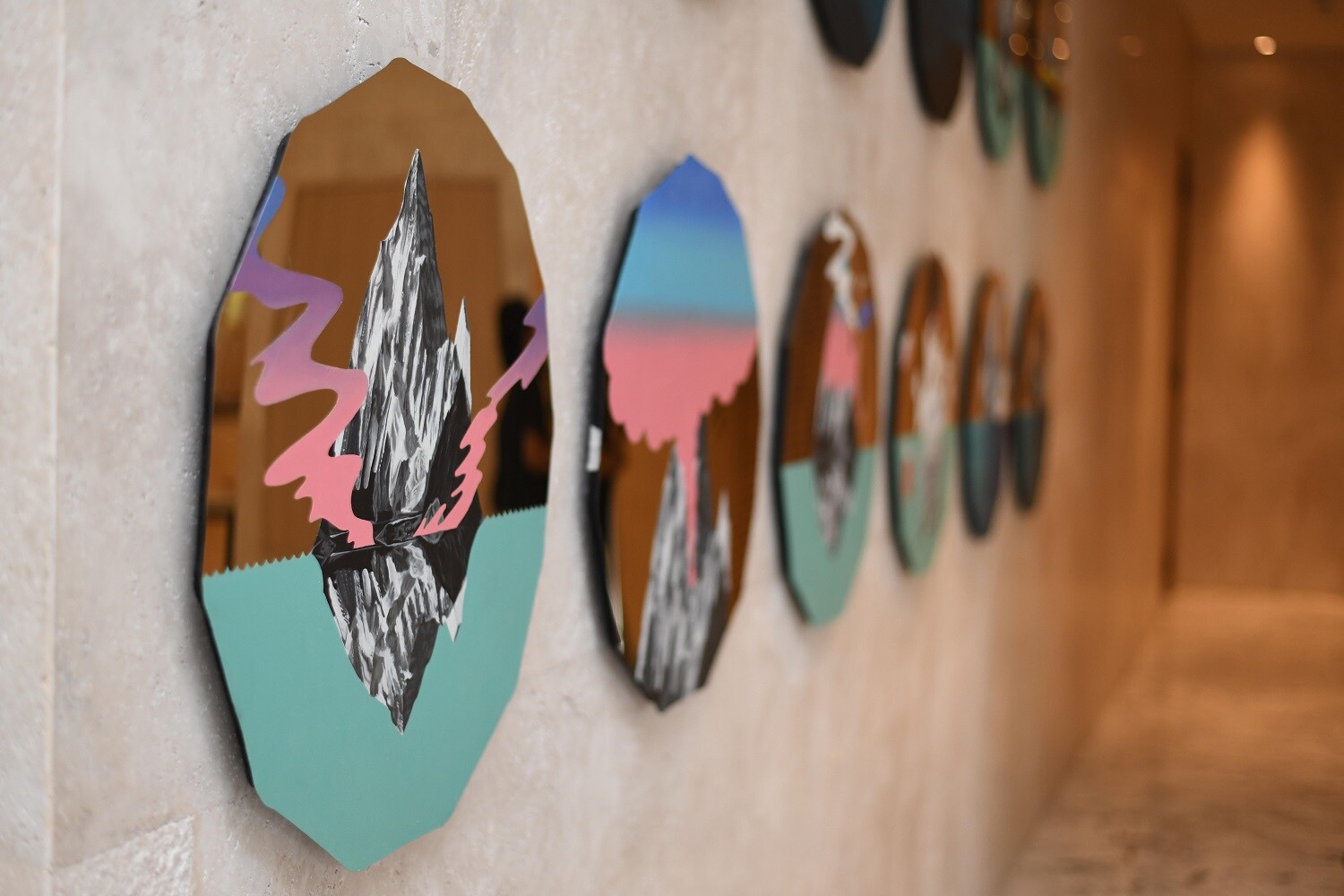 Art in Cur8
I ask him about the challenges of opening a hotel in India against opening one in China, and he smiles, "There are a lot of similarities between the two countries. You have to keep a strict eye on the deadline, stay close to the details and ensure that you constantly follow up. However, India scores in terms of craftsmanship and the finer details of the work done. In China, you often get the work done quickly and you can achieve just about anything; in India, the attention to craftsmanship and detailing is excellent."
Deepali Nandwani is a journalist who keeps a close watch on the world of luxury.