Worldwide, there are only 800,000 nesting females with India's coastline accounting for 40 percent of the world's Olive Ridley population.
In Goa's Morjim beach, there's crowd everywhere. Crowd of all kinds. Noisy tourists, hollering hawkers, corncob roasters, cabmen roaring discounts… That March morning, the sun was cruel and the sand beneath my feet maliciously hot. But I was bravely tiptoeing in search of Olive Ridleys, the turtle that gets its name from its green skin and carapace.
In the thatched Turtle Interpretation Centre, 60 baby Ridleys were huddled in a blue plastic bucket, mischievously playing around unaware of the fact that when the night gets dark, the Forest Department officials will release them in Arabian Sea.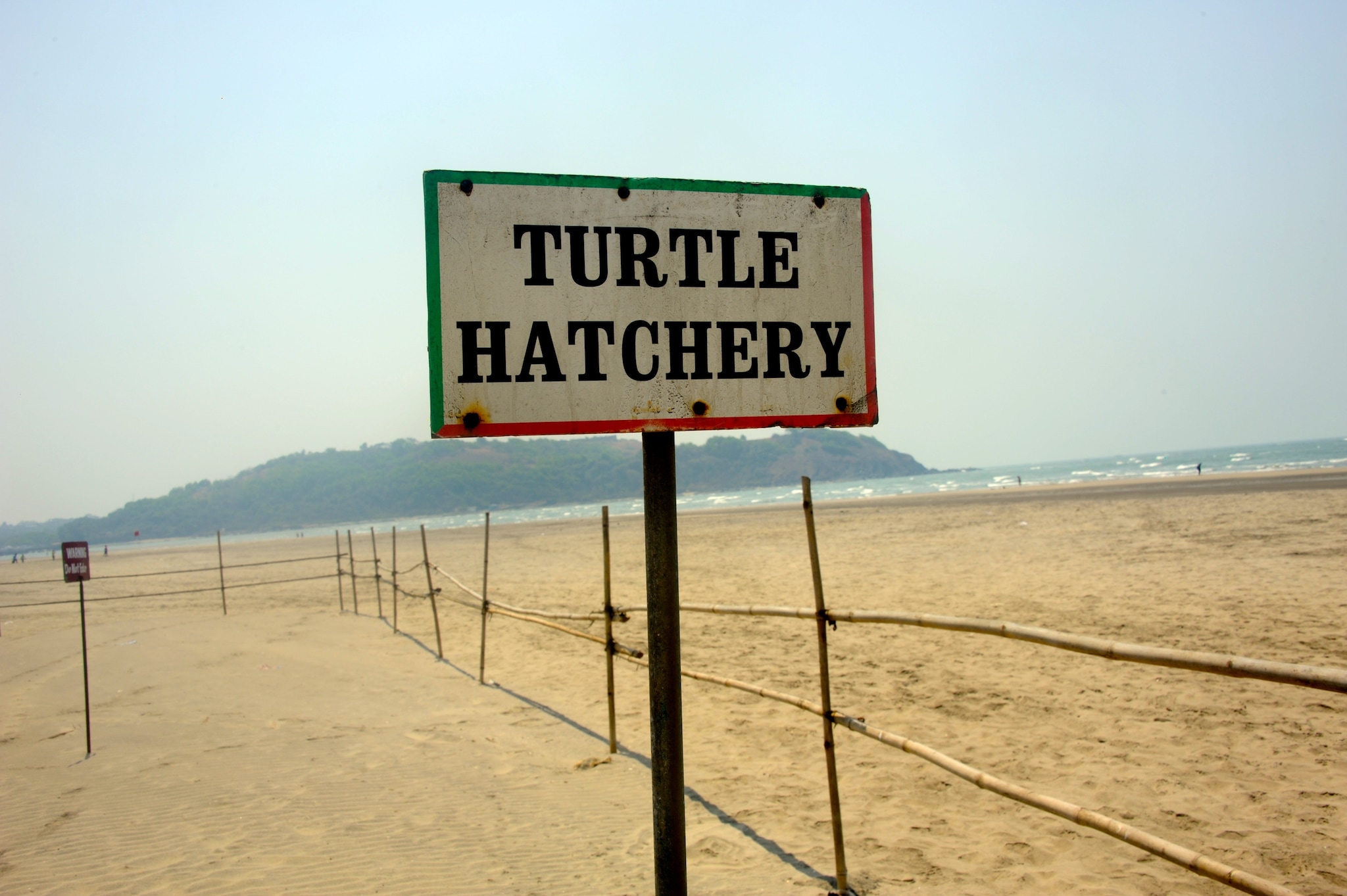 A protected Turtle Hatchery in Goa's Morjim Beach.
It has been a long, protected wait for these Ridley hatchlings. The mother Olive Ridley arrived in January/February, dug deep into the sand, laid more than 100 eggs and walked backed into the Sea. Never to return. The Forest Department took over as a surrogate parent. To protect the eggs from predators - humans, dogs, birds of prey. The golf-ball-size eggs were gently removed to the designated hatchery, patrolled 24x7 during the hatching season (October-March) and after weeks of careful 'parenting', the hatchlings are released into the sea.
Listed as 'vulnerable' (facing a high risk of extinction in the wild in the near future) by the International Union for Conservation of Nature and Natural Resources, worldwide, there are only 800,000 nesting females with India's coastline accounting for 40 percent of the world's Olive Ridley population. The Forest Department of Goa started the Turtle Conservation Programme in 1996, exactly 15 years after the initiation of National Sea Turtle Conservation Project in 1981. The state's 2011 Coastal Regulation Zone notification designated four turtle nesting sites in Goa - Morjim, Galgibaga, Agonda and Mandrem, of which the Morjim area spans 40,700 sq metres.
A Forest Department signboard at the entrance of Morjim Beach.
Avelino D'Silva, who has been associated with turtle conservation for nearly 15 years narrates stories of how Morjim beach was once the Ridleys' favourite ovipositing ground - his grandfather tells tales of watching 35-40 turtles at the beach every year. However, the numbers started petering due to the onslaught of tourism, direct harvest of adults and eggs, incidental capture in commercial fisheries and loss of nesting habitat.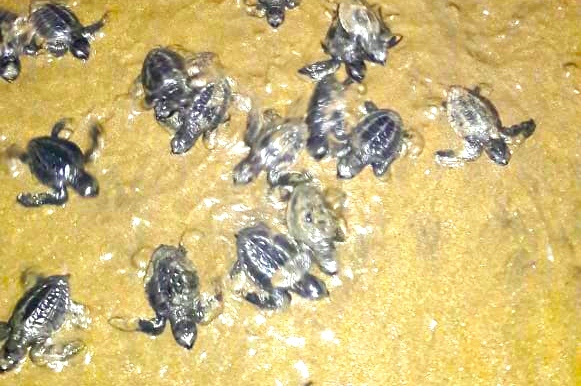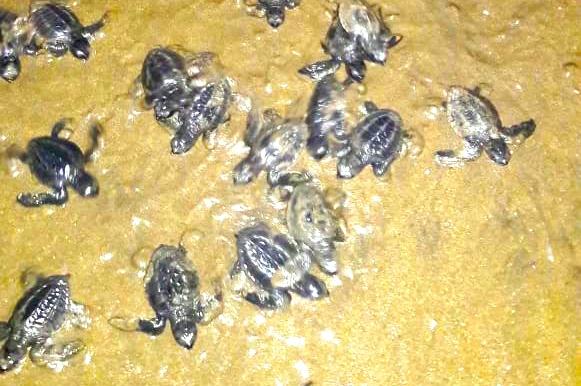 To protect them from predators, turtle hatchlings are released into the water at night (Photo courtesy: Avelino D'Silva)
Vivek Gaonkar, Range Forest Officer, in charge of the turtle conservation in Morjim, however, has not given up hope. "Conservation is bringing back the Ridleys to Morjim. This year, 20 turtles came to oviposit, which is a huge jump from 14 last year," says Gaonkar who ensures that shacks at Morjim Beach shut the music off at 6 pm and lights at the beach line are turned opaque at night.
Under Wildlife Protection Act 1972, killing of turtles or even being in possession of their eggs (in Goa, turtle egg was common breakfast food) is punished with fine/prison or both while Centre's Project Sea Turtle mandates the use of Turtle Excluder Devices (TEDs) in trawl nets to minimise fishery-related sea turtle mortality.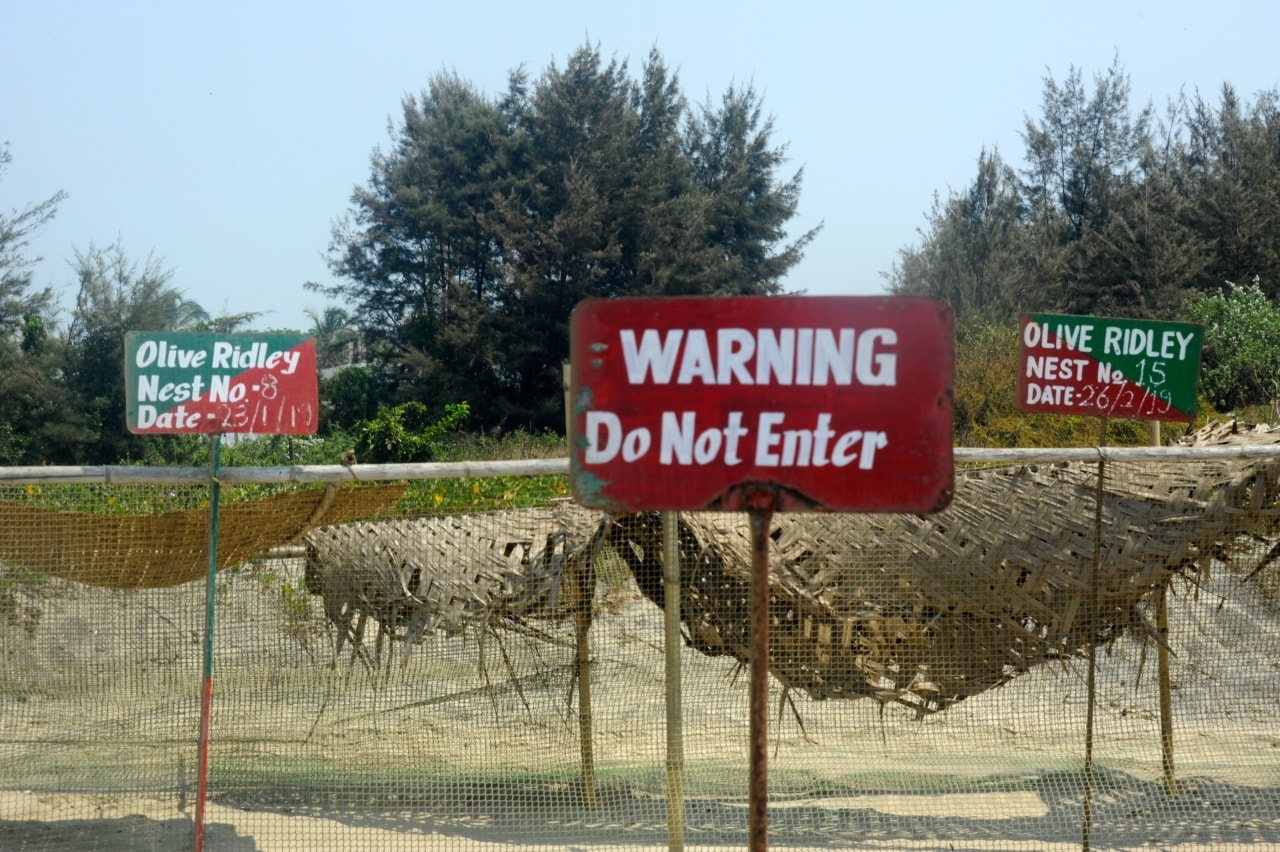 Goa's Forest Department patrols the nesting area 24x7 during the nesting season.
I returned to the Interpretation Centre for one last look at the hatchlings. That night they would have gone where their home is - in the sea. Next year, I will be at Morjim Beach for the arribadas (Spanish for 'arrival') - annual mass nesting in which turtles migrate to the breeding ground to nest simultaneously. The next arribadas is months away. But I am ready to wait for the Ridleys.
Photo Credit:
Preeti Verma Lal
Preeti Verma Lal is a Goa-based freelance writer/photographer.
First Published: Mar 22, 2019 3:08 PM IST